Hellmann's Carefully Crafted Recipes
#BePicky
This summer, we partnered with Hellmann's to launch their new product, a vegan-friendly Carefully Crafted Dressing & Sandwich Spread. Over 15 members of the #feedfeed community created 30 unique recipes using the spread that ranged from a take on classic potato salad to a smoky quinoa, black bean and sweet potato veggie burger. Last month, we teamed up again to announce the products' official vegan certification and to celebrate World Vegan Day, bringing the feedfeed community delicious recipes sponsored once again by Hellmann's.
1. Vegan "BLT" with Roasted Squash, Coconut Bacon & Spicy Vegan Sauce by @superfoodrunner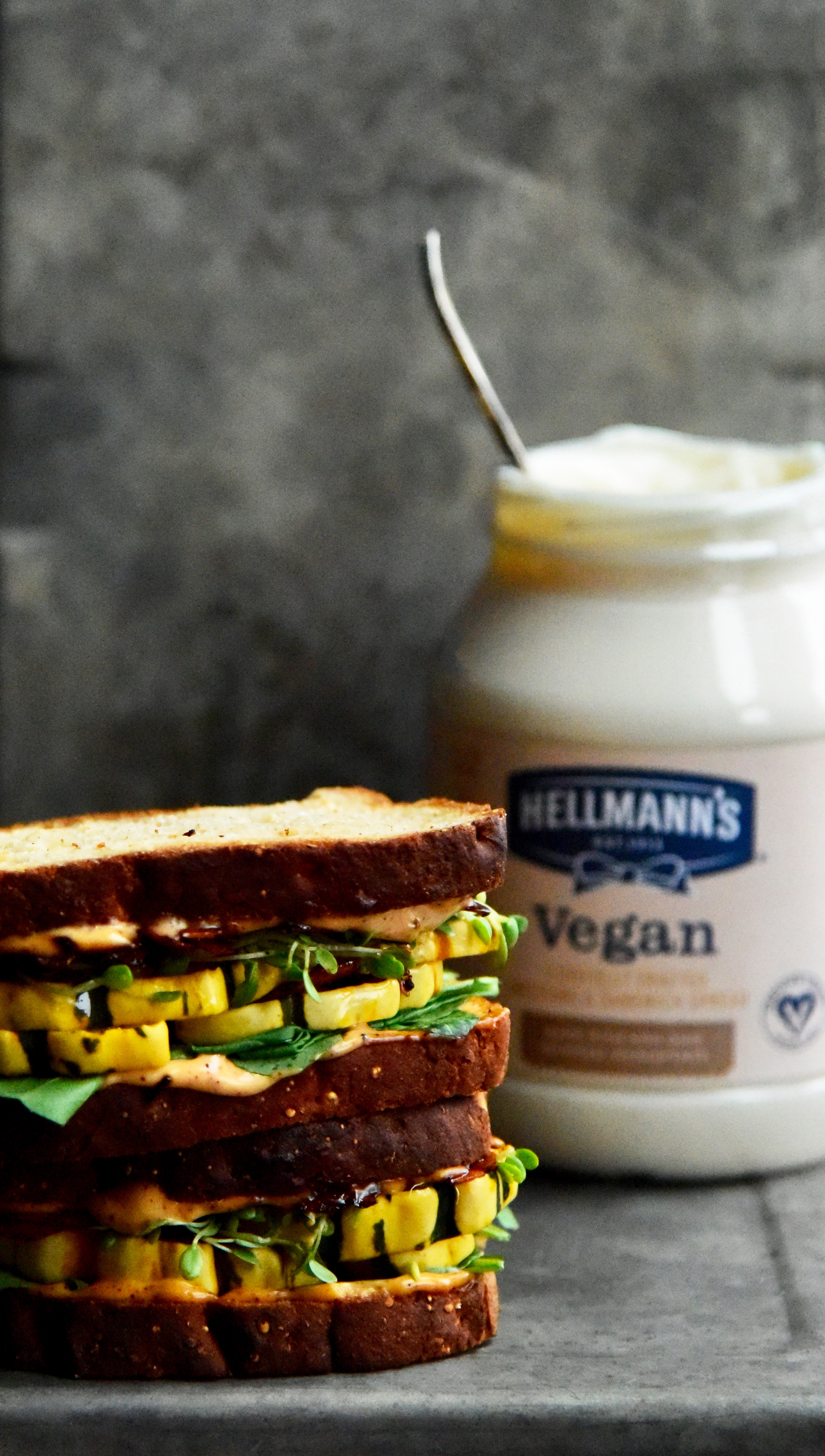 This easy sandwich will satisfy all of your fall cravings and might even fool some of your non-vegan friends. Warm, toasted bread spread with spicy vegan sauce and topped with roasted delicata squash, homemade smoky coconut bacon and fresh arugula.
2. Summer Squash Salad with Red Peppers, Corn and Cherry Tomatoes by @init4thelongrunblog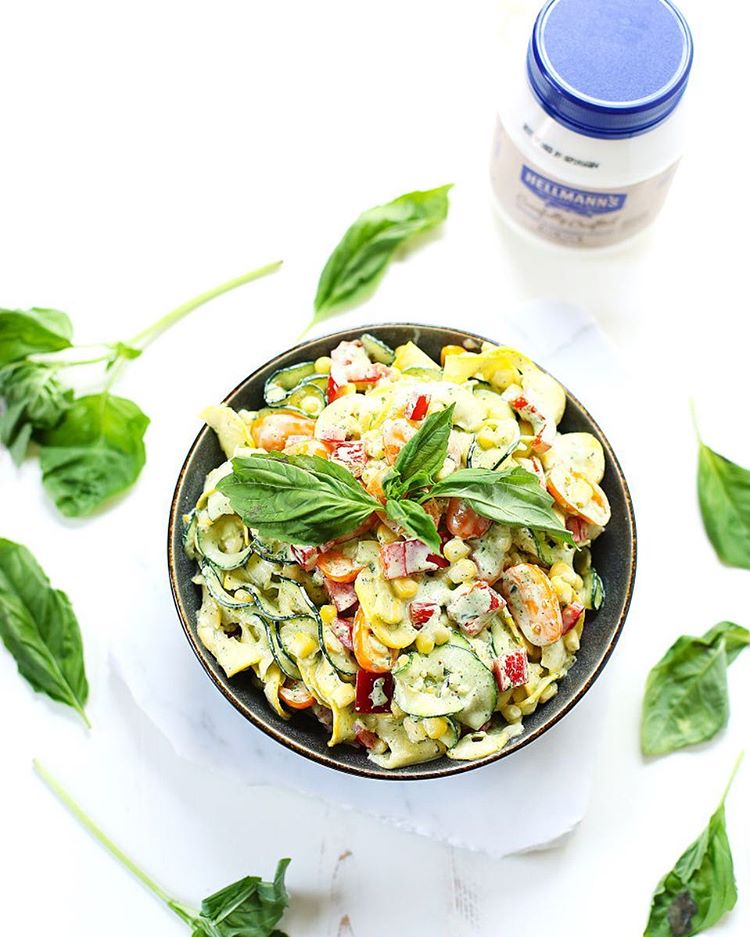 We love this creative take on pasta salad. Ditch the noodles and replace with spiralized summer squash tossed in a creamy basil sauce.
3. Sweet Summer Slaw with Lemon Tahini Dressing by @nutritionhappens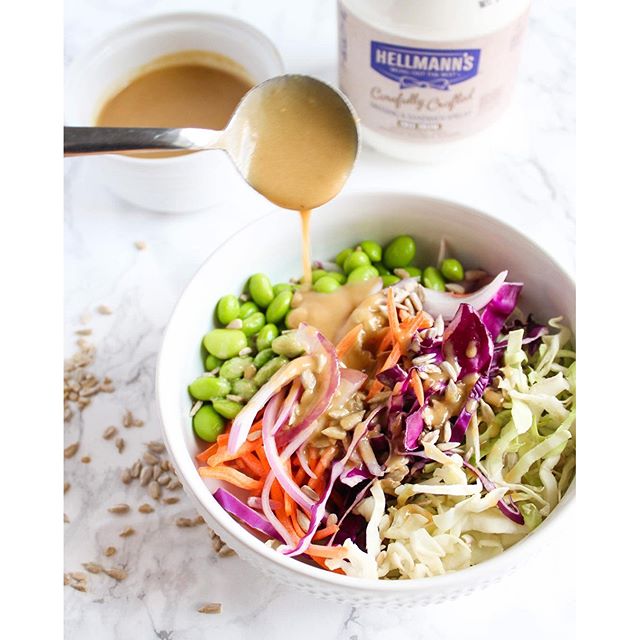 This vibrant summer slaw is made with shredded cabbage, carrots, onion and edamame, and dressed in a lemon tahini sauce for a bit of zing. Sunflower seeds make the perfect crunchy topping (and also add protein)!
3. Shrimp Tacos with Chipotle Sauce and Apricot Salsa by @8thandlake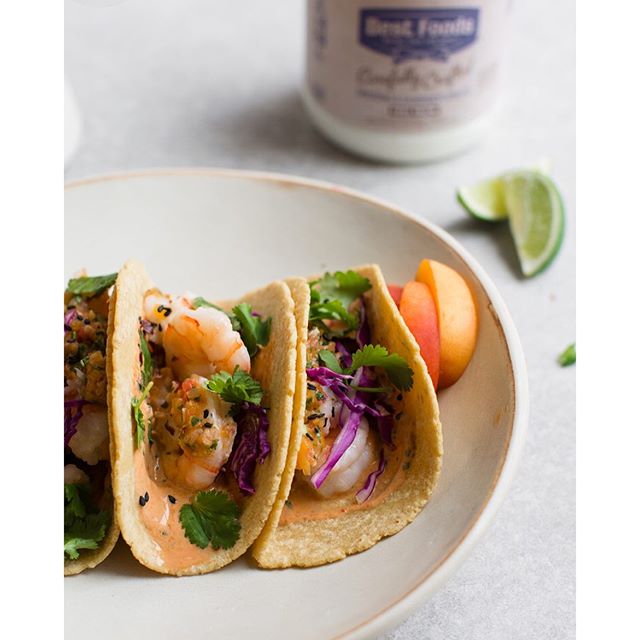 These vibrant shrimp tacos are genius. Chipotle sauce creates the perfect spicy base, which is balanced with a sweet apricot salsa for a mouthwatering taco that we want to try for ourselves!
4. Eggplant Sliders with Tomato Slaw and Spicy Peppercorn Aioli by @withfoodandlove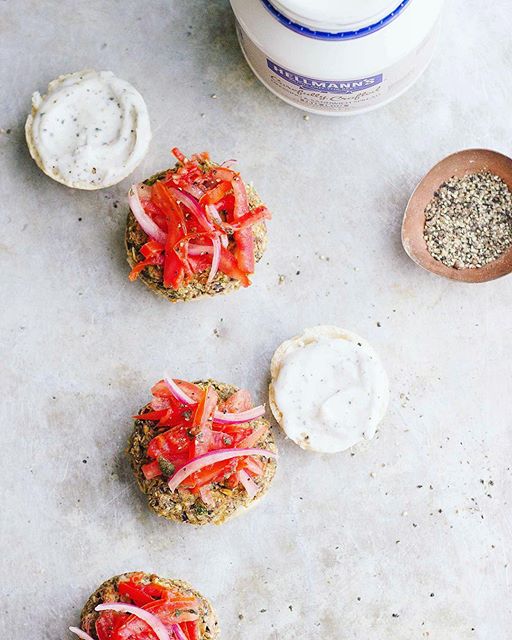 This creative take on a slider is gluten free, vegan, and packed with flavor. Give them a try at your next cookout!
5. Crunchy Kale, Brussels Sprouts & Broccoli Slaw by @plantbasedartist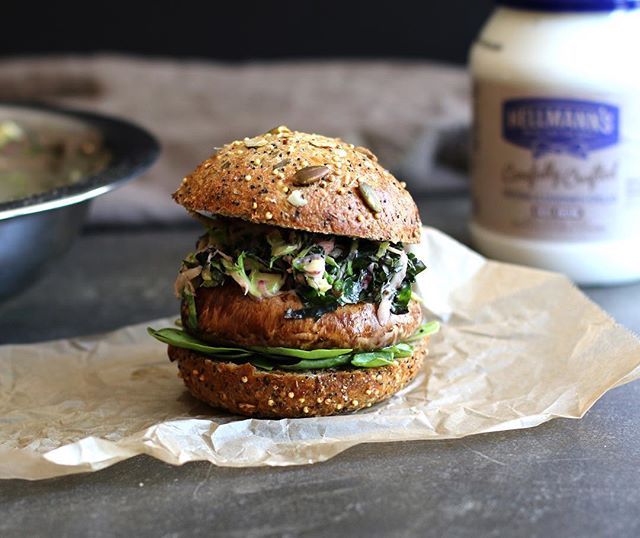 This crunchy slaw is ideal for any time of year. Pile it into a veggie burger, like @plantbasedartist did, or simply eat on its own or as a side dish.
6. Pickled Beet Deviled Eggs by @thebalancedblonde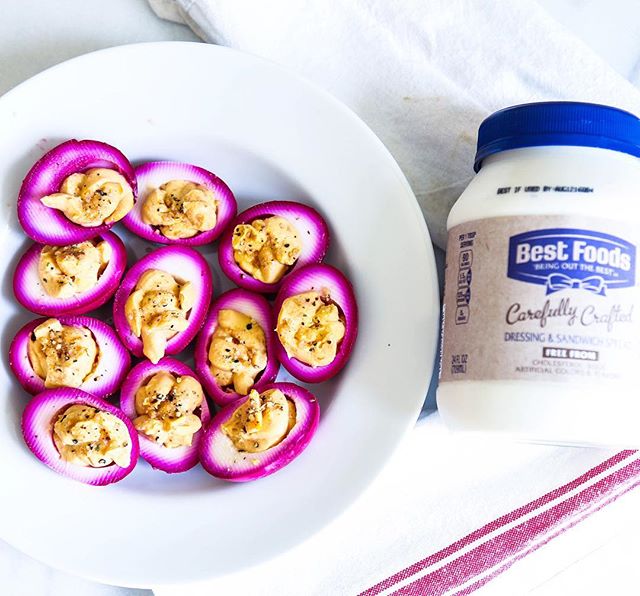 These beet-dyed deviled eggs make an eye-catching addition to any table. Serve as an appetizer or as a mid-afternoon snack!
7. Summer Rolls with Spicy Thai Peanut Sauce by @conscious_cooking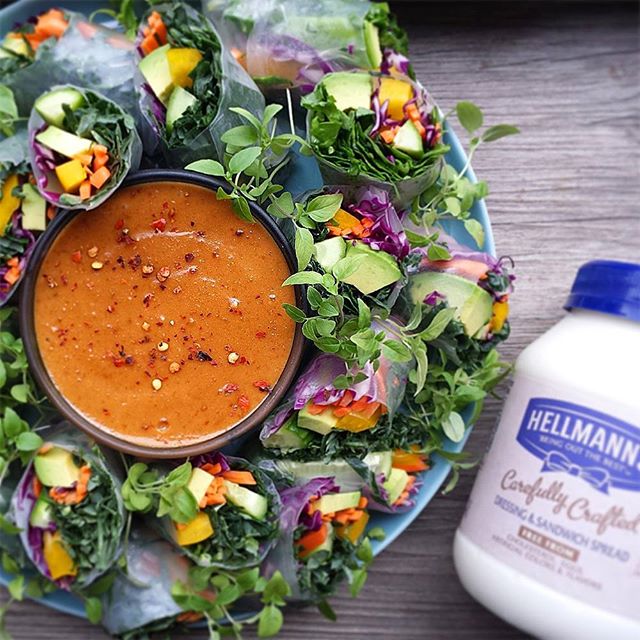 These summer rolls are the best way to use up all of your fresh summer veggies in one go. Wrapped in rice paper, they also make for a great portable snack.
8. Lightened Up Potato Salad with Avocado, Bacon & Hard-Boiled Egg by @diethood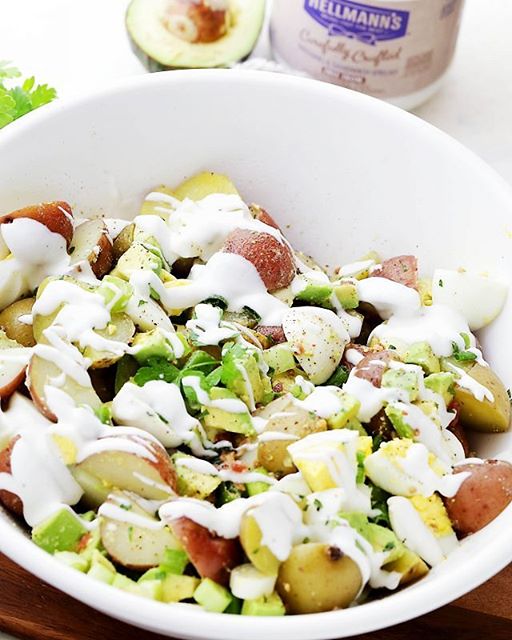 A fresh take on classic potato salad, this dish channels a lighter version of a BLT.
9. Sweet Potato and Cashew Cakes with Spicy Chipotle Sauce by @nutritionhappens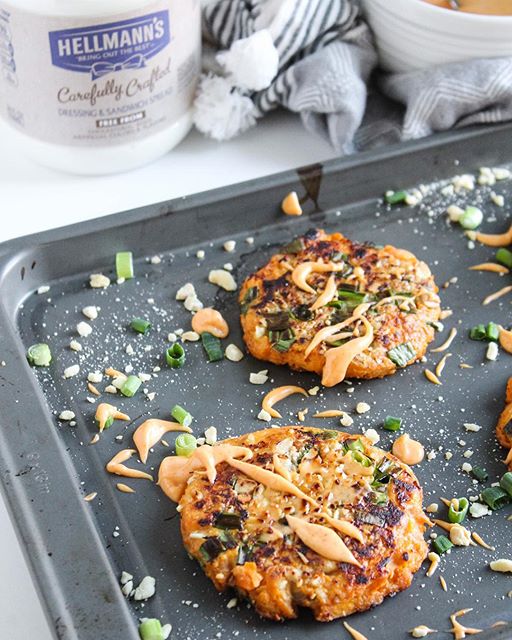 Breakfast, lunch or dinner, these creative sweet potato cakes deserve a place on your table.
10. Red Potato Salad with Mustard Seeds, Dill and Celery by @plantifulblonde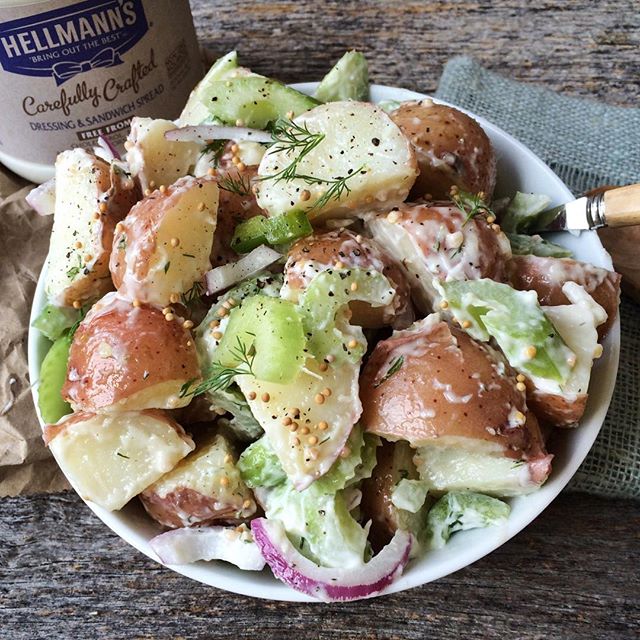 We love a good potato salad, and this vegan recipe has all the flavors & textures we'd look for. Tangy, crispy, and fresh!
11. Curried Jackfruit Salad Sandwiches by @yvonne_deliciously_vegan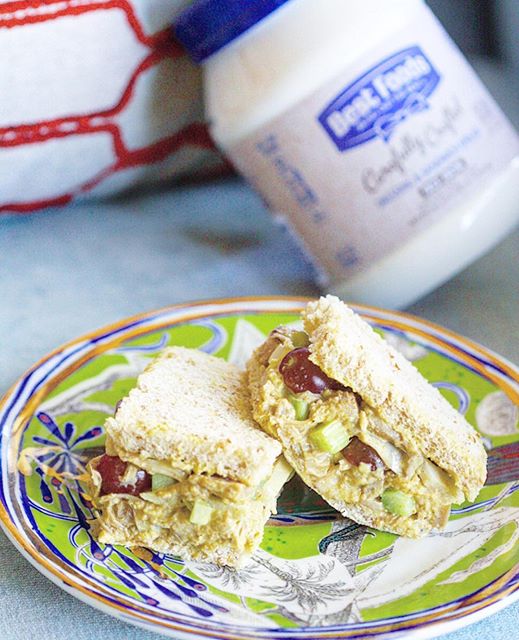 If you're not familiar with jackfruit, it's a fleshy, starchy fruit with a sweet taste and aroma that makes an excellent vegan substitute for dishes like pulled pork. Now's the time to try it, in this sandwich!
12. Heirloom Tomato Tartines by @brooklynsupper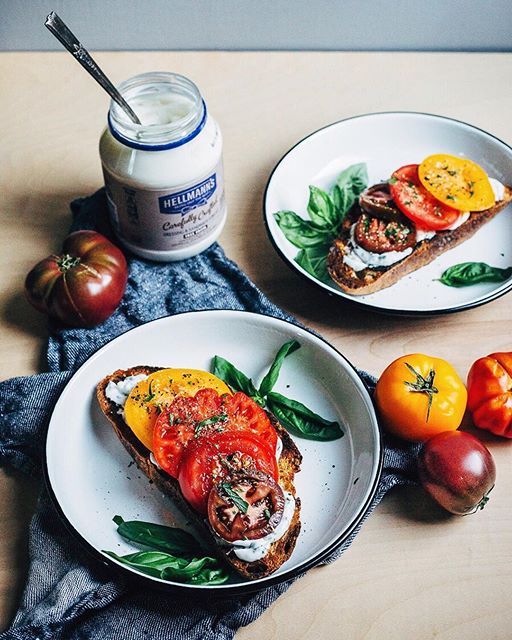 This simple dish is not lacking in flavor. Toasted rustic sourdough bread is topped with a creamy herb sauce, fresh heirloom tomatoes, flaky sea salt and pepper.
13. Oil Free Baked Fries with Avocado Ranch Dipping Sauce by @jessicasodenkamp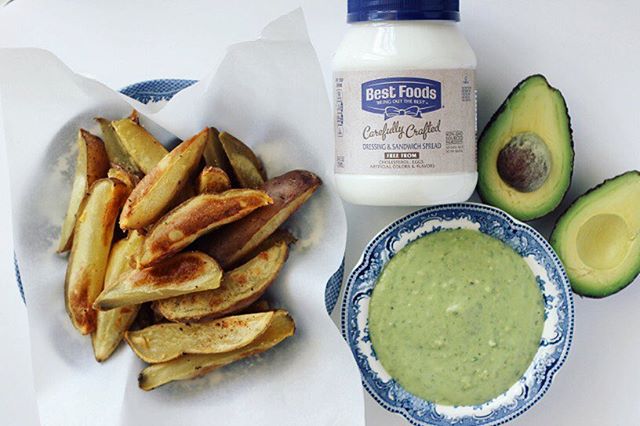 A healthier alternative to regular fries, these baked potato wedges are the perfect match for a dairy-free avocado ranch dip.
14. Tofu Sausage Collard Wrap by @thetoastedpinenut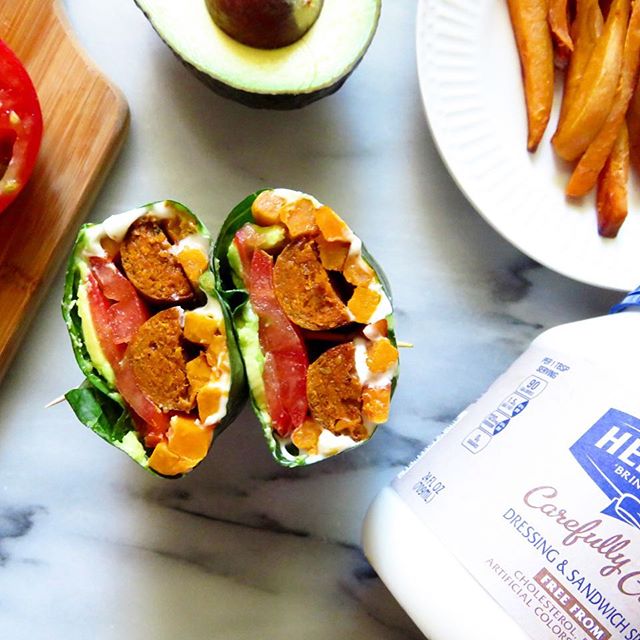 Collard greens make for a sturdy wrap filled with tofu sausage and Hellmann's vegan-friendly spread. Perfect for a quick, on-the-go lunch!
15. Summer Slaw with Creamy Dressing by @jelena_sequoia
Looking for a lighter slaw recipe? This dish has it all: crunchy cabbage, creamy dressing and toasted pine nuts for a delicious summery side dish.
16. Mock Tuna Sunflower Seed Salad by @8thandlake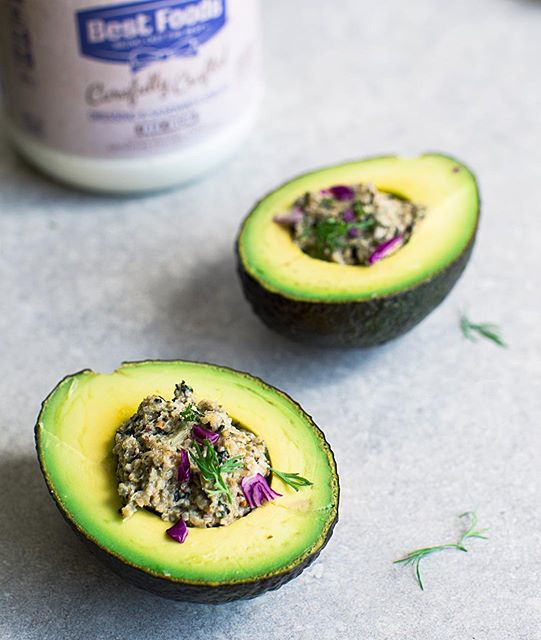 This mock "tuna" salad is made with a mix of sunflower seeds, nori and herbs for a rich flavor and satisfying crunch that works well in salads, sandwiches or stuffed into an avocado.
17. Spicy Lentil, Rice & Sunflower Seed Burgers by @thedreamyleaf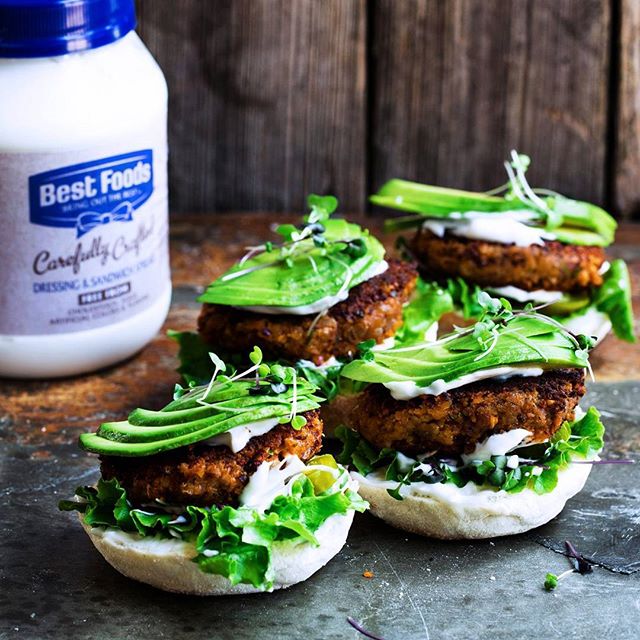 A go-to veggie burger recipe with a hint of spice and a cooling vegan spread.
18. Thai Chicken Lettuce Wraps with Spicy Peanut Sauce by @diethood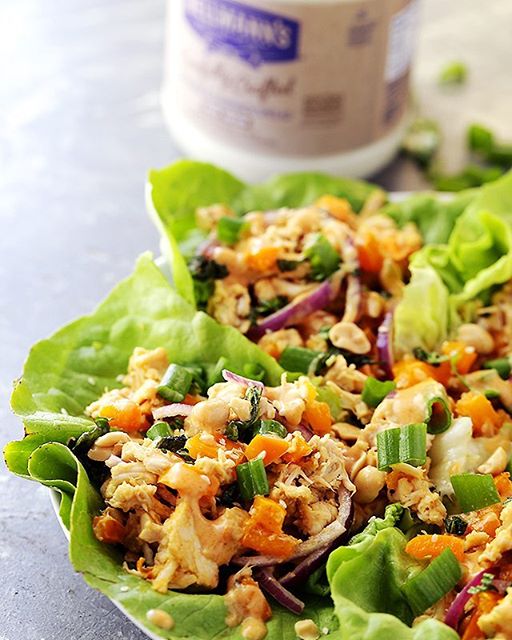 These Thai Chicken Lettuce Wraps are great for an easy weeknight meal that the whole family will love.
19. Quinoa, Sweet Potato & Black Bean Burger by @jelena_sequoia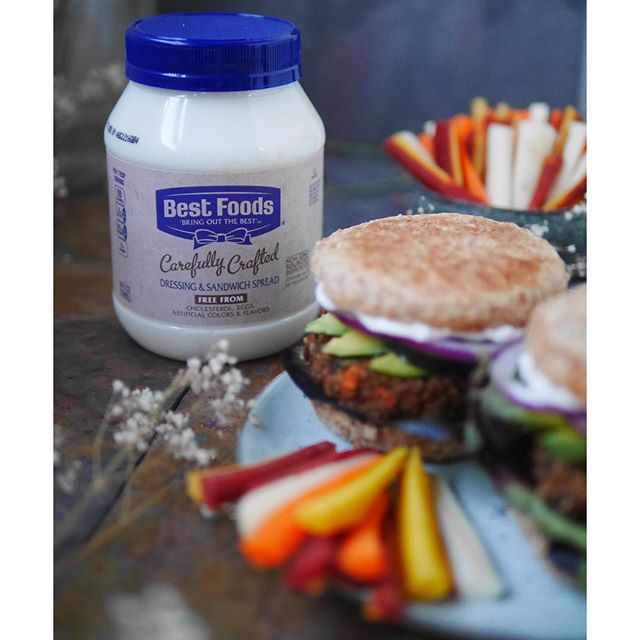 Bookmark this recipe for your next summer BBQ!
20. Chickpea Salad Sandwich with Nori, Whole Grain Mustard and Celery Seed by @yvonne_deliciously_vegan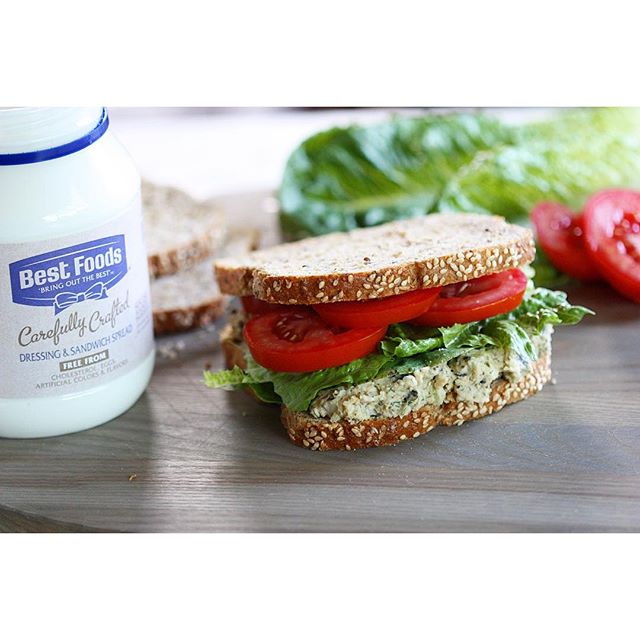 We love this vegan rendition of a chicken salad sandwich, made with creamy chickpeas and a unique combination of spices.
21. Poached Radish Salad with Shallots and Dill by @withfoodandlove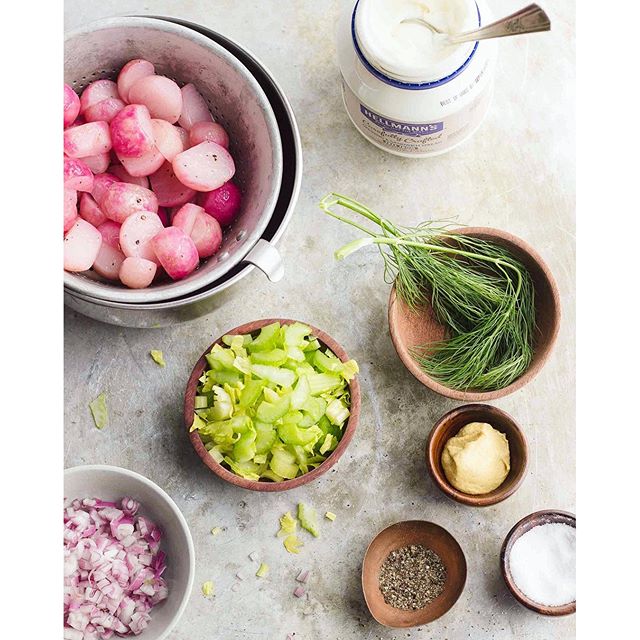 Crunchy, bright and refreshing-- just what the perfect summer salad needs!
22. Pesto Zoodles with Tomatoes and Walnuts by @thebalancedblonde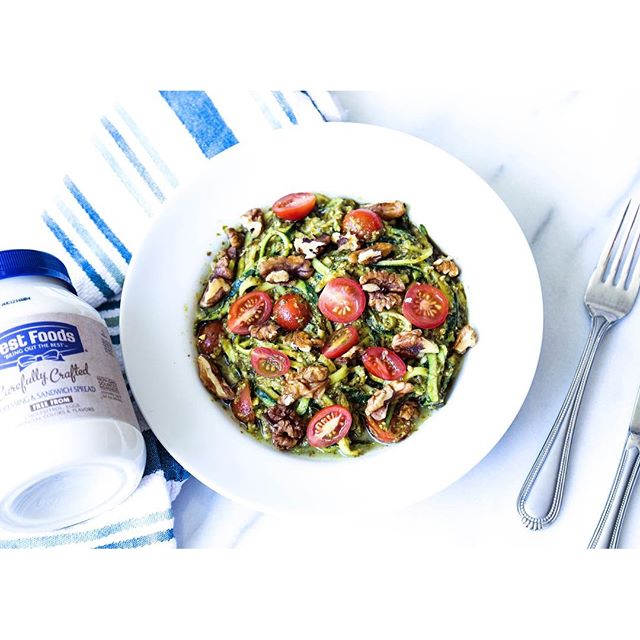 If you're looking to cut down on carbs or simply incorporate more vegetables into your diet, give these zucchini noodles a try.
23. Sweet Pea Salad with Mushrooms by @plantifulblonde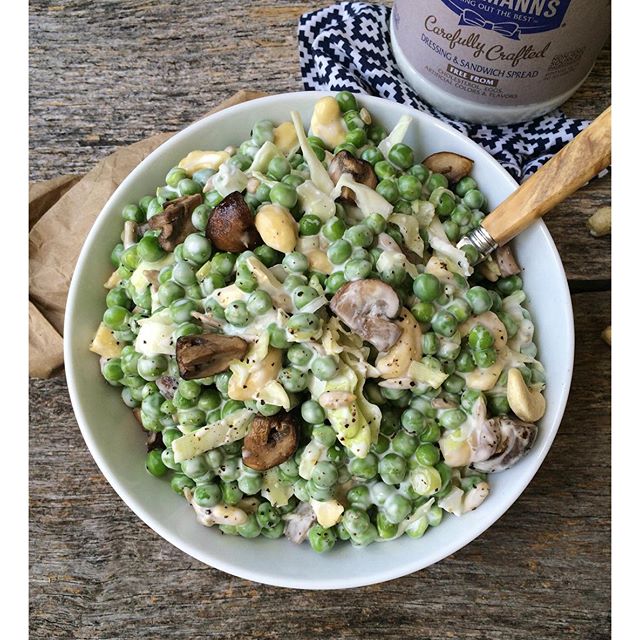 A unique side dish to bring to your next summer gathering: fresh sweet peas, sauteed mushrooms, cashews, sunflower seeds and cabbage tossed in Carefully Crafted Spread.
24. Portobello Mushroom Burgers with Green Goddess Spread by @brooklynsupper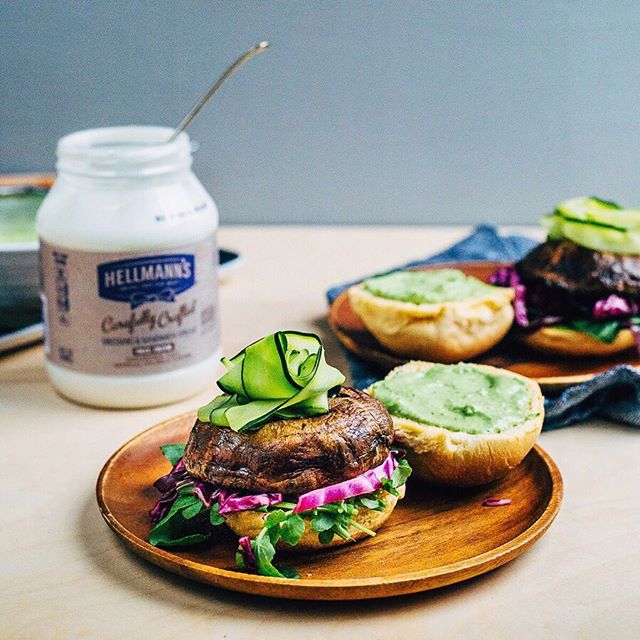 Shake up your veggie burger routine by swapping a patty with a grilled portobello mushroom, zucchini ribbons and an herbaceous green spread.
25. Chickpea Salad Sandwich with Celery, Red Pepper & Capers by @plantbasedartist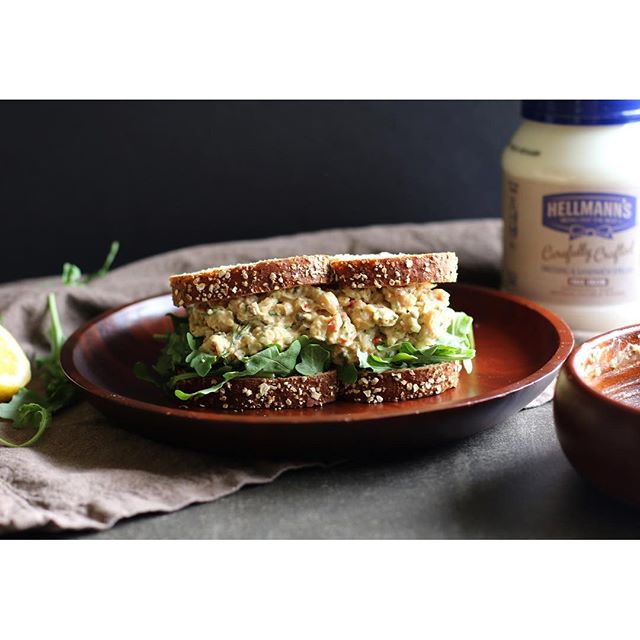 Spice up your packed lunch with this creative chickpea salad sandwich.
26. Sweet Potato Falafel Salad by @thedreamyleaf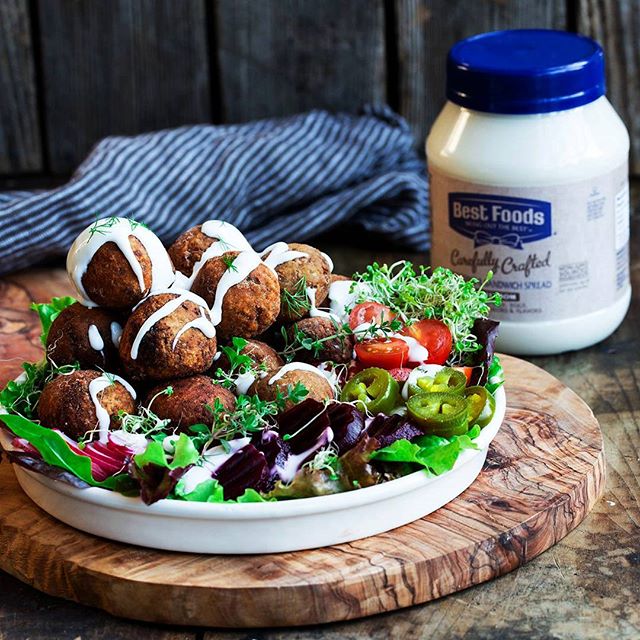 Homemade falafel is easier than it looks. Try this recipe, and use it as a salad topping or stuff it in a pita!
27. Sweet Potato Salad with Red Onion and Cilantro by @init4thelongrunblog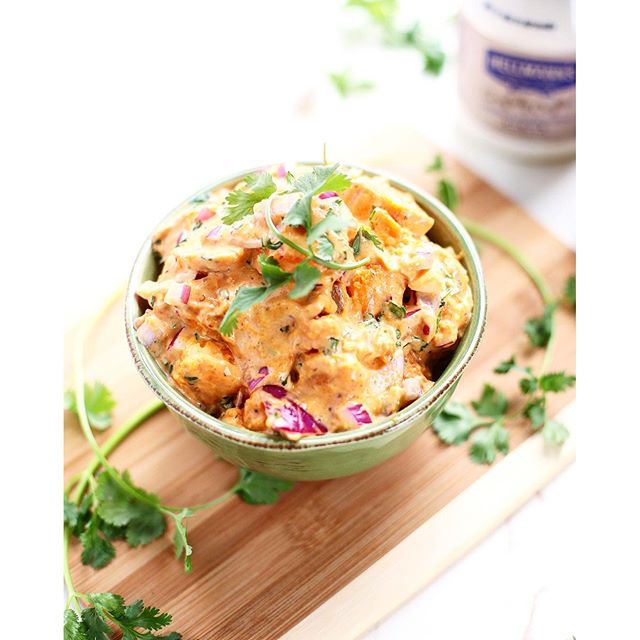 A vegan-friendly spin on a BBQ classic.
28. Curried Cauliflower Autumn Salad by @conscious_cooking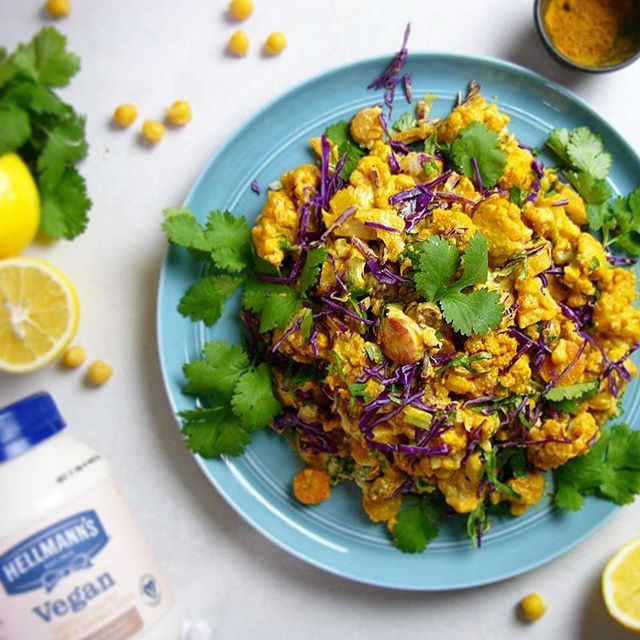 This flavorful autumn salad packs a ton of flavor!
29. Kimchi Chickpea Mock Tuna Salad by @conscious_cooking
Tempeh, a fermented soy product, is the secret to this vegan-friendly mock tuna. We love the addition of kimchi!
30. Breakfast Tacos with Delicata Squash, Mushrooms, Black Beans & Avocado Cream by @8thandlake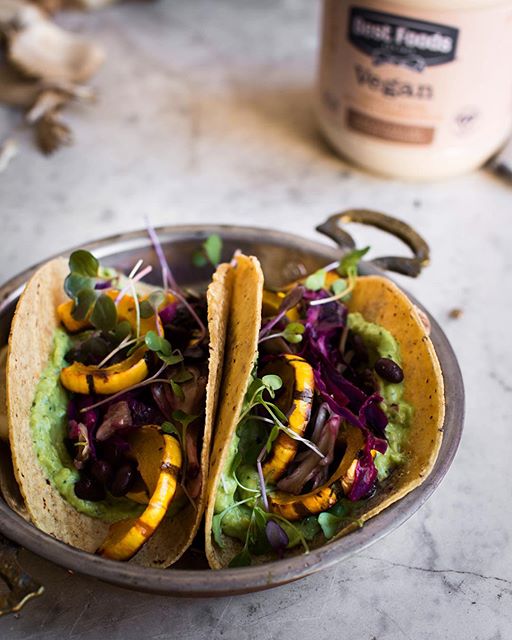 Who doesn't like a good breakfast taco every now and again? This fall-inspired breakfast taco with a creamy avocado sauce makes for the perfect weekend brunch.
31. Sushi Bowls with Cucumbers, Avocado & Sesame Dressing by @jessicasodenkamp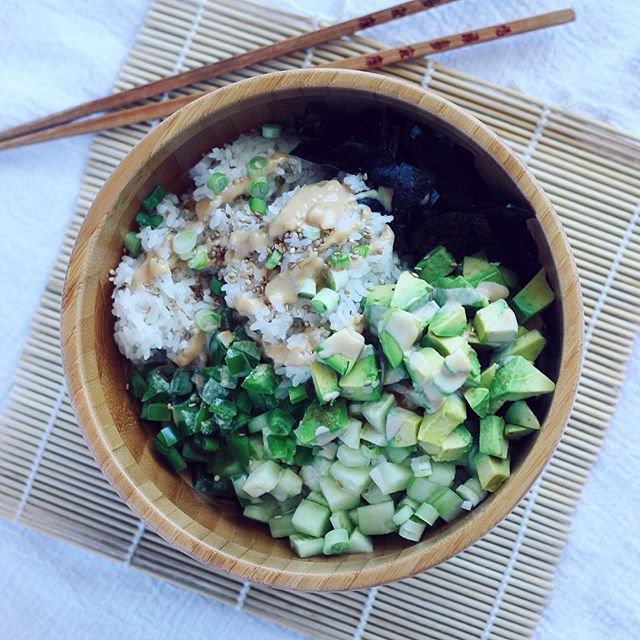 A much easier way to bring your favorite sushi flavors into your own kitchen.