3 Healthy Snack Recipes
with Made in Nature
We partnered with Made in Nature to bring you a few healthy snack options featuring their organic, refined sugar free snacks, including homemade popcorn mix, sweet potato "toasts" & veggie summer rolls. For a full tutorial, including how @conscious_cooking wraps the perfect summer rolls, take a look at our Facebook Live stream here, where our very own @kevmasse talked healthy eating with wellness expert & clean eating chef @thehealthyapple!
1. Coconut Chip Summer Rolls with Coconut Curry Dipping Sauce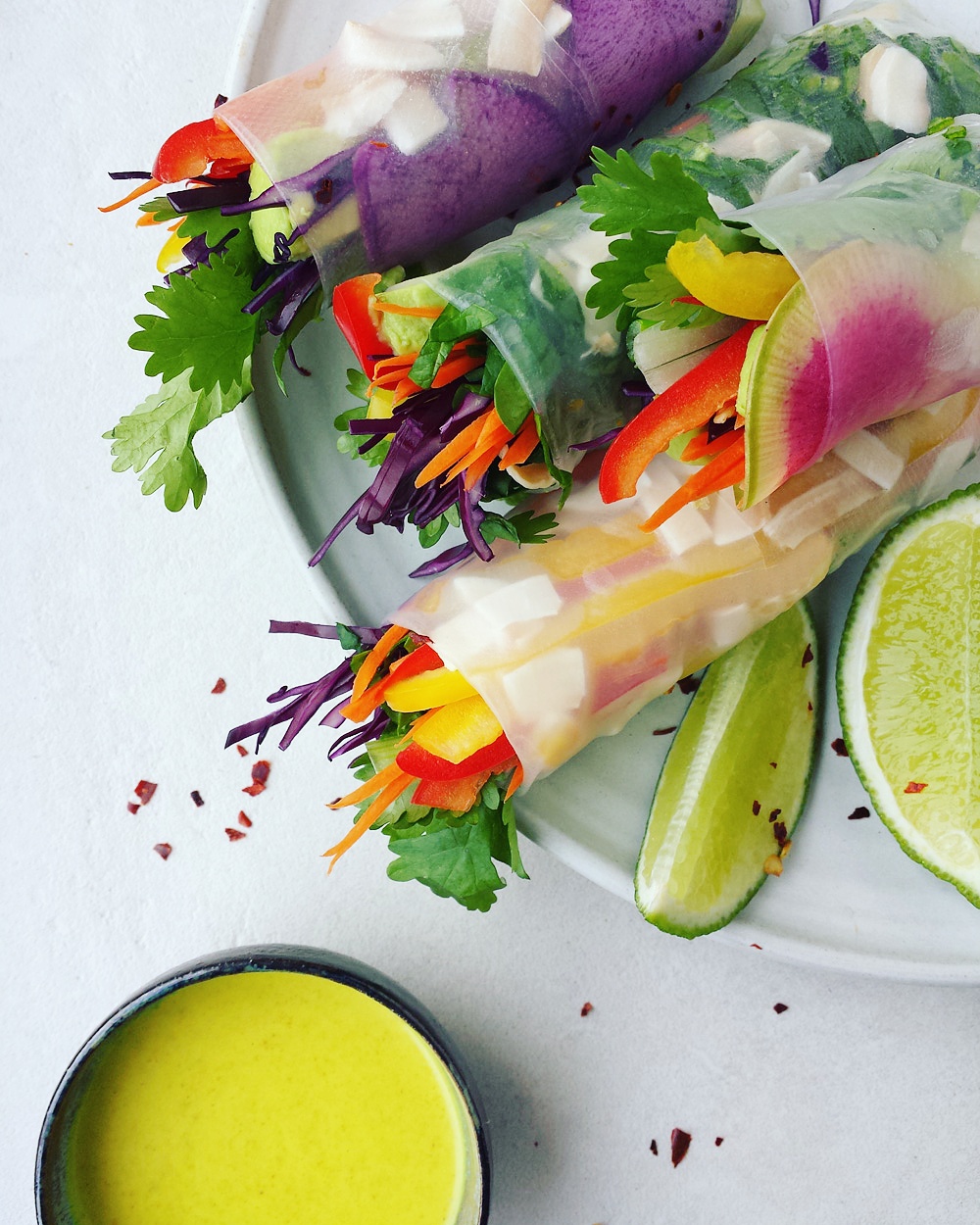 Ingredients:
4 sheets rice paper, hydrated in water
1/2 avocado sliced
1 carrot julienned
4 sprigs fresh cilantro
¼ cup purple cabbage, shredded
¼ cup spinach, shredded
¼ of red pepper, thinly sliced
1-2 radishes (red or purple) sliced into paper-thin rounds
1 stalk scallions, julienned
Method:
Dip rice paper in warm water for 3-4 seconds or until it becomes moistened. Lay on work surface and allow the paper to absorb the water (30 seconds to 1 minute). Layer carrot, cilantro, scallions and avocado - top with coconut chips and wrap, tucking in ends as you go. Using a bit of water on your finger, create a seal along the seam.
Coconut Curry Dipping Sauce:
½ cup full fat coconut milk
1 tsp curry powder
½ tsp arrowroot powder
1 tsp fresh ginger juice
1 teaspoon lime juice
½ teaspoon honey
Pinch of sea salt
Method:
In a small saucepan, heat coconut milk, curry powder and arrowroot powder, and stir until slightly thickened - remove from heat and stir in ginger juice, lime juice, honey, and sea salt.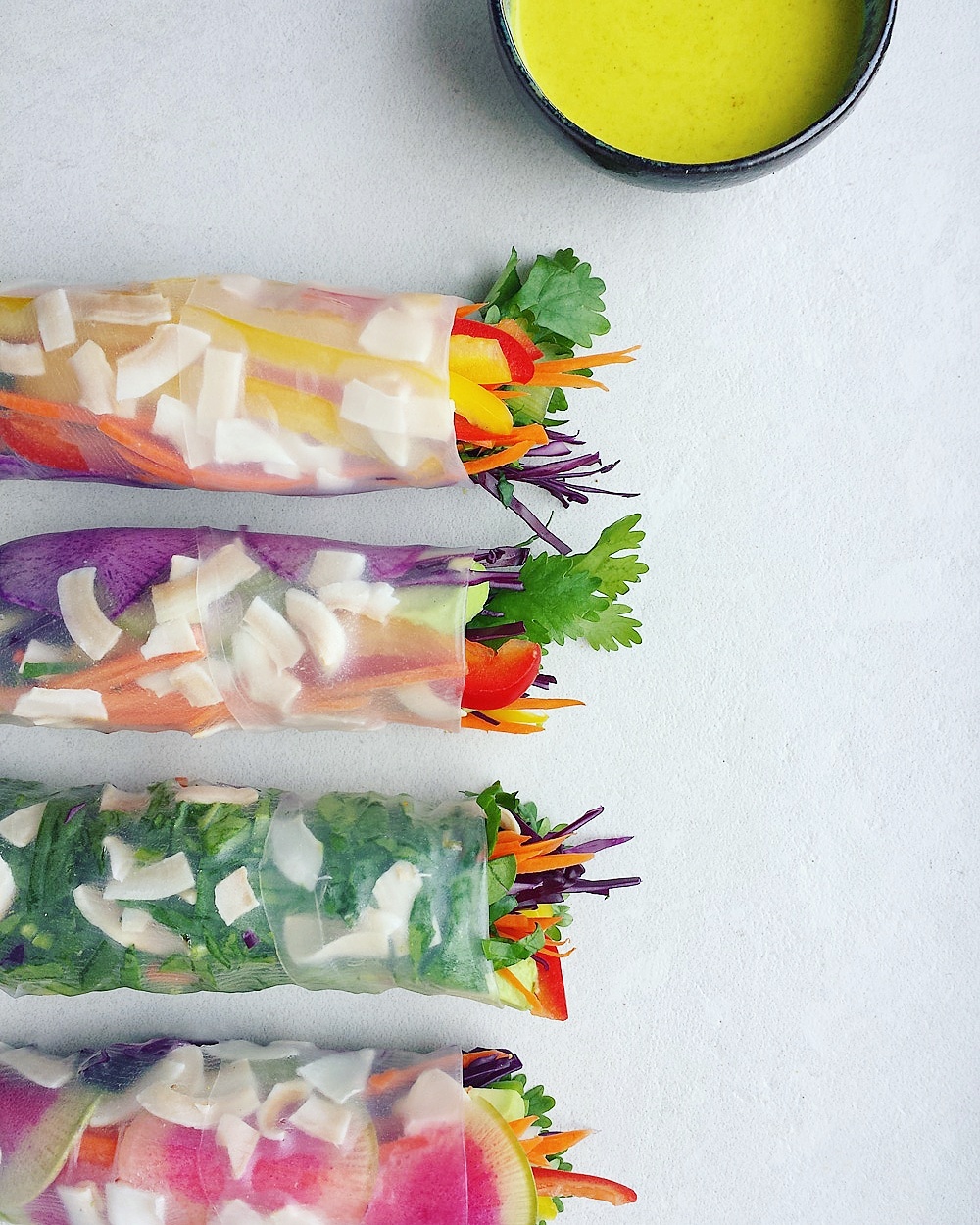 2. Roasted Sweet Potato 'Toast' with Tahini Yogurt and Kale Chips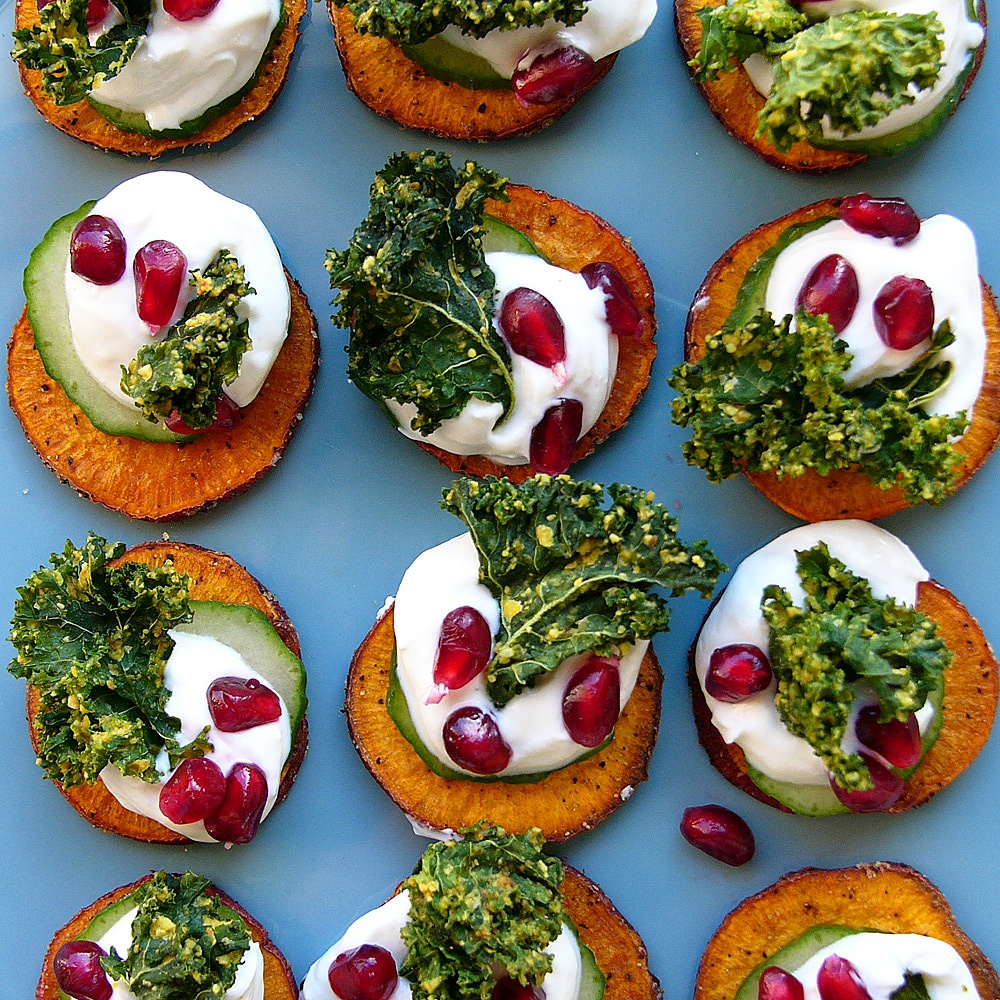 Ingredients:
1 sweet potato sliced into ¼ inch disks
2 teaspoons olive oil
¼ teaspoon salt
¼ teaspoon freshly ground black pepper
½ cup Greek yogurt or dairy free yogurt
1 tablespoon tahini
1 teaspoon lemon juice
¼ teaspoon ras el hanout
1 cucumber sliced into 1/8" inch disks
2 tablespoons pomegranate arils
Method:
Preheat oven to 450 degrees
Toss potatoes with olive oil, salt and pepper and lay on a parchment line rimmed baking sheet. Roast for 20-25 minutes or until golden and crispy - turning halfway through roasting.
While potatoes roast, whisk yogurt, tahini, lemon juice and ras el hanout in a small bowl. Set aside. Slice cucumber and remove pomegranate arils.
When potatoes are done, transfer to a wire baking rack and allow to cool completely.

Top potatoes with a slice of cucumber, a dollop of sauce and pomegranate seeds. Garnish with kale chips.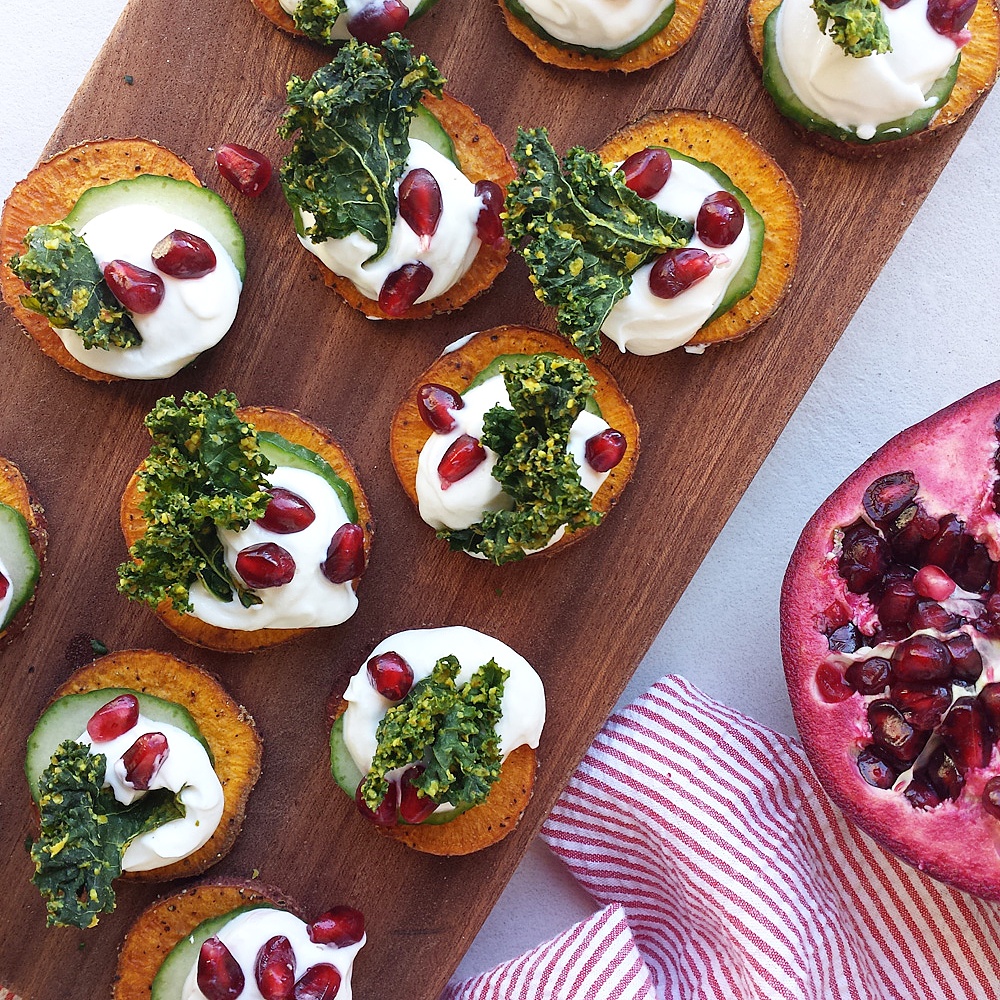 3. Healthy Popcorn Mix with Curry Powder, Dried Mango, Dried Figs & Goji Berrries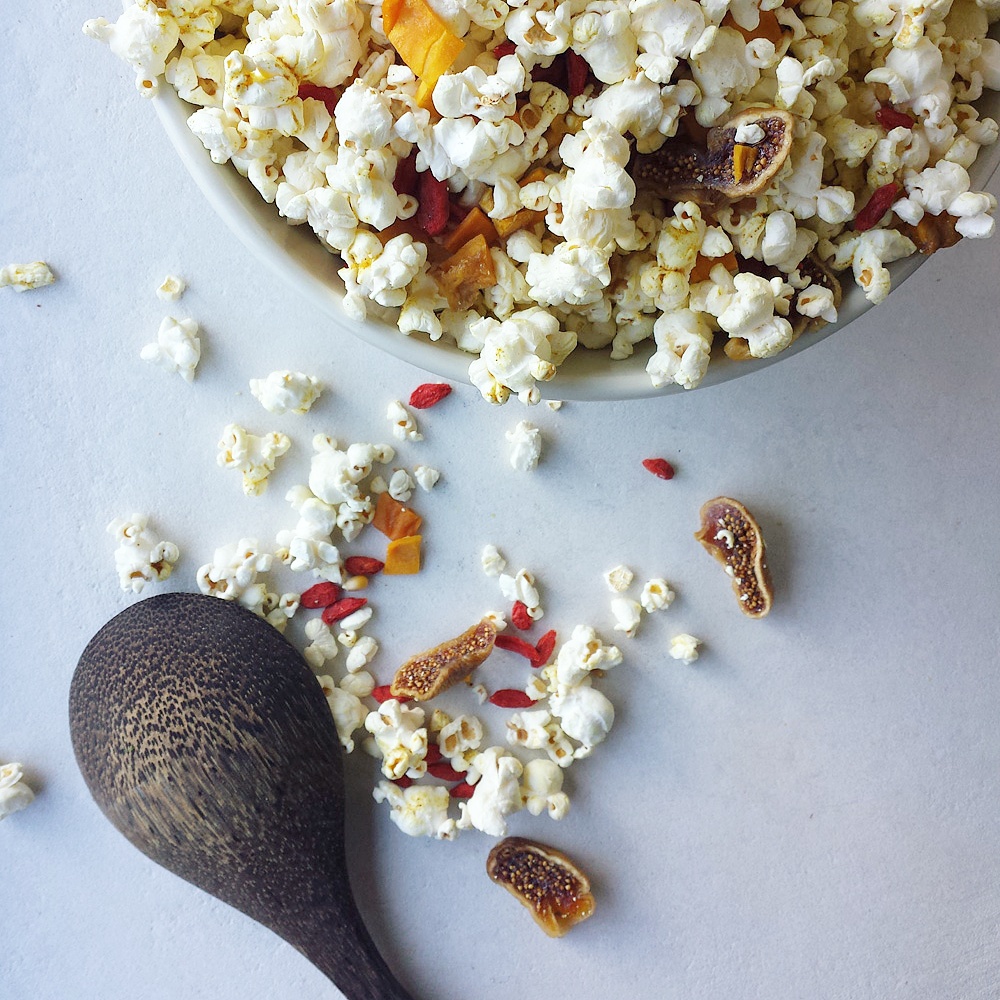 Ingredients:
3 cups popped popcorn (preferably homemade)
½ cup Made in Nature dried figs, cut into ¼" slices
½ cup Made in Nature goji berries
½ cup Made in Nature dried mango, diced
2 Tablespoons olive oil
½ teaspoon curry powder
¼ teaspoon kosher salt
Method:
In a large bowl combine popcorn and Made in Nature dried fruit. In a small bowl whisk the oil with curry powder and salt. Drizzle into the popcorn and toss well, until the popcorn is evenly seasoned.