Salted Dark Chocolate Violet Cookies
Makes 2 ½ Dozen Cookies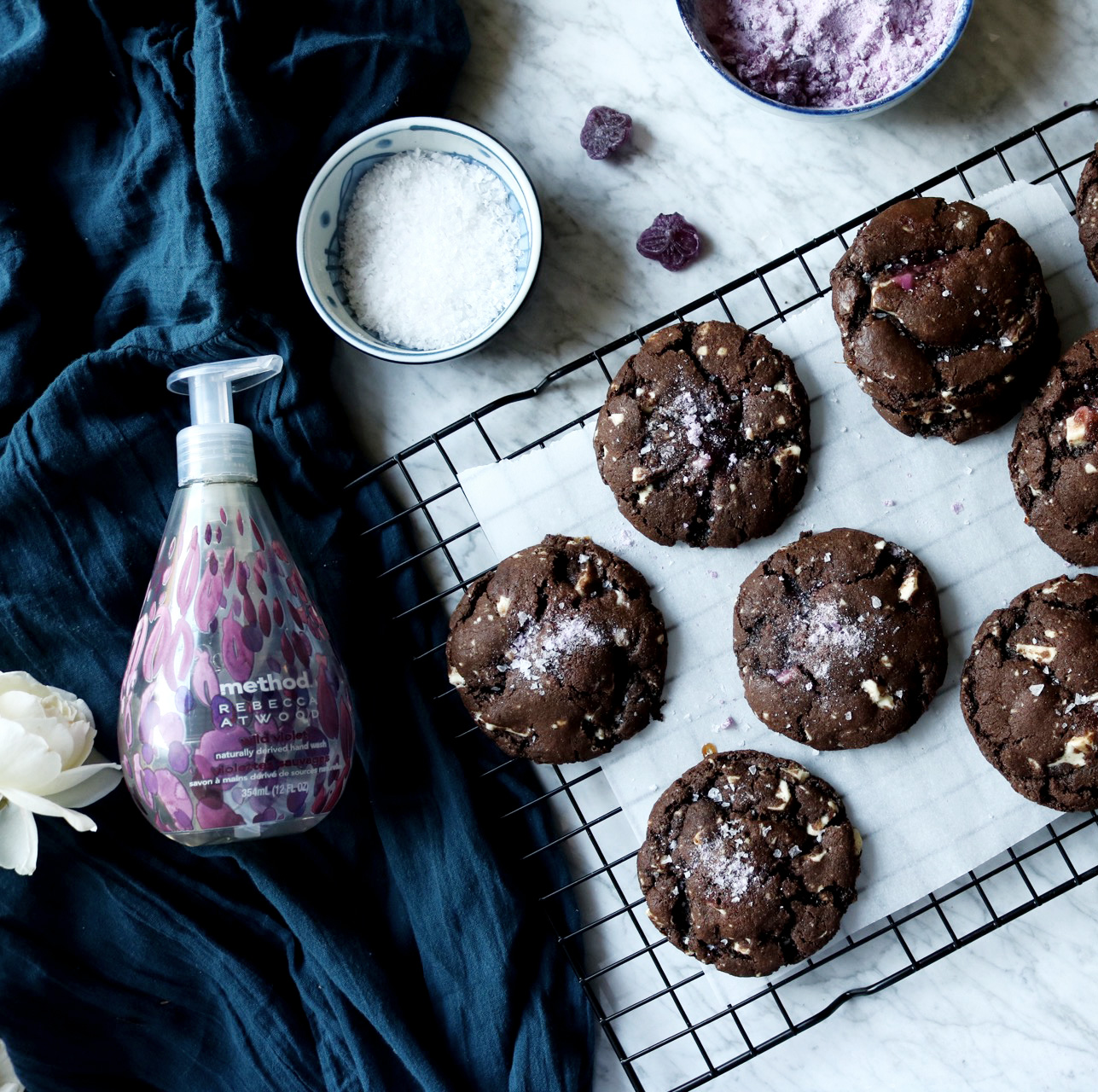 You guys, I made us a fancy cookie. I know. It's exciting.
Did you ever eat French violet hard candies when you were a kid? I was obsessed with them. They usually came in these beautifully designed little tins. I think I was as much obsessed with the tins as I was with the candy itself. So when thefeedfeed + method asked me to come up with something inspired by method Home's new wild violet fragrance, my mind immediately went back to that stash of violet hard candies hidden in a box beneath my bed.
When I was working on this cookie recipe I put the Wild Violet-scented hand soaps in every bathroom + the kitchen. I wanted to be inspired and I wanted this cookie to dazzle. And I while I was completely consumed with the scent, I was equally in love with the packaging. My hand soap has to be pretty…are you with me? Brooklyn-designer Rebecca Atwood designed the bottles and they are completely gorgeous (see the cookie photo!) & available exclusively at Target. I wanted my cookie to echo all of this: delicious on the inside and dramatic on the outside.
So let's talk about this cookie… We start with a brownie-esque cookie base…a light crunch on the exterior and a chewy, lush interior. I went for loads of white chocolate. I'm not usually a huge white chocolate fan, but it completely works in here both taste-wise and visually. Then, I wanted the violet element. I tried violet syrups, candied violet petals…you name it I was shoving it into these cookies. None of the violet flavor shined through, until I ground up the violet candies and dusted the dough balls, just prior to baking. It added the perfect pop of color, flavor and crunch. During some of the testing I threw pistachios in the cookies. If you like nuts in your cookies, do it.
Bust out your jazz hands people, this cookie has hella personality.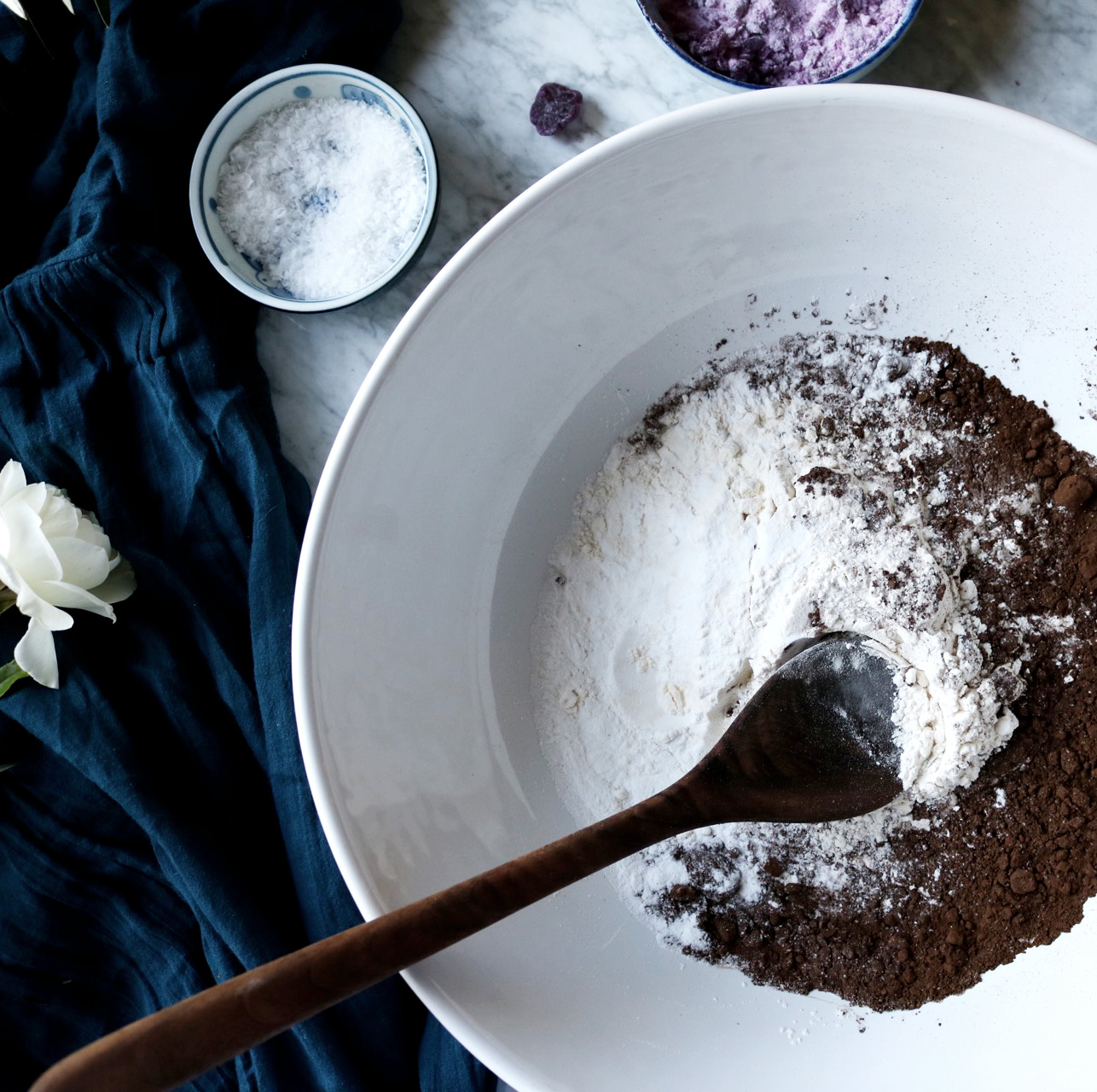 Before We Get Started:
Violet Candie

s. I love the ones that are the beautiful violet color as seen in the photos, but I have also seen them clear or white. If they are the latter color, make sure that they aren't anise flavored. When crushing up the candy, take care not to grind the bits too small…you want to see some larger pops of violet in your cookie.

Chilling Your Dough

. This dough is sticky when first made and benefits from some time in the fridge so that it's easier to handle. Don't skip this step.

Flour

. I use both bread flour and all-purpose flour in this recipe. If you use 100% all-purpose flour your cookie will lack some chew + girth and may spread more while baking. If you use 100% bread flour, your cookie will be puffier than the combo.

White Chocolate

. You can use chips or chopped up bars. If you use the latter, be sure to throw in all of the white chocolate dust left over from chopping. I love the streaks it puts in the cookie. And if white chocolate isn't your bag, feel free to layer in more dark chocolate. It's your cookie. Own it.
Let's get our bake on…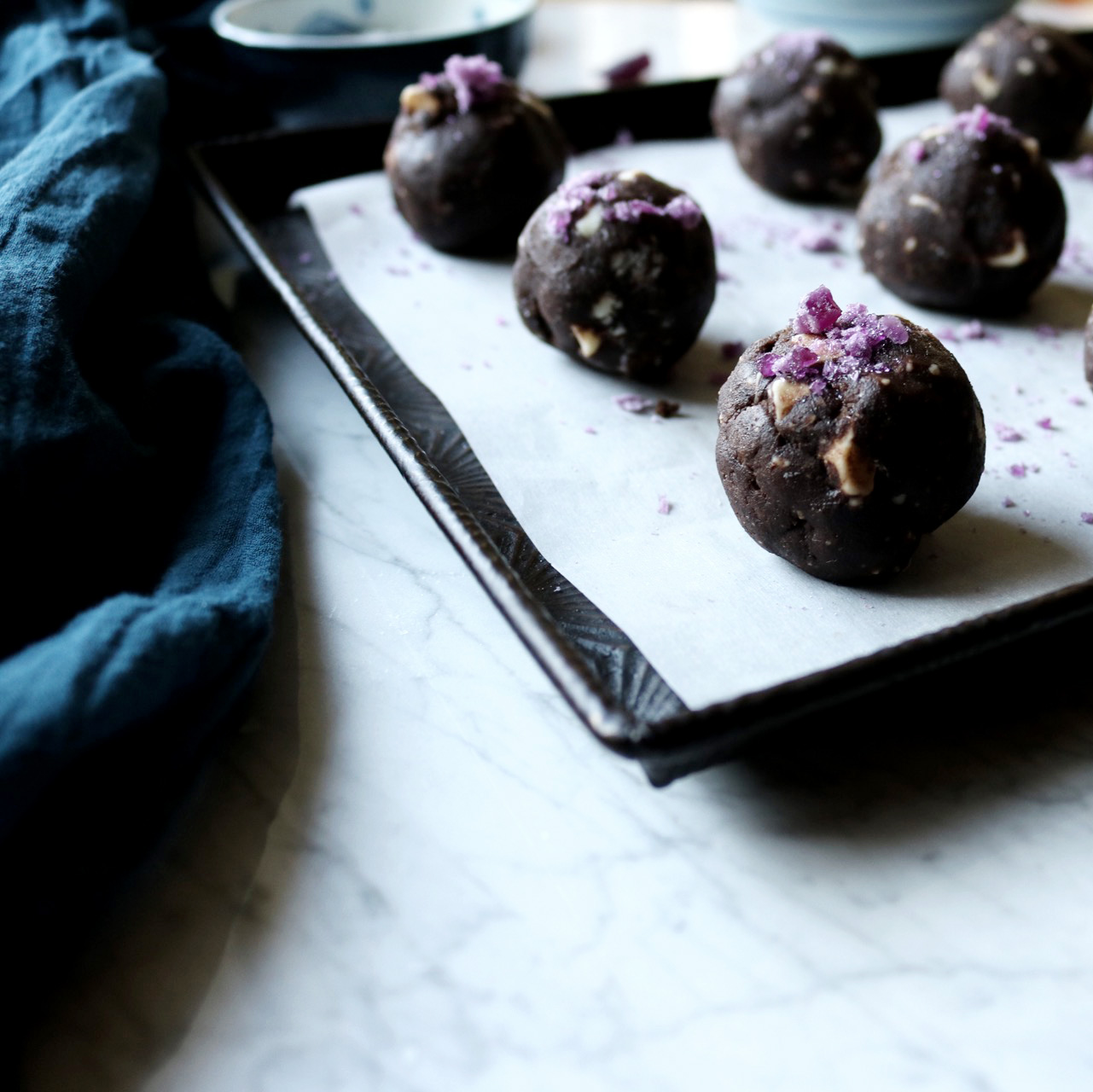 Salted Dark Chocolate Violet Cookies
Makes 2 1/2 Dozen Cookies
INGREDIENTS
8-ounces dark or semi-sweet chocolate, coarsely chopped*

¼ cup sunflower seed oil (or other light-flavored, neutral oil)

1/4 cup (1/2 stick or 2 ounces) unsalted butter

1 cup light brown sugar, packed

1/2 cup granulated sugar

3 large eggs, room temperature

1 tablespoon real vanilla extract

1 cup all-purpose flour

¾ cup bread flour

¼ cup unsweetened cocoa powder (I used extra-dark cocoa powder)

2 teaspoon baking powder

1 teaspoon sea salt

1 teaspoon baking soda

2 1/2 cups chopped white chocolate (I used three 4-ounce chocolate bars; you could also use white chocolate chips)

1 cup pistachios, shelled (optional)

3 tablespoons crushed violets hard candies

1 tablespoon sea salt flakes, to sprinkle on top of the finished cookie (optional)
*This cookie was tested with both dark chocolate and semi-sweet chocolate. Use what you have available or your personal preference.
INSTRUCTIONS
Put the 8 ounces of semi-sweet chocolate, ¼ cup of sunflower oil and butter in a large microwave-safe bowl and microwave on high for 1 minute. Stir until the chocolate is smooth and doesn't have any lumps. Do not overheat the chocolate. Better to pull it out with some lumps and stir until those are gone. *

You could also use a double boiler if no microwave is available.

Add the brown sugar and granulated sugar to the chocolate mixture and mix until completely blended…really get in there and smooth things up.

Add the eggs plus vanilla and mix until everything is completely incorporated. Make sure to scrape the sides and the bottom of the bowl so that everything is well blended together.

In a medium bowl, whisk together the all-purpose flour, bread flour, cocoa powder, baking powder, baking soda and salt.

Pour the flour mixture into the bowl with the chocolate mixture. Use a spatula and blend until just barely combined.

Add the chopped white chocolate and pistachios (if using) and mix in with as few strokes as possible.

Pull out a large piece of plastic wrap and dump the cookie dough into the middle. Wrap tightly, so that it is completely sealed, and place in the fridge for at least 60 minutes or up to overnight. Don't skip this step as the dough will be difficult to handle if you do.

Preheat your oven to 375 degrees F. Make sure there is a rack in the top third of the oven. Cover a baking sheet with a silpat or parchment paper.

Grab about 2 tablespoons of cookie dough and gently roll it between your palms to create a nice sphere. Don't be too aggressive…just a nice, gentle nudging in the right direction. Leave about 2 inches between each cookie. Your hands will get a little messy, fyi. Just punch on through and wash your hands after. Sprinkle each dough ball with a pinch of crushed violet candy. Save about 1 tablespoon of the crushed candy to sprinkle on top of the finished cookie.

Bake the cookies on the top rack in the oven for 11-12 minutes. They will appear to be underdone. That's good. I really prefer baking one sheet of cookies at a time in the oven. If you do use two sheets in the oven at a time, rotate midway, top to bottom and front to back for even baking.

As soon as they're out of the oven, sprinkle with the sea salt flake (if using) + the remaining crushed violet candy. If some of your cookies took on an odd shape whilst baking use the edge of your spatula to nudge them back into a nice circle.

Let the cookies cool on the baking sheet for 10 minutes before moving to a cooling rack.

I hope you love these cookies! Be sure to tag @displacedhousewife #displacedhousewife so I can see your creations!!
*This post was sponsored by method Home + feedfeed. All opinions and thoughts are my own. A big THANK YOU to method Home for including me in their campaign! For more information on this new line of limited-edition fragrances, click here.