Frangipane Tart with Fig & Plums
Serves 8-10
It is almost the end of summer, the sun is setting earlier, the light is getting softer in the evenings, and summer fruits are slowly fading away. I can already see leaves changing color, and the sky color in the evenings is just so dramatic and beautiful. There is something magical and beautiful about fall, with the crisp air, that makes me want to bring out the warmth in my baking with spices. Figs and Plums are in season right now, but only for a short time, especially the figs which come for a few weeks and disappear until next year.
I was inspired by method's new fragrance pink persimmon, a limited edition scent with its fall inspired notes of cinnamon and star anise, in a beautifully designed bottle by Brooklyn based designer Rebecca Atwood, to create a dessert – a Fig and Plum Frangipane Tart. The beautiful deep magenta/purple color of figs and plums, along with the richness of the frangipane filling, which is enhanced by spices like cinnamon and star anise, making this tart perfect as a fall dessert! I used dark rye flour, along with cinnamon and star anise to make the tart dough. The tart dough is rolled out and blind baked with pie weights, to create a beautiful shell.
Once the shell is baked and cooled, the frangipane filling is spread into the tart shell. The frangipane filling is made with almond paste, spices like cinnamon, nutmeg and star anise, giving it that extra oomph and flavor. A little bit of sugar, and eggs, are added and all whipped together to make a delicate flavored filling. Once the filling is spread, the figs and plums are layered delicately onto the filling, to make a beautiful pattern. Sprinkled on the top with turbinado sugar, the tart is ready to bake.
For the finishing touches, the tart is brushed with plum preserves, along with a splash of almond liqueur for the shine, and a dusting of powdered sugar. Eat a slice with a dollop of whipped cream and a cuppa coffee and enjoy the beautiful fall evening with your loved ones.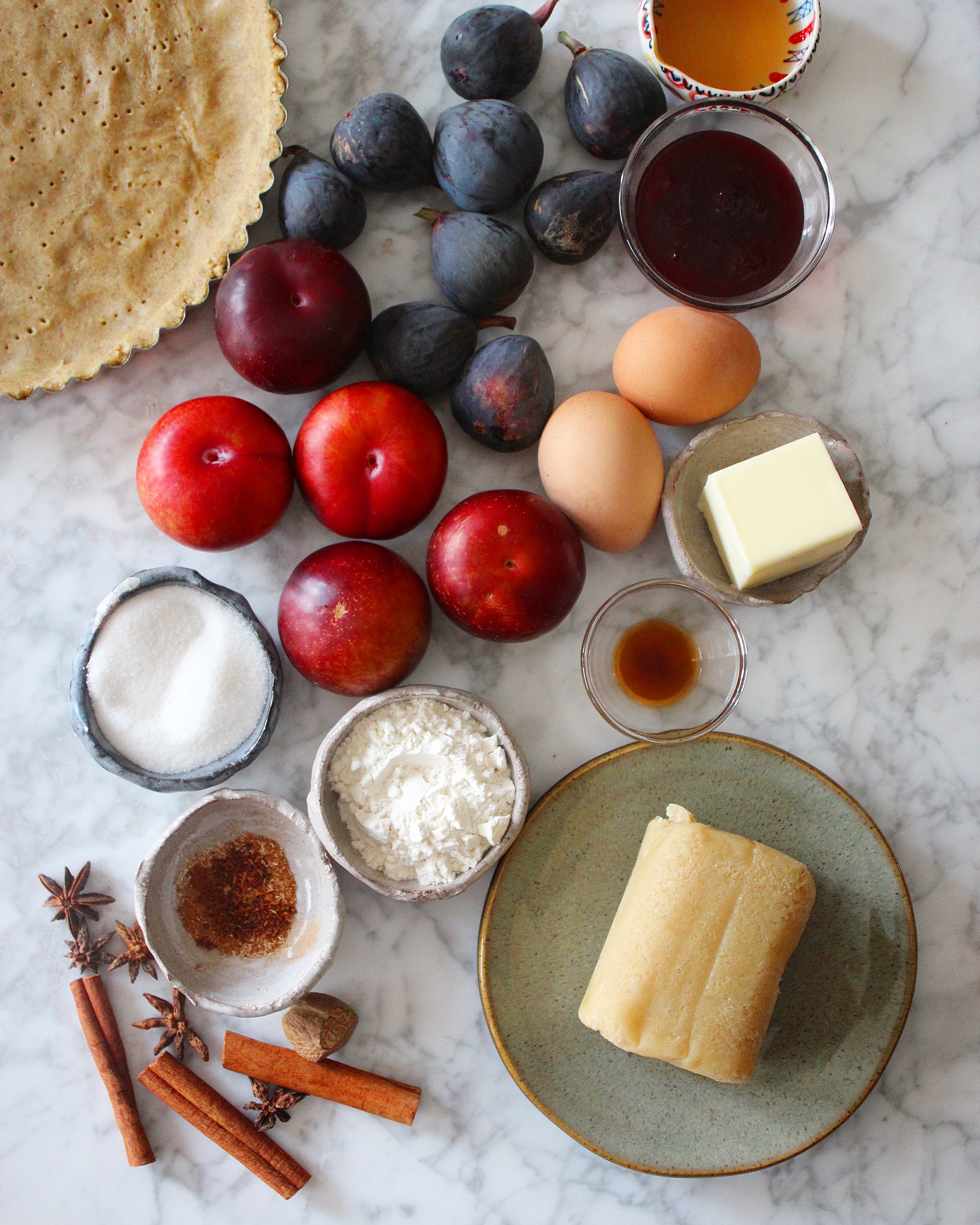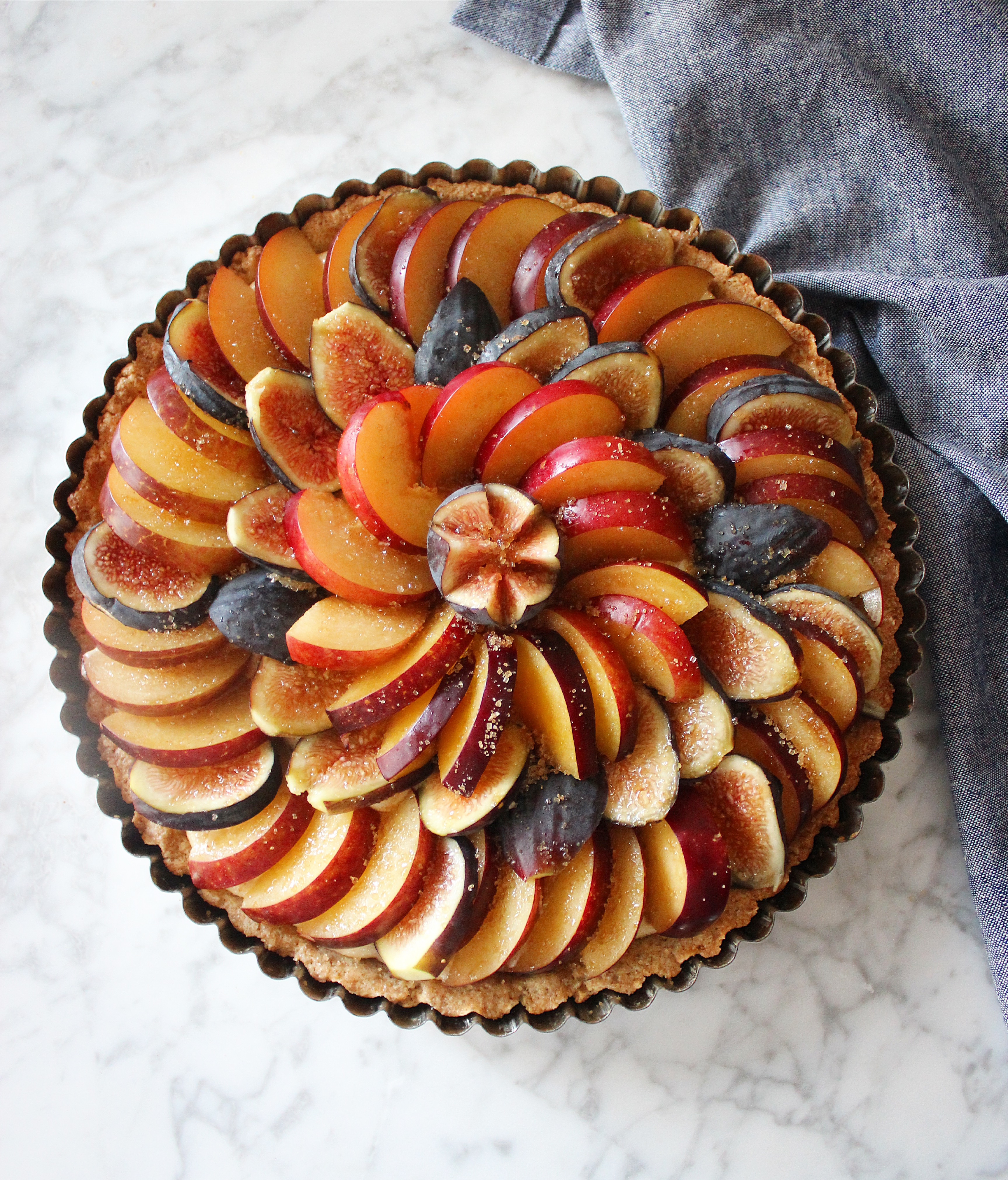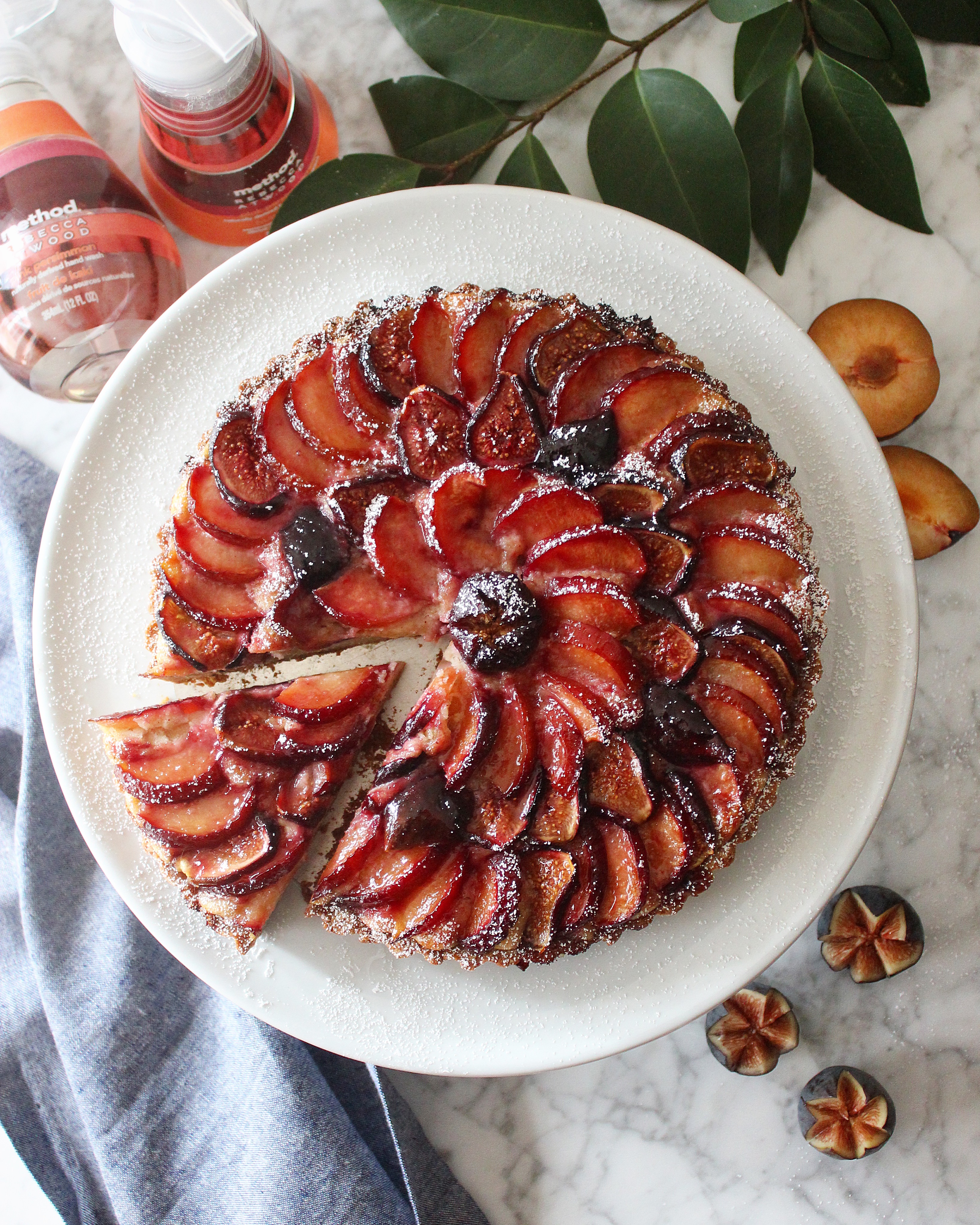 RECIPE:
For pastry dough
1 1/4 cup dark rye flour

3 tablespoons sugar
•

1/2 teaspoon salt

•

3/4 teaspoon cinnamon

•

1/2 teaspoon star anise

•

3/4 stick (6 tablespoons) cold unsalted butter, cut into 1/2-inch pieces

•

2 large egg yolks
1 teaspoon vanilla

1 1/2 teaspoons water
For frangipane filling
•

1/2 stick unsalted butter, softened

•

3 tablespoons sugar

•

1/2 teaspoon almond extract

•

1 teaspoon vanilla extract

•

2 large eggs

•

3 tablespoons all purpose flour

•

1 teaspoon cinnamon

•

1/2 teaspoon star anise
•

1/2 teaspoon nutmeg

•

1/2 teaspoon salt

•

6 firm plums

•

10-12 figs

•

2 tablespoons turbinado sugar
For glaze
•

1/3 cup plum preserves(if you do not have plum preserves, you can use apricot preserves)
•

2 tablespoons water

•

1 tablespoon almond liqueur like Disaronno Amaretto
For final decoration:
•

2 tablespoons of powdered sugar
For serving:
•

1

cup heavy whipping cream

•

3-4 tablespoons of powdered sugar
METHOD:
Make dough:
Put oven rack in middle position and preheat to 375°F.
Pulse flour, sugar, cinnamon, star anise powder and salt in a food processor until combined. Add butter and pulse until mixture resembles coarse meal with some small (roughly pea-size) butter lumps. Add egg yolks, vanilla, and water and pulse just until incorporated and dough begins to form large clumps.
Turn dough out onto a work surface and massage the dough with the heel of your hand (fraisage) to incorporate the dough and form into a ball. Flatten the ball into a disc.
Put dough in tart pan and pat it evenly with well-floured fingers into the bottom of the pan and up the sides so it extends about 1/4 inch above rim. Chill in the fridge for 30 minutes.
Lightly prick tart shell all over with a fork, then line with parchment paper and fill with pie weights. Bake shell until golden around edge, about 15 minutes. Carefully remove the parchment paper and weights and bake until shell is golden all over, about 15 minutes more. Cool shell completely.
Make frangipane filling:
Beat together almond paste, butter, sugar, and almond and vanilla extract in a bowl with an electric mixer at medium-high speed until creamy, about 3 minutes. Reduce speed to low and add eggs, 1 at a time, beating well after each addition. Add the flour/salt/spices mixture.
Halve the plums, discarding pits, then cut into ¼ inch slices with a sharp knife to get clean slices. Slice the figs neatly into ¼ inch slices as well.
Spread frangipane filling evenly in tart shell. Layer the plums and figs in a concentric circle pattern over the filling, being careful not to push too far into filling. You can start with the plums first as the outermost circle, fig slices as the second circle, and keep alternating till you reach the center. Sprinkle with turbinado sugar.
Bake tart until frangipane is puffed and golden and edges of nectarines are golden brown, about 1 hours.
Make glaze and final touch:
Heat preserves and water in a 1-quart saucepan over moderately high heat, stirring, until preserves are melted. Remove from heat and force through a fine-mesh sieve into a small bowl, discarding solids. Stir in Amaretto (if using).
Brush top of hot tart generously with glaze and cool in pan on rack 15 minutes. Remove side of pan and cool tart completely, about 2 hours. With a fine sieve, sprinkle powdered sugar on the top for the final finish.
Add the heavy whipping cream into a mixing bowl, and whip it with the whip handle on high speed for a minute. Add in the powdered sugar and whip again till it forms firm peaks when the whip handle is inverted. Serve the slice of tart with a dollop of the whipping cream!
This post is sponsored by feedfeed and method - all opinions are expressly my own