A feedfeed Friendsgiving
Twists on classic recipes from the feedfeed kitchen
As members of the food industry, and avid home cooks, Thanksgiving is kind of a big deal around here. We love everything about the holiday, planning the menu, setting the table and preparing recipes from scratch to share with family and friends. This year we hosted an early Friendsgiving along with our partners at Simply Organic, as well as members of the NYC feedfeed community who joined us at The Kitchen Table, located in the heart of Little Italy in Manhattan, for an evening of fun, friendship and food. Inspired by the amazing line of organic spices from Simply Organic, we put together a classic American Thanksgiving menu, with just the right amount of spice! And of course...as we planned our menu, we focused on sourcing from our favorite local farms and vineyards for much of the meal, and even featured local Oysters snorkeled for by Dan, our co-founder! True to our roots, we also invited our talented NYC community members to contribute to the menu planning, bringing everyone's favorite flavors into one meal! We hope this inspires your own Thanksgiving menu this year. Be sure to tag any of the recipes you make with #feedfeed for a chance to be featured on our Website or on one of our many Instagram accounts!
The Menu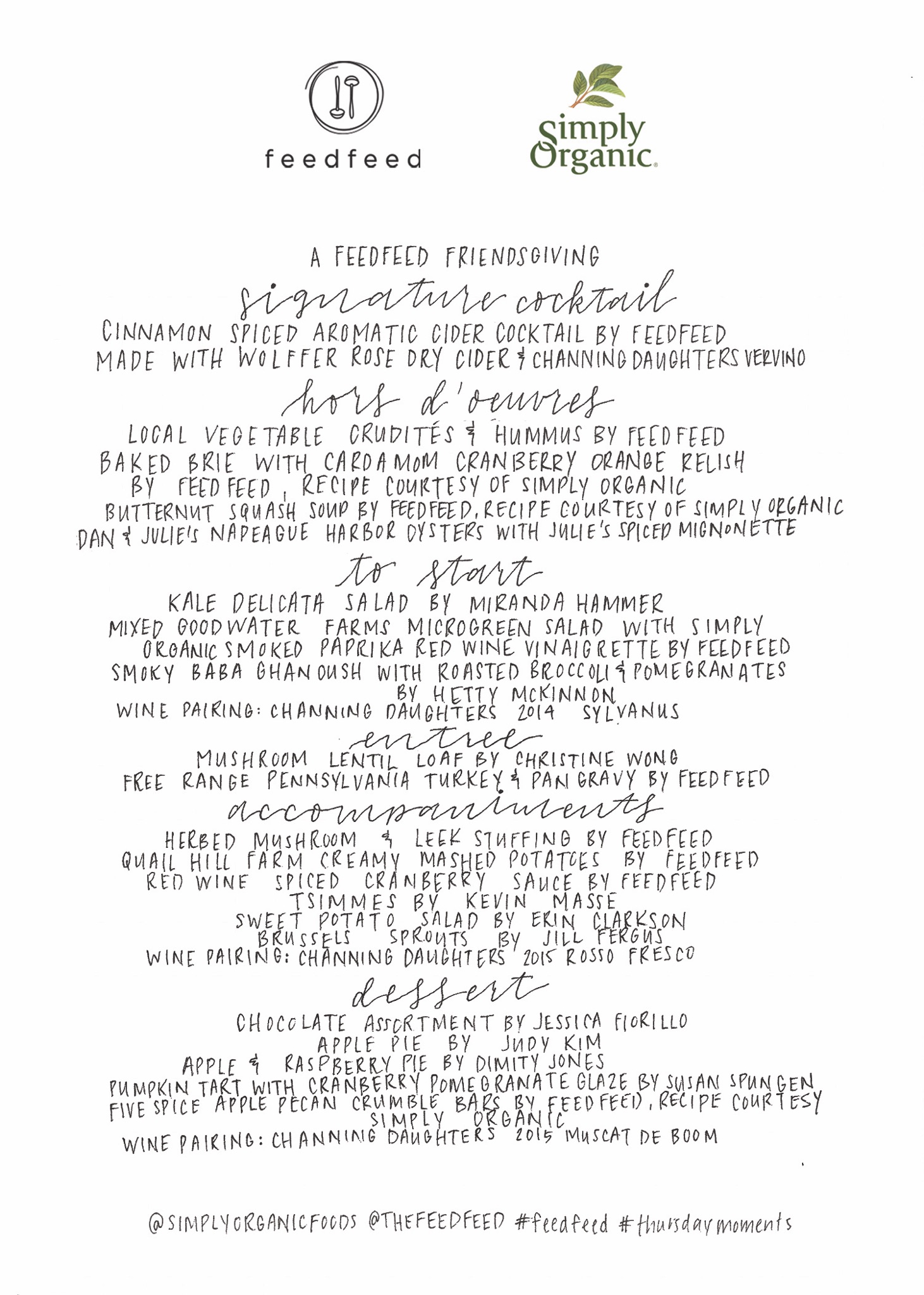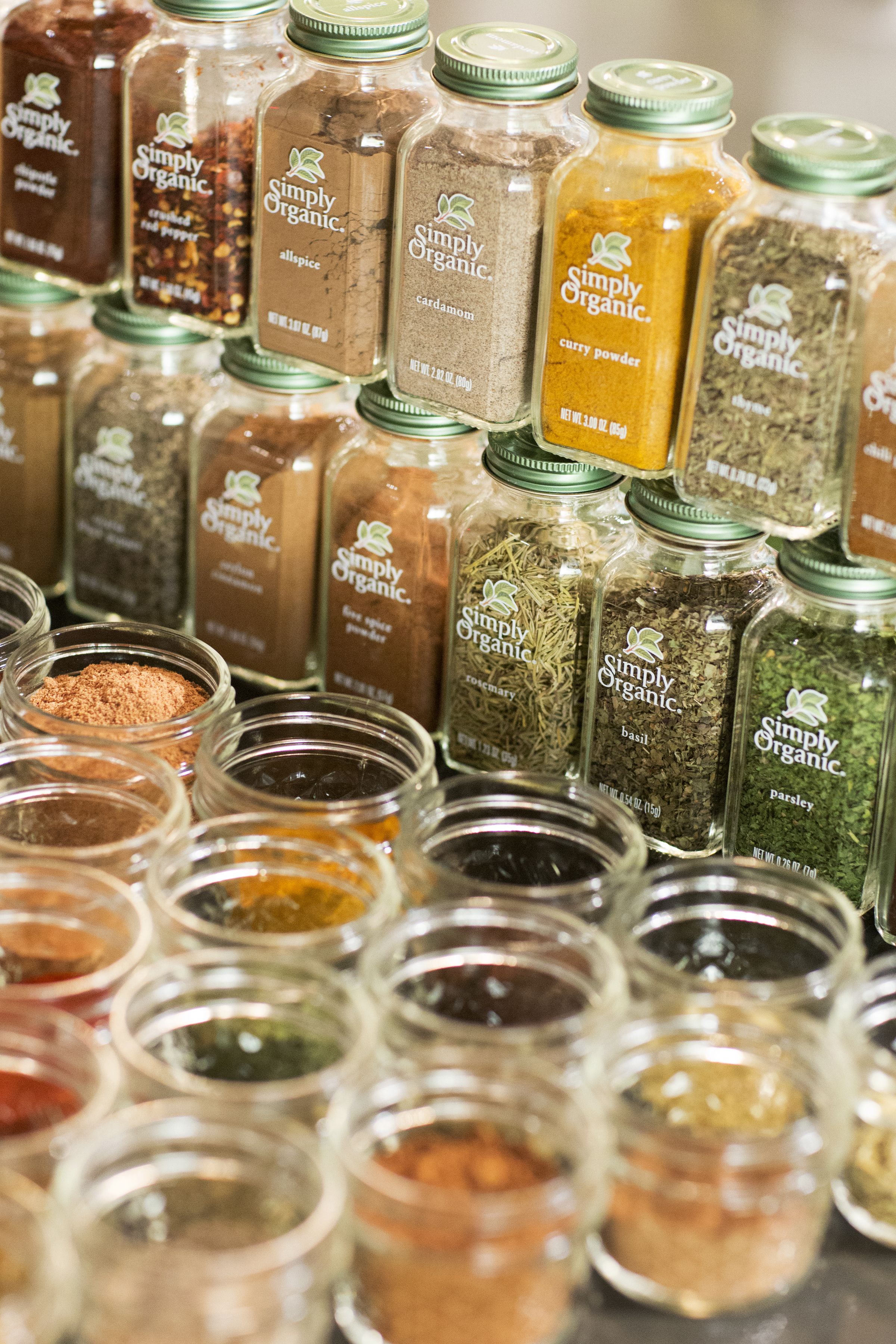 Signature Cocktail
feedfeed Cinnamon Spiced Aromatic Cocktail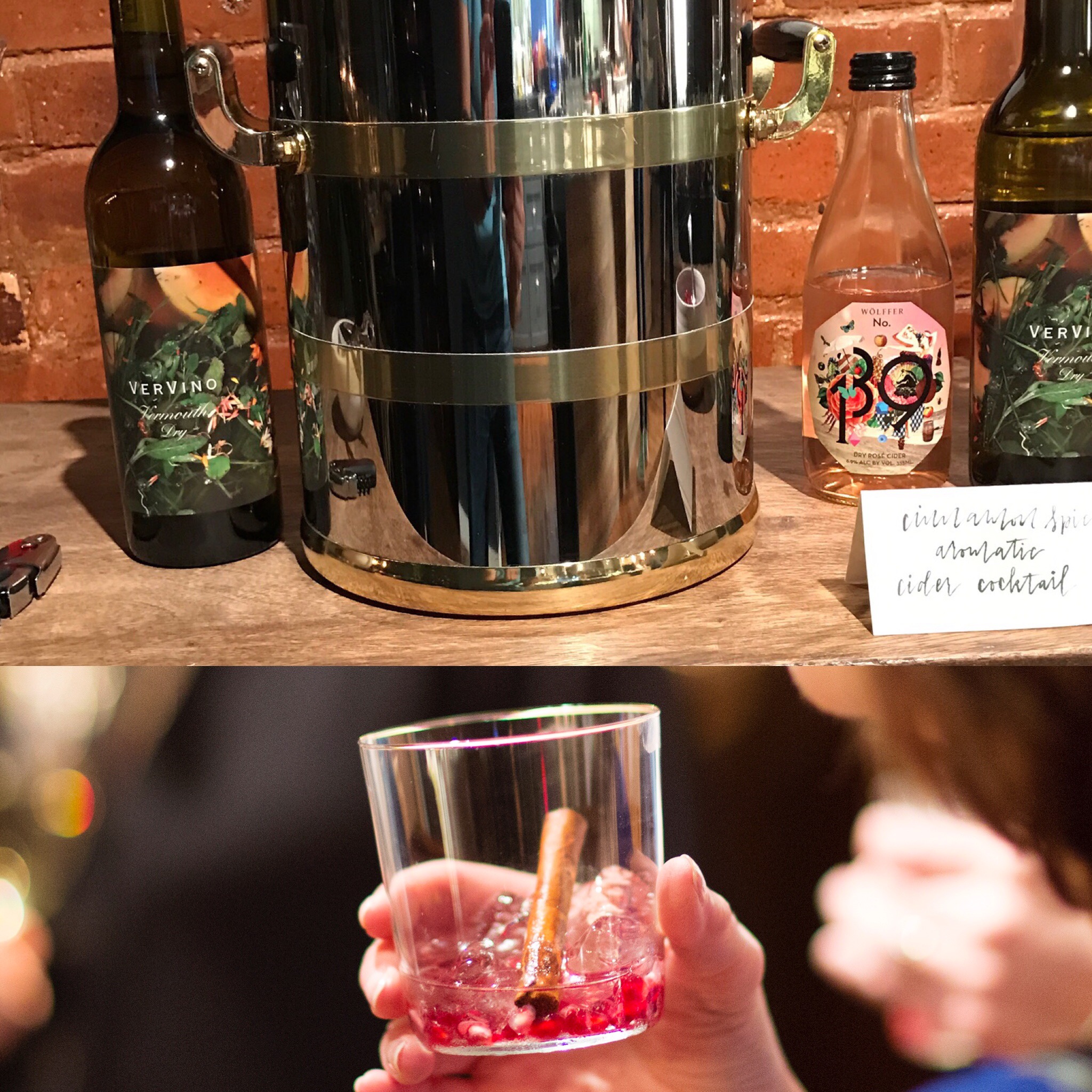 Made with equal parts Wolffer Estate Dry Rosé Cider and Channing Daughters VerVino White Vermouth , this simple, yet festive cocktail is scented with a Simply Organic Cinnamon Stick and juicy pomegranate arils. The result is an incredibly well-balanced, highly drinkable cocktail that won't knock you out before dinner even begins!
Hors d'oeuvres
1. feedfeed Smoked Paprika Hummus with Local Fall Crudité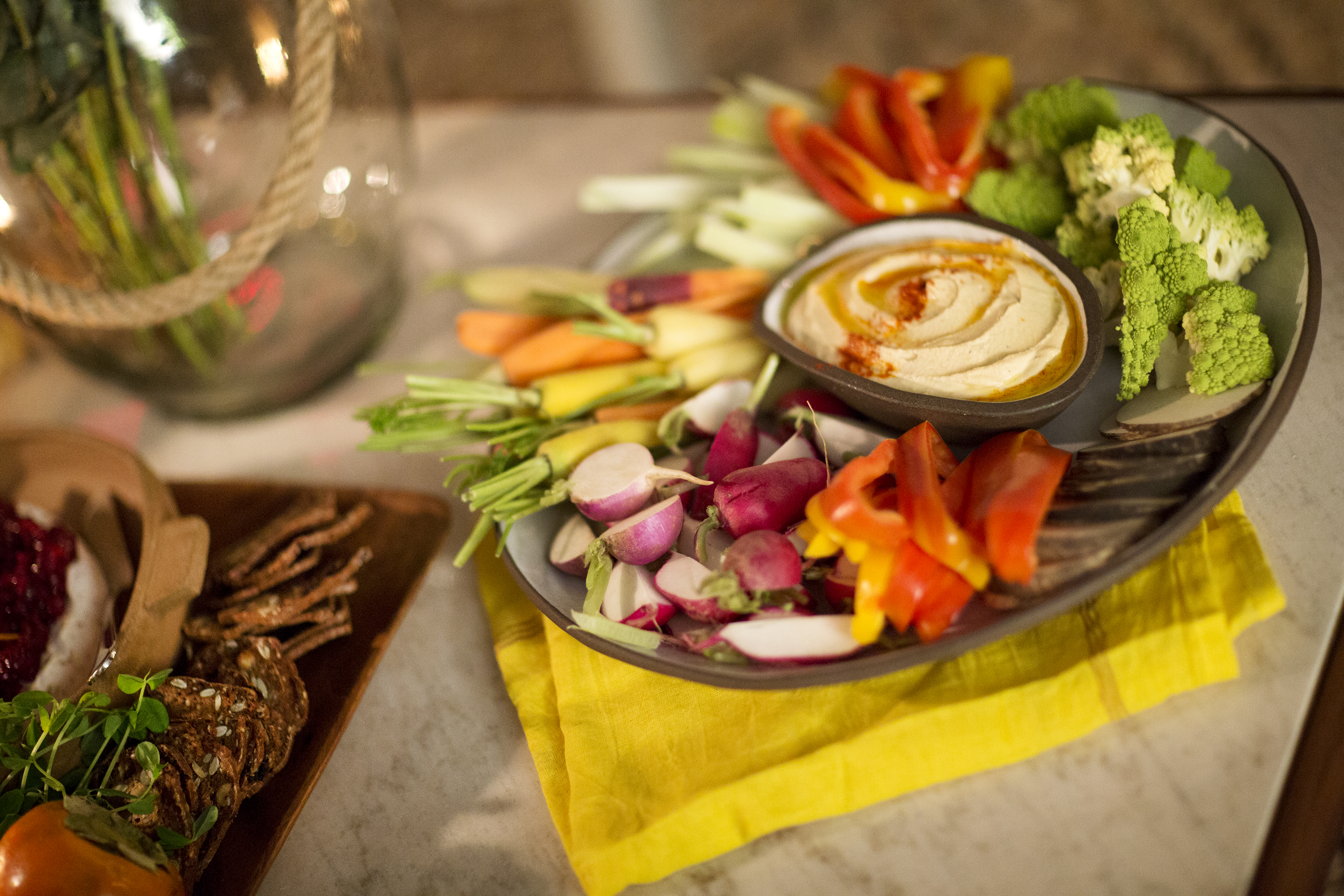 One common problem we personally face every Thanksgiving is hungry guests milling about the kitchen, while we try to get dinner on the table. Stave off hunger (and clear out the kitchen!) by making a big batch of hummus ahead of time to serve with local crudité and crackers.
Get our recipe
Hors d'oeuvres
2. Baked Brie with Cardamom Cranberry Relish, recipe/photo courtesy of Simply Organic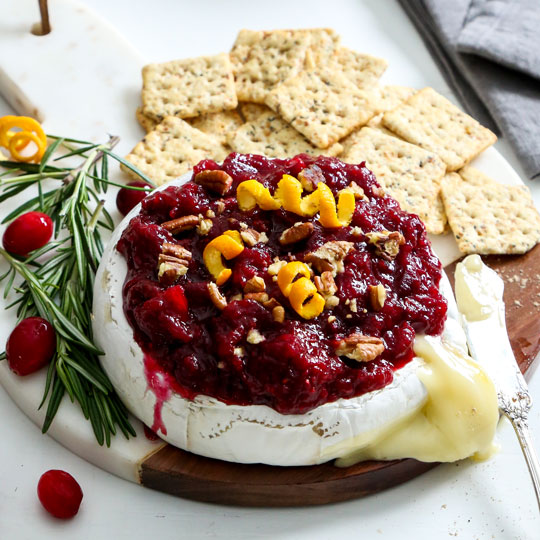 Baked brie is a holiday staple, but what we love about this recipe from Simply Organic is that the perfect spiced cranberry relish helps to cut through some of the richness of the brie for a perfect balance of flavors. Make the chutney the day before serving and store it in the fridge to make this appetizer super simple.
Hors d'oeuvres
3. Butternut Squash Soup Shooters, recipe courtesy of Simply Organic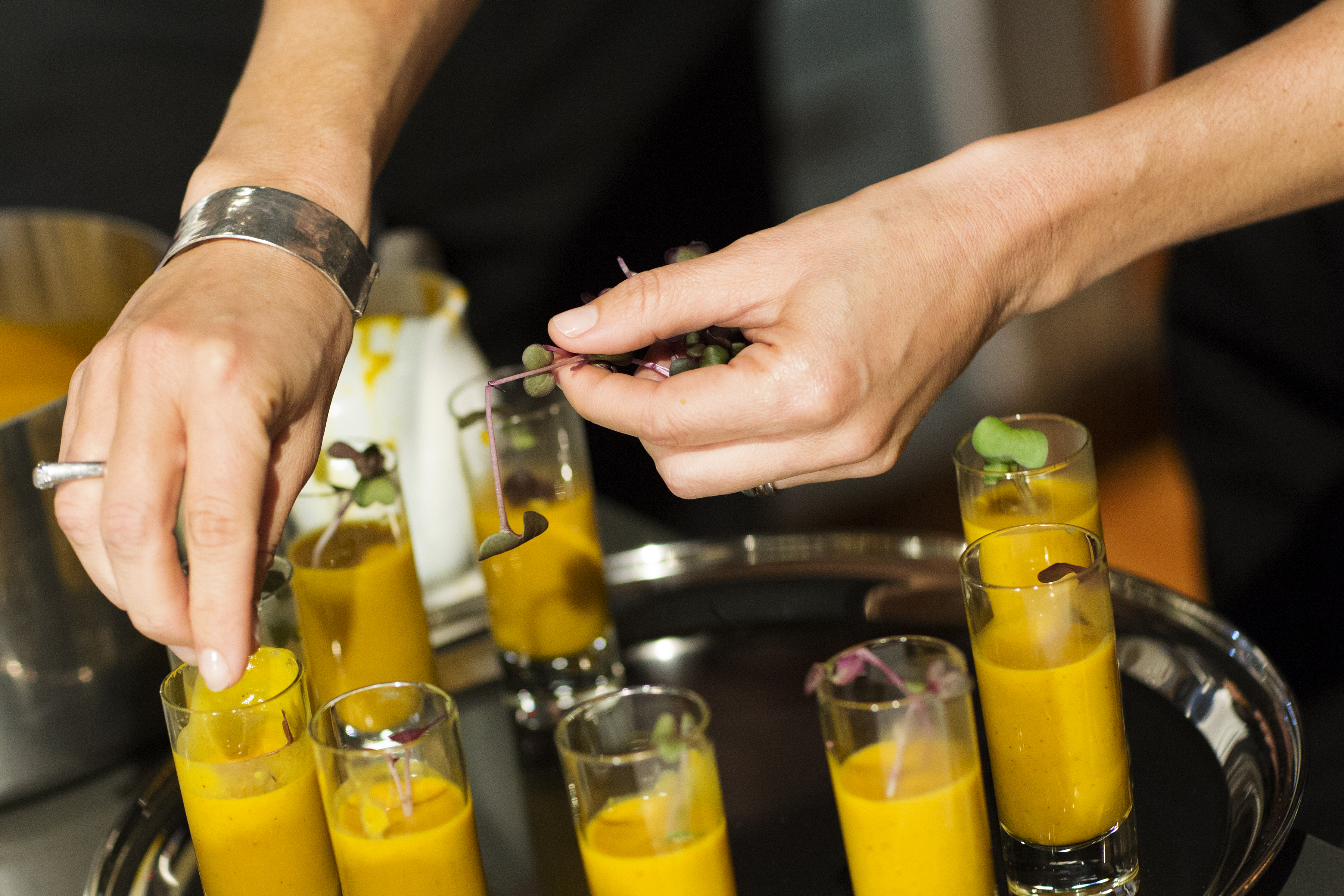 Make a batch of this creamy soup, spiced with Simply Organic Curry Powder and Red Pepper Flakes a few days ahead. The flavors will meld nicely in the fridge. When ready to serve, just bring to a boil on the stove, then funnel into shot glasses. We garnished our version with Good Water Farms Microgreens, but the cooked chickpeas called for in the recipe add a nice texture.
Get the recipe
Hors d'oeuvres
4. feedfeed Napeague Harbor Oysters with Julie's Clove & Smoked Paprika Spiced Mignonette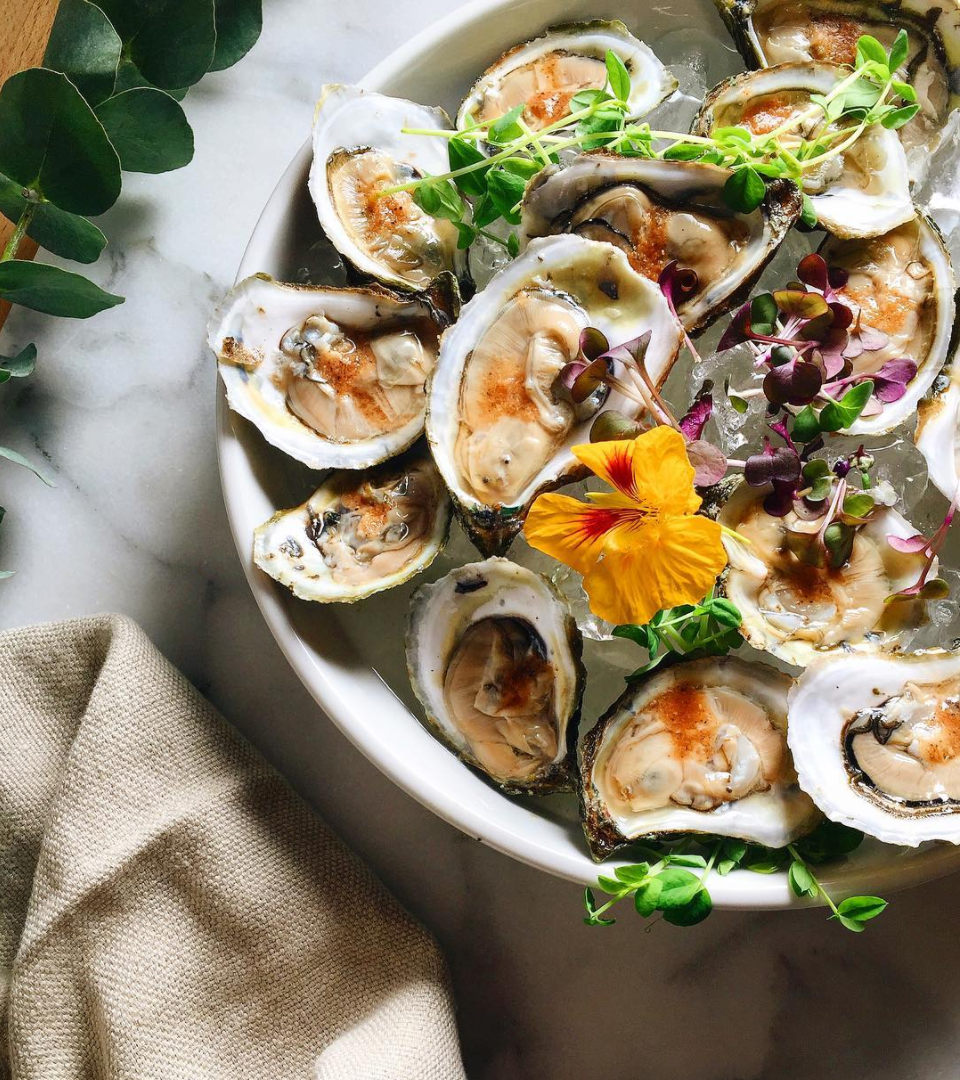 Dan, our co-founder brought these from sea to table, harvesting these oysters from our back yard and shucked them right before guests arrived at our friendsgiving event. Adding a pinch of Simply Organic Cloves & Smoked Paprika took our basic Mignonette to the next level.
Get the mignonette recipe.
Table Styling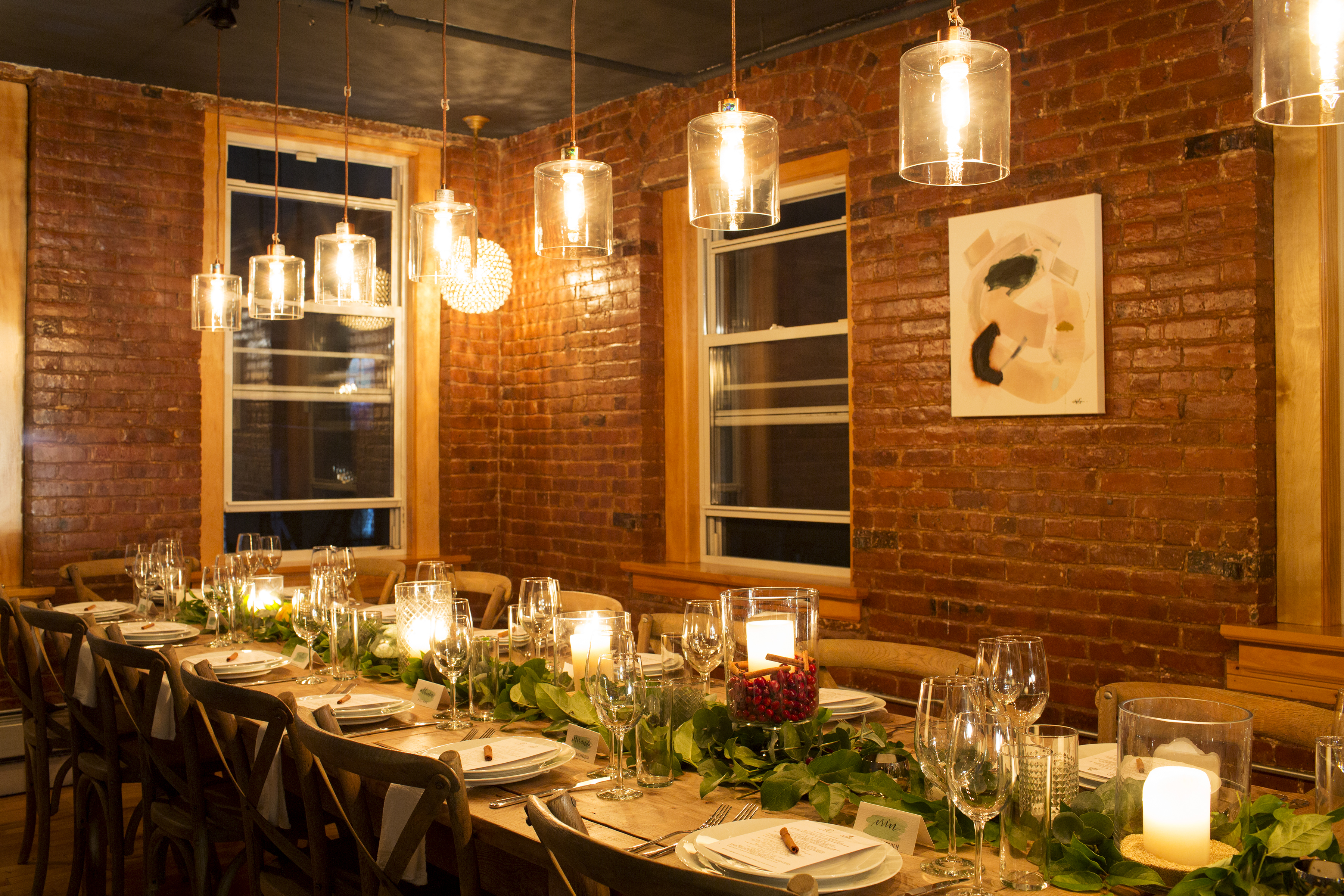 We kept it simple with Kevin and Molly using eucalyptus, lemon balm, ruscus, fresh cranberries, and cinnamon sticks to decorate the table.
Salads
1. feedfeed Kale and Roasted Delicata Squash Salad with Spicy Pumpkin Seeds and Pomegranates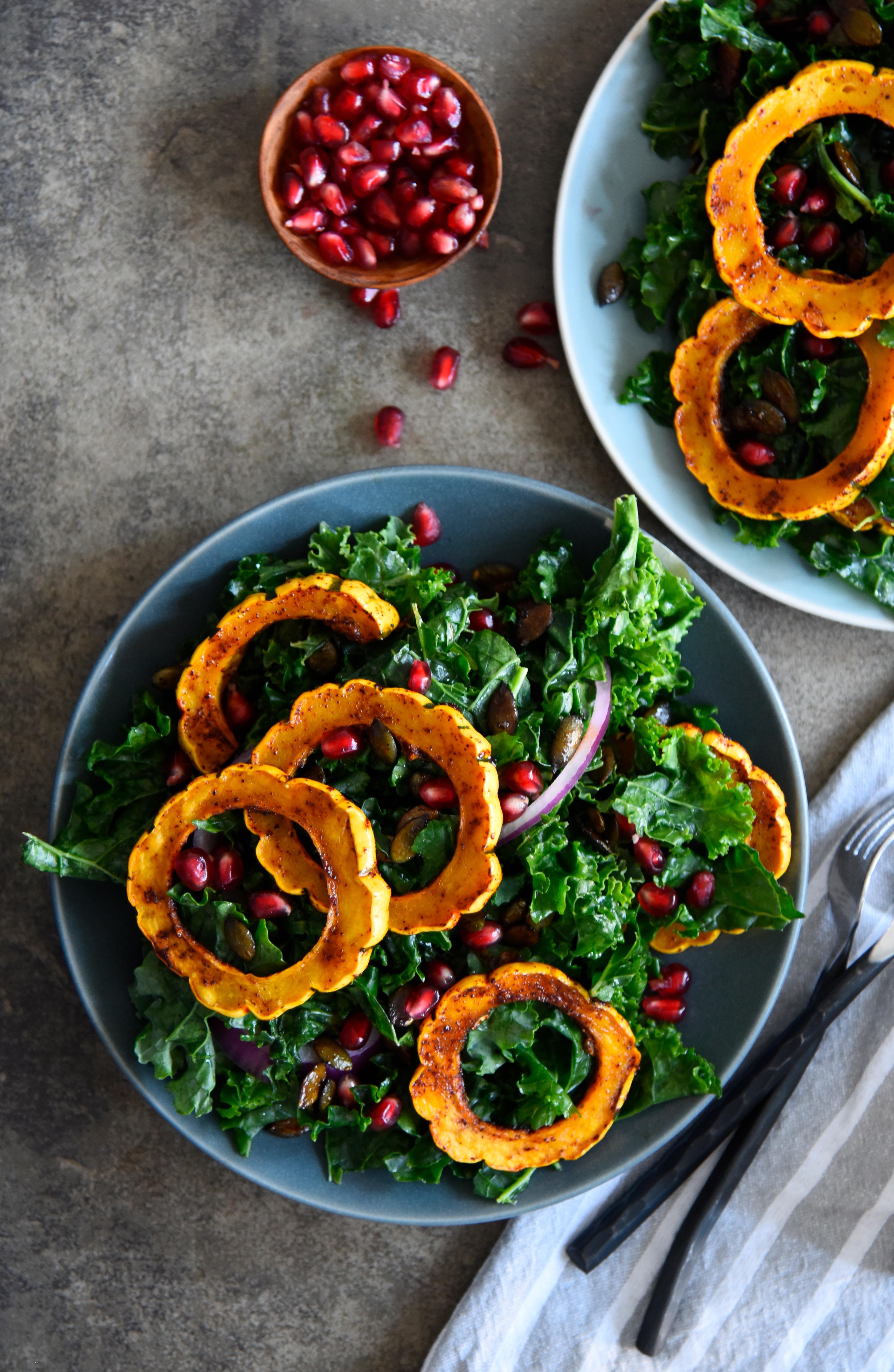 We had to recreate and photograph this @thecrunchyradish recipe ourselves because we didn't have time to take a picture of hers before it got gobbled up! The stunning colors of this layered salad will make this a star of your holiday table.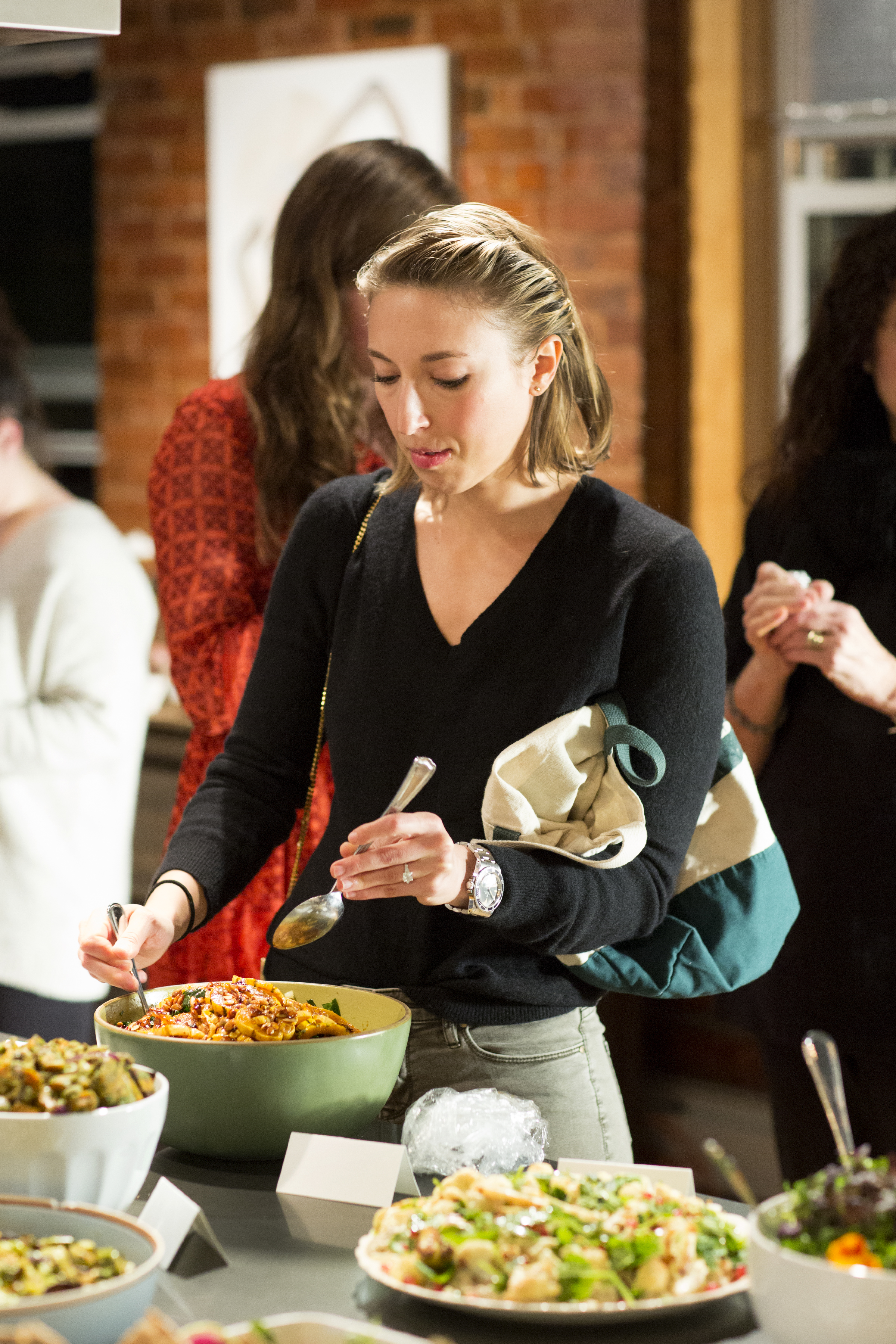 It was great to hang with Miranda @thecrunchyradish IRL as we have been following each other's accounts virtually for 3 years now!
Salads
2. feedfeed Mixed Good Water Farms Microgreen Salad with Smoked Paprika Vinaigrette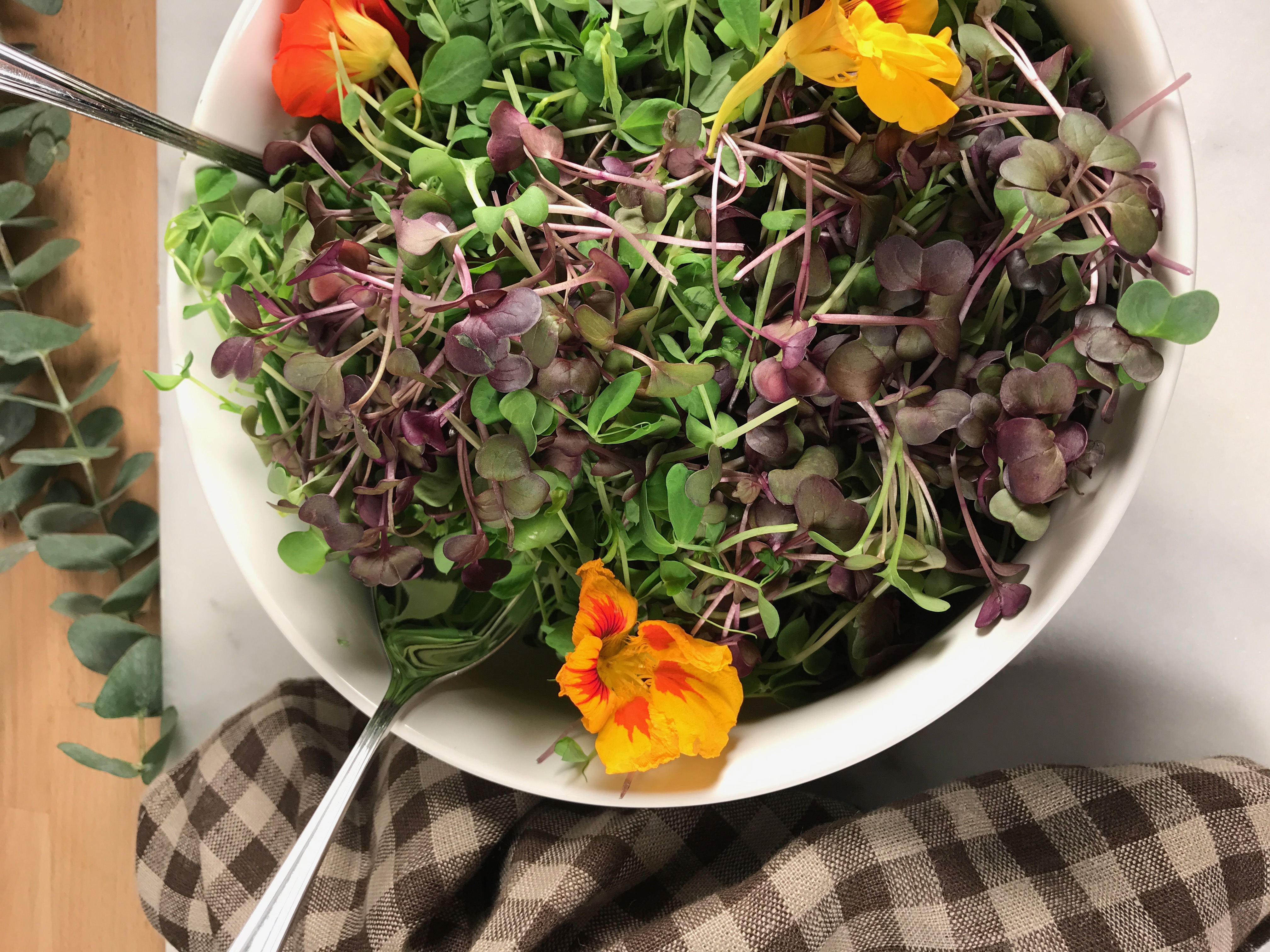 So simple, but super satisfying. Our guests loved this mix of flavorful of our favorite Good Water Farms microgreens dressed with a smoky vinaigrette. We used just a pinch of Simply Organic Smoked Paprika, which really highlighted the peppery bite of the microgreens.
Salads
3. Smoky Baba Ghanoush with Roasted Cauliflower and Pomegranates by Hetty McKinnon of @arthurstreetkitchen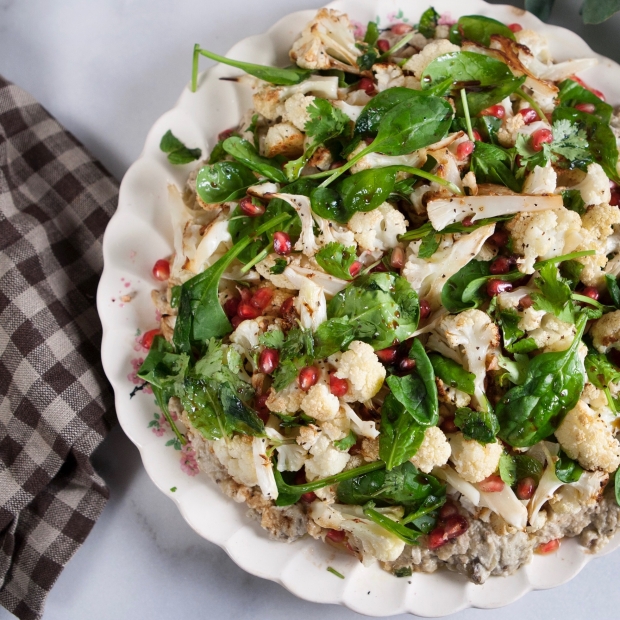 This salad pretty much explains the kind of creativity we are fortunate enough to see everyday on #feedfeed, and what keeps us doing what we do, i.e. finding more and more amazing homecooks, chefs, and bloggers that continue to astound us with these kind of flavors! The combination of Baba Ghanoush, Cauliflower, Pomegranate, & Simply Organic Cumin and Chipotle Powder were truly astounding.
Get the recipe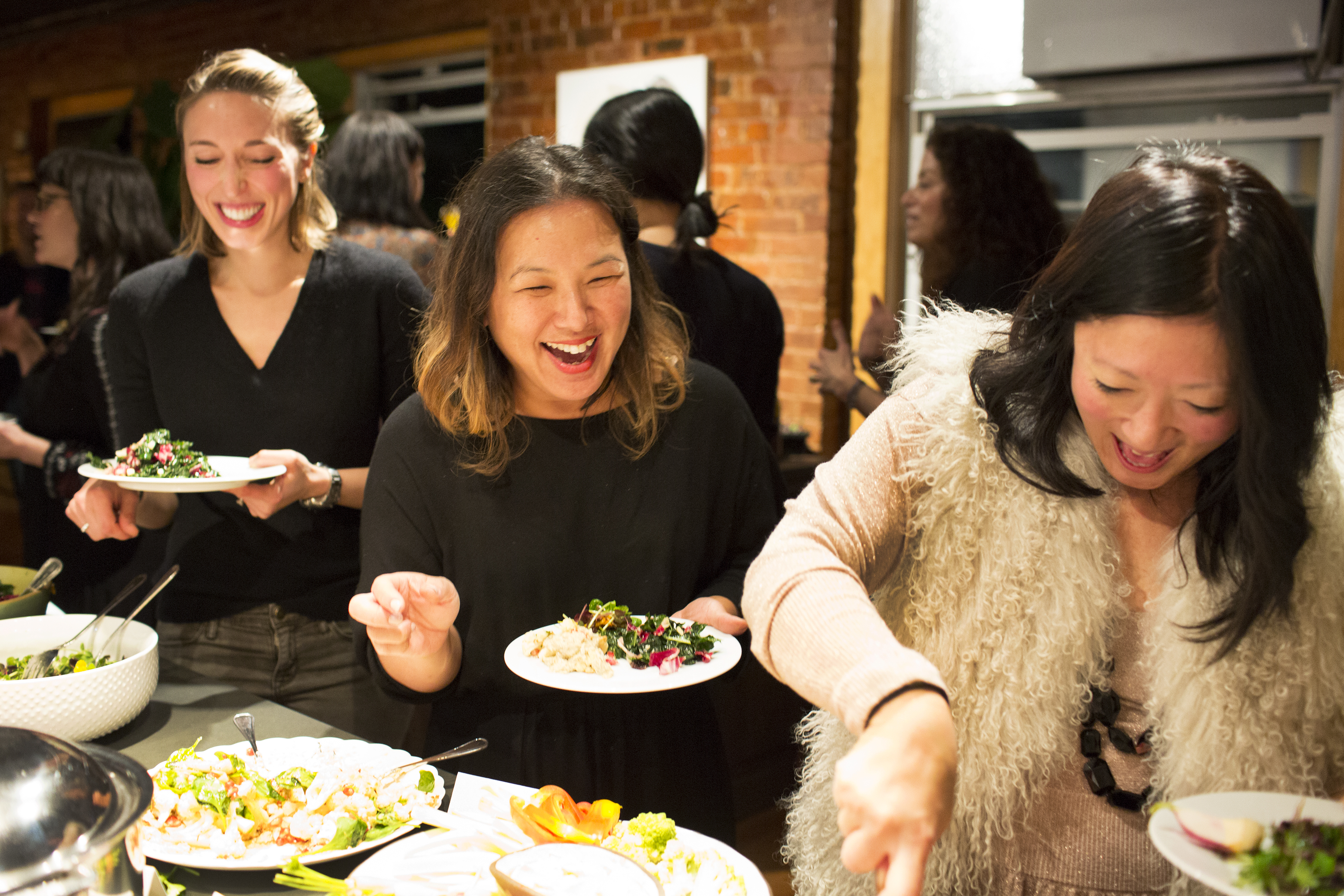 Entrees
1. feedfeed Dry-Brined Roast Turkey with Pan Gravy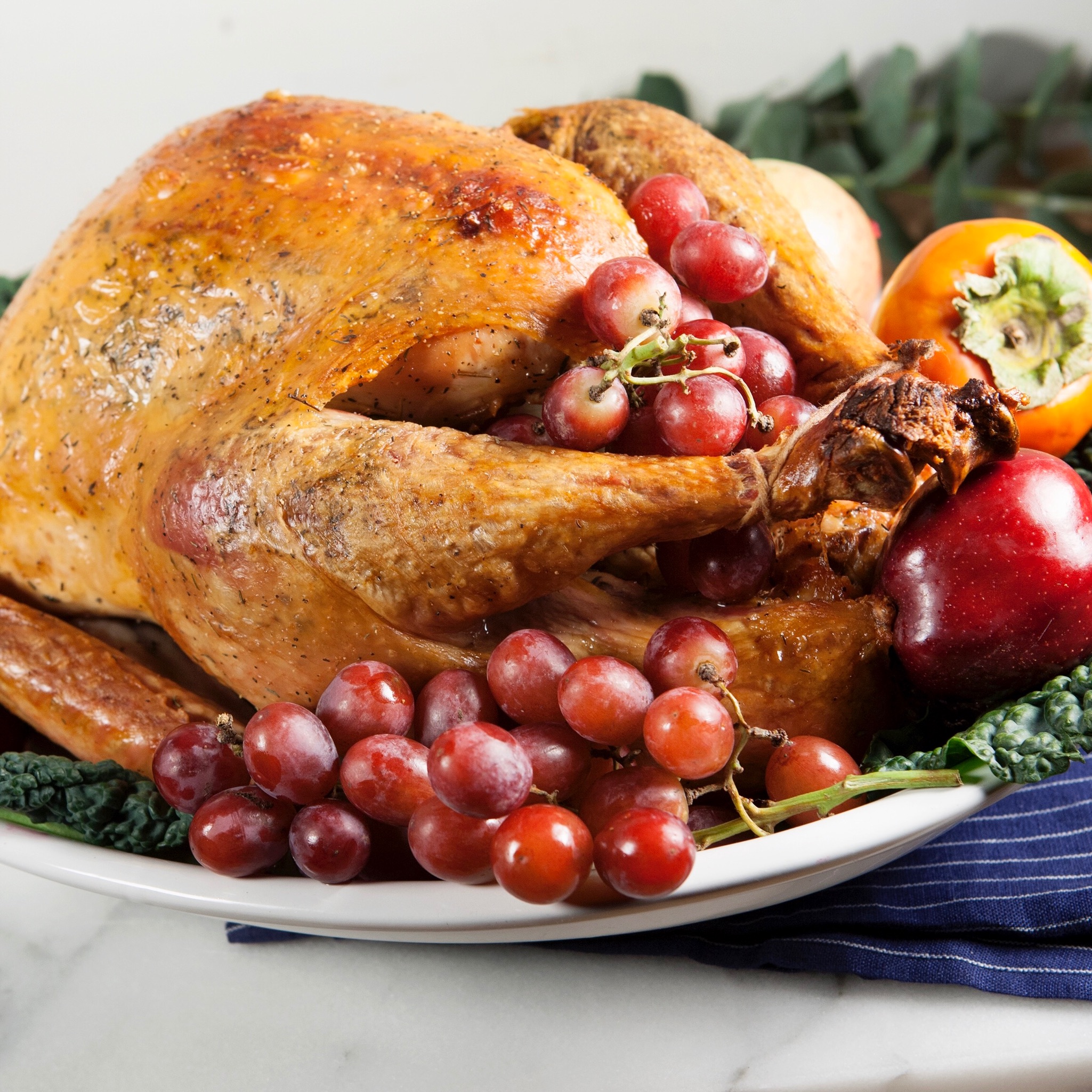 We made two turkeys for our friendsgiving event, one roasted whole and one spatchcocked (back-bone removed to speed up cooking time). We dry-brined both birds with a mix of kosher salt and Simply Organic dried herbs. You can find the whole roasted and spatchcocked turkey recipe, here and here, and the make ahead gravy here.
Entrees
2. Sage and Onion Mushroom Lentil Loaf with Cranberry Jam by Christine Wong of @conscious_cooking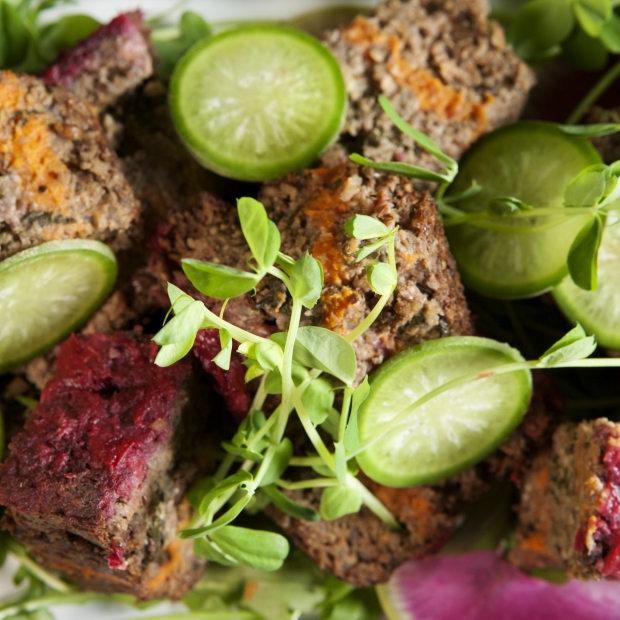 Hosting any vegans or vegetarians this year, or looking for a plant-based alternative to Turkey? Serve this gorgeous mushroom lentil loaf as a vegetarian entree or as a side dish to go along with turkey for meat-eating guests.
Get the recipe.
Check out our Full Vegetarian Thanksgiving Menu Suggestions here.
Check out our Full Vegan Thanksgiving Menu Suggestions here.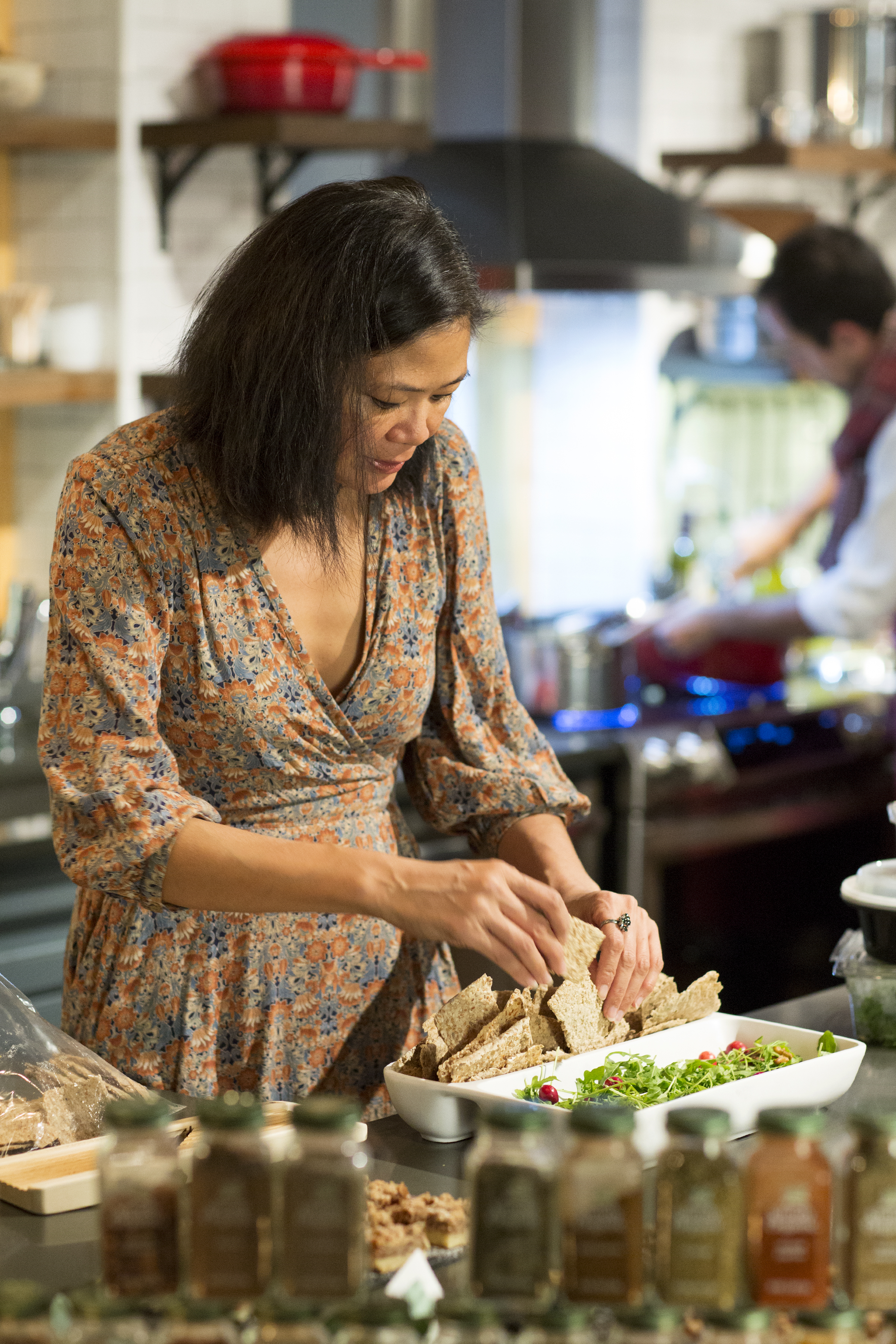 Christine Wong of @conscious_cooking preparing her dish. We've known Christine for almost 3 years now, having first met at our booth in Union Square Market when we hosted our first recipe card series there as part of our initiative to help the New York City Markets connect all the amazing shoppers, homecooks, and chefs that shop at the Greenmarkets.
Check out the Grow NYC Greenmarkets page showing all the amazing creations NYC shoppers make from Greenmarket goods!
Accompaniments
1. feedfeed Wild Mushroom and Leek Stuffing served in Roasted Acorn Squash Cups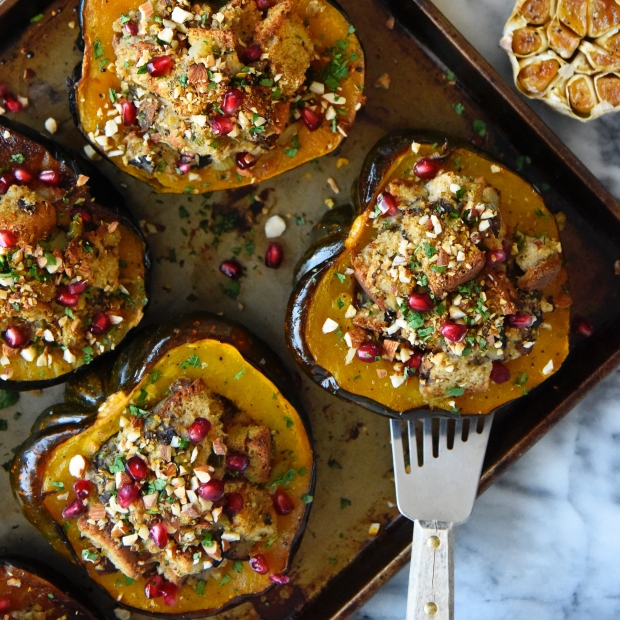 We love the deeply savory taste wild mushrooms add to stuffing. Another tip, toast your bread ahead of time, the more stale, the better! That way it will really absorb all of the flavors added.
Get the recipe here
Accompaniments
2. feedfeed Quail Hill Farm Creamy Mashed Potatoes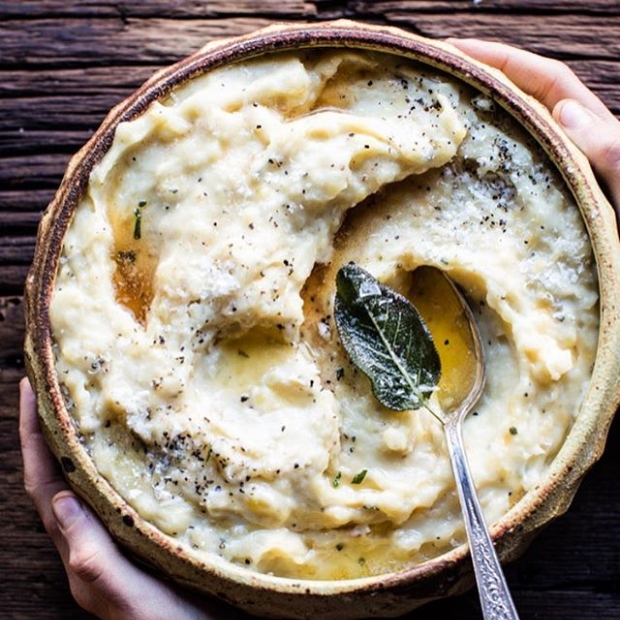 We live by a few hard and fast rules when it comes to potatoes; get local ones if you can, don't be afraid to heavily salt the cooking water, start cooking the potatoes in cold water, use a ricer instead of a masher, and don't skimp on the butter!
Get the feedfeed recipe here.
Photo by @halfbakedharvest.
Accompaniments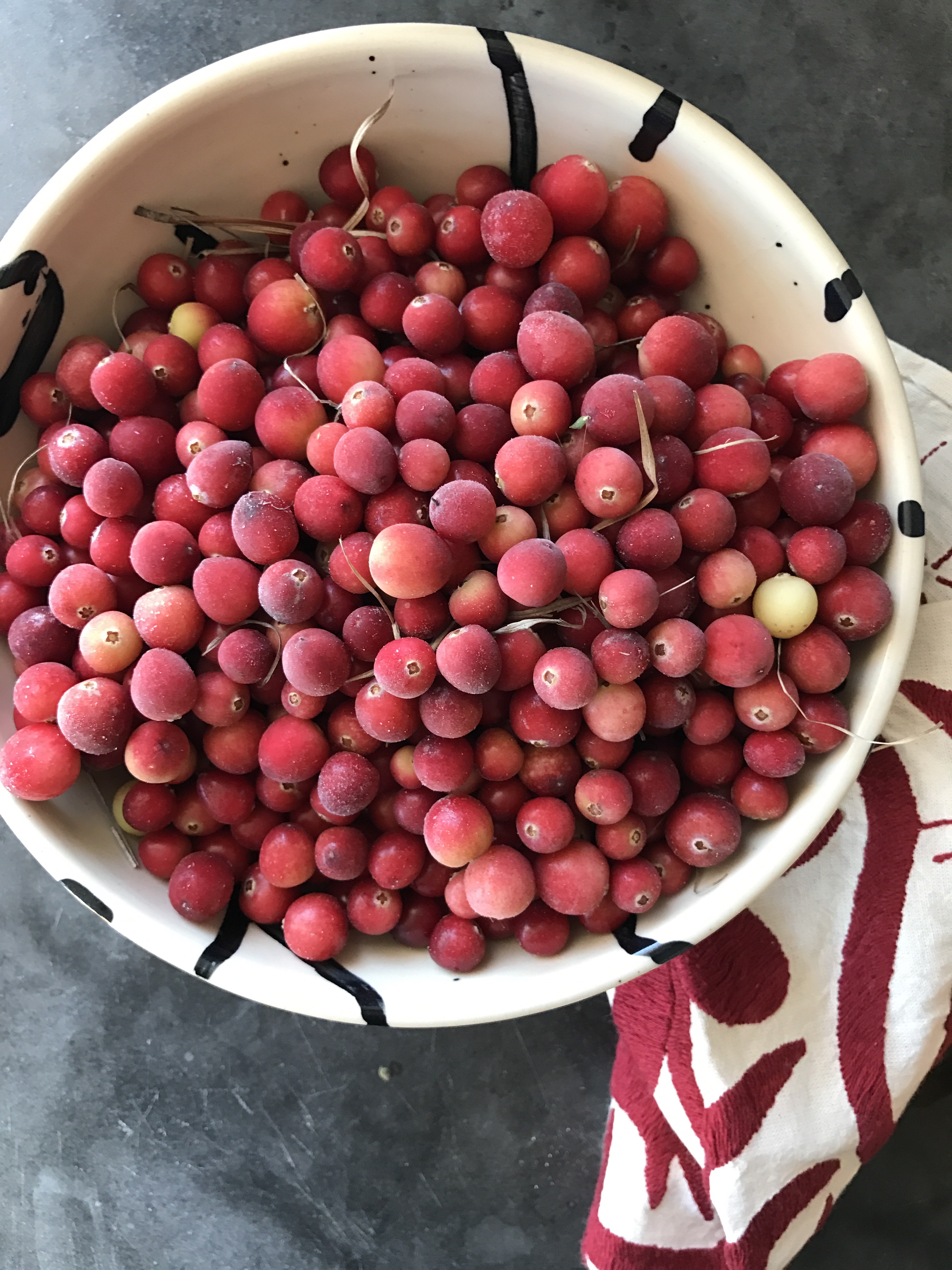 3. feedfeed Red Wine and Citrus Spiced Cranberry Sauce
Flavored with Simply Organic spices, this sweet, tart & warmly spiced cranberry sauce is sure to become a new holiday favorite! The flavor will improve as it sits in the fridge, so feel free to make it a few days in advance.
Get the recipe here
Accompaniments
4. Tsimmes by @kevmasse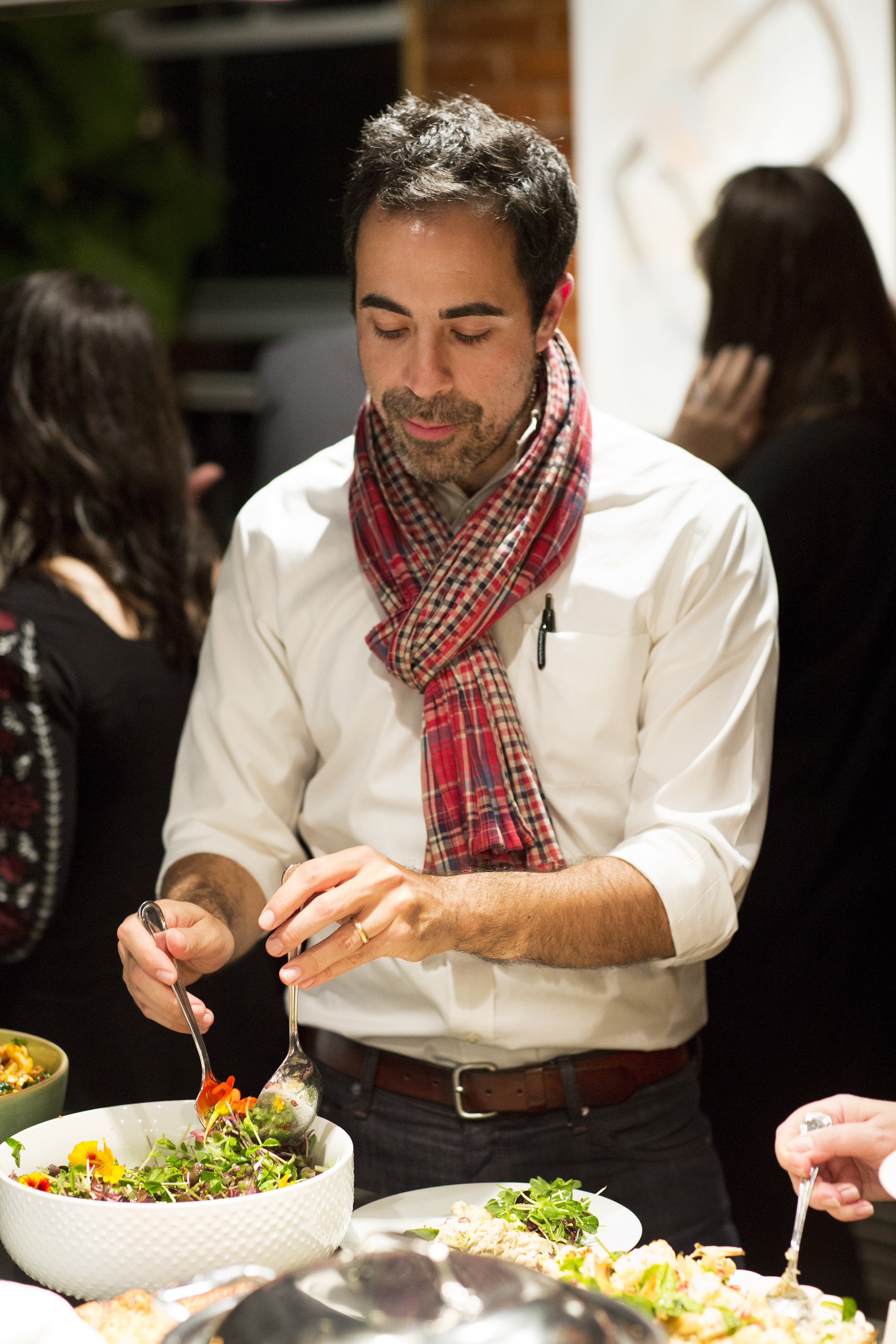 Kevin Masse made this Tsimmes (or Tzimmes) recipe from Ina Garten's latest book Cooking For Jeffery
Studded with prunes, orange zest, and Simply Organic Cinnamon, the jewel-toned stewed carrots, sweet potatoes and butternut squash cubes hit on all of the essential holiday flavors.
Accompaniments
5. Pesto Sweet Potato Salad by Erin Clarkson of @cloudykitchen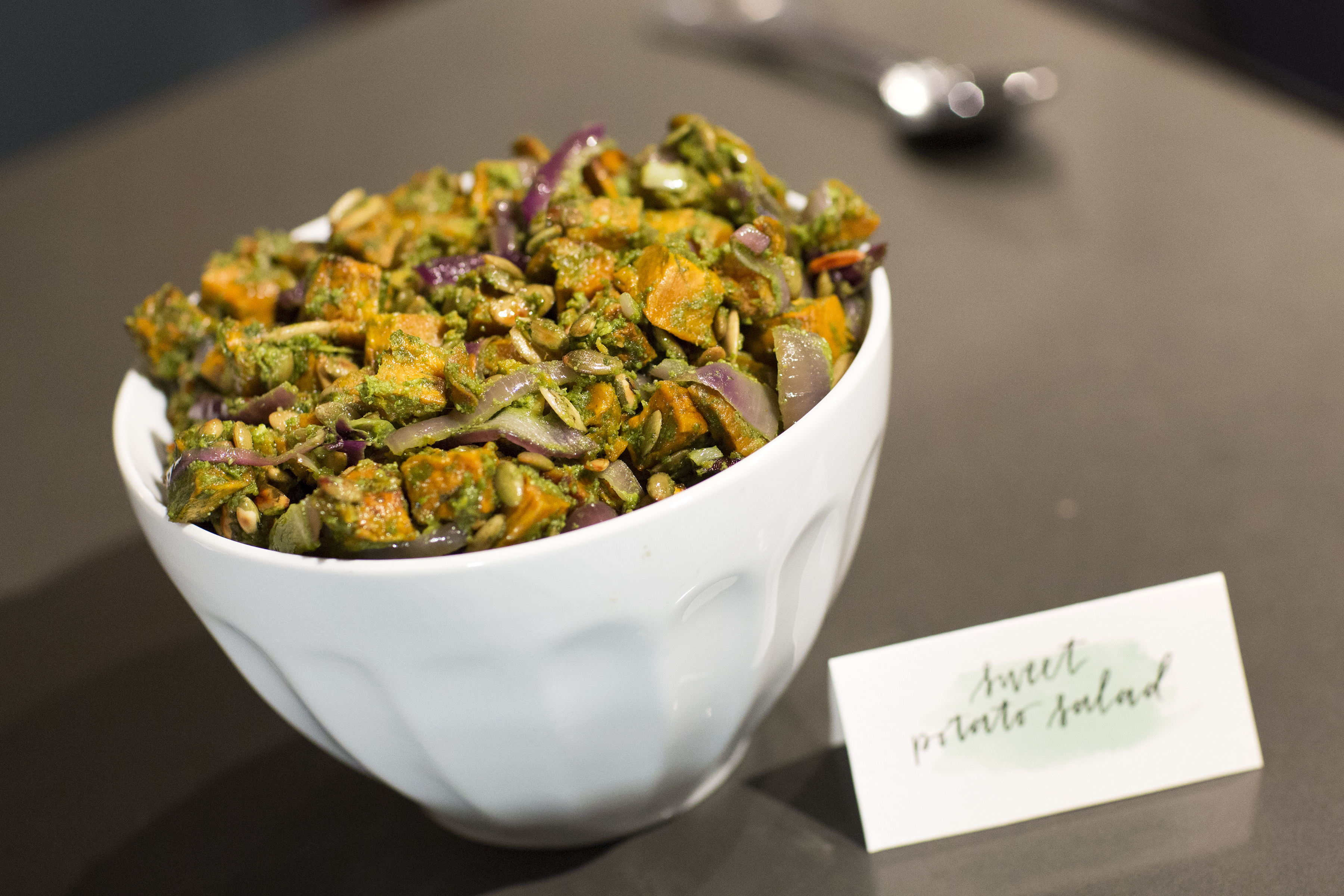 A long perfected family recipe, Erin's sweet potato salad was a hit at our friendsgiving feast. This is another dish that improves while it sits in the fridge, so feel free to make it a few days in advance.
Get the recipe
Accompaniments
6. Brussels Sprouts with Shiitake 'Bacon' and Hazelnuts by Jill Fergus of @feedtheswimmers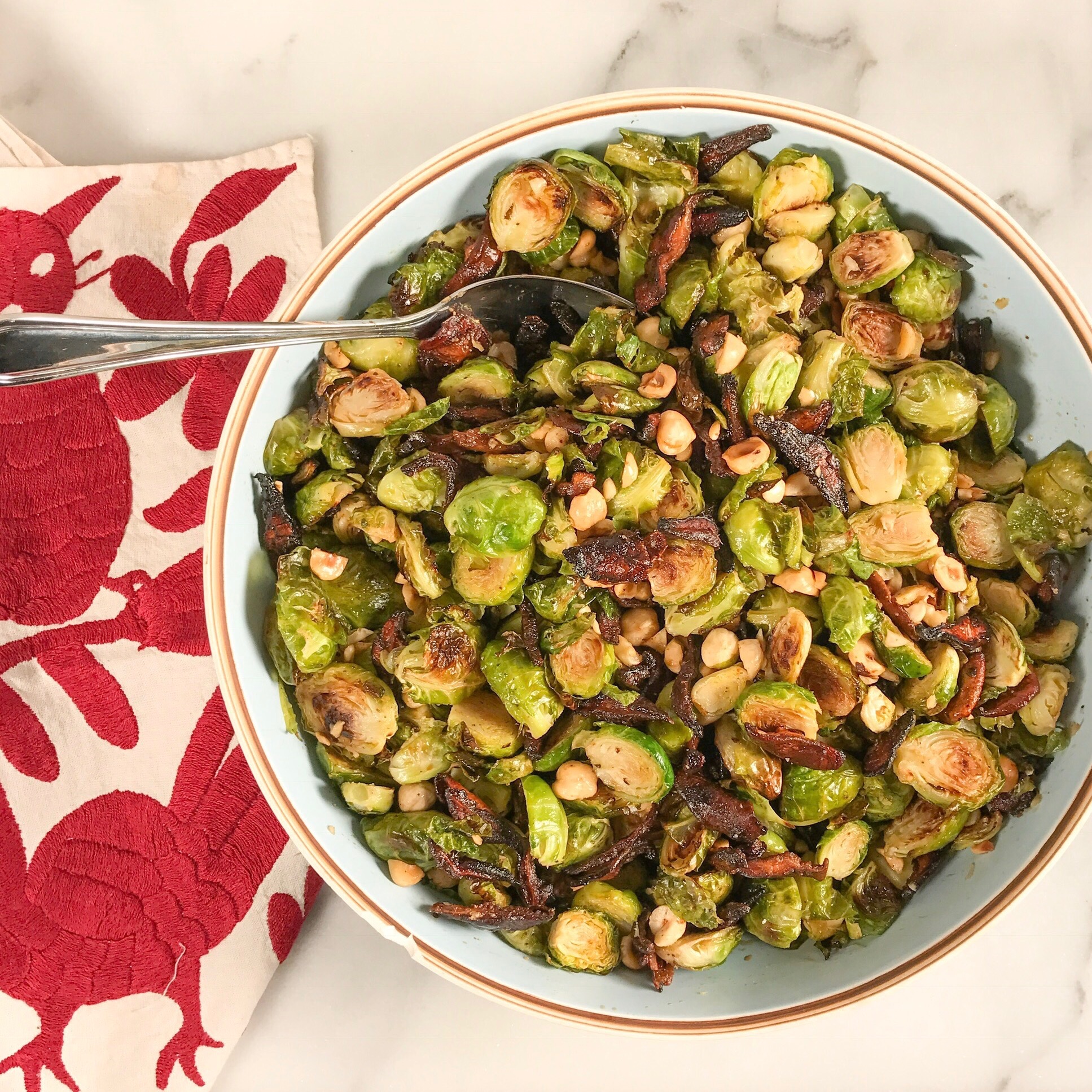 You'll love the crispy texture and umami flavor of the shiitake 'bacon' and the decadent hazelnuts added to these perfectly roasted Brussels Sprouts.
Get the recipe here
Desserts
1. Five Spice Apple Pecan Crumble Bars, recipe courtesy of Simply Organic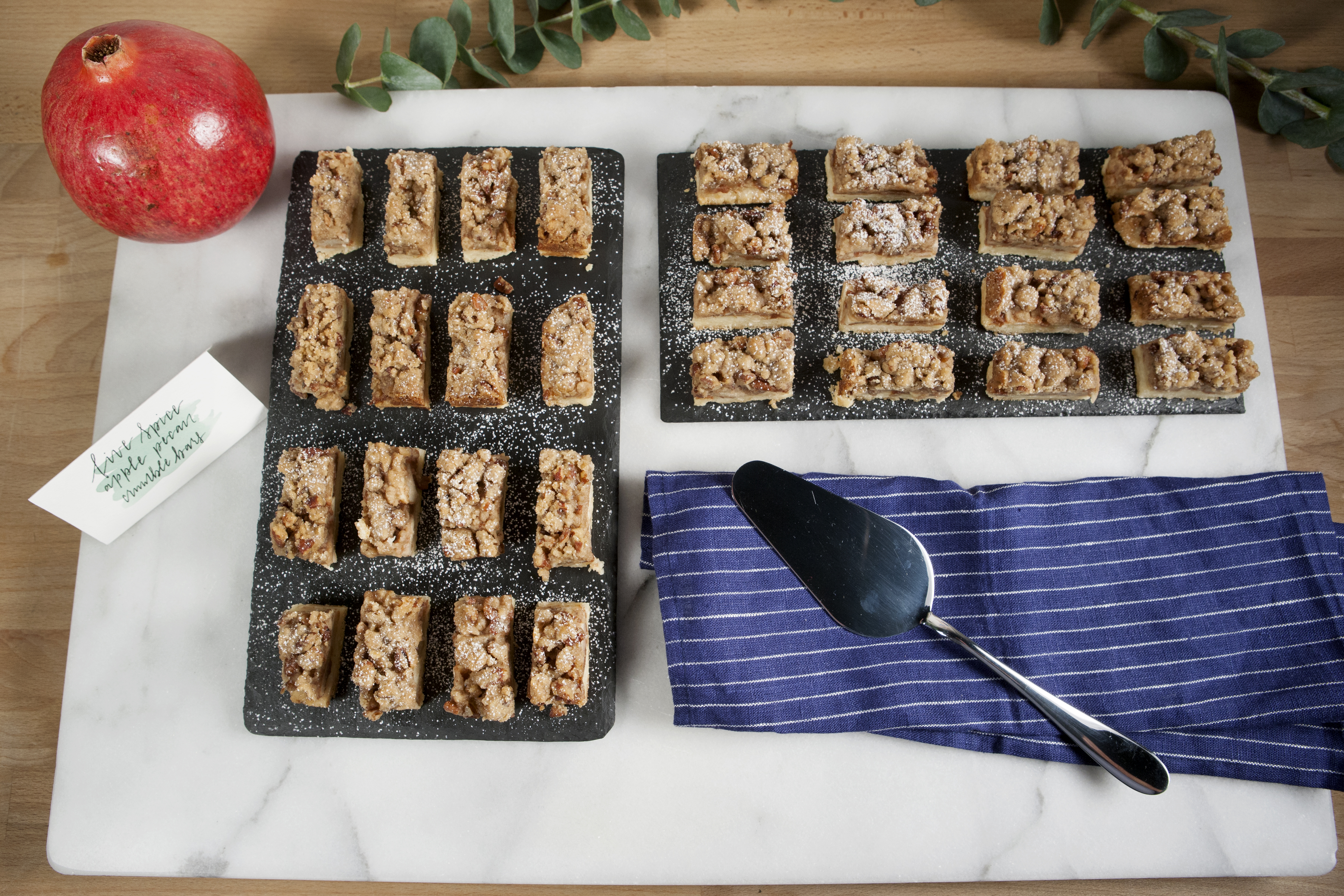 We loved the surprising addition of Simply Organic Five Spice Powder in these classic apple crumble bars. We cut ours into small pieces, making them the perfect bite-sized dessert.
Get the recipe
A Break For Photos
Of course...we had to create an opportunity for some of the amazing photographers in attendance to take some photos, so we set up a booth and also offered guests Polaroid Cameras for just that! Here is Judy Kim @thejudylab taking a break before dessert to snap her Apple Pie.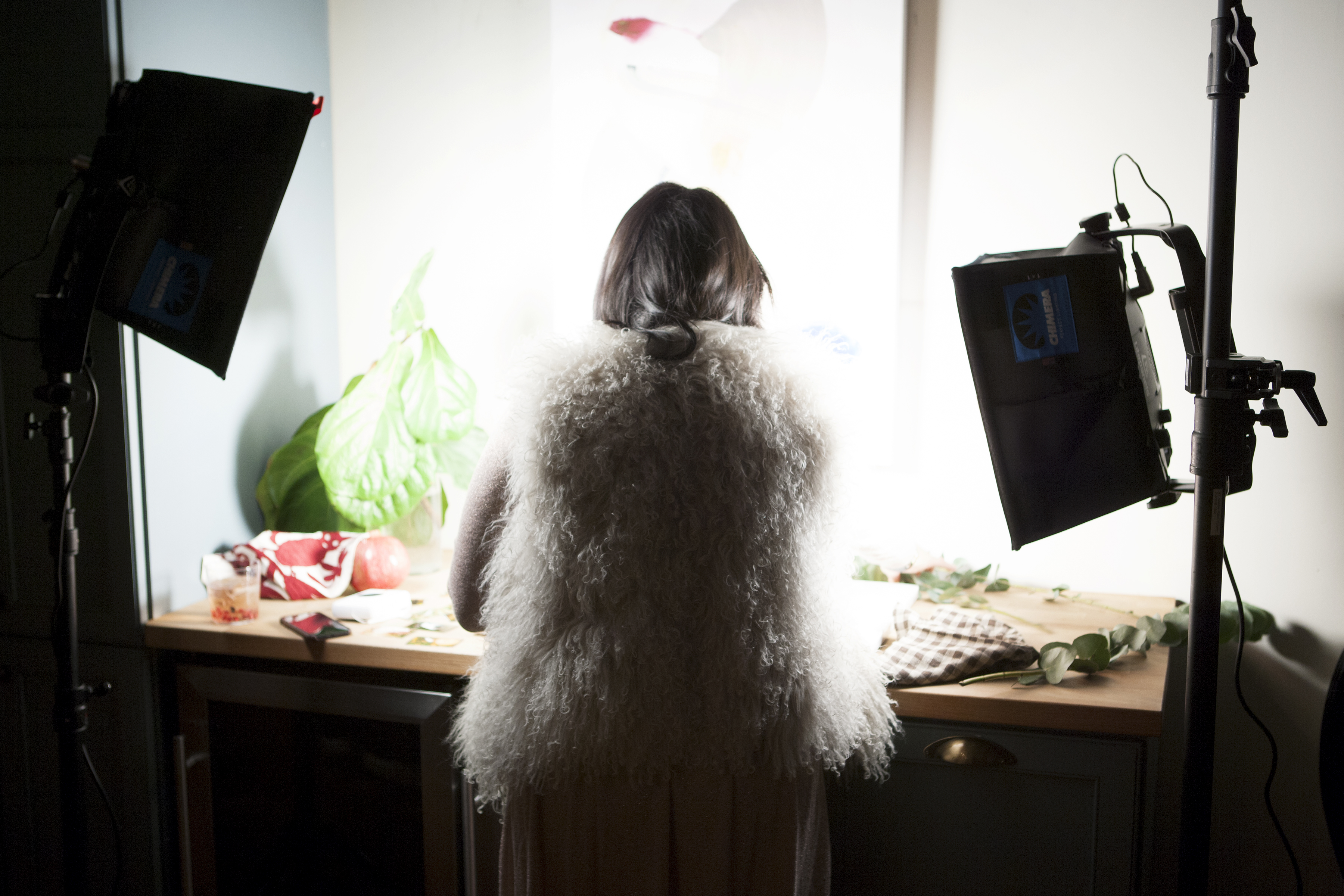 Desserts
2. feedfeed Classic Apple Pie with Shingled Crust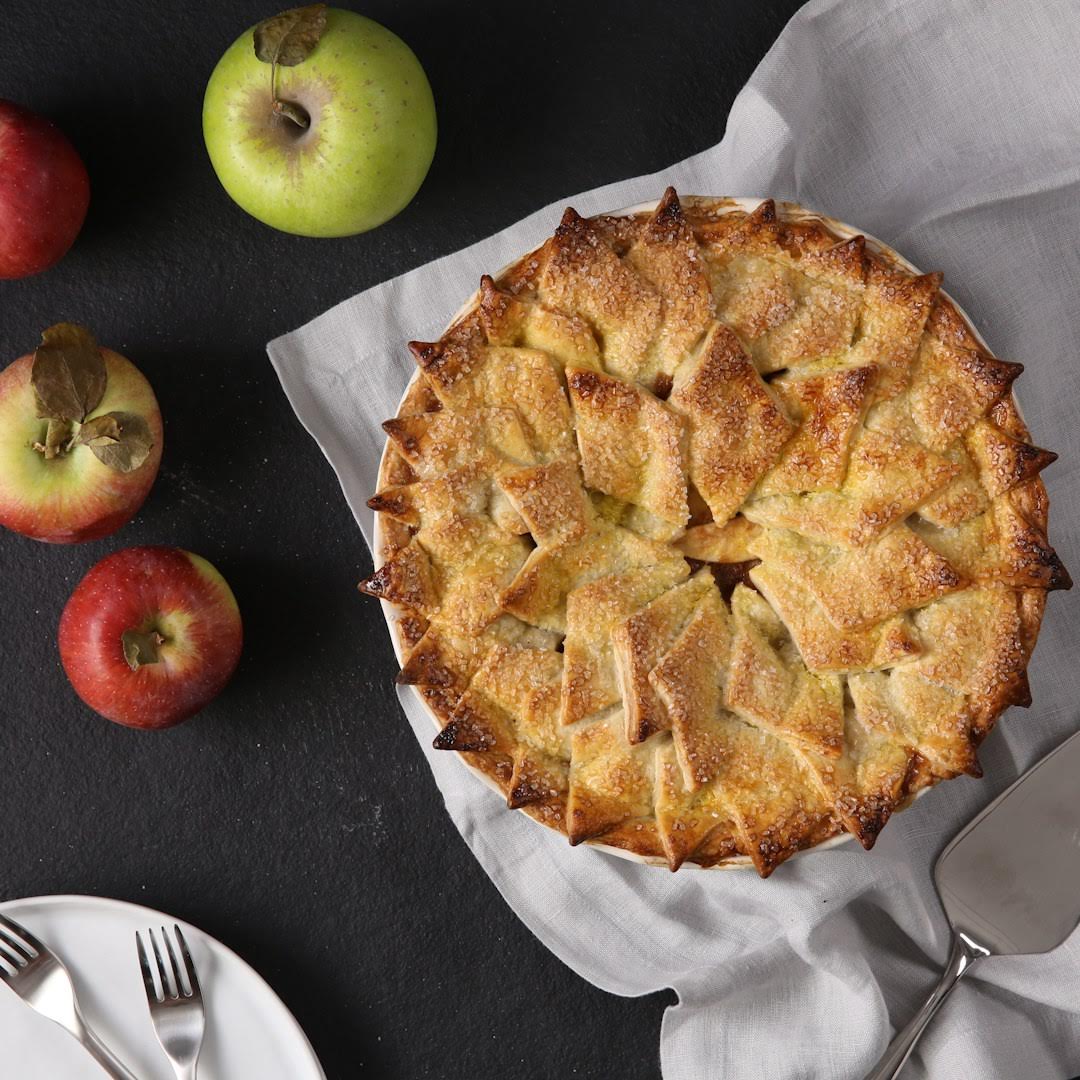 Why not spend a little extra time adoring your holiday pie with a beautiful shingled crust this year! Make a batch of our all butter vodka pie crust and store it in the freezer until Thanksgiving eve. Then, let the frozen dough defrost overnight in the fridge so it's ready to roll the morning of Thanksgiving!
Get the recipe
More Desserts!
A few more pies by @thejudylab and @susanspungen!
Get Judy's Apple Cardamom Cable Knit Pie recipe here.
IRL - In Real Life!
After years of following the cooking adventures of so many food bloggers, photographers, homecooks, and chefs virtually on Instagram, we have been super excited to start hanging in real life. Looking forward to more events like this in cities around the world!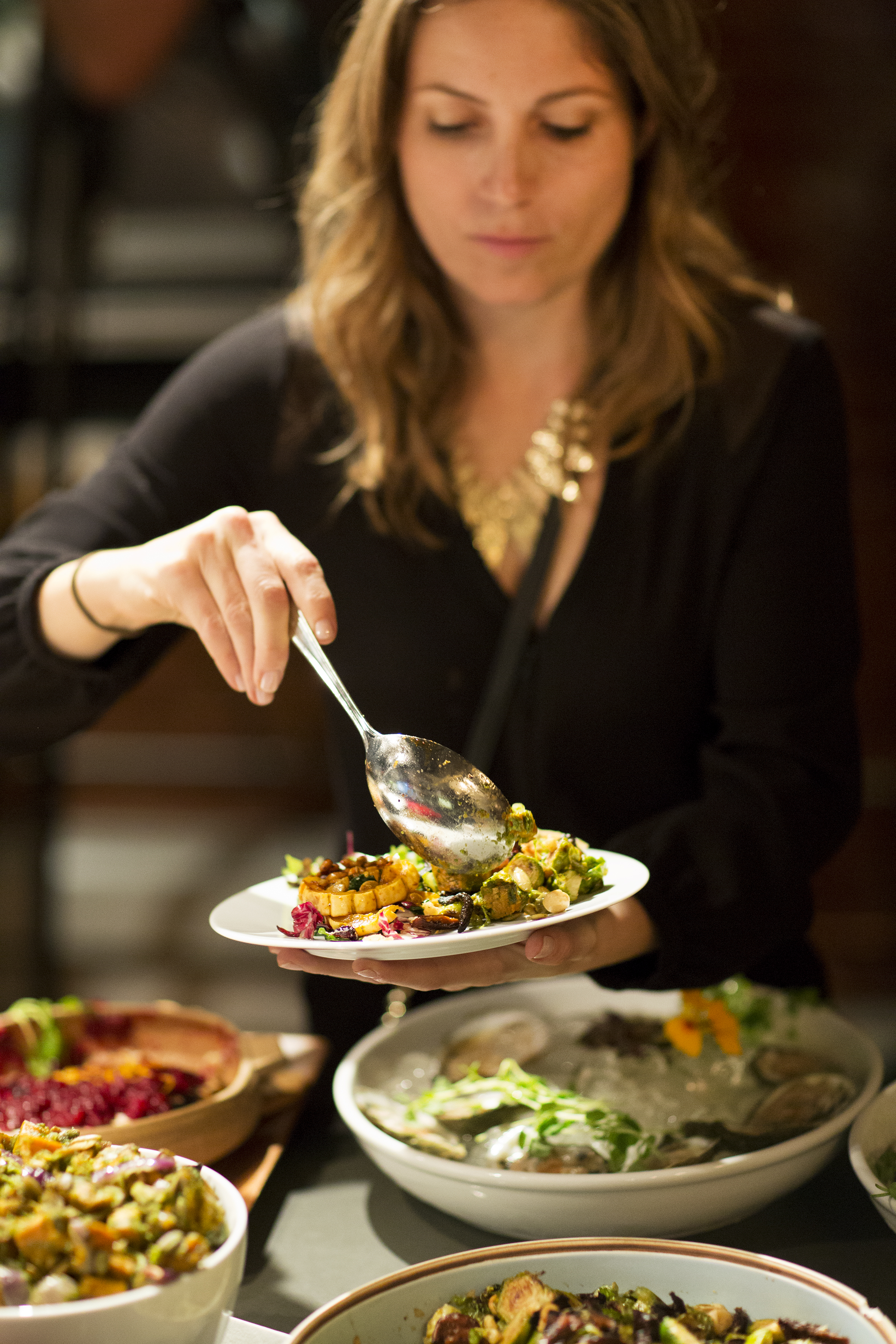 We met Jessica @feedmedearly in the NYC Greenmarkets 3 years ago and have been lucky enough to have her join us at multiple events in the city, including our Live Photography Workshop at Samsung's 837 NYC Headquarters.
Check out footage from that workshop here!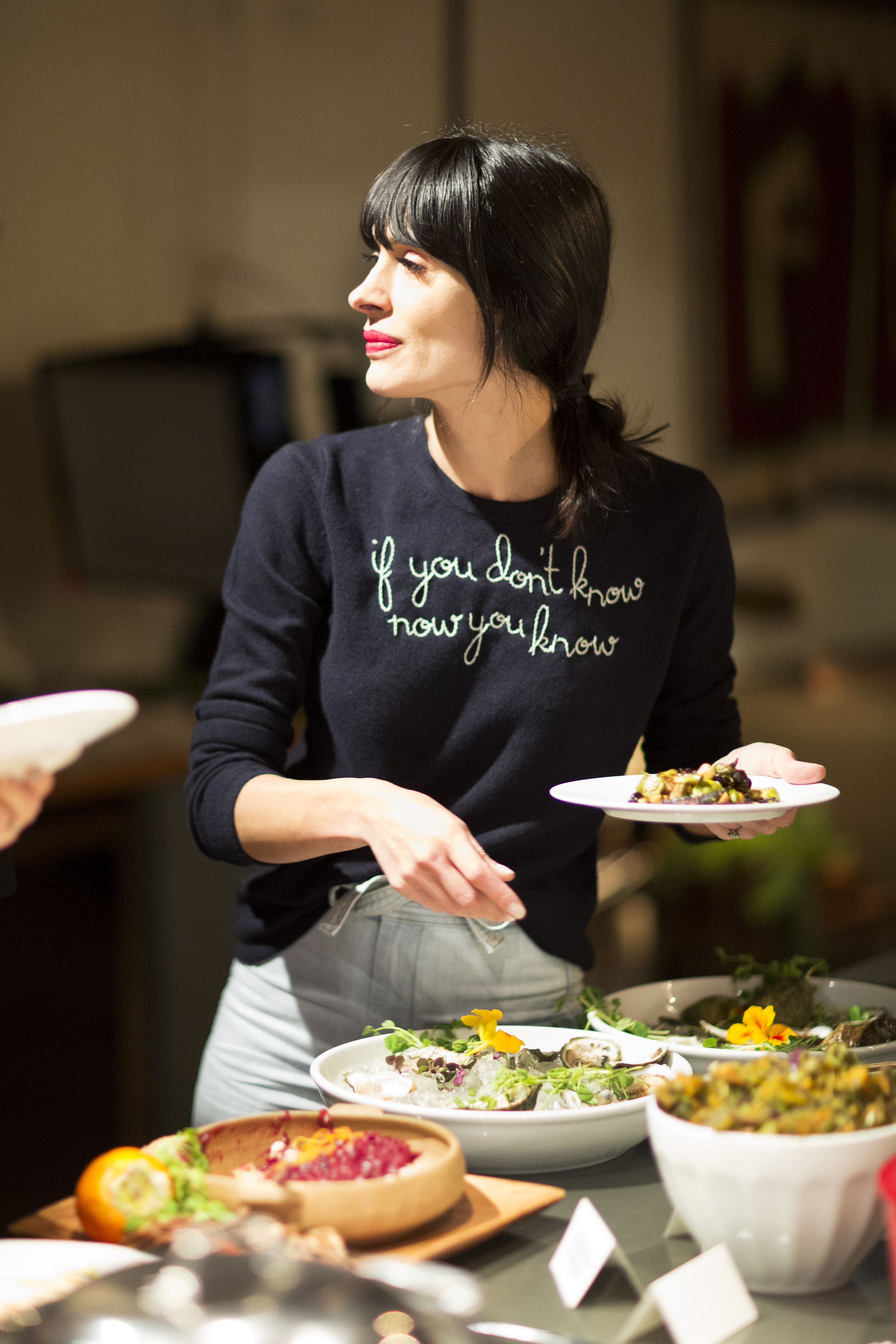 It was a pleasure to have Athena from @eyeswoon join us. We have known Athena for a while now as well and did a wonderful collaboration cooking with our kids at one of our favorite farms @amberwavesfarm, making pizza (with their farm fresh wheat flour) with fresh veggies from the farm. Check it out here!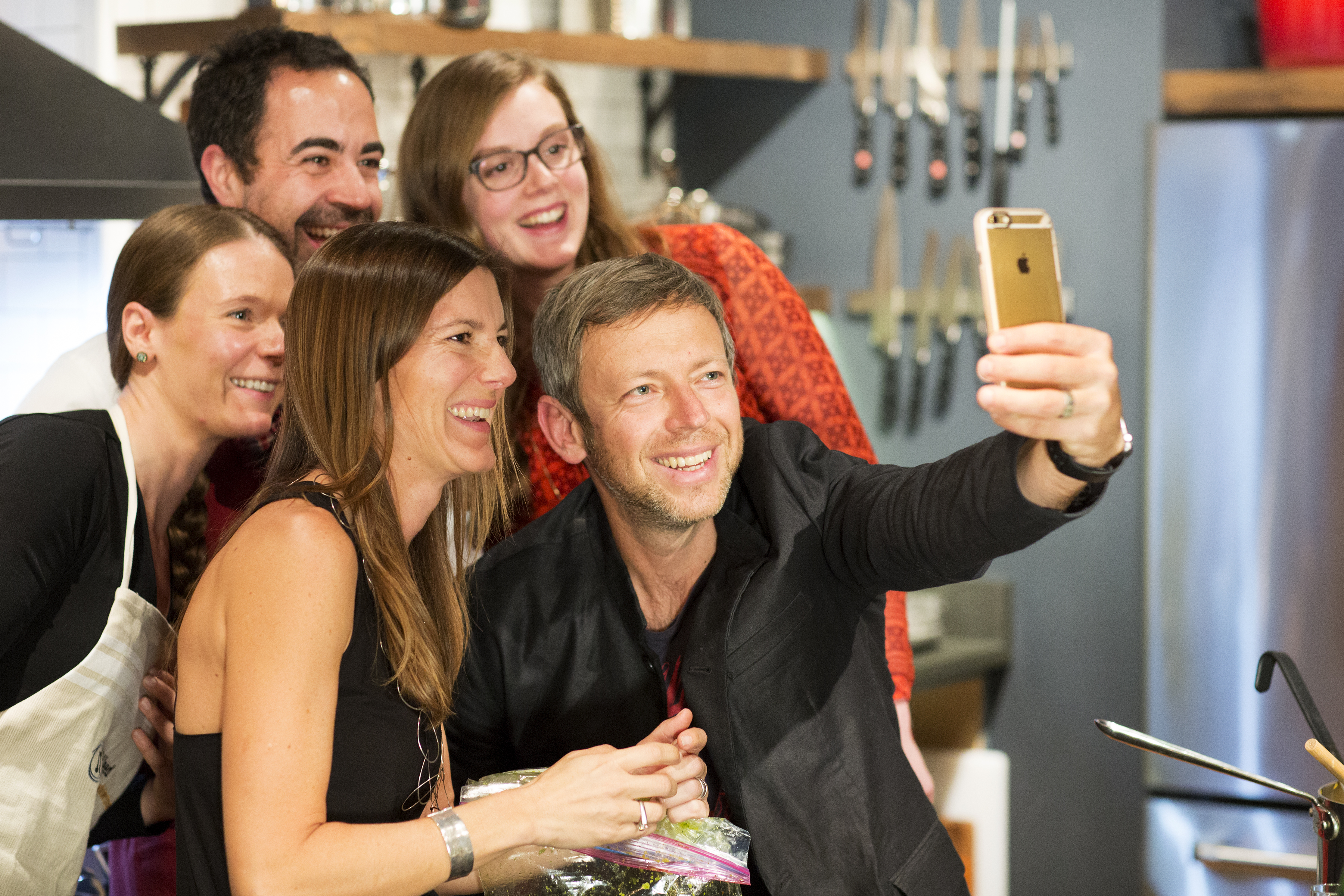 Pictured here...some of the feedfeed team! We hope you enjoyed this menu and a peak into our recent event with Simply Organic! Thanks to everyone that came and looking forward to more events and meetups in cities around the world!
Check out our recent meetups in Rome and Chicago! LA and London coming soon.