Avocado, Mango & Beet Toast
With Telula Cold-Pressed Juice
If you've been following me since the beginning of my journey, you know juicing was where it all started for me. I'd suffered from various health issues over the years until I decided it was time to make some serious changes to my diet and lifestyle. Juicing was the first step I took towards acclimating my taste buds to beautiful fresh produce. I'll never forget the first time I had a sip of cold-pressed juice -- it was love at first sip!
Since then, I try to juice whenever I can but it doesn't always happen, which is why I'm SO excited to be partnering with Telula & The FeedFeed this year to be one of their brand ambassadors for Telula. Whenever I can't make my own juices, I reach for a bottle of cold-pressed organic Telula. Made from fresh, organic ingredients, this juice is truly delicious and exceptional! I love that each juice comes in a glass bottle (no BPA plastic bottles here!). They come in 10 different blends -- 6 fruit + veggie blends and 4 chia blends (my personal favorite is the mint melon!).
Available nationwide - you can use their store locator to find the nearest retailer to you!
These sweet and savory avocado toasts are not only a sight for sore eyes, but also pair perfectly with a bottle of Telula cold-pressed juice! Made with fresh avocado, mango, and candied beets, this vibrant snack is sure to delight your taste buds and hit the spot every time.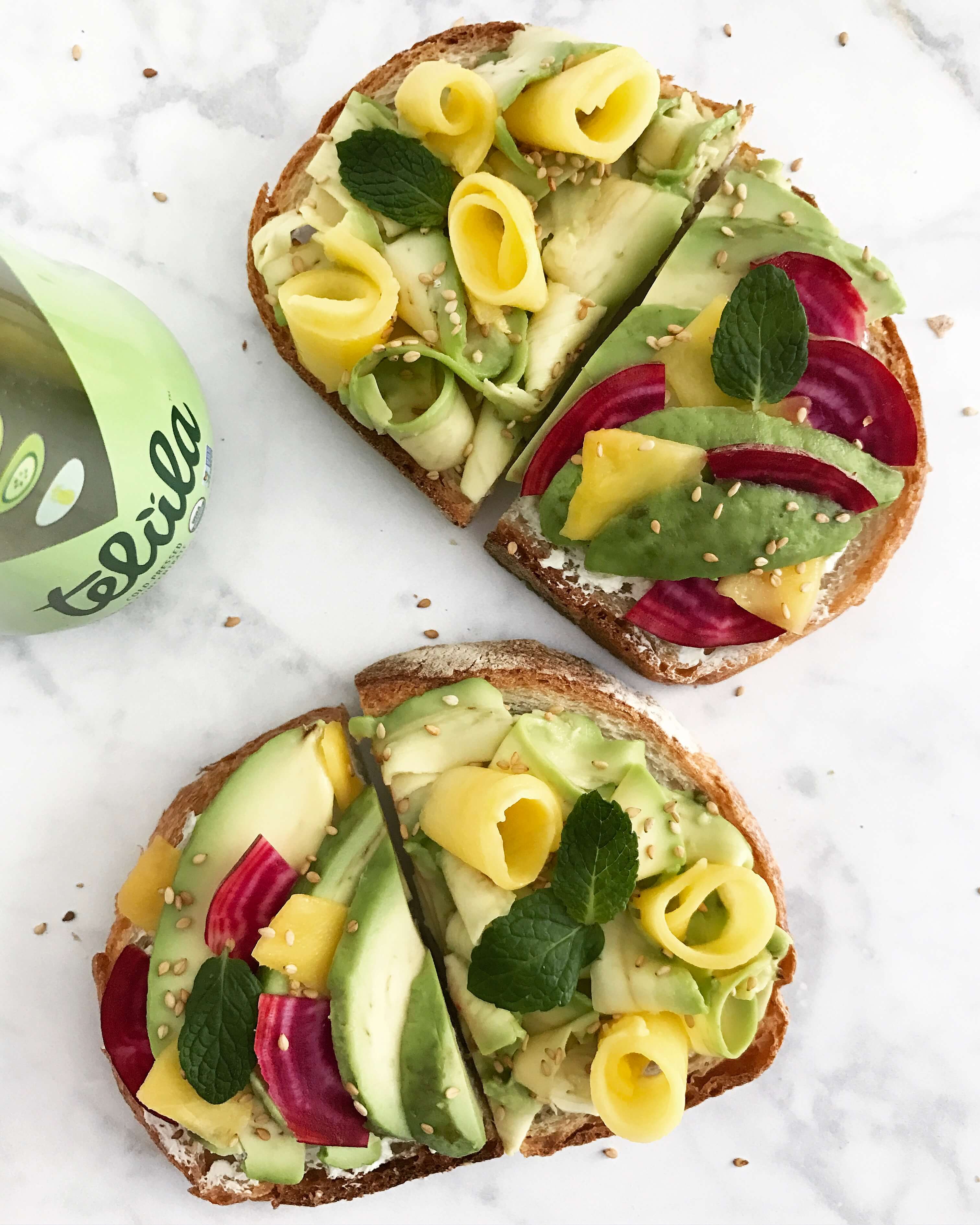 Ingredients:
2 pieces of bread, toasted
1 small avocado, cut in half and peeled
1/4 mango, peeled
1 small beet, trimmed and peeled
1 tablespoon cream cheese (vegan or regular)
1 teaspoon sesame seeds
4-5 sprigs of mint
sea salt and cracked black pepper (optional, to taste)
Directions:
For the first toast, spread the cream cheese on the bread. Top with half of the avocado, thinly sliced. Top with slices of mango and beet. Sprinkle with sesame seeds and garnish with a couple sprigs of mint.
For the second toast, top the bread with the remaining avocado and mango. To shave the avocado and mango, simply use a peeler. Sprinkle with sesame seeds and garnish with a couple sprigs of mint.