Hearty Bean, Kale, and Roasted Root Vegetable Soup with Toasted Garlic Bread
Serves 4-6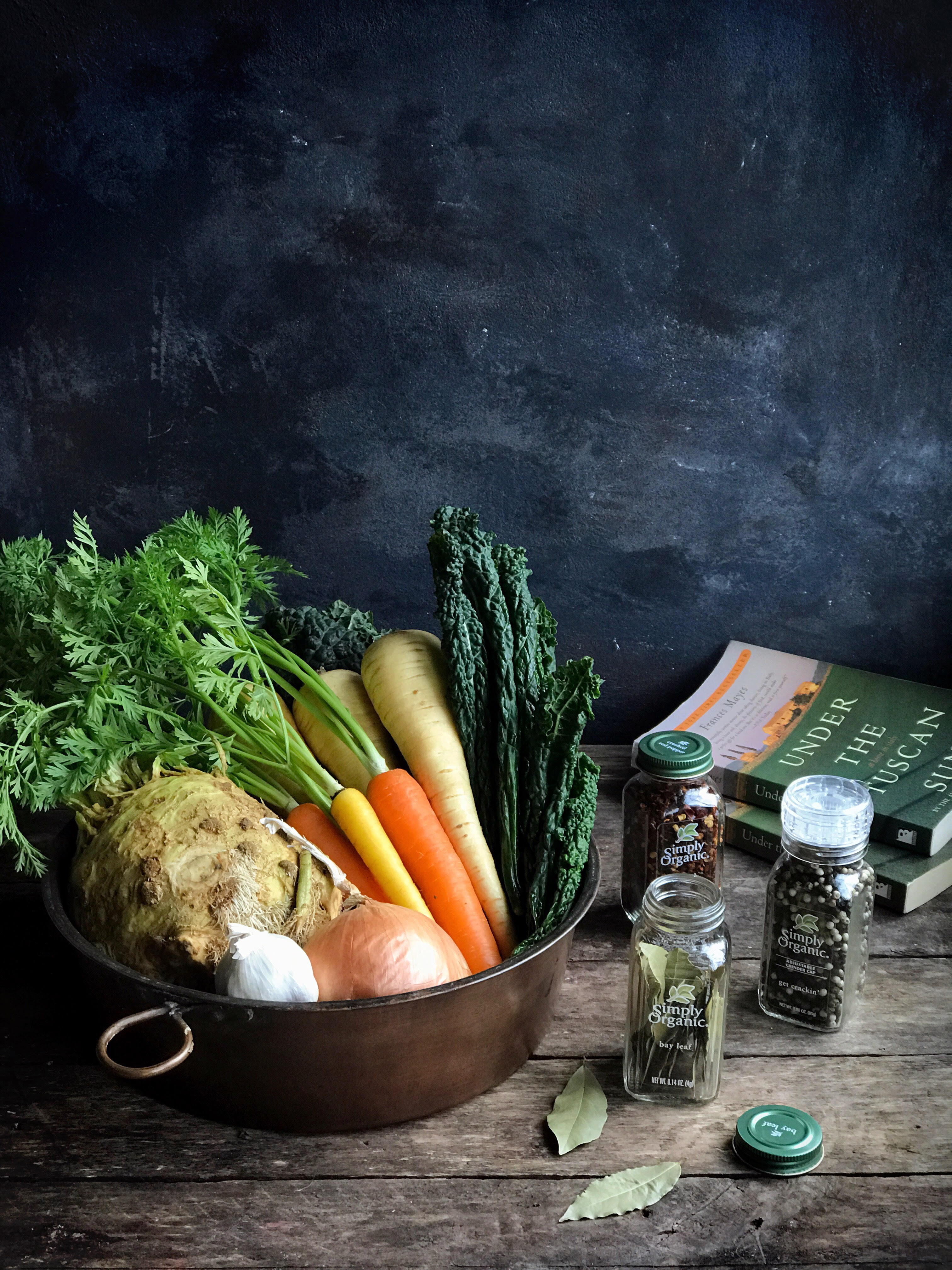 I've partnered with @SimplyOrganicFoods and @TheFeedFeed to celebrate Thursday nights (TGIT!) with friends and make a meal. TheFeedFeed & Simply Organic wants you to create #ThursdayMoments with your friends, too. A book club is one great way to bring people together and have a topic to discuss over a shared meal. Books and spices have the unique ability to take to you different parts of the world, all from the comfort of home. You can be inspired by a quote, a description of something a character ate, or even the setting of the book. Close your eyes and imagine rolling hills filled with olive trees, and a worn down Tuscan villa in need of love and repair. Soups, much like an old home, start with a good base and then build up with ingredients until the end result is magnificent.
One of the most famous soups of Tuscany is a ribollita, which literally means, reboiled. At its heart, this soup contains day old bread, beans, leftover vegetables, and kale. Inspired by this classic Tuscan soup, I've created a recipe for a hearty winter bean, kale, and roasted root vegetable soup and garlic bread that is sure to be a crowd pleaser. Best of all, the soup is even better the next day, so make it in advance and sit back and relax when your friends come over. My version takes these core ingredients, the foundation if you will, and builds a whole new soup using Simply Organic spices. Winter root vegetables are roasted in the oven with a Simply Organic Rosemary-infused olive oil that gives this soup a deep flavor. My version is gluten free, as it is thickened using a puree made from some of the beans and the roasted onions and garlic instead of the classic bread. So, let's get started and create an amazing Thursday night with our friends!
Visit Simply Organic to find more ways to plan your #ThursdayMoments and enter their giveaway.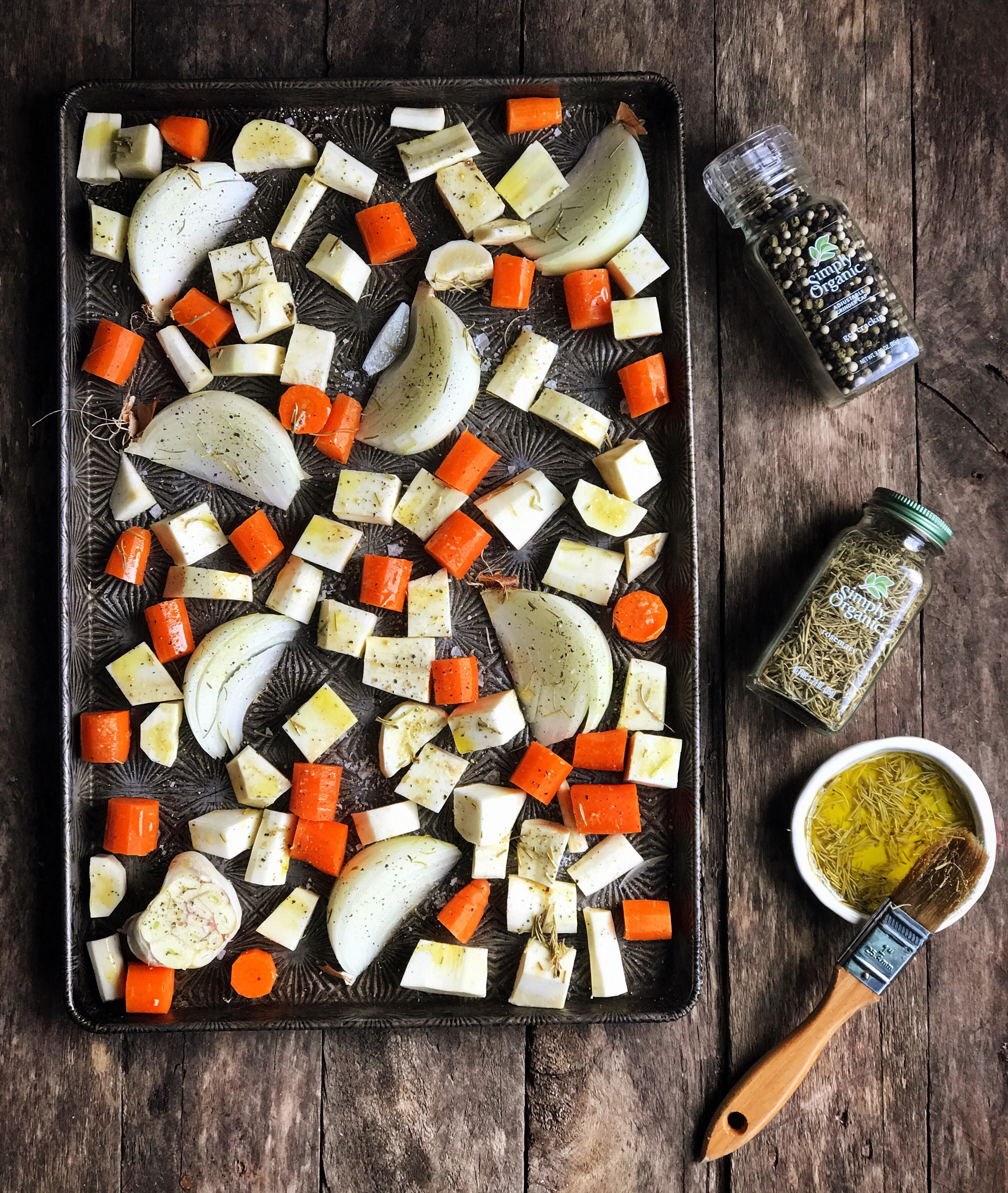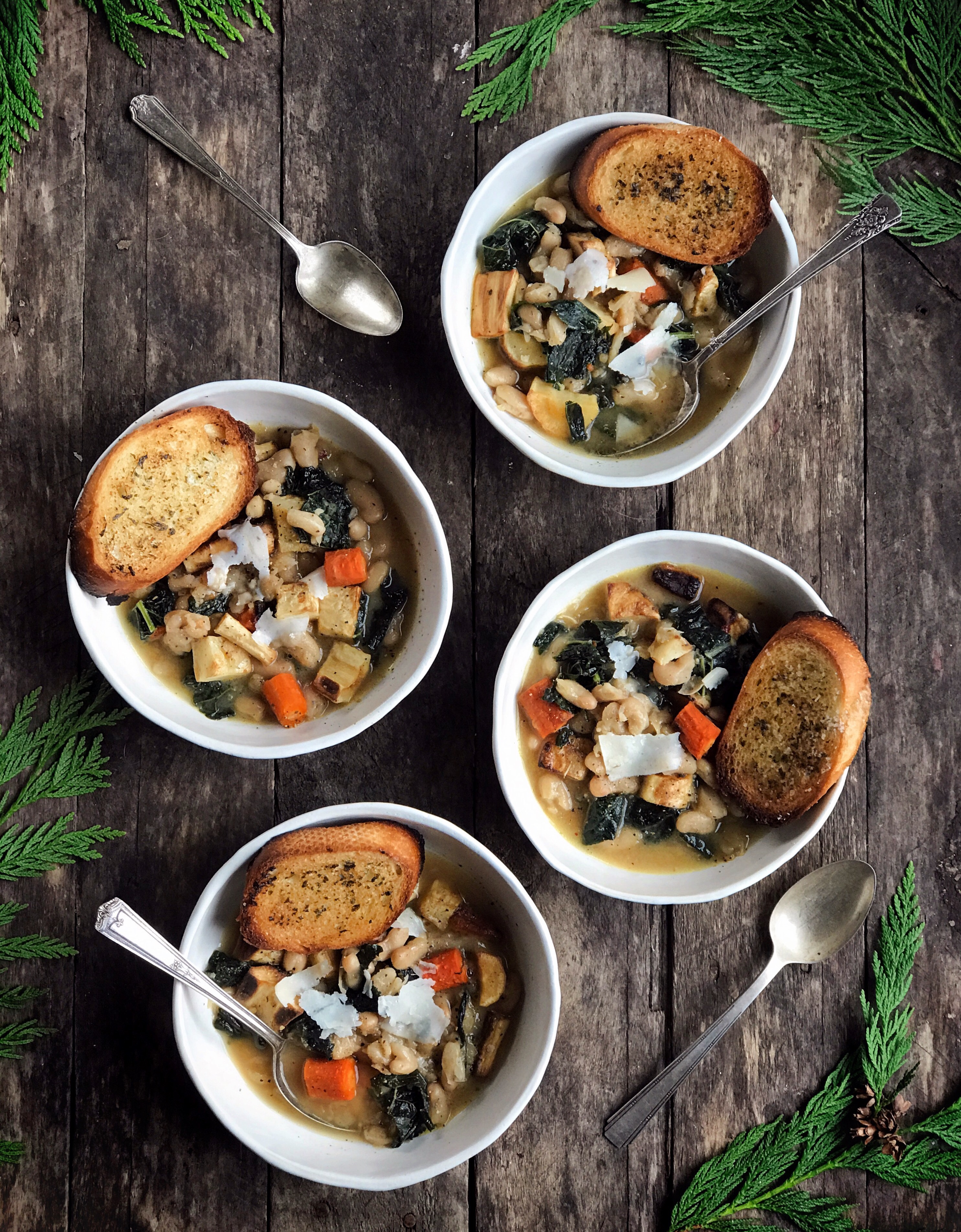 Soup Ingredient List:
3-4 medium carrots, peeled, cut into cubes
3-4 medium parsnips, peeled, cut into cubes
1 medium celery root, peeled, cut into cubes
1 medium yellow onion, peeled, cut into 8 wedges
1 head garlic, top cut off to expose all cloves
2 teaspoons Simply Organic rosemary
5 tablespoon olive oil, divided
4-6 cups chicken stock (or vegetable stock for a vegetarian option)
4 cups chopped Tuscan kale
1 Simply Organic bay leaf
1/2 teaspoon Simply Organic crushed red pepper flakes
4 (12) ounce cans cannellini beans, rinsed and drained
Parmigiano-Reggiano rind 3-4 inches plus extra Parmigiano for shaving
Salt to taste
Simply Organic get crackin' pepper to taste
Directions
First Prepare the Rosemary Roasted Vegetables.
Preheat oven to 425 degrees.
In a bowl, combine 2 teaspoons Simply Organic Rosemary with 2 tablespoons olive oil.
Place cut vegetables on rimmed baking sheet.
Drizzle with Simply Organic Rosemary infused oil. Sprinkle with salt and Simply Organic Get Crackin' Pepper.
Encase garlic bulb in foil.
Roast 30-40 minutes or until vegetables are tender and the edges are slightly caramelized.
Remove from oven, place vegetables in a bowl, remove foil from garlic, and deglaze pan with 1/4 cup stock.
Note: you can substitute any root vegetable of your choice. I used six cups total, or 2 cups of each type, for this recipe.
Next, prepare soup base.
Squeeze head of garlic into food processor along with the roasted onion wedges and 1/2 can beans, and pulse until smooth.
In a 5 or 6 quart Dutch oven, add 3 tablespoons olive oil and warm oil over medium heat for 2-3 minutes. As soon as the oil is warm, add Simply Organic Crushed Red Pepper flakes and warm for 1 minute.
Add stock, deglazed pan juices, Parmigiano-Reggiano rind, and Simply Organic Bay Leaf, bring to boil, return to simmer, and add salt to taste.
Add chopped kale, bean purée, roasted root vegetables, and beans.
Simmer 15 minutes.
Either serve the soup that day or allow it to cool and refrigerate overnight. To reheat, place pot on medium low heat for about 15 minutes or until warm.
Before serving, remove bay leaf and Parmigiano-Reggiano rind, taste, and adjust seasoning.
**Insert photo Simplyorganic4**
While you wait for your soup to finish (or reheat), prepare your garlic bread.
Garlic Bread Ingredient list
Baguette, cut into 1/2 inch slices
4 tablespoons unsalted butter, room temperature
2 teaspoons Simply Organic parsley
1/2 teaspoon Simply Organic garlic powder
1/4 teaspoon salt
Bread directions
Turn on broiler.
Place sliced bread on rimmed sheet pan.
Combine butter, Simply Organic Garlic Powder, Simply Organic Parsley, and salt in a small bowl. Spread mixture thinly on both sides of bread.
Place sheet pan under broiler for 2-3 minutes until toasted, flip bread over, and toast another 2-3 minutes.
Now it's time to serve the soup.
Ladle soup into bowls.
Top with shaved Parmigiano-Reggiano.
Place bread on side of bowl (or leave off for a gluten free option).
Finally, finish your soup with a twist or two of Simply Organic Get Crackin' pepper.
With your soup on the table, you are set to enjoy a Thursday evening discussing the book with your friends and feeling as if you have traveled to Italy - all from the comfort of your own home. No passport required for this soup! Everything you need for this soup comes from fresh produce, beans, and most of all, Simply Organic spices!
This soup was so incredibly delicious, hearty, nourishing, and perfect for cold winter nights. Thanks to Simply Organic for making this soup possible. Be prepared, your guests will ask for seconds and the recipe, too. Enjoy!
Note: This blog post is sponsored in partnership with Simply Organic and TheFeedFeed. All opinions are my own. Be sure to visit Simply Organic for more great ideas on creating your own #ThursdayMoments. #FeedFeed #sponsored #OrganicMoments