Thai Inspired Marinated Chicken with Peanut Sauce
Serves 4
I've personally never been one who needed an excuse to acquire a new kitchen toy. My love for small kitchen appliance has been so unbounded that I have had to build accommodations in the basement to house some of them. I've got the slow cooker, the ice cream maker, the food processor, the rice cooker, and the soda stream. However, only one of my small appliances a) gets used daily and b) has the privilege of living on my counter.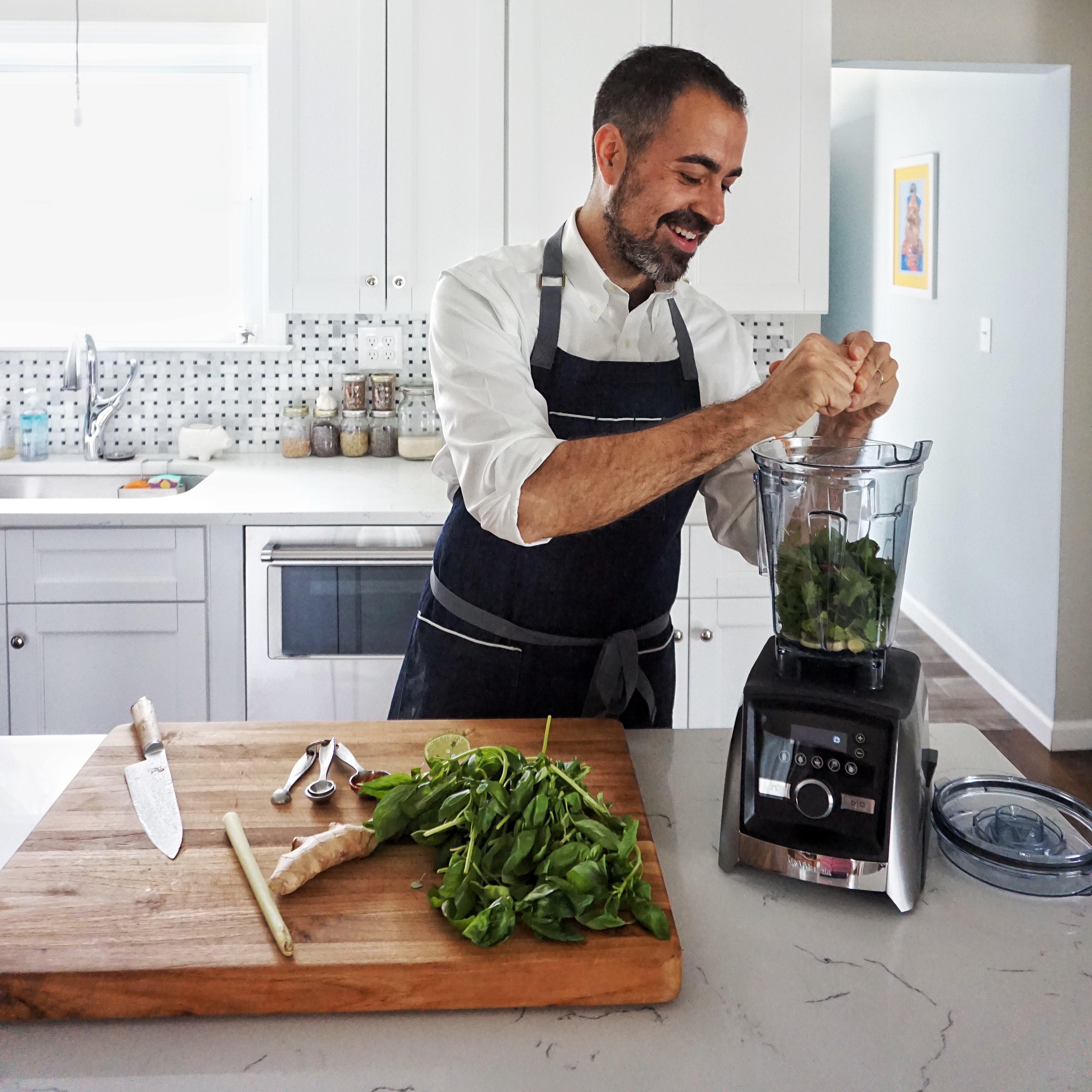 I've been a long time fan and user of Vitamix and when the opportunity presented itself to me to give their new Ascent 3500 a spin in my kitchen, I jumped up and down like someone who just won the mega-millions. Immediately, my mind started to wander on what I would make, how I would put the machine to the test and see how it really performs. For me, one of the key things I love about the machines, in general, is their ability to 'self-clean.' that I wanted to make something that required cleaning in between - to see how it performs. I love my Heritage 750 machine, but Vitamix has pulled out the stops with upgrades to the new Ascent machines. My favorite new feature, if I had to pick one, would be the amazing built in digital timer that allows me to know exactly how long to blend it. I also love that it knows when the container is on the base - talk about safety first. It also runs so much quieter than my older model, which is a total bonus.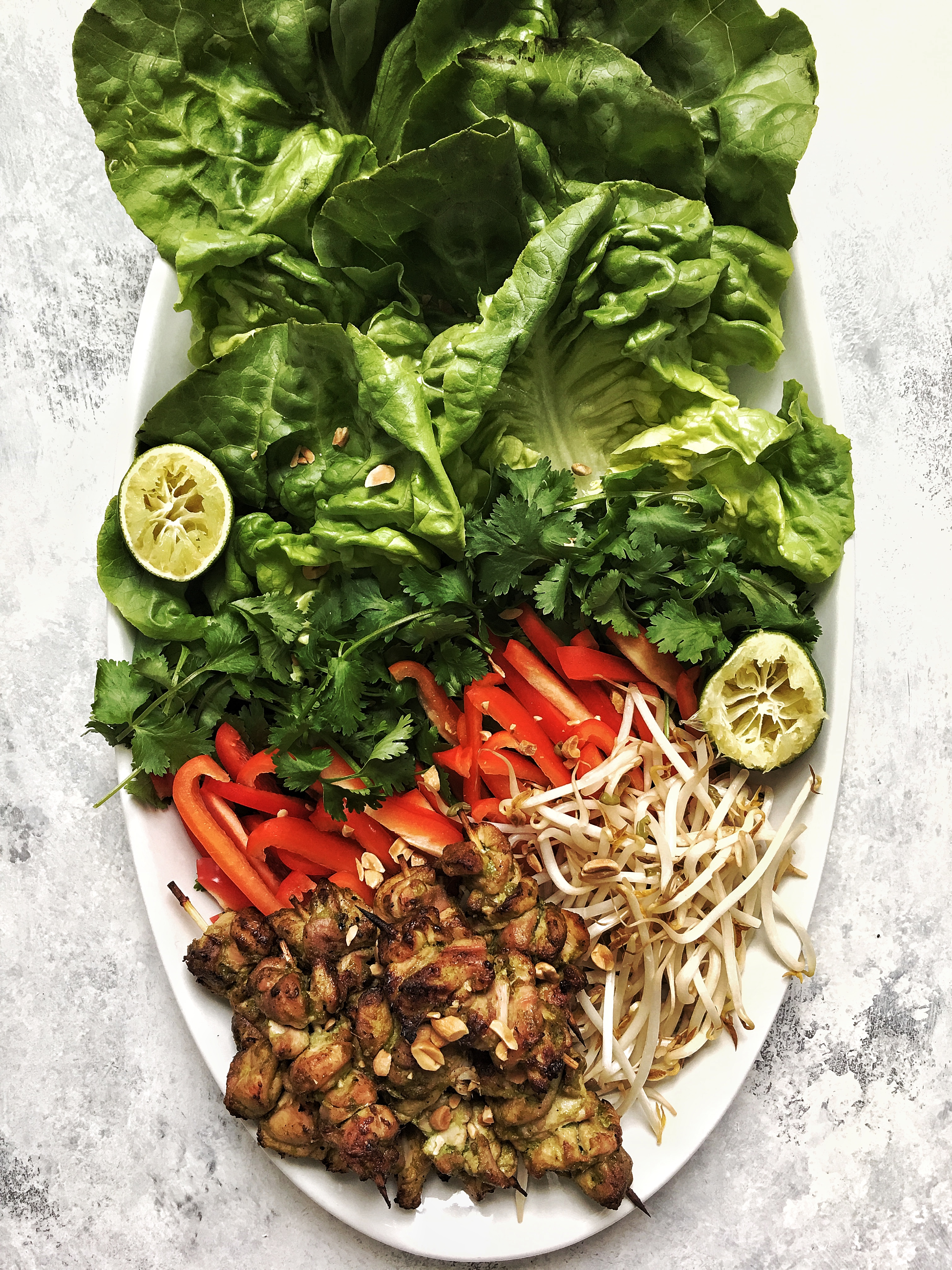 I wanted to make something that would make my mom proud for this recipe, as she has always been such an inspiration for me, both personally, and professionally. She taught us from a young age that what you eat matters and that keeping healthy is not just some fad, but a way of life. Taking this into account, I wanted a recipe that would be both healthy and delicious. I am also the proud new owner of a grill - so obviously, this recipe just had to be something that took advantage of that. Served in lettuce cups, this recipe makes a great light lunch & the marinade will easily hold double the quantity of chicken called for in this recipe, if you need to make more.
Coconut Lemongrass Marinade
1 15oz can coconut milk
1 small stalk lemongrass chopped, bottom white part only
1 tablespoon sliced ginger
1 Thai chili, stemmed
2 teaspoons coconut sugar
Juice of 1 lime
1 tbs sriracha
¼ cup fresh basil leaves
1 cup cilantro
1 teaspoon salt
1 ½ pounds skinless, boneless chicken thighs, cut into 1 inch cubes, seasoned with salt
8-10 wooden BBQ skewers (soaked in water at least 45 minutes)*
Peanut Sauce
½ cup All-Natural, Sugar Free Peanut Butter
½ Cup Coconut Milk + 2 tablespoons
2 tablespoons reduced sodium Tamari
½ teaspoon Fish Sauce
1 teaspoon Coconut Sugar
1 teaspoon fresh ginger, chopped
Juice of 1 lime
1 tablespoon Sriracha
1 tablespoon chopped, dry roasted peanuts for garnish
For serving:
1 head butter lettuce
1 bell pepper, sliced
1 small bunch cilantro, stems discarded
1 cup Bean Sprouts
1 lime, cut into wedges
Method:
To make the marinade, add coconut milk through salt to Vitamix and blend on variable speed 1 for 5 seconds. Slowly increase to variable speed 10 and blend for 1 minute.
Place Chicken in large resealable plastic bag - add marinade to cover. Place in fridge and allow to marinate for 30-45 minutes. (Do not over marinate as the acid from the lemon juice will cause the chicken to turn rubbery when cooked.) Soak skewer while chicken is marinating.
While chicken is marinating - wash the Vitamix container either in the sink or by using the self clean function.
To make the Peanut Sauce, combine all ingredients through Sriracha with ½ cup of the coconut milk in the blender jar and blend on variable speed 1 and slowly increase to 6 and blend for 1 minute. Pour into a serving bowl and transfer to fridge.

Heat your grill according to your manufacturer's directions - alternatively, this can be done indoors over a grill pan, heated over medium high heat for 6 minutes.
While your grill/grill pan is heating, thread chicken onto the skewers tightly packed into 4 inch kabobs - you will have about 8-10 of them. Shake excess marinade. Transfer to preheated grill/grill pan and cook for 15-18 minutes, turning 3-4 times until an even char is achieved on all sides. Remove to a plate and tent with foil to rest.
While chicken is resting - assemble the platter of lettuce, cilantro, peppers and bean sprouts. Add Chicken to platter just prior to serving. Thin Peanut Sauce with remaining 2 tablespoons coconut milk and serve along side platter, garnished with chopped peanuts.

To make the lettuce cups, place a skewer of chicken on a piece of lettuce, remove the skewer & top with cilantro, red peppers, bean sprouts and peanut sauce. Fold and eat like a taco!
*For this recipe, I used small cake tester size wooden skewers - but you can use longer skewer with more meat and just have fewer kabobs.