Chicken Salad
with Tarragon and Red Onion
Recipe, Story and Photography by Amanda Frederickson
I know sandwiches are a year round staple, but for some reason sandwiches just scream summer to me. Days when you leave the house in the morning, pack a lunch and don't come back until dark. Days spent exploring and being in the sunshine. And you know what is around the corner, summer!
I am pretty sure I ate sandwiches most of my childhood. Tuna fish sandwiches to be exact. That and a good peanut butter and jelly – that was a staple. I have recently discovered my love for a chicken salad sandwich that put all those tuna fish sandwiches and PB &Js to shame.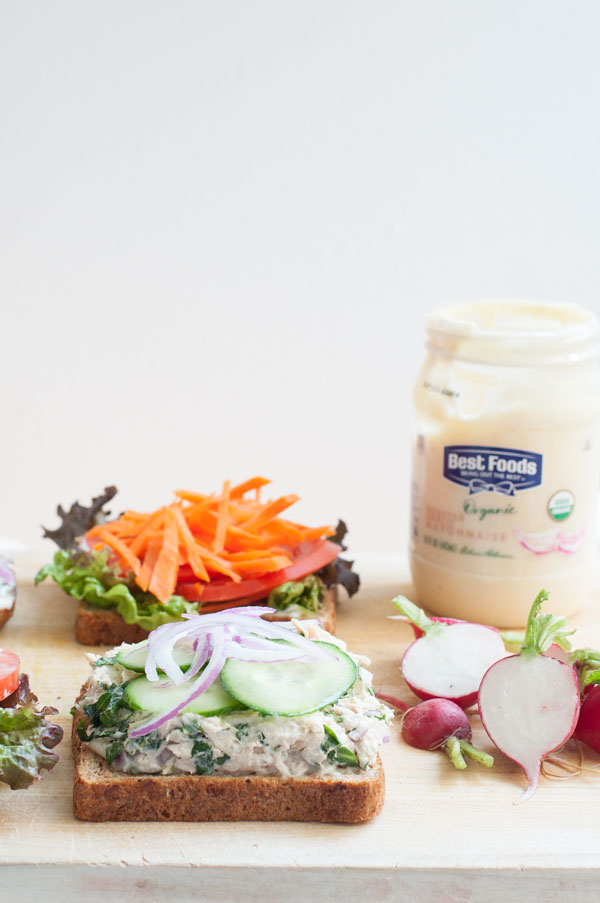 I know what you are thinking, why in the world would I need a recipe for chicken salad? Well because this one is all you will ever need, it is that delicious. I was never a huge fan of chicken salad until I developed this recipe. I developed it one day when I had an extra chicken that was roasted off and was trying to figure out what to do with it. I wanted to do something interesting with it, because well, chicken can be so boring and dry sometimes, especially as leftovers.
There are three important factors to this recipe. First the chicken is shredded instead of cubed and secondly the addition of herbs. I like using tarragon folded into the chicken salad – it adds a freshness and a sort of licorice flavoring that is a perfect pairing for chicken. All of that is combined together with some mayonnaise, I like Best Food's New Organic Roasted Garlic Mayonnaise because it has the most delicious garlicky flavor (they also have Spicy Chipotle or Original too) Those three things make all the difference. Oh and I folded in some red onion for texture and acidity. Plus, I love that this mayo is organic‐ I am a big believer in knowing where our food comes from and I try really hard to use organic ingredients where I can.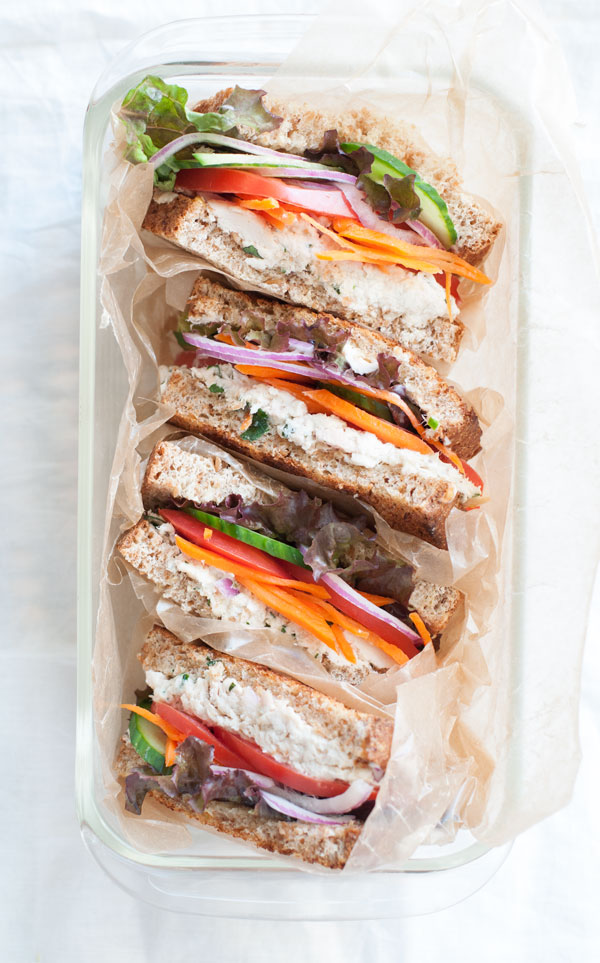 Also the best part of this recipe is that it is really easy especially if you are using leftover chicken or a pre‐cooked rotisserie chicken. This chicken salad is not just perfect for sandwiches, but would be delicious on top of a salad or just with some crackers.
Enjoy!
Chicken Salad with Tarragon and Red Onion
Serves 4­-6
4 cups cooked chicken, shredded into bite size pieces
1 cup Best Foods Organic Roasted Garlic Mayonnaise
1⁄2 red onion, diced
1⁄4 cup tarragon, roughly chopped salt and pepper
In a large bowl, combine the chicken, mayonnaise, onion, tarragon and a large pinch of salt and pepper and mix well.
Use chicken salad on sandwiches, salads, or served alongside crackers and crudité.
This post was created in partnership with Best Foods and FeedFeed ‐ all opinions expressed are my own.