Chicken Fries
with Mint and Raspberry Sauce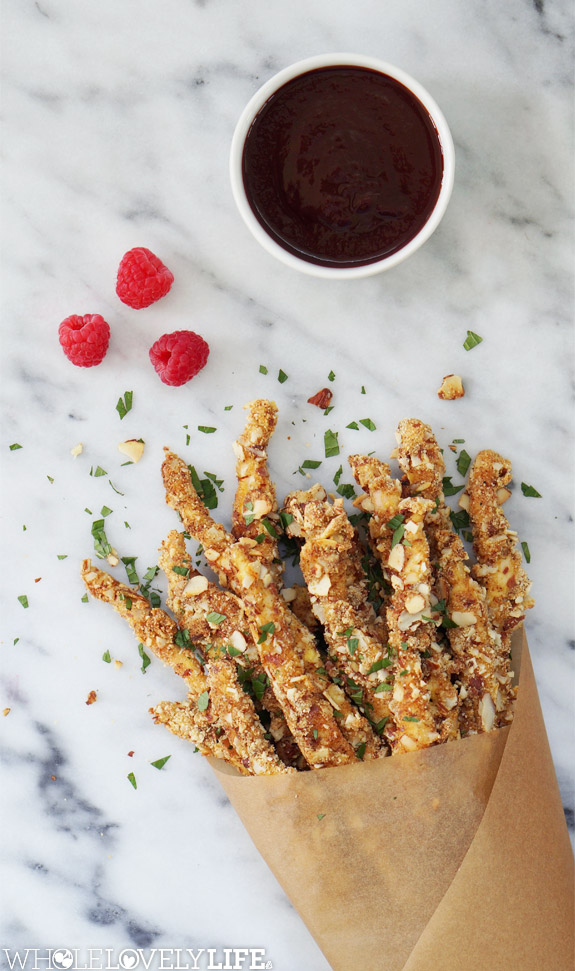 Ingredients
• 2 pints Driscoll's organic raspberries
• 1/4 cup filtered water
• 1/2 tsp cayenne pepper (use ¼ tsp for less spice)
• 1/2 cup coconut sugar
• 1lb skinless chicken breast
• 1/4 cup cassava flour
• 1/2 cup almond flour
• 1 cup crushed sliced almonds
• 1 tsp garlic
• 1 1/2tsp sea salt
• 1 tsp paprika
• 1/2 tsp pepper
• 2 eggs
• avocado oil spray
• 2 stalks of mint
Instructions
1. Add raspberries to a food processor and process until raspberries are pureed.
2. Pour pureed raspberry through a mesh sieve or mesh colander into a pot separating seeds. Use a rubber spatula to push the raspberry puree around until only the seeds are left. Be sure to wipe the puree off the underside of the strainer.
3. Add coconut sugar, filtered water and cayenne pepper.
4. Bring to a boil then reduce heat to low and simmer for 20 min stirring every 3-5 min.
5. While the sauce cooks prep the chicken. Once the sauce is finished remove from heat and set aside.
6. Preheat oven to 425 degrees.
7. Place parchment paper on a backing sheet and spray with avocado oil (you can use any oil of choice however, I prefer avocado as it has a high smoke point).
8. Prepare three dipping bowls.
9. In the first bowl add eggs and whip with a fork to bring the yolk and white together.
10. In the second bowl add almonds slices and use your hands to break and crush into smaller pieces. You want the almond slices to be broken down but not completely crushed. Add almond flour, 1 tsp sea salt, paprika, garlic powder, pepper and mix well.
11. In the third bowl add cassava flour (can use regular flour if you prefer) and ½ tsp sea salt and mix well.
12. Slice chicken breasts in long skinny pieces that resemble French fries.
13. Dip chicken slices in cassava flour then egg then almond flour mixture. I find it easiest to drop the chicken slices in the bowl and then slowly shake and roll the slices until perfectly covered.
14. Lay pieces on the baking sheet.
15. Continue until all chicken pieces have been covered and are placed on the baking sheet. Try to keep slices from touching each other.
16. Lightly spray chicken with avocado oil.
17. Bake for 8-10 min (the thinner the slices the less baking time that is needed) and then use tongs to flip each piece careful.
18. Bake for another 8-10 min.
19. Chop fresh mint and sprinkle on top of the chicken fries.