Stuffed Sweet Potatoes
with Pacific Foods Organic Refried Black Beans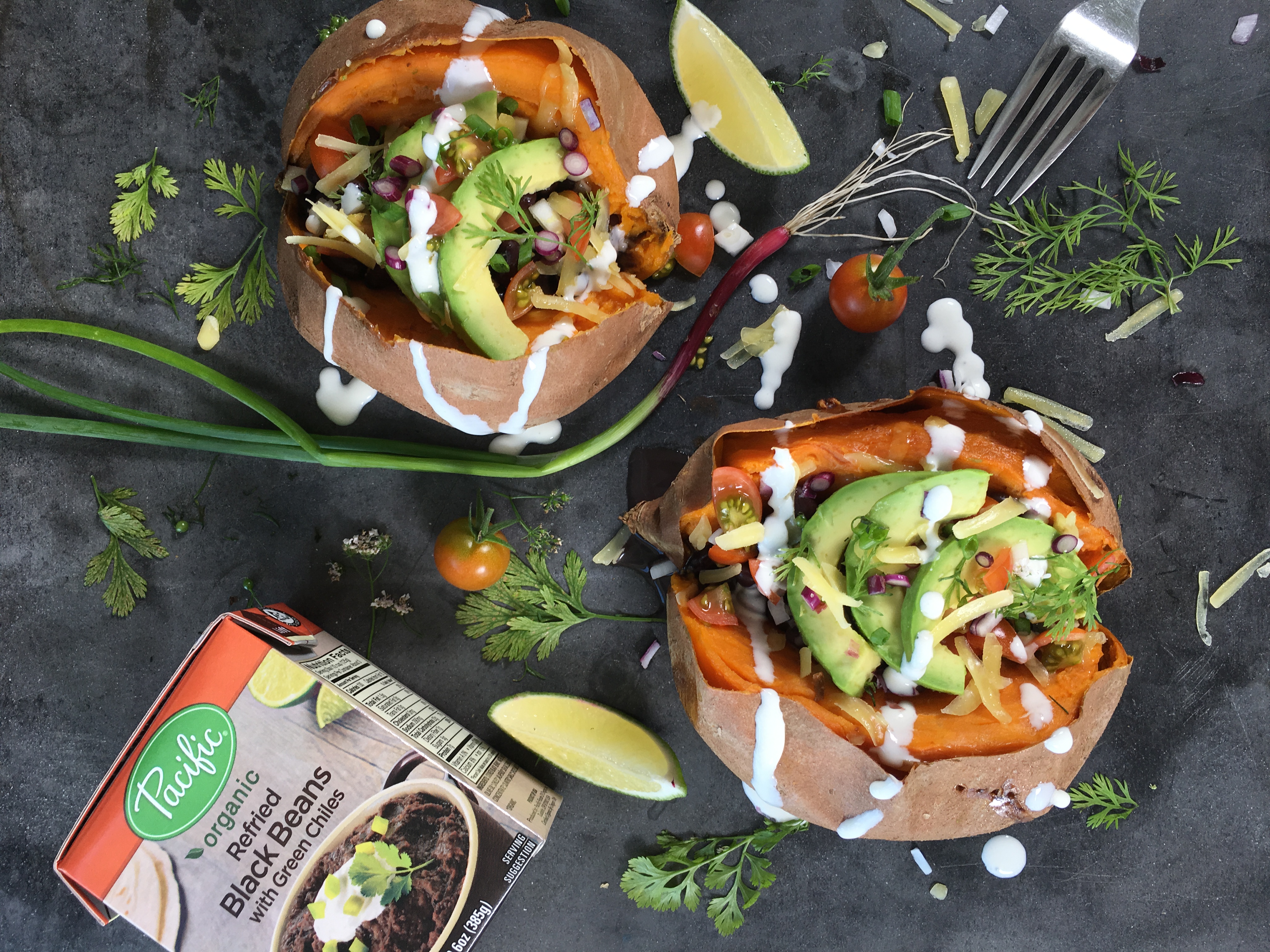 4 Medium Sweet Potatoes, scrubbed clean
1 box Pacific Foods Organic Refried Black Beans
1 cup cherry tomatoes, chopped
½ cup Grated Cheddar Cheese
1 Avocado, sliced
3 Scallions, cleaned and thinly sliced
Handful fresh Cilantro leaves (optional)
Crema or Sour Cream for drizzling (optional)
Preheat the oven to 400˚F. Prick potatoes all over with a fork and set on a baking tray. Place on middle rack in oven and bake for about 45 minutes to 1 hour. You want the potatoes to be fork tender; cooking time will depend on size of potatoes.
Meanwhile, add beans to a small saucepan and warm over low heat, stirring occasionally so they don't burn on the bottom.
When the sweet potatoes are done, set aside until they are cool enough to handle. Slice down the center lengthwise and open up slightly. Top each potato evenly with the warmed beans, cherry tomatoes, avocado slices, scallions and cilantro (if using). Finish by drizzling with a bit of crema or sour cream, if desired. Enjoy!
Stuffed Sweet Potatoes, Just for Kids!
4 Medium Sweet Potatoes, cooked and cooled by an adult until safe for little hands to handle (see directions above)
1 box Pacific Foods Organic Refried Black Beans, reheated carefully by an adult according to package directions
½ cup mild salsa (optional)
½ cup Grated Cheddar Cheese
Sour Cream for drizzling (optional)
Step 1: Very carefully as these will be hot, poke holes in the potato with the fork to make a slit on top lengthwise. Use the side of the fork to then open the slit. Carefully squeeze the ends to get your potato ready for toppings!
Step 2: Have fun! Fill the potatoes with some beans, salsa (if using), cheddar cheese and sour cream (if using).
Step 3: Enjoy a healthy dinner with your family!
Check out how Pacific Foods is working to Nourish Every Body on their website. Click here.
Recipe adapted from Young Rebecca.