Peppermint Bark Rolls
Makes 12 Rolls
Recipe by Maryanne Cabrera
It happened one weekend during winter break in high school. I was browsing through Williams-Sonoma wandering through all the baking gadgets when I was handed a sample of Peppermint Bark. One taste and I fell in love. Fast forward some 15 years later and every holiday season I need my box of minty chocolate cheer.
When Williams-Sonoma and TheFeedFeed asked me to create a recipe featuring my love (Peppermint Bark), I knew exactly what to make: Peppermint Bark Rolls. #BarkYeah!They're like cinnamon rolls, but better. No cinnamon. All chocolate.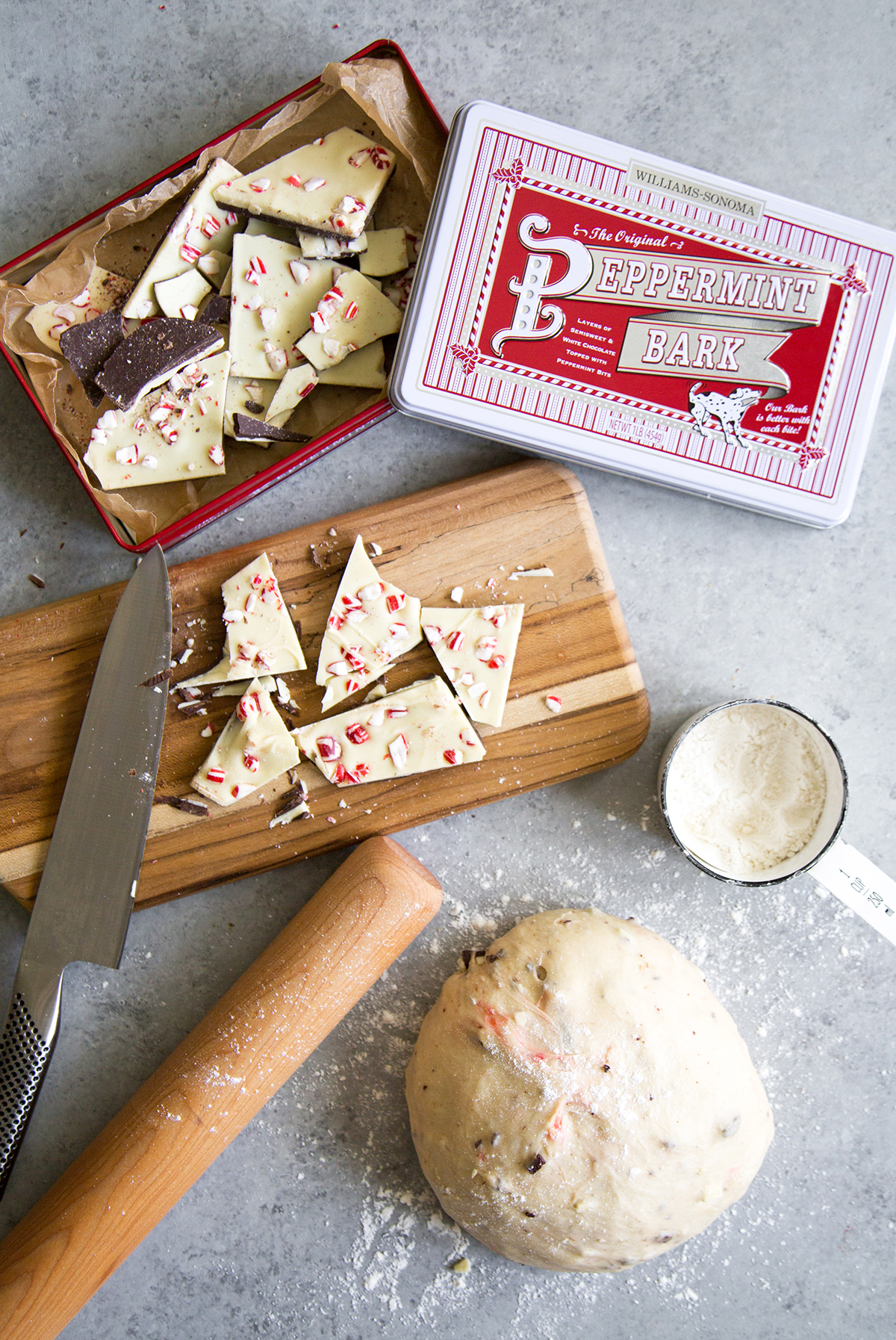 This recipe starts off like my favorite confetti cinnamon rolls. The dough is a straight forward yeasted mixture. However, during the final stages of mixing, half a cup of chopped Peppermint Bark is kneaded into the dough. Can you see the little specks of peppermint and chocolate studded throughout the soft, fluffy dough?!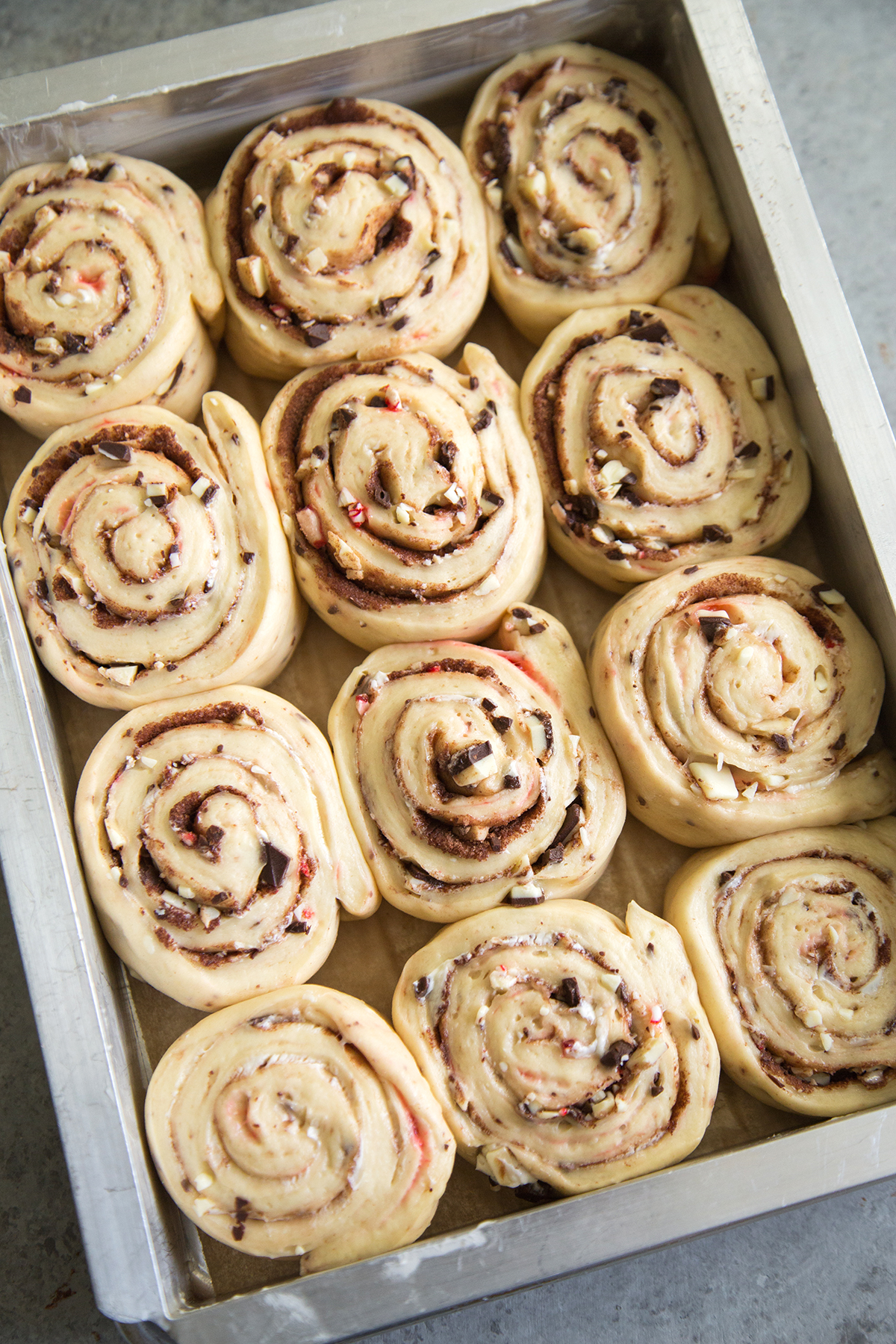 The dough is rolled out into a large rectangle and coated with a layer of soft butter. Then comes the good stuff. Instead of cinnamon sugar, a cocoa-sugar mixture is dusted on top of the butter. And finally, the part we've all been waiting for- finely chopped Peppermint Bark is sprinkled on top before the dough is rolled and cut into a 12 slices.
After much anticipation, once the rolls are baked and slightly cooled, it's time to spread on the cream cheese frosting. If you're feeling super festive, you can add a tiny amount of peppermint extract to make the frosting even more fun and tasty. Otherwise, leave it as is so you can let the Peppermint Bark shine on top.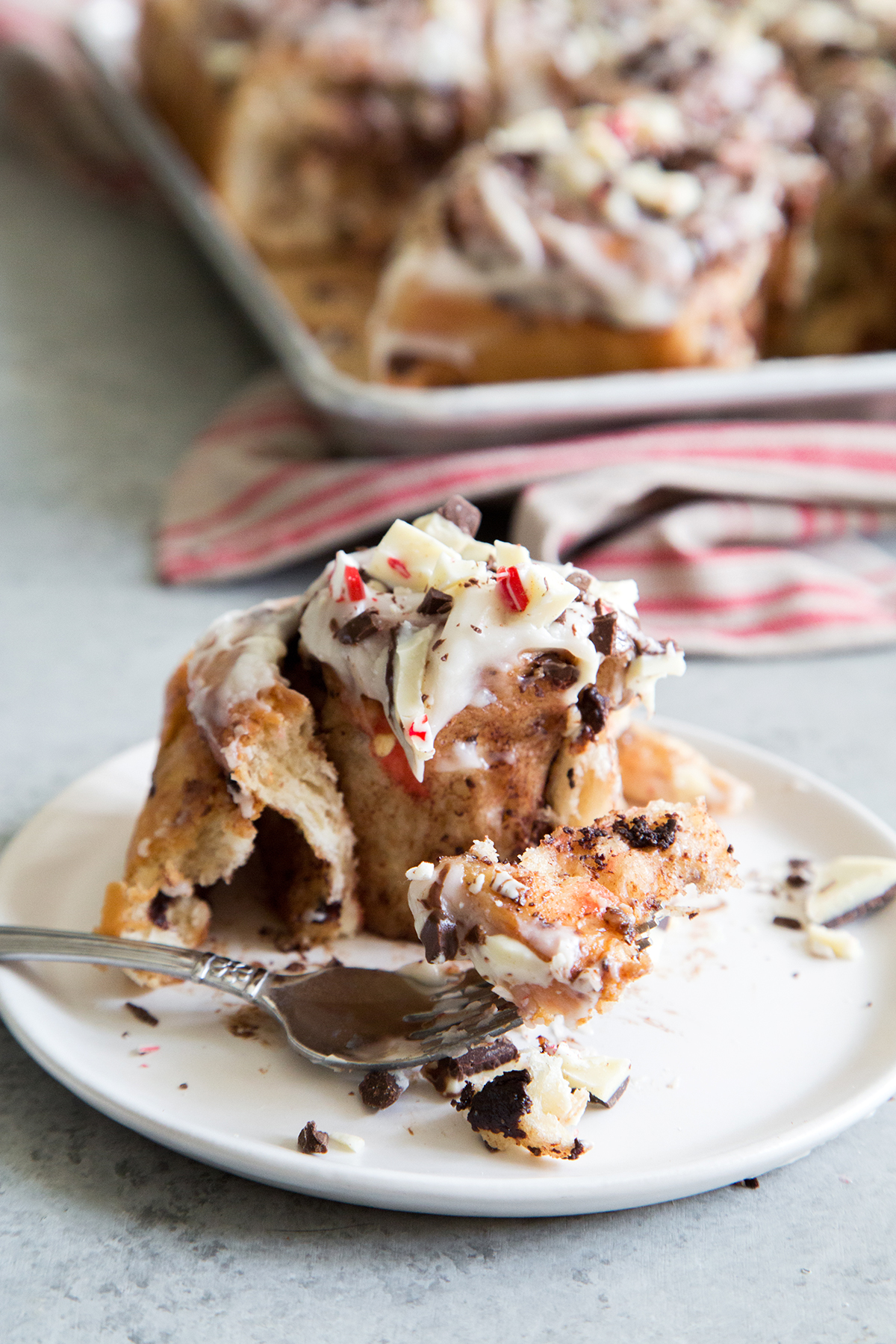 And there you have it. Peppermint Bark Rolls! In my opinion, the BEST way to enjoy bread and chocolate together during the holiday season (let's be honest: all year long!).
These soft, fluffy, and super tasty Peppermint Bark rolls are excellent way to kick off December and say farewell to another year. Whether you enjoy them for breakfast, snack, or dessert, it'll definitely end with a satisfied belly and a big smile. Be sure to
Ingredients
Dough:
1 1/2 cup warm water, 110 degrees F

2 1/4 tsp (7 g) active dry yeast

1/4 cup (49 g) granulated sugar

1/2 cup whole milk, room temperature

1 large egg, room temperature

1 large yolk, room temperature

4 cups ( 480 g) all-purpose flour

1/2 tsp fine sea salt

5 Tbsp (73 g) unsalted butter, softened

1/2 cup (80 g) Peppermint Bark, chopped



Chocolate Filling:
1/3 cup (73 g) unsalted butter, softened

1 Tbsp (6 g) unsweetened cocoa powder, sifted

2 Tbsp (30 g) granulated sugar

3/4 cup (120 g) Peppermint Bark, chopped



Cream Cheese Frosting:
4 oz cream cheese, room temperature, softened

1/4 cup (2 oz) unsalted butter, softened

1/2 tsp vanilla extract

pinch fine sea salt

1 1/2 cup (171 g) powdered sugar

chopped Peppermint Bark, as needed to garnish



Directions
Dough: Sprinkle yeast over warm water. Add 1 teaspoon of sugar and stir to combine. Let sit for 5 minutes to allow mixture to bubble and activate.

In the bowl of a stand mixer, whisk together yeast mixture, remaining sugar, egg, and egg yolk. Attach dough hook to mixer.

In a large bowl whisk together flour and salt. Add 2 cups of flour to mixing bowl. Mix on low speed until dough starts to come together. Add another 1 cup of flour. Continue to knead on low speed and add softened butter one tablespoon at a time. Add remaining cup of flour and knead until dough is smooth and cleans the sides of the bowl. Add chopped Peppermint Bark and mix until evenly distributed in dough.

Transfer dough to a lightly greased bowl. Cover with plastic wrap and let dough rest at room temperature for one hour until dough has doubled in volume.

Punch dough raised dough. Transfer to a lightly floured working surface. Roll dough into a 20 x 14-inch rectangle. Spread 1/3 cup softened butter over dough.

Chocolate Filling: In a small bowl, mix together cocoa powder and sugar. Distribute cocoa sugar mixture over dough. Sprinkle chopped Peppermint Bark on top.

Roll dough into a log, starting at the longer side. Slice the log into 12 equal parts. Place rolls in a greased 9 x 12-inch baking pan. Cover with plastic wrap and let rolls rest for 30-45 minutes at room temperature to allow rolls to rise.

Preheat oven to 350 degrees F. Remove plastic wrap and bake rolls for 30-35 minutes until golden brown on top and the internal temperature of the rolls registers at least 185 degrees F. Allow rolls to rest in pan for 5 minutes to slightly cool.

Cream Cheese Frosting: Beat together cream cheese and butter until smooth. Add powdered sugar, salt, and vanilla and continue to beat until smooth and thickened. Scrape down bowl as needed. Spread over warm rolls. Top with chopped Peppermint Bark.
This sponsored post was created in partnership with Williams-Sonoma and Feedfeed. All opinions are my own.