Manhattan Dessert Crawl
Getting to know New York City, One Cake at a Time
My favourite thing to do when travelling is to eat. I feel that you learn so much about a city and its culture through food, especially dessert. So when I came to New York recently for a baking adventure, a dessert crawl was at the top of my to-do list. I visited more than thirty bakeries in less than a week and am thrilled to share with you some of the amazing desserts I discovered along the way.
YOU'RE MY JAM - Sullivan Street Bakery
Famous for their no-knead bread that is served at restaurants across the city, I came here for the desserts. The Italian pastries are mouthwatering, from bomboloni to custard filled doughnuts it was the crostata that I simply couldn't resist.
I'M A BIG SOFTIE - Milk Bar
If you haven't watched Christina Tosi's episode of Chef's Table then you must stop everything you are doing and watch it immediately. I have just two words for you: CEREAL MILK. Turning the best part of your cereal bowl into your favourite soft serve, Tosi is an absolute genius and my dessert idol. With three visits to Milk Bar in my first 24 hours in New York City, it was hard not to devour their compost cookie and crack pie too. And my hottest tip? You can only buy Birthday Cake by the slice at their Chelsea outpost, and it is worth every single bite.
YOU'VE GOT A PIECE OF MY TART - Bourke Street Bakery
A little piece of Sydney in New York. Newly opened, this is the most spacious bakery I visited with a menu that offers so much more than just sweets. There are croissants and the iconic sausage roll of course, but there is truly nothing better than their lime curd and Italian meringue tart.
I DOUGHNUT KNOW WHAT I WOULD DO WITHOUT YOU -
I can't go past a cinnamon doughnut and the offering at Dough is one of the best. If you can't eat decide on which flavour to choose you can pick up some doughnut holes instead.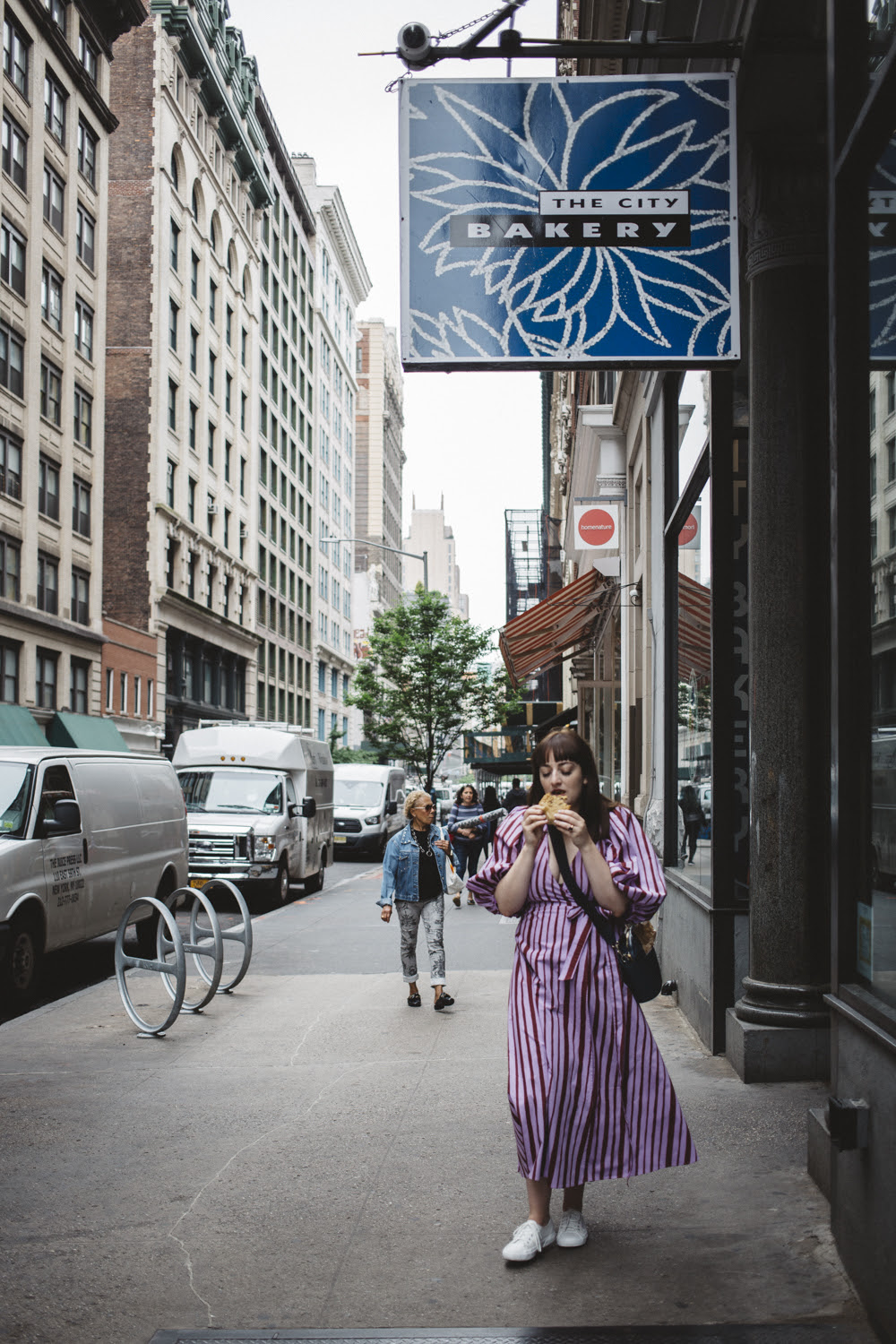 WISH CHEW WERE HERE - City Bakery
I actually visited City Bakery when on my honeymoon in Japan and was thrilled to discover them in New York. I loved their branding and demolished their chocolate chip cookie though you'll want to have their pretzel croissant and hot chocolate too.
I LOVE YOU A CHOCOLOT - Breads Bakery
The smell of freshly baked babka hits you before you even walk in the door. Topping pretty much every list of NYC's best babkas this flaky, buttery, Nutella filled dessert will have you coming back for more.
I LOVE YOU DOUGH MUCH - Levain Bakery
I came for the chocolate chip walnut cookie, and I devoured it. There is something quite impressive about the sheer size of this cookie and it's gooey chocolate innards. Just don't look up how many calories per bite!
Other Notable Mentions
You can find new Banana Pudding Queens in town thanks to a taste of Sugar Sweet Sunshine's offering
The traditional croissants at Supermoon Bakehouse are extraordinary and come in all shapes, flavours and colours too.
Manhattan is one of the most spectacular dessert destinations in the world and if I could stay here and eat sweets all day, I would. If I had to choose just one then it it has to be Christina Tosi's Cereal Milk Soft Serve. I literally come halfway across the world to eat this dessert alone - can you please just open a Milk Bar in Sydney already!?
There are so many other delicious desserts I didn't have time to eat and I can't wait to come back to explore and devour even more from this incredible city.
Thank you Charlotte Ree & Luisa Brimble for sharing your story! Want to be featured next? Share and submit your recipes and save other people's recipes when you register on the site. As a registered user on thefeedfeed.com you can also submit the image & recipe directly on your profile page for a more direct connection to our editorial team for future social promotion and in our weekly Meal Plan Newsletters!