Vegan Dark Chocolate Cake
with Raspberry Filling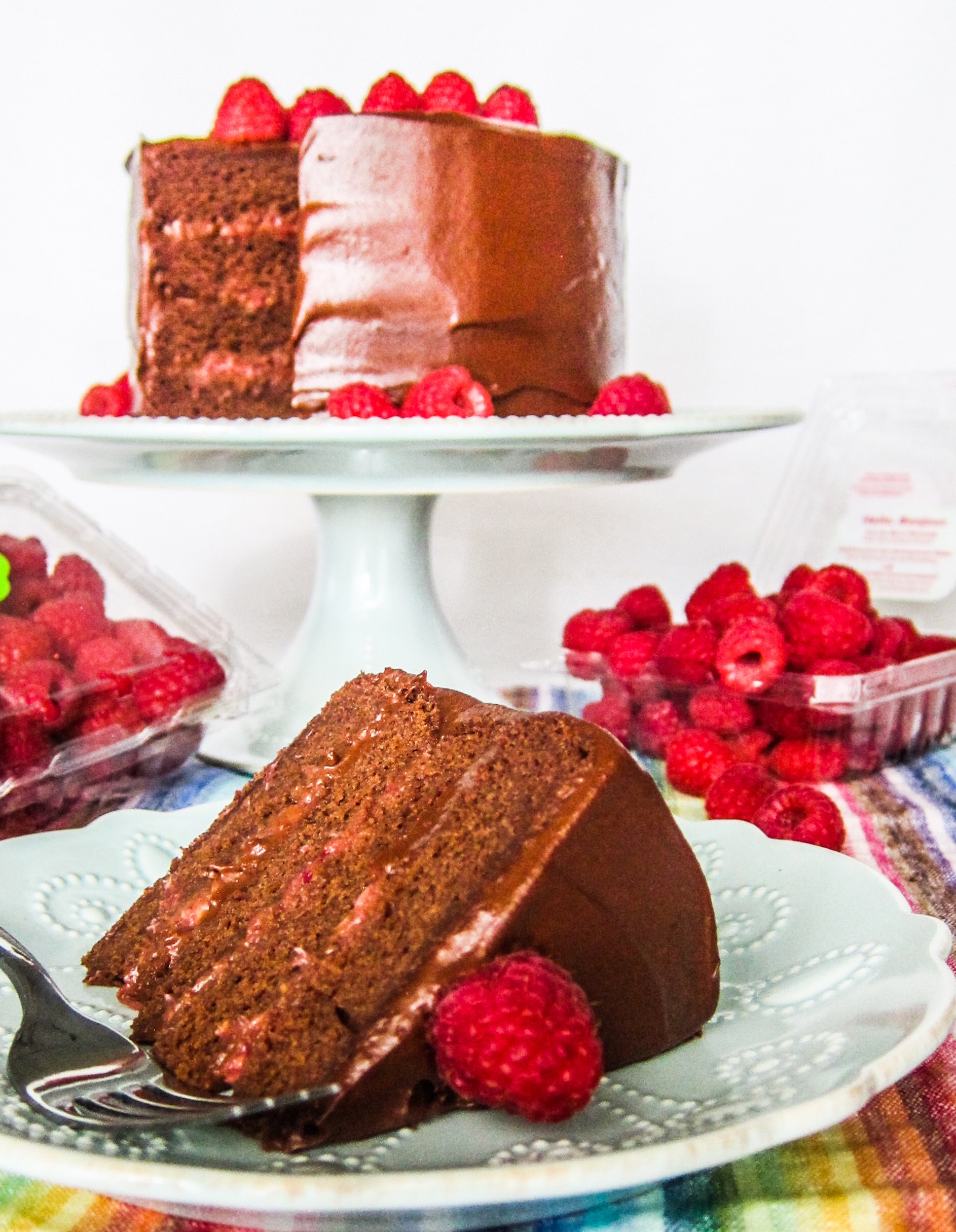 Vegan Dark Chocolate Raspberry Layer Cake
Makes one 4 layer 6 inch cake
Ingredients
2 6 inch cake pans
Cake:
1 1/2 cups gluten free all purpose flour
1/4 cup unsweetened cocoa powder
1 1/2 tsp baking soda
1 tsp baking powder
1/2 tsp sea salt
1 1/4 cups packed soft medjool dates, pitted, soaked in filtered water for 30 minutes and drained before using
1/4 cup organic almond butter
2 cups filtered water
2 Tbsp apple cider vinegar
Raspberry Filling:
3/4 cup Driscoll's fresh organic raspberries
2 tsp maple syrup
pinch sea salt
Frosting:
1 1/4 cups mashed sweet potatoes*
1/2 cup maple syrup
1/3 cup organic almond butter
1/4 cup filtered water (or as needed)
1/2 cup unsweetened cocoa powder
1/4 tsp sea salt
Topping:
1 cup Driscoll's fresh organic raspberries
Method
1. Preheat the oven to 375F degrees and position rack in center of oven.
2. Oil two 6 inch round cake pans and line their bottoms with parchment paper.
3. Whisk flour, cocoa powder, baking powder, baking soda, sea salt in a large bowl to blend well.
4. Place dates, water, and almond butter into a blender, and blend until smooth, then whisk this blended mixture into the flour mixture until well blended. Whisk in the cider vinegar until bubbles form.
5. Pour the cake batter into prepared pans, and place in the oven.
6. Bake cakes until set and a toothpick inserted into the center comes out almost clean, about 25-30 minutes. Remove from oven, let cool completely, the un-mold them onto two plates.
7. Slice cakes in half horizontally so that you have 4 layers. Set aside.
8. To make the raspberry filling, mash all ingredients together in a bowl with a fork until raspberries are the consistency of jam. Set aside.
9. To make the frosting, combine all ingredients in a blender and blend until smooth (since yams may vary in moisture, if you think the frosting is a little too thick add a few Tbsp more water). Set aside.
10. To assemble, place one cake layer on a plate, and spread a thin layer of frosting over it. Then spread some of the raspberry filling over that (keeping it in the center of the cake and not more than 1/4 inch away from the sides). Place the other cake layer over that, then spread more frosting, and berries over it like the last layer. Repeat with another layer, and top off with last piece of cake. Spread the remaining frosting on the top and down the sides of the cake.
11. Decorate the top of the cake with the fresh raspberries.
12. Serve!
*I like to roast my sweet potatoes in the oven. To do so, cut them in half, and place them cut side down on a parchment lined tray. Roast at 400F degrees for about an hour or until they are tender. Let cool before pureeing.