Potato Parsnip & Leek Soup
w/Chive Gremolata
My mum's taught me a lot about cooking. Thanks to her, I know how to stir-fry almost anything. And I can quickly triple a recipe in my head, because her portions start at extra-large. I picked up a lot of her habits from just watching her cook. Like the countless times I'd watched her cut the light bottoms off leeks and cast them aside…before carefully stuffing the green ends into her herculean sized pot. Because of this, for most of my life, I would have sworn that you were only supposed to use the dark green part of a leek. It was only until I first read an actual potato leek soup recipe for myself, that I realized she'd been doing it wrong all along! Facepalm. It's okay mum, you're still right 99% of the time.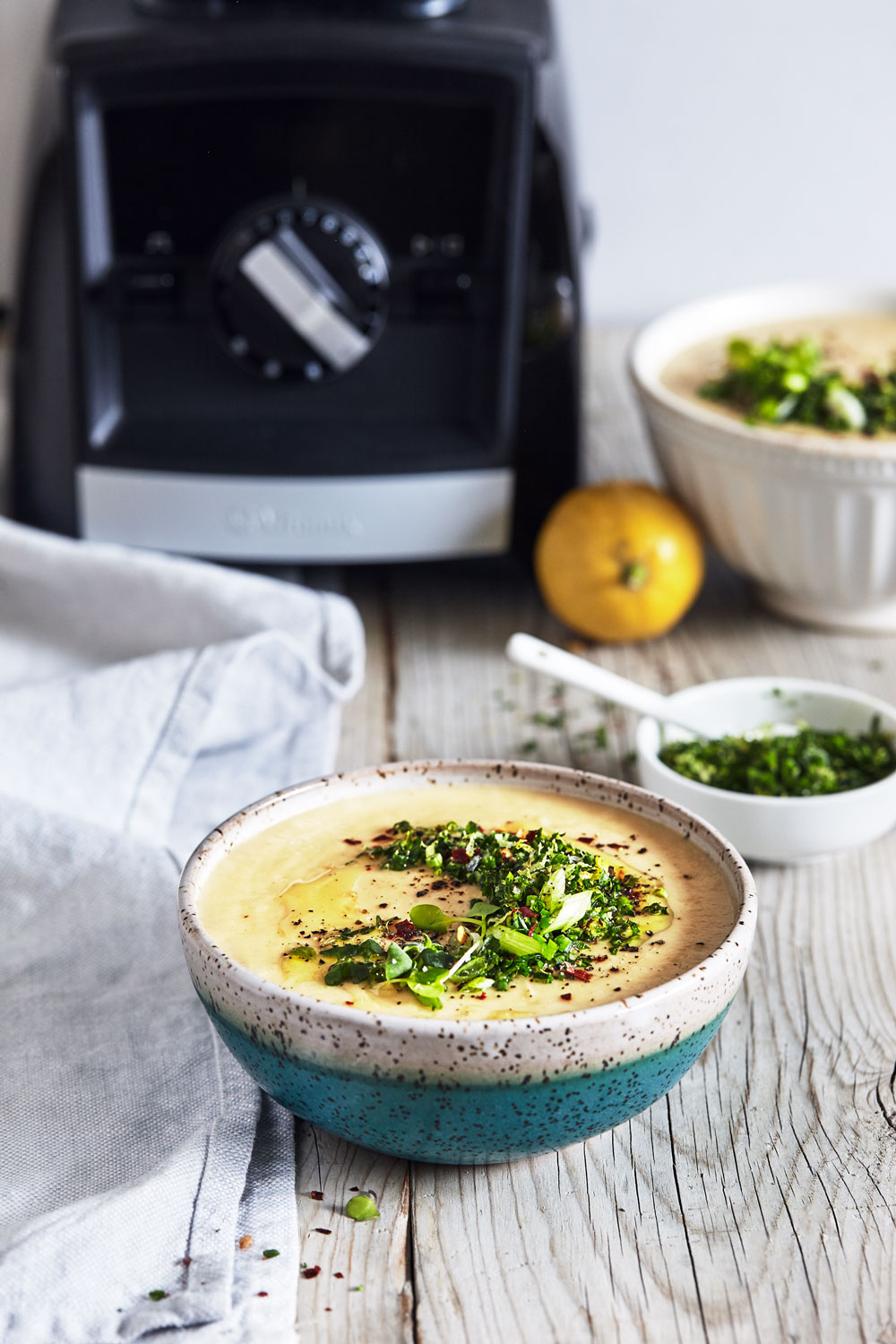 I'm happy to report that proper leek prep has now been going strong for a few years now, so it felt only right to celebrate with a soup of our own. And boy, am I excited to share this one! This recipe has all the flavors of a classic potato leek soup, but with some easy "extras" to make it fresh and exciting. Parsnips add a hint of sweet and earthy flavor. It's a combination I love. We skipped the dairy on this one, which helps lighten up the soup and keep it vegan. And to brighten everything up (it is spring time after all!), there's a fresh Chive Gremolata to go with it. The name sounds fancy, I know, but it's only 4 ingredients and so worth it. I find that a bit of acid can really round out the flavors in a soup like this one, so this recipe calls for using a lemon in two ways: juice in the soup, and rind in the topping. It makes a difference, trust me.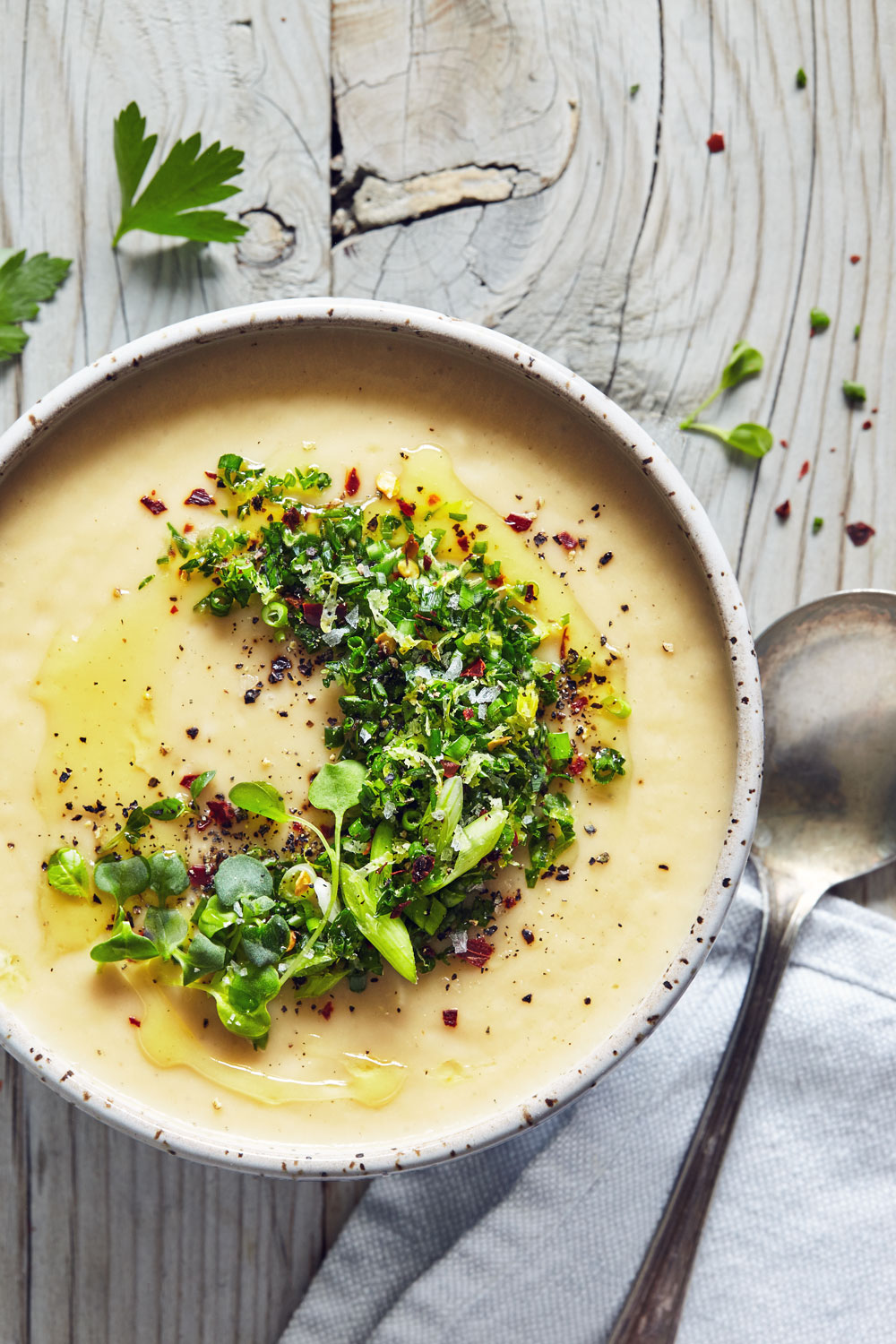 You'll probably be happy to hear that this soup doesn't require hours of standing over a hot stove. In fact, it doesn't even call for a pot! Instead, everything gets roasted in the oven and combined with hot stock before a whirl in the blender. And just like that, you'll get a silky smooth soup in the blink of an eye. Depending on the size of your blender, you may need to process the soup in two batches. I used the snazzy new Vitamix Ascent 2500 for this recipe, and it all fit in a single go. If you have any leftover soup, it's best to store it separately from the gremolata. Soup can be reheated the next day, or eaten cold – both are delicious!
Potato Parsnip & Leek Soup
Serves 4-6 – Vegan, Gluten Free
Ingredients
1 lb russet potatoes (peeled, optional)*
1/2 lb parsnips
1 large white onion
3 cups leek, chopped (~2 large leeks, white and pale green part only)
2 tablespoons + 2 teaspoons olive oil, divided
1 head of garlic
5 cups vegetable stock, hot
1 tablespoon lemon juice**
1/2 teaspoon salt
1/4 teaspoon white pepper
Garnish: Chive Gremolata (see recipe below), olive oil, black pepper, salt
Directions
Preheat oven to 400°F and line a large baking sheet with parchment paper.
Chop potatoes and parsnips into similarly sized cubes. Roughly chop onion. Add potatoes, parsnips and onion to baking sheet. Drizzle with 2 tablespoons olive oil and toss to coat.
Slice the top end off the head of garlic. Place garlic on a piece of tinfoil. Drizzle with remaining 2 teaspoons of olive oil, and then wrap garlic in tinfoil. Place garlic on baking sheet with remainder of the veggies. Roast veggies for 40 minutes, or until the potatoes and parsnips are fork-tender. Flip vegetables half way through for even cooking.
Once veggies are roasted, add them to a blender. Squeeze the garlic bulb to release the roasted garlic into the blender. Add hot vegetable stock, and then blend until smooth. Be careful when blending, mixture will be hot! Add lemon juice, salt and white pepper. Blend to mix. Serve immediately and top generously with Chive Gremolata.
*Potato skins contain both flavor and vitamins, so feel free to use unpeeled potatoes. Peeling the potatoes will yield a lighter colored soup (like the one photographed), which looks a bit nicer and also tastes great.</i>
**You'll need the zest from this lemon for the Chive Gremolata, so it's best to zest it before juicing it.
Chive Gremolata
Vegan, Gluten Free
Ingredients
1/4 cup chives, minced
2 tablespoons flat-leaf parsley, minced
1 tablespoon lemon zest (~1 large lemon)
Generous pinch of salt
Directions
Add chives, parsley and lemon zest to a small bowl. Stir to mix, and season with salt to taste.
Use as a topping for Potato Parsley & Leek soup. Any extras should be stored in the fridge covered.