Raspberry Vanilla Cream Tart
with raspberries from Amber Waves Farm
After picking a bushel of lovely raspberries from Amber Waves Farm I knew I had to put them to good use in a fresh berry tart! Here's my recipe: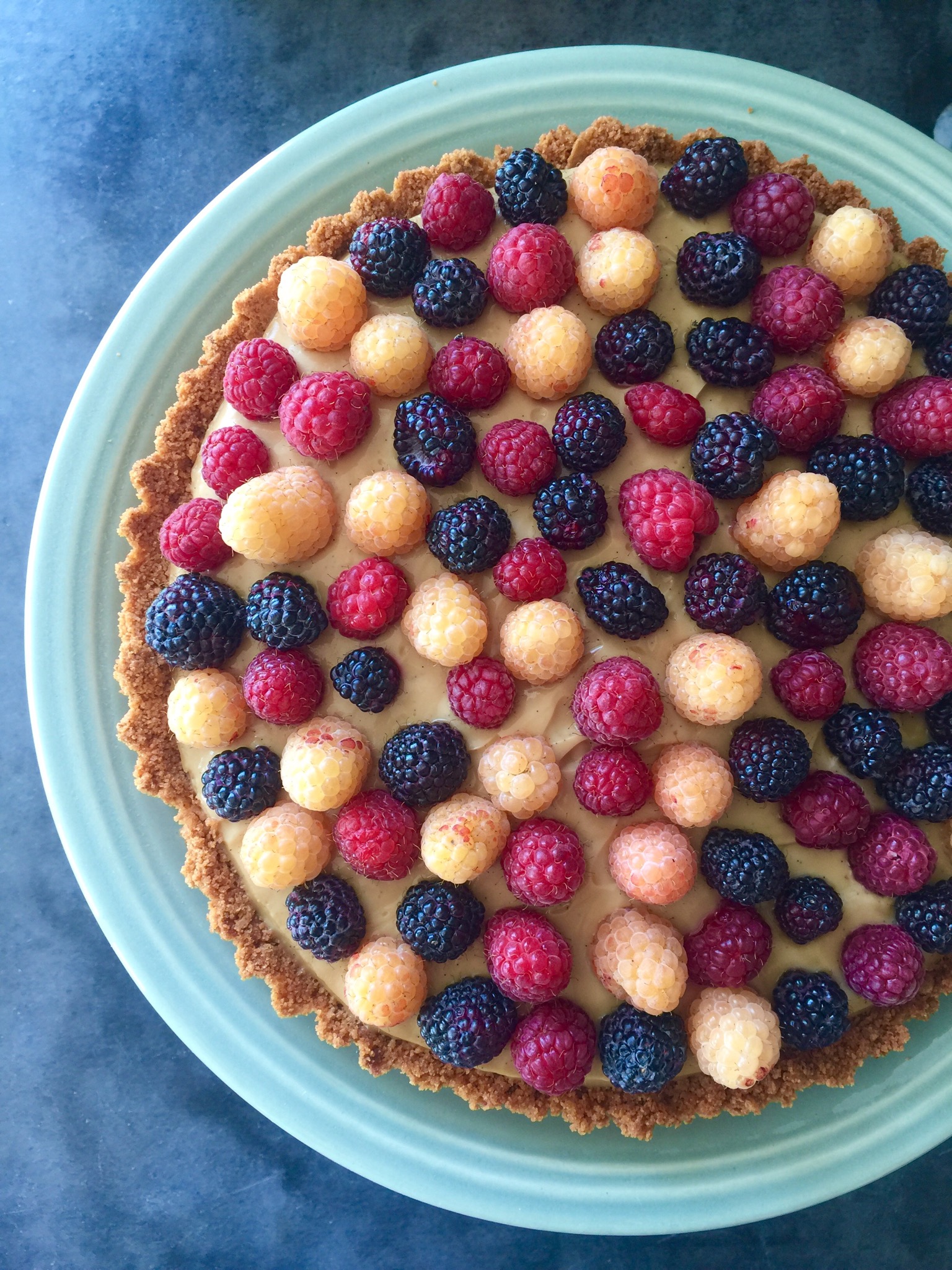 Crust
12 graham crackers, finely ground (about 1 1/2 cups)
5 tablespoons unsalted butter, melted
1/4 cup coconut sugar
1/4 teaspoon coarse salt
Filling
4 large egg yolks
¾ coconut sugar
1/4 cup cornstarch
3/4 teaspoon coarse salt
2 3/4 cups whole milk
1 vanilla bean, split and scraped
3 tablespoons unsalted butter, room temperature, cut into pieces
For serving
Whipped cream
Fresh Raspberries ( I used red, black & yellow)
To make the crust:
Preheat oven to 350˚F. Add graham crackers to a ziploc bag and crush with a rolling pin until fine crumbs form. Add to a bowl and stir in melted butter, coconut sugar and salt. Mix until well combined, then press into the bottom of a 9 inch tart pan with a removable bottom. Freeze crust for about 15 minutes, then bake for 10-12 minutes, or until golden brown. Set aside to cool.
To make filling:
Whisk yolks in metal bowl. Add coconut sugar, cornstarch and salt to a medium saucepan set over medium heat. Add milk and vanilla bean and seeds. Slowly bring to a boil, stirring constantly for about 2-3 minutes.
When milk mixture reaches a boil, turn off heat and slowly stream into the bowl with the egg yolks, whisking constantly until well combined. Add mixture back to sauce pan and bring to a gentle boil again, whisking constantly so the bottom doesn't burn.
Remove from heat, add to a cool bowl and whisk in butter. Let the custard cool completely before adding it to the crust.
Add cooled custard to tart shell, and cover tightly with cling wrap (you want it right on the surface). Let set in the fridge for at least 4 hours, or overnight. Decorate with fresh berries and serve with whipped cream.
Recipe adapted from Martha Stewart