Mini Lindt Chocolate Cream Pies
Makes: 8 mini pies
Let's be honest, there is nothing very spectacular about January other than the start of a new year - we come off the Holiday's feeling tired - and the weather is cold and bleak for many months to come. Thank goodness we have the Golden Globes to look forward to every year & this year, even more so because we've partnered with Lindt Chocolate for the 74th celebration of film and television. This is the second year of Lindt Chocolate being the premier confection sponsor of the event. If there was one dessert I know I can always count on to please a crowd at a viewing party- it would without a doubt be homemade chocolate cream pie. There is just something truly magical about putting creamy, velvety smooth chocolate pudding into pie form & these Mini Lindt Chocolate Cream Pies are a testament to that. They have a toasted hazelnut chocolate shortbread crust, filled with silky dark and milk chocolate pudding. If you are anything like me, you might have a hard time not eating the chocolate pudding straight from the bowl, but trust me it is worth the self restraint once the tarts are assembled. These make a beautiful and decadent dessert for a party, and are simply irresistible when served with a dollop of freshly whipped cream.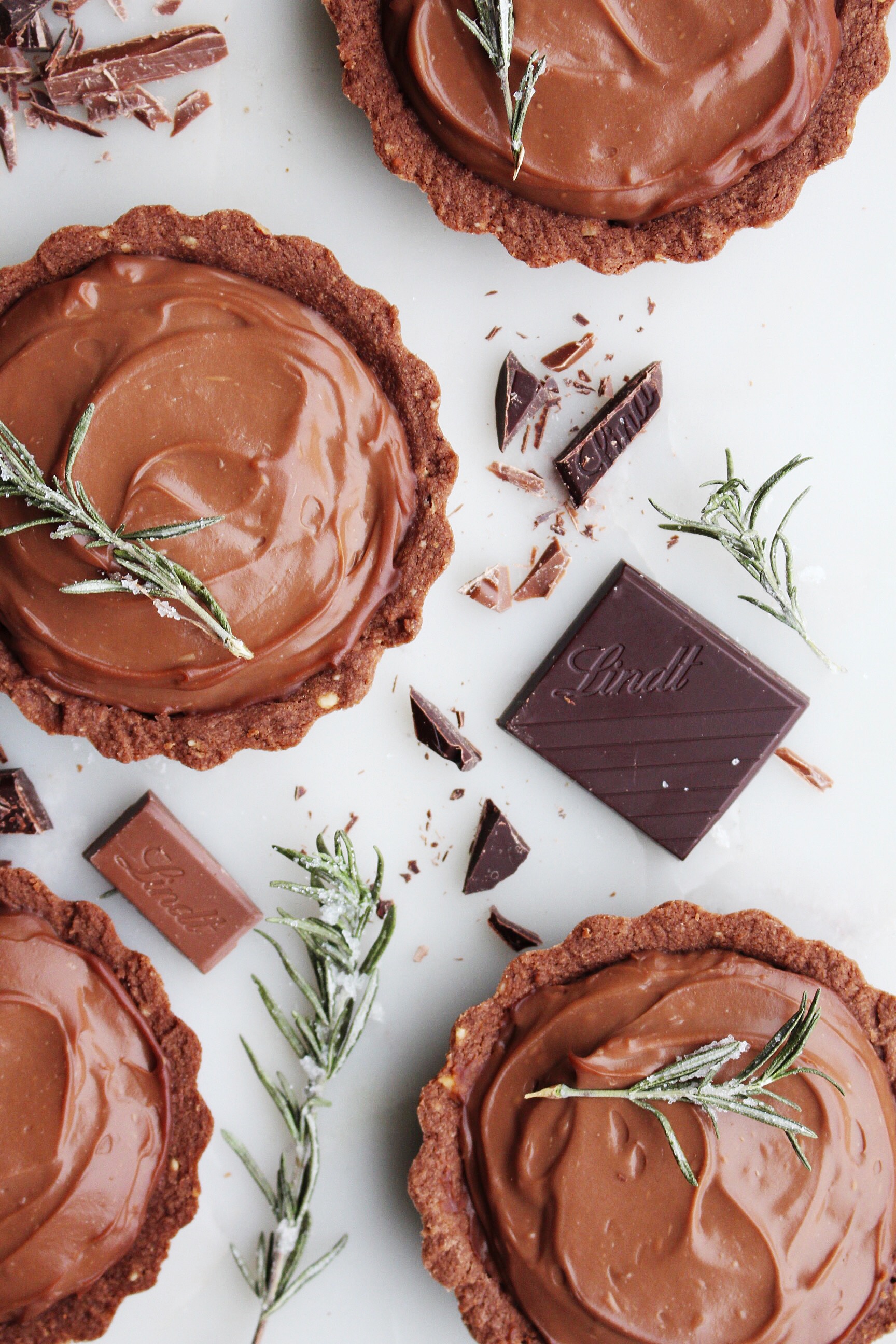 Be sure to turn into the #LindtGoldenGlobes Twitter Party being held on January 8 from 8-9PM EST. We'll also be behind the scenes live at the Golden Globes with Lindt Chocolate - so follow along on our @TheFeedFeed Instagram Stories!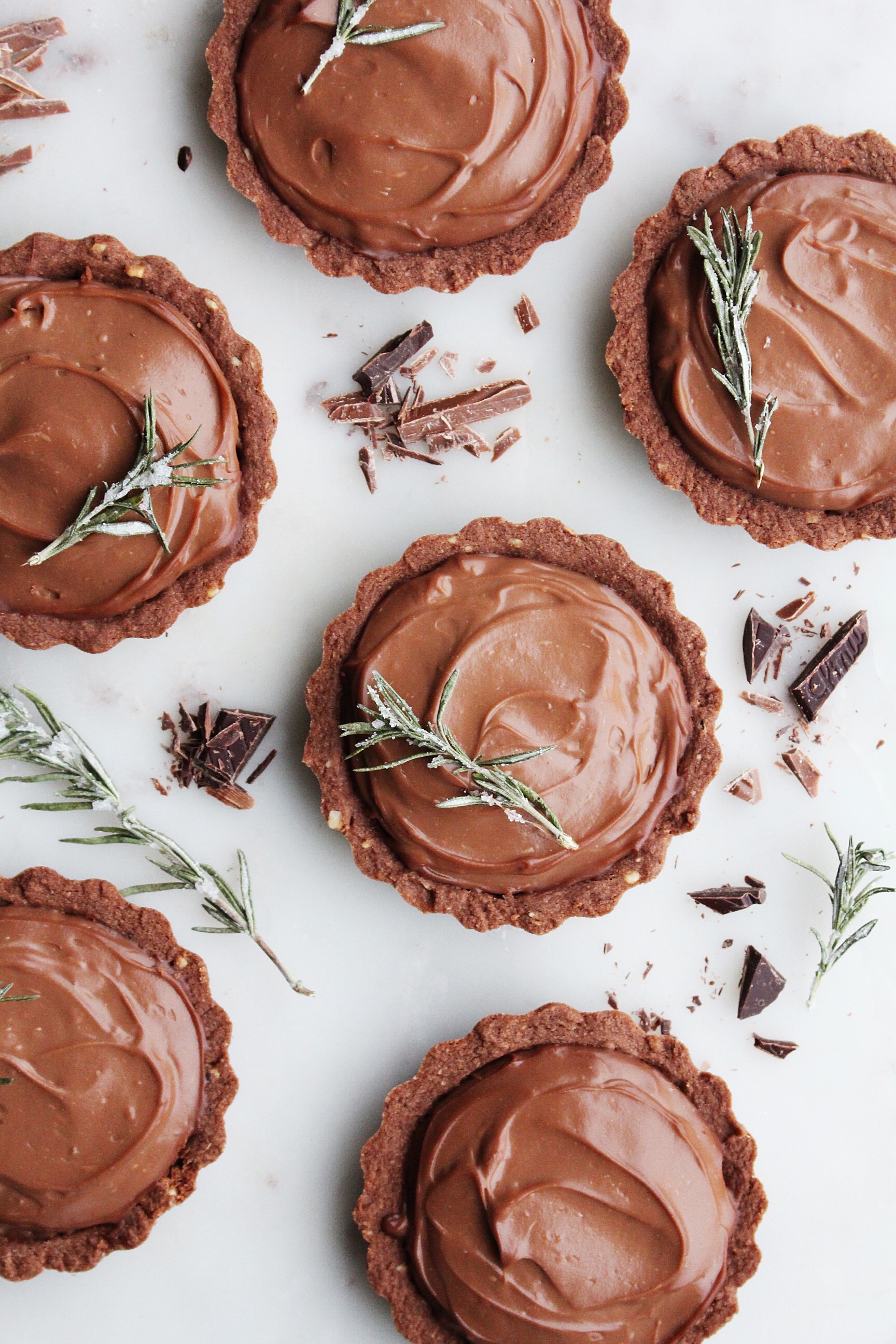 Chocolate Hazelnut Shortbread Crust
1 cup unsalted butter, softened
¾ cup Icing sugar
1 tsp vanilla
¼ cup cocoa powder
¼ ground toasted hazelnuts
¼ cup Cornstarch
1 tsp salt
1 1/2 cups all purpose flour
Chocolate Pudding
½ cup granulated sugar
¼ cup cornstarch
3 cups half and half
5 egg yolks
6 oz Lindt Excellence Dark Chocolate, finely chopped
3 oz Lindt Classic Recipe Milk Chocolate, finely chopped
3 tbsp butter
1 ½ tsp vanilla
1 tsp espresso powder
Pinch of salt
Directions:
Chocolate Pudding
Make your chocolate pudding first, because you will want to give it enough time to chill before filling your pie.
In a medium saucepan, whisk together egg yolks, granulated sugar, cornstarch, and salt until combined. Next, whisk in one cup of the half and half until the mixture is smooth and then whisk in the remaining half and half. Set the saucepan over medium low heat and bring to a gentle simmer, continuing to whisk regularly until thickened – this will take about 10 minutes. Bring the mixture to a simmer and then reduce the heat to low, continuing to cook and whisk constantly for an additional 2-3 minutes.
Remove the pan from the heat, and whisk in the chopped chocolate, butter, vanilla and espresso powder. Pour the pudding through a fine mesh sieve into a heat proof bowl and place plastic wrap directly on the surface. Place the pudding in the fridge to cool completely – this will take about 4-6 hours.
Meanwhile, make your chocolate hazelnut crust.
Chocolate Hazelnut Shortbread Crust
In a large mixing bowl, cream together butter and icing sugar with an electric mixer until fluffy. Beat in vanilla until combined.
In a small bowl, whisk together flour, cocoa powder, cornstarch, ground almonds & salt until combined. Add to mixing bowl and beat until the dough comes together. Scoop dough out onto some plastic wrap and shape into a disk. Set in the fridge to chill for about an hour.
Preheat your oven to 350 degrees.
Once your dough is chilled, remove the plastic wrap and roll it out to about ¼ inch thickness on a lightly floured surface. Use the bottom of one of your mini removable bottom tart shell pans to trace and cut 8 circles from the dough.
Gently press the the dough circles into each of the tart shells & prick the bottom and sides with a fork. Bake tart shells for 8-10 minutes or until set. Remove from the oven and allow to cool completely before filling.
Sugared Rosemary Sprigs
Dip fresh rosemary sprigs in water and gently shake off excess. Set on parchment paper and generously sprinkle with granulated sugar. Allow sugared sprigs to dry for at least 30 minutes.
Assembly
Once your pudding is chilled and your tart shells are cool, you can assemble your mini pies.
Remove your shortbread crusts from the moulds. Evenly distribute the pudding among the 8 tart shells and use an offset spatula or the back of a spoon to smooth the pudding to the outer edges of the tart shell. Decorate with sugared rosemary sprigs & refrigerate until ready to serve.
Serve with fresh whipped cream.
This post has been sponsored by Lindt.