Blackberry & Raspberry Layered Cashew 'Cheesecake'
With Oregon Berries
This vegan 'cheesecake' is made with Oregon raspberries & blackberries and is the perfect summer dessert for a crowd! Guests will be delighted to find out this decadent dessert is both vegan and gluten free. The Oregon berries give the creamy dairy free cheese cake the most beautiful pink hue. Plus, since Oregon berries are picked during the peak season and frozen within hours of leaving the field, you can enjoy the taste of summer year round!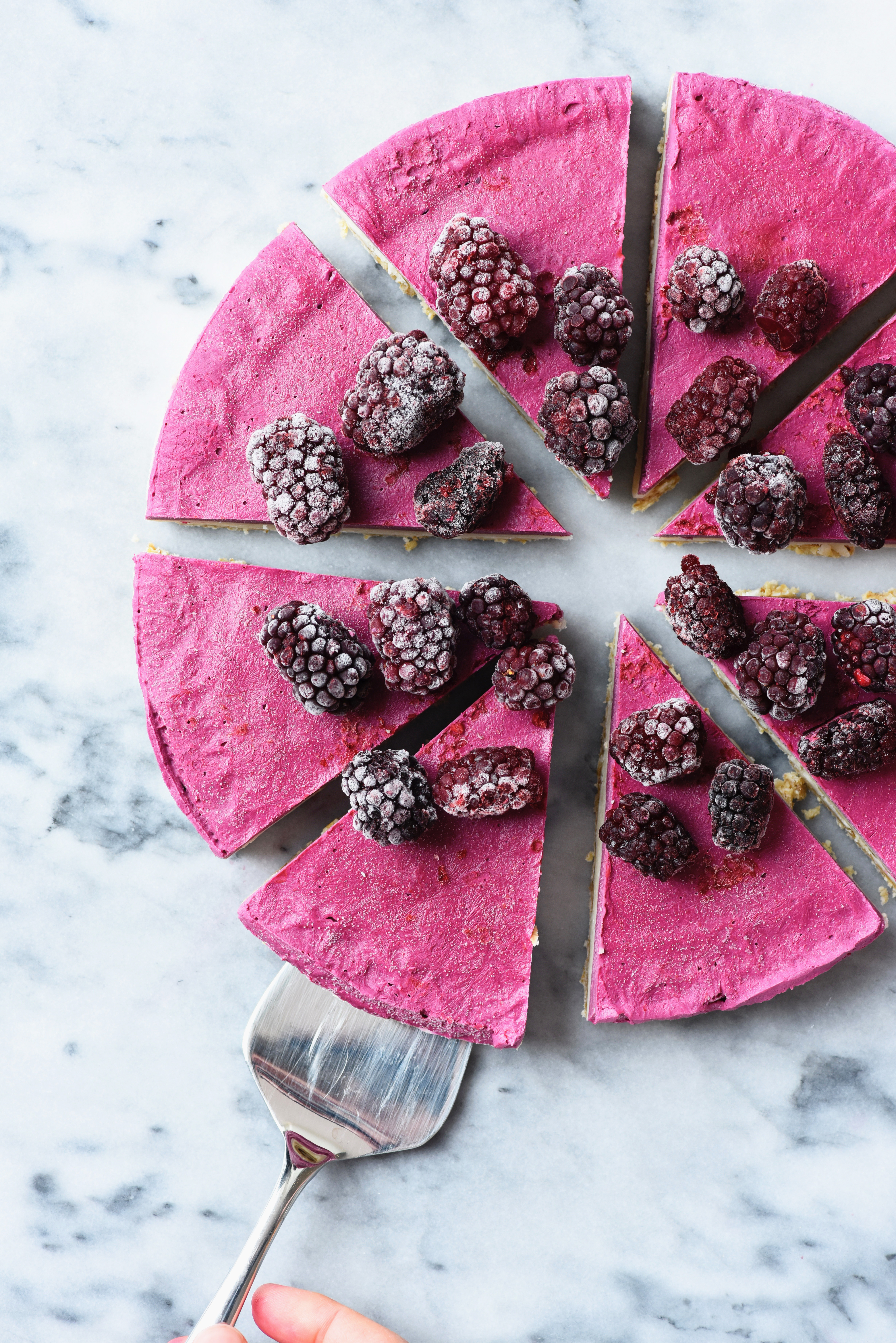 Serves 8-10
Ingredients
Crust
1 cup raw cashews
1/2 cup unsweetened coconut flakes
1/2 cup pitted dates
1 tbsp melted coconut oil
Pinch of salt
Filling
2 cups raw cashews, soaked in cold water overnight, or at least 4 hours
3/4 cup coconut milk
juice of one lemon
1 vanilla bean, split lengthwise, seeds scraped
1/3 cup maple syrup
2 tbsp coconut oil, melted
1/2 cup frozen Oregon raspberries
1/2 cup frozen Oregon Marion blackberries
Directions
Add all of the crust ingredients to a food processor and pulse until coarse crumbs form. You want to texture to resemble wet sand. Press the crust into the bottom of a 9 inch springform pan and place in the freezer for 30 minutes.
Prepare the filling by draining the cashews and placing them in a high powered blender. Add coconut milk, lemon juice, maple syrup, vanilla seeds and coconut oil. Blend until smooth. Pour half of the filling on top of the frozen crust (reserve the remaining filling in the blender) and place in the freezer to set (about 1-2 hours)
Add the frozen berries to the remaining filling and blend until smooth. Place in the fridge until the first layer sets. Once the first layer is frozen, add the berry layer and freeze again, preferably overnight, or for at least 4 hours.
Top with more frozen Oregon berries and enjoy!