Focaccia Four Ways
With Colavita Extra Virgin Olive Oil
I grew up in a big Italian family, and Colavita Extra Virgin Olive Oil was a staple in our house. Extra Virgin Olive Oil was not only for cooking but it was the cure all for anything, according to my grandmother. My grandmother was a terrific baker and she always had focaccia on her counter, usually with some thin sliced tomatoes and a sprinkling of parmesan cheese. It was there to tear off a piece and enjoy while spending time in the kitchen with her. Focaccia is a great treat for your guests because it is as good room temp as it is hot out of the oven (I actually like it better at room temp). It has endless possibilities in terms of customization and is good no matter how you make it. The dough is relatively easy to make, so it is the perfect excuse to get the kids in the kitchen to help out. We've created a recipe here that features four variations in one sheet pan, focusing on bringing the flavors of the Holiday to life. What I love about this recipe is that you can make all the toppings in advance and when the dough is ready to go, it makes getting it in the oven that much quicker. It does require a bit of pre-planning, but it is well worth the effort. Be sure to check out the contest we are running with Colavita and show us your favorite holiday meals, sides, drinks and desserts.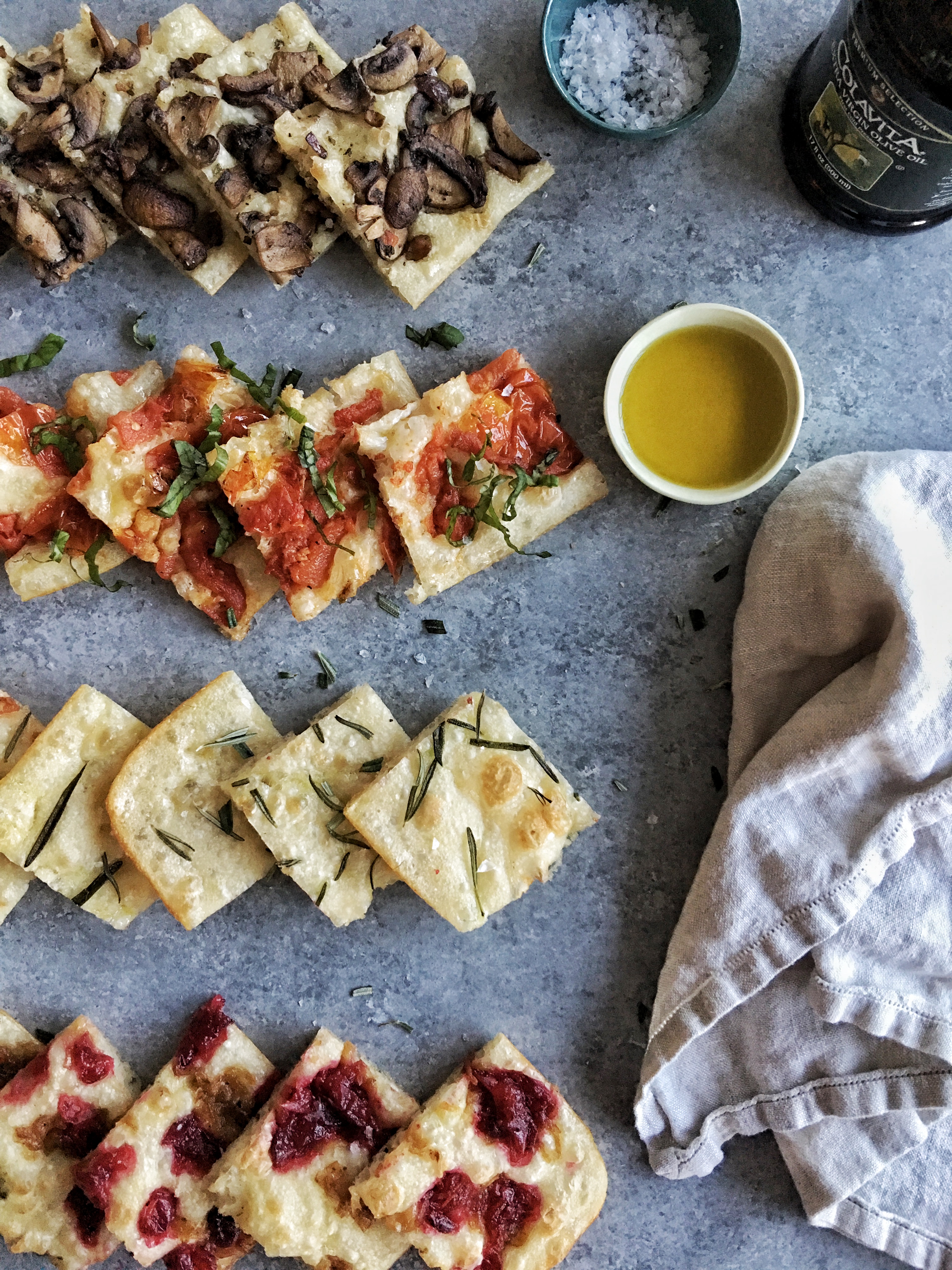 This recipe and post is sponsored by TheFeedFeed & Colavita
1 Recipe Focaccia Dough - prepared (We like The Colavita recipe)
Oven Roasted Olive Oil Tomatoes
2 pounds roma tomatoes - cored and cut in half
1 head garlic, cloves peeled and crushed
½ cup Colavita Extra Virgin Olive Oil
1 teaspoon Salt
1 Teaspoon freshly ground black pepper
Preheat Oven to 350 degrees

Place tomatoes and garlic in oven safe casserole dish and drizzle olive oil evenly over. Season with salt and pepper. Bake in the oven for 1 hour, stirring halfway through, until tomatoes are completely cooked.
Caramelized Onions with Sherry Vinegar
3 pounds yellow onions, thinly sliced
¼ cup Colavita Extra Virgin Olive Oil
1 teaspoon salt
1 teaspoon freshly ground black pepper
3 tablespoons sherry vinegar
In a large dutch oven (5.5qts), heat olive oil over medium high heat and add onions. Reduce heat to medium and cook for 10 minutes, stirring often. Add salt and pepper and continue to cook for 30-40 minutes, or until very dark and golden. Stir every 3-5 minutes. Add Sherry Vinegar, scraping up any fond that has formed on the bottom of the pan and cook 5 minutes longer. Remove from heat.
Cranberry Chutney
1 cup fresh cranberries
2 tablespoons sugar
⅓ cup water
1 star anise pod
¼ teaspoon salt
Combine all ingredients in a medium saucepan and bring to a boil. Reduce heat to medium and simmer until liquid is reduced by half and cranberries are cooked - about 5-7 minutes.
Pan Roasted Mushrooms and Chestnuts
2 Tablespoons Colavita Extra Virgin Olive Oil
2 cups sliced cremini mushrooms
¼ teaspoon salt
½ teaspoon freshly ground black pepper
⅓ cup sliced chestnuts
1 tablespoon minced sage leaves (fresh)
1 tablespoon water
Heat olive oil over medium high heat in a large saute pan. Add mushrooms and season with salt and pepper. Saute for 3-5 minutes or until liquid has released and mushrooms have reduced in size by about one half. Add sliced chestnuts, minced sage and 1 tablespoon water. Scrape brown bits off bottom of pan. Transfer to small dish and set aside
Rosemary Olive Oil:
2 Tablespoons Colavita Extra Virgin Olive Oil
1 Tablespoon fresh rosemary leaves
½ teaspoon flaky sea salt such as Maldon
To assemble:
Prepare Focaccia per recipe - prior to putting in oven, spread ¼ of the dough with a handful of oven dried tomatoes. Spread the next ¼ dough with caramelized onions and cranberry chutney. Spread ¼ dough with mushroom chestnut mixture - last, spread the remaining dough with olive oil, rosemary and salt.
Note - not all of the toppings will be used - they will store in the refrigerator for up to one week.
Bake according to focaccia recipe
Cut and serve while still hot.
This recipe and post has been sponsored by Colavita and TheFeedFeed - all opinions expressed are our own.