Thai Green Curry
with early spring vegetables
Like most people I learned to cook from my mother and grandmother. My earliest memory was her shelling peas, grating tomatoes, YES! tomatoes to achieve that smooth consistency. Decades later her cooking has becoming the foundation of my cooking style. Only I have technology and faster tools. But I always relish the painstaking effort she took to create those recipes, I guess that's what is called sprinkled with love and gets etched in our memories.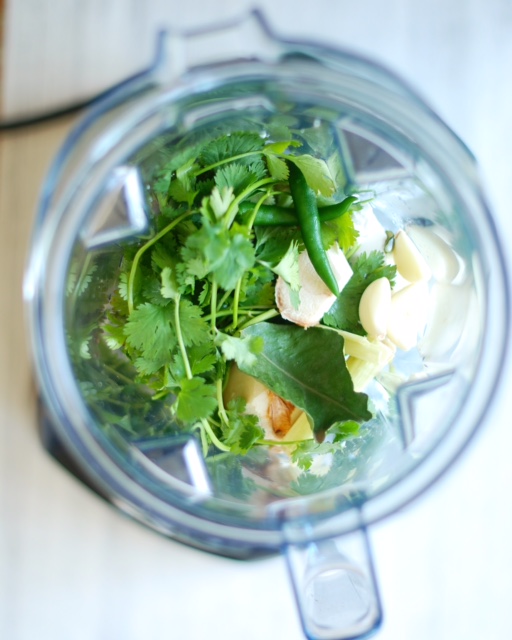 In our family, curries are a staple, and with my Indian heritage I grew up eating a variety of specialized curries. In addition to the ingredients, quality of spices, and method behind making the curry, the real secret to any good curry past is to ensure that it is extremely smooth. The new Vitamix Ascent Series 3500 machine makes easy work out of the task of blending and ensures perfect results each and every time.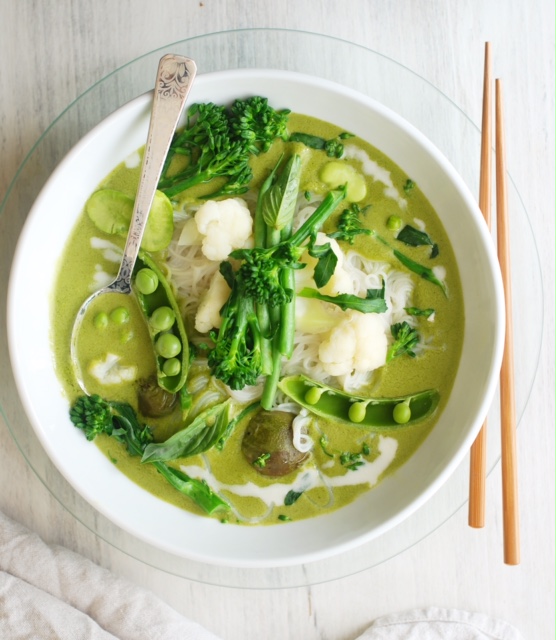 To change things up, today, I choose to make a Thai inspired green curry to welcome the beautiful early spring vegetables coming to market now. One can choose any combination of vegetables you can find in your area and easily adapt this recipe to be our own. For the curry paste ingredients you will likley need a trip to your local Asian market or if you live in a large city chances are your local green grocer or grocery market will carry them - or, you can order them online. You'll be rewarded with a curry paste that is far superior to what you will find in the cans in your local supermarket.
Ingredients
Headnote: Freeze any remaining curry paste in ice cubes tray and use about 1 cube per serving when making future curries!
This curry will satisfy 3-4 people easily but can be doubled as needed.
For the Thai Green Curry Paste
A handful of cilantro, including stem
A small handful or 1/2 cup Thai sweet basil
4-6 thai green chilies, or however many you can handle
2 inch piece galangal, peeled and roughly chopped
1-2 stalks lemongrass, tender white and green part only
4 kaffir lime leaves,
4 large cloves of garlic
2 medium-sized Thai shallots Or alternatively use green onions
1 tsp fish sauce or Tamari
Method
Place all ingredients in the jar of your high-speed blender, using the pulse function, grind the ingredients until a fine paste is formed, add water/coconut water as needed to loosen the curry to a paste consistency. Transfer to a small bowl and set aside
To make the Curry:
2-3 tbsp Thai green curry paste
4 Thai baby green eggplants or 1 Japanese eggplant, chopped
1 1/2 cups thick coconut milk about one can preferably organic
1 cup low sodium vegetable broth*
4 kaffir lime leaves
3 tbsp fish sauce or Tamari
2 tablespoons lime juice
1 tbsp coconut sugar (optional)
2-3 cups vegetables such as: cauliflower, broccoli, snap peas, green beans diced and prepped
350-400 grams any protein of your choice* tofu/chicken breast/ firm white fish/ shrimps
Method
Warm a large saucepan with 1-2 tbs vegetable or coconut oil over medium heat. Add curry paste and sauté, stirring constantly for 2 minutes.

Add diced eggplant and stir fry till slightly golden, about 3-5 minutes.

Add protein of your choice depending on the time it takes to cook, chicken or tofu now, fish and prawns cook faster, so we'll add those after the vegetables

Add veggies, coconut milk, vegetable broth, kaffir lime leaves, vegetarian fish sauce and palm sugar. to the boil and drop to a gentle simmer (at this point, if you are using Fish or Prawns, add them here) till the veggies are cooked but still crisp & the fish and/or prawns are cooked through - about 5-8 minutes.

Add the lime juice and adjust the seasoning if needed