Asian Salad & Chickpea Rice Paper Tacos
Makes 12 Tacos
Recipe by Bella Karragiannidis
There is always room in our kitchen for good fusion cuisine and these Asian chickpea rice paper tacos are just that. Rice paper gets fried to a crisp to make for a unique take on a taco shell that is light, crispy and totally addictive. These rice paper taco shells get filled with Asian chopped salad and topped off with tamari roasted chickpeas, avocado, cilantro & a squeeze of lime – for a taco that is not only delicious but just happens to be vegan too!
I partnered with TheFeedFeed and Earthbound Farm to create a unique recipe featuring the new Earthbound Farm Organic Asian Chopped Salad Kit and after all of my daydreaming about what I would make, I ended up creating these tacos and I must say, they are incredible! I wanted to make this recipe vegan because the Asian Chopped Salad Kit from Earthbound Farm is vegan, so I chose chickpeas as the protein for the tacos. They get marinated in a blend of tamari, oil, coconut sugar, ground ginger & chili flakes and then they get roasted until they are golden brown and slightly crisp.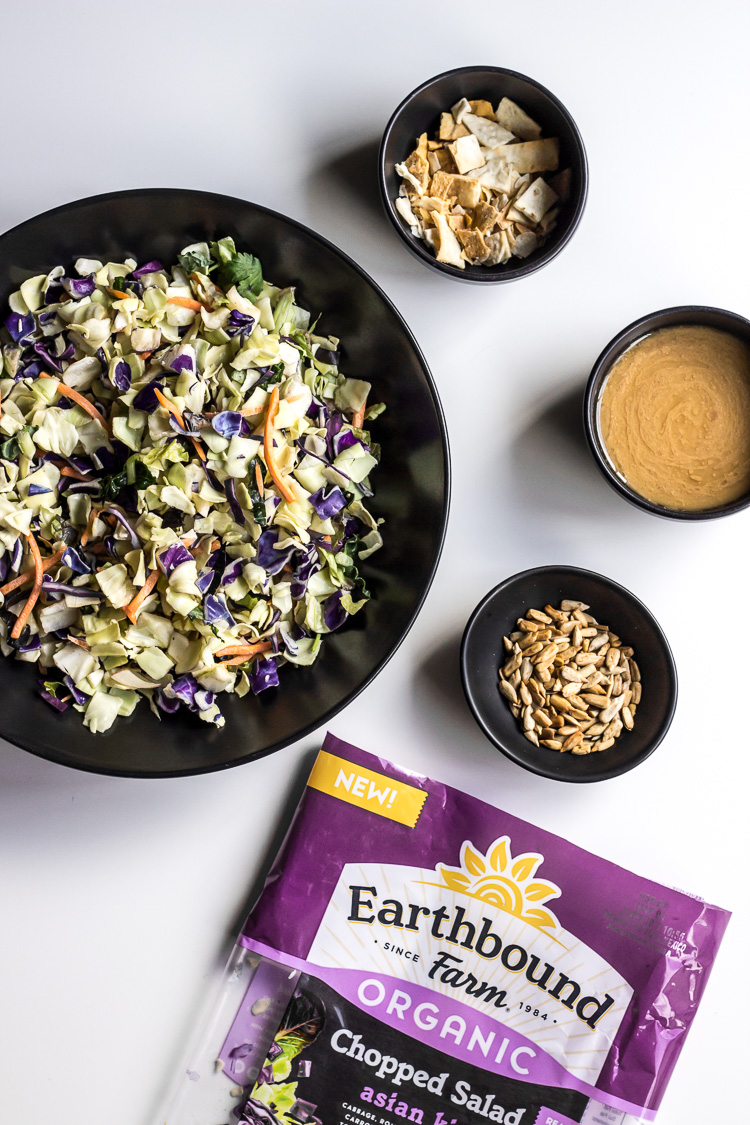 These Asian chickpea rice paper tacos couldn't be any simpler to pull together – while the chickpeas roast in the oven, you toss together the Asian salad kit, fry up the rice paper taco shells, prep the avocado, cilantro & lime wedges and you are just moments away from an amazing meal.
The blend of cabbage, romaine, kale, carrots, cilantro, crunchy topping and tahini dressing that come in the Asian salad kit made for the perfect combination of flavors and textures alongside the tamari roasted chickpeas. The avocado lends its creamy goodness and the cilantro & lime pull it all together for an Asian taco that satisfies all of our cravings while also being super refreshing. While I used the Asian kit in this recipe, they also make it in Southwest and BBQ Ranch - both of which would be great substitutes in this recipe - although, not vegan.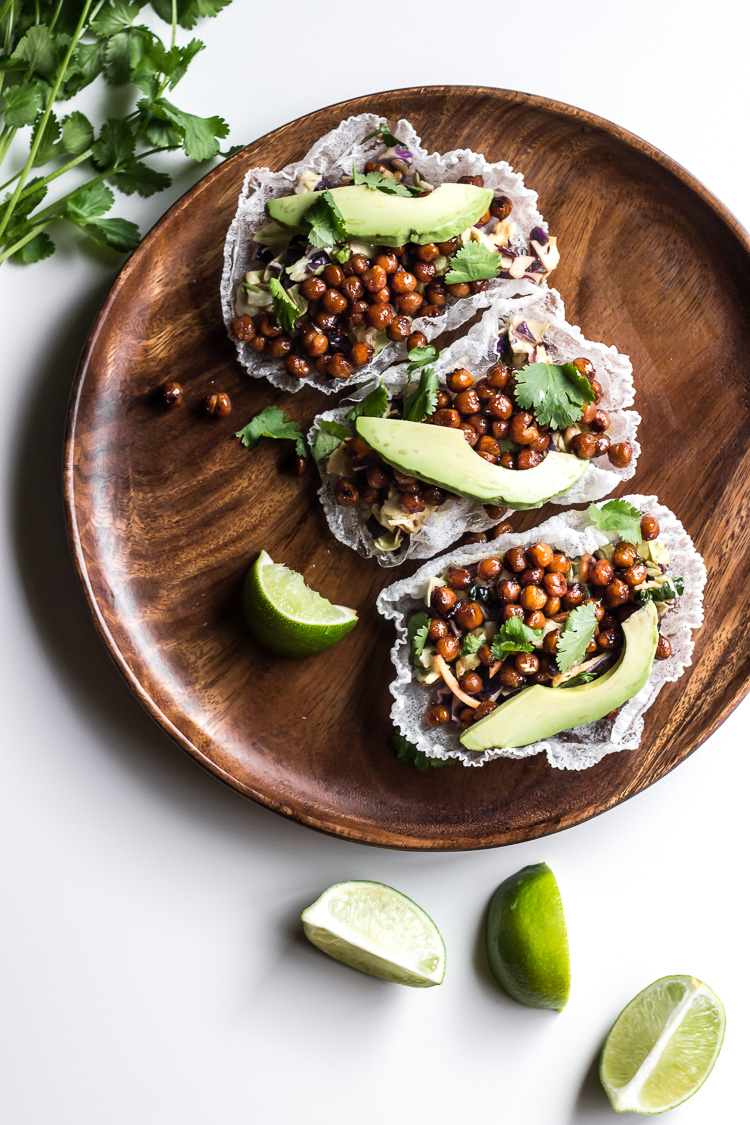 RECIPE

1 package Earthbound Farm Organic Asian Chopped Salad Kit
2 12oz cans chickpeas
3 tbsp tamari (or soy sauce)
3 tbsp sugar (we used coconut sugar)
2 tbsp neutral cooking oil (we used avocado oil)
1 tsp ground ginger
1 tsp chili flakes
12 6" rice paper wrappers
1 avocado, cut into slices
1/2 cup cilantro leaves, lightly chopped
lime wedges for serving
DIRECTIONS:

Line a baking sheet with parchment paper & pre-heat the oven to 375f degrees
Drain the chickpeas and toss in a bowl with tamari, sugar, oil, ginger & chili flakes
Spread chickpeas on baking sheet & roast for 30 minutes, tossing the chickpeas every 10 minutes so they roast evenly
While the chickpeas roast in the oven, add the chopped salad, dressing & crunchy toppings to a bowl and toss to combine
Heat a pan over medium heat with enough oil to fully cover the bottom of the pan (the amount needed varies based on the size of your pan, but about 1/8" depth of oil should be sufficient)
Once the oil is nice and hot, place a rice paper sheet on top of the oil, holding the center of the paper down with a spatula as the paper fries - the edges will slightly curl and the paper is done cooking when it has turned white & puffy all over (this literally takes a matter of seconds if your oil is the correct temperature)
Place fried rice paper shells on a paper towel lined baking sheet to absorb any excess oil & continue to fry the rice papers, adding oil to the pan as needed
Once the chickpeas are done roasting, assemble the tacos by filing each rice paper taco shell with some of the Asian chopped salad, a scoop of chickpeas, a slice of avocado, cilantro leaves and serve with wedges of lime.
See more Easy Salad Recipes from feedfeed