Cauliflower Crust Pizza with Spicy Tomato Sauce
Made in a Vitamix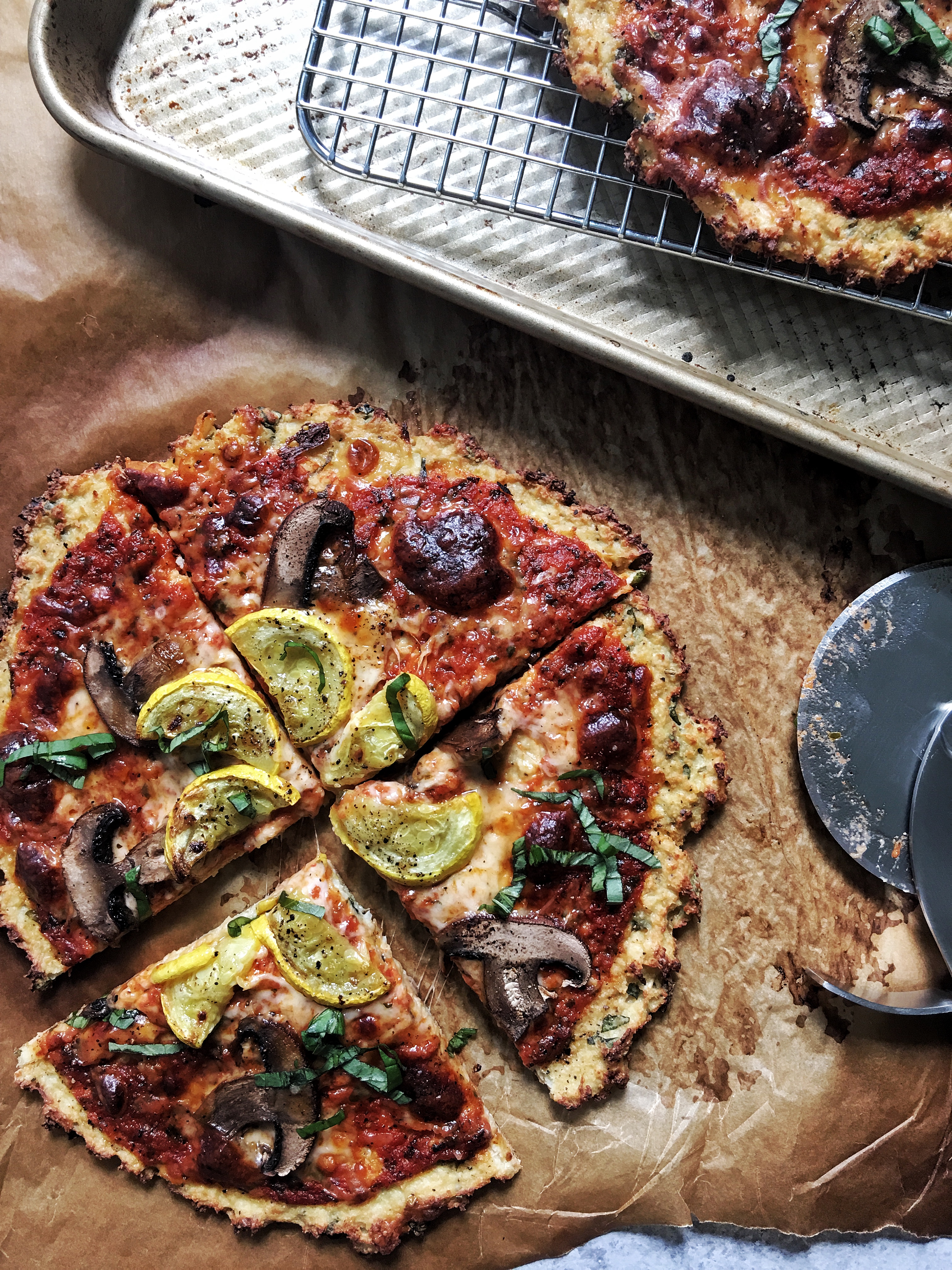 Cauliflower Crust Pizza with Spicy Tomato Sauce
Makes 2 - 12 inch pizzas (about 4 servings)
For the Crust:
1 large head cauliflower (~800 grams)
½ cup almond flour
½ cup AP Gluten Free Flour - we used Bob's Red Mill
1 tablespoon cornstarch
2 large eggs
¼ cup grated parmesan cheese
1 tsp nutritional yeast
½ teaspoon garlic powder
1 teaspoon salt
1 teaspoon black pepper
½ cup fresh basil, thinly sliced
Method:
Preheat oven to 425 degrees F
Quarter the cauliflower and remove the core and roughly chop. Add to Vitamix Ascent and fill completely with water. Turn machine on and blend at variable speed 1 for 15 seconds. Pour into colander to drain. Place drained cauliflower in a microwave safe bowl and cover with plastic wrap. Cook for 5-6 minutes or until the cauliflower is just tender. Allow to cool.
Once cool - transfer steamed cauliflower to dish towel and ring over the sink to remove as much excess water as possible. Transfer to a large mixing bowl. To the cauliflower, add the almond flour, AP GF flour, and cornstarch - mix to combine. Add eggs, one at a time, mixing to incorporate each one. When eggs are incorporated, add remaining ingredients and mix well.
Lay parchment onto the backside of a large rimmed baking sheet. Spread the cauliflower crust into two circles and bake in the oven until golden brown - about 15-20 minutes.
While the Pizza Crust cooks - prepare the sauce:
Ingredients:
1 15 oz can diced, fire roasted tomatoes, drained
1 cup fresh basil leaves
3 tablespoons olive oil
½ teaspoon salt
2 teaspoons honey
1 tablespoon tomato paste
1 teaspoon crushed red pepper flakes
Add all ingredients into the Vitamix Ascent and blend on high for 1 minute.
Toppings:
½ cup shredded mozzarella
1 small yellow squash, thinly sliced
½ cup sliced cremini mushrooms
To assemble:

Spread ¼ cup sauce on each of the pizzas and top with ¼ cup cheese - divide sliced squash and mushrooms between the two pizzas and sprinkle with ¼ teaspoons salt.
Return to oven and bake until the cheese is melted and the crust is deeply golden around the edges.
Allow to set for 3-5 minutes before cutting!