Mexican dragon bowls
with pico de gallo and spicy chipotle sauce
Post author: Jessica Fiorillo
Bowl food is my ultimate comfort food, serving the dual purpose of filling my belly and using up ingredients that I always have on hand in my fridge. I batch cook food on the weekend so that I have ingredients ready for ultra busy weeks. Roasting beets is a favorite, as are grilled onions, rice (or other grains), and if there isn't an avocado on my countertop, I might have to call a state of emergency.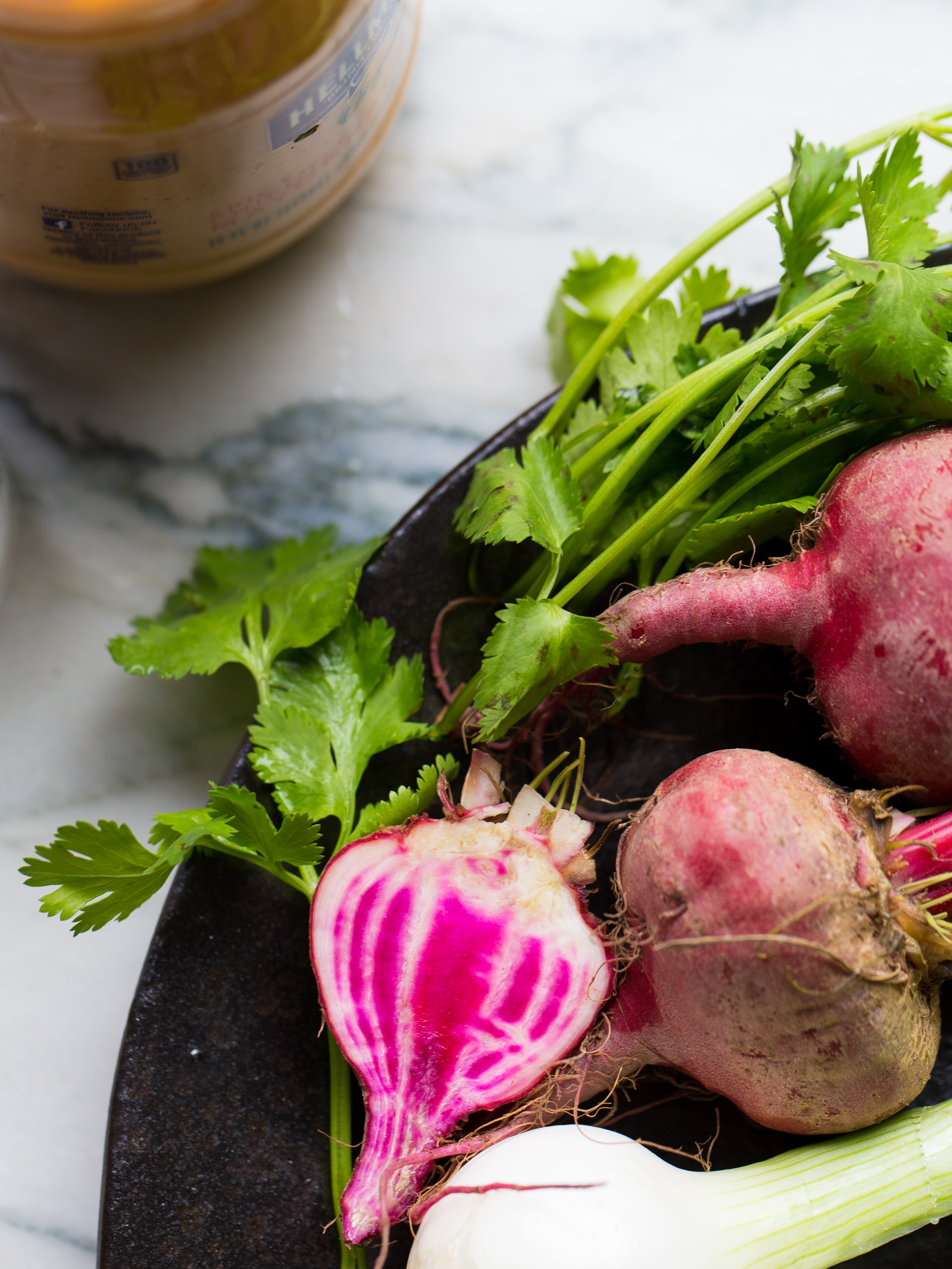 Using different sauces is a great way to add variation to a meal that might become too habitual if you're using the same ingredients over and over. You can give your bowls a Middle Eastern flavor profile with spices like dukkah and sumac; Japanese with a sprinkling of shichimi togarashi (Japanese 7-spice); or do as I've done here with Mexican-style bowls made with pico de gallo and a spicy chipotle sauce using Hellman's new Organic Spicy Chipotle mayo. It may seem like quite a few steps, but the recipe takes only 15 minutes of active time.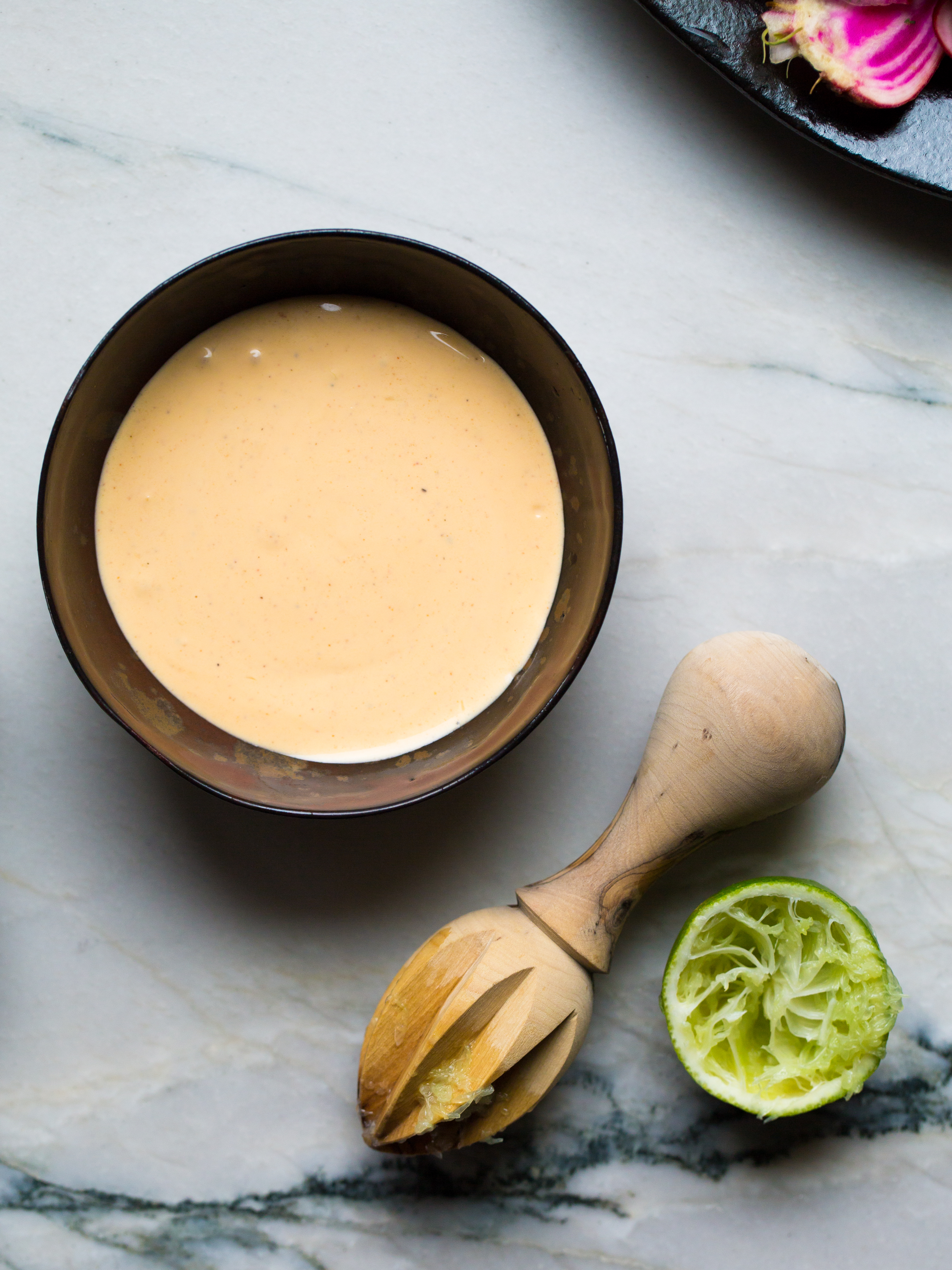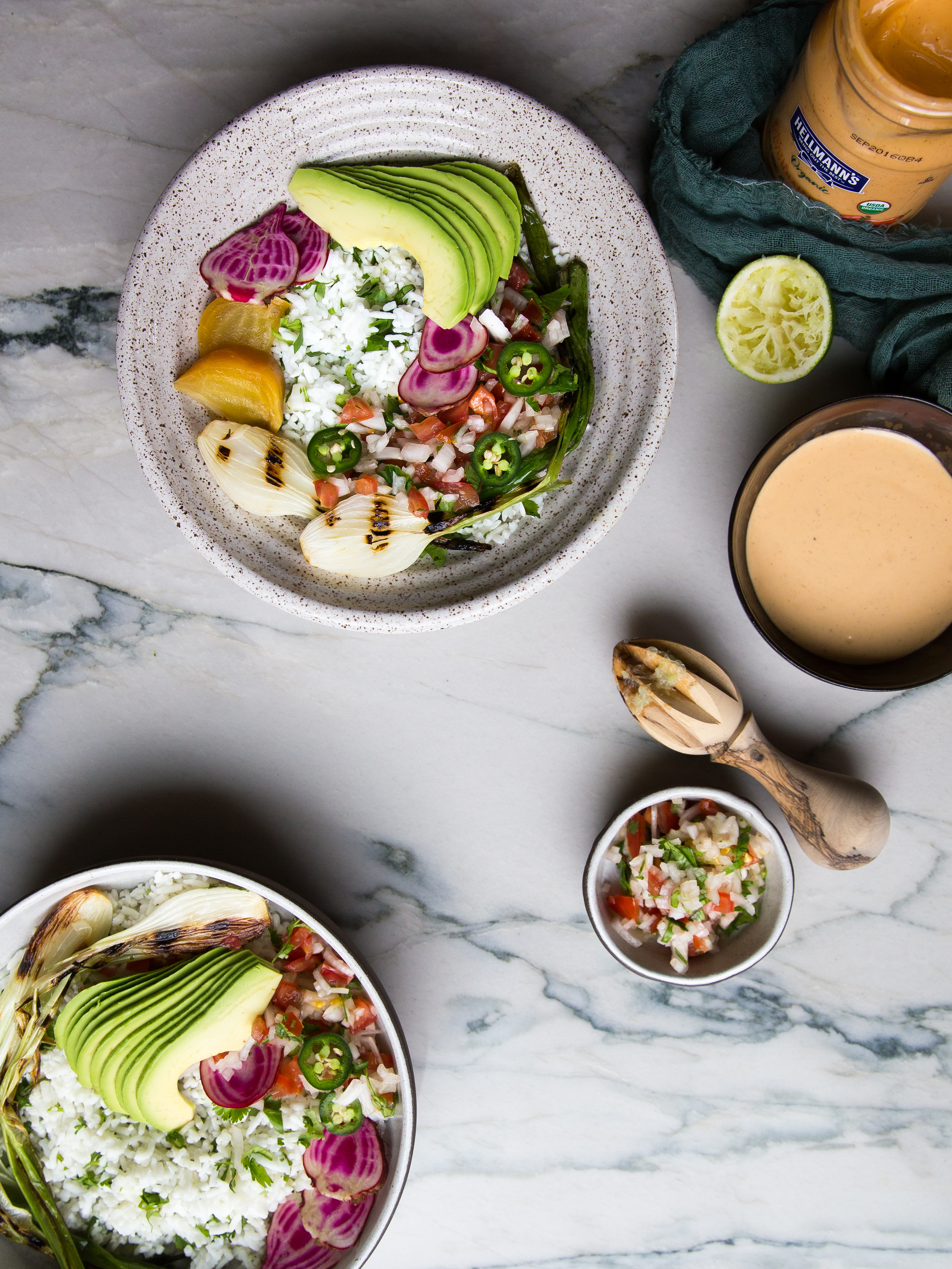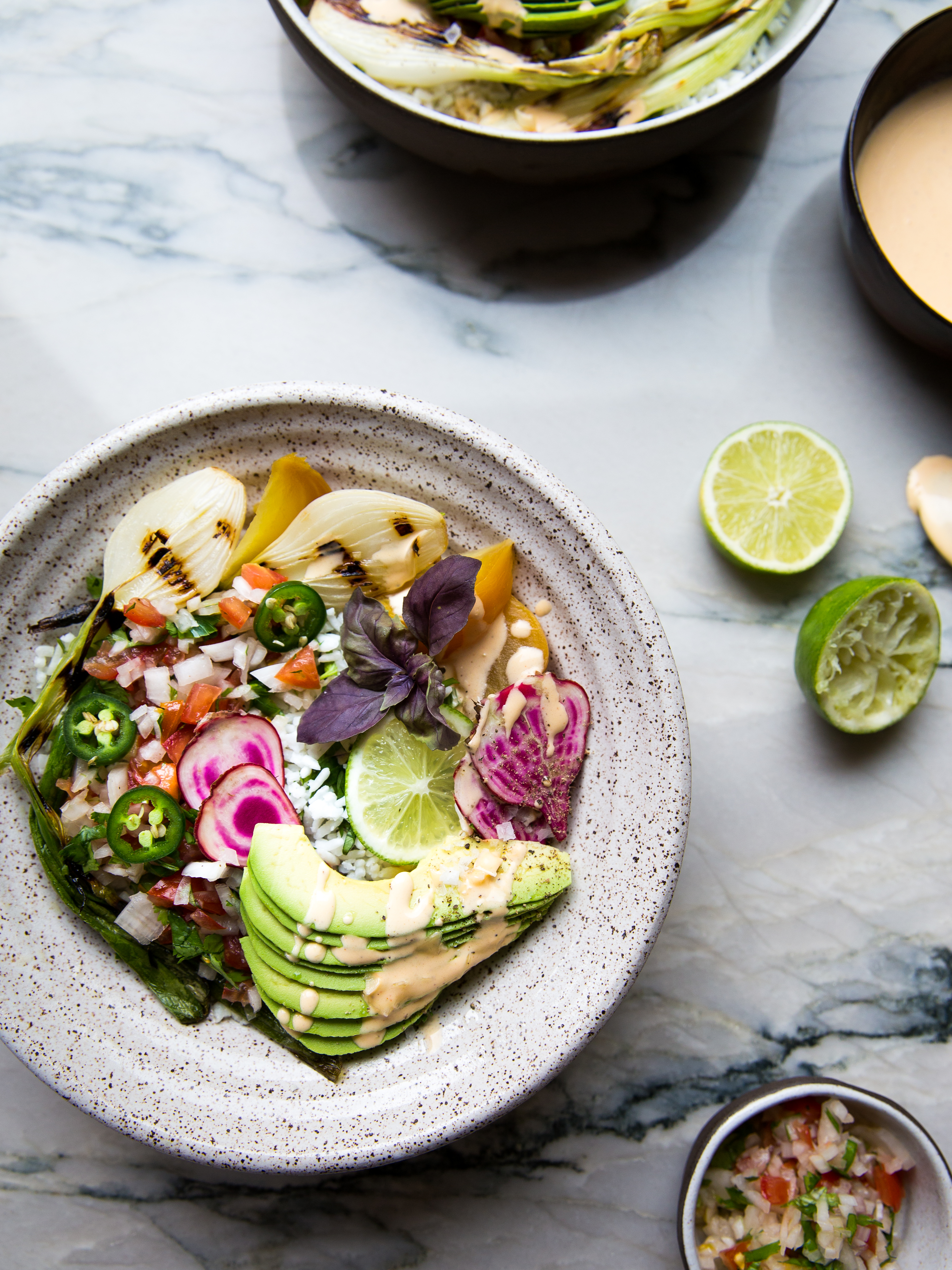 Ingredients
3 small red or yellow beets, scrubbed
3 tablespoons of olive oil, divided
1 tablespoon kosher salt, divided
2 large spring onions (you can alternatively use standard green onions but the bulbs will be smaller)
3 small tomatoes, seeded and diced
½ white onion, minced
4 tablespoons cilantro, chopped and divided
¼ jalapeno, minced
2 limes, juiced
3 tablespoons Hellman's Spicy Chipotle Mayonnaise
1 tablespoon olive oil
2 teaspoons of water
1 small candy-striped (Chioggia) beet, scrubbed and thinly sliced
3 cups pre-cooked white rice, cooled
1 avocado, sliced and divided
Optional garnishes: jalapeno slices, basil leaves, sliced lime
Serves 2
Directions
Roast the beets:
Preheat your oven to 350 degrees. Rub your beets with a tablespoon of olive oil and a pinch of salt. Wrap each beet individually in foil and place on a cookie sheet, then pop in the oven for an hour. Once cooked, remove and let cool. (This can be done overnight)
Grill the spring onions:
While the beets are roasting, prep your spring onions by slicing them lengthwise. Heat a medium pan on med-high heat (I like to use a grill pan to get some nice grill marks), add a tablespoon of olive oil, and then add your spring onions, cooking them 2-3 minutes per side. Season with salt and pepper. Set aside.
Make the pico de gallo:
In a small bowl, gently mix the tomatoes with the onion, cilantro, jalapeno, and half the lime juice. Season with salt and pepper.
Make the chipotle sauce:
In another small bowl, mix your Hellman's chipotle mayonnaise with the olive oil, remaining lime juice, a light grinding of black pepper, and water – a teaspoon at a time so that you achieve the best drizzling consistency.
Assembly:
When ready to assemble your bowls, remove the beets from the foil and rub the skins off, then slice into half moons. In a medium bowl, mix the rice with the cilantro.
Divide your ingredients into two bowls, starting with the cilantro rice. Working around the sides, add your remaining ingredients – the pico de gallo, spring onions, roasted beets, sliced raw Chioggia beets, and the avocado. If you'd like, add a few special garnishes (I used a few additional sliced jalapenos, a basil leaf, and a slice of lime).
Season your bowls with more salt and pepper to taste, and then drizzle with chipotle sauce, serving the extra sauce on the side.
Enjoy!
This blog post was created in partnership with Hellmann's and FeedFeed ­ all opinions expressed are my own.