Prosciutto Arugula Flatbread
with Raspberry Jam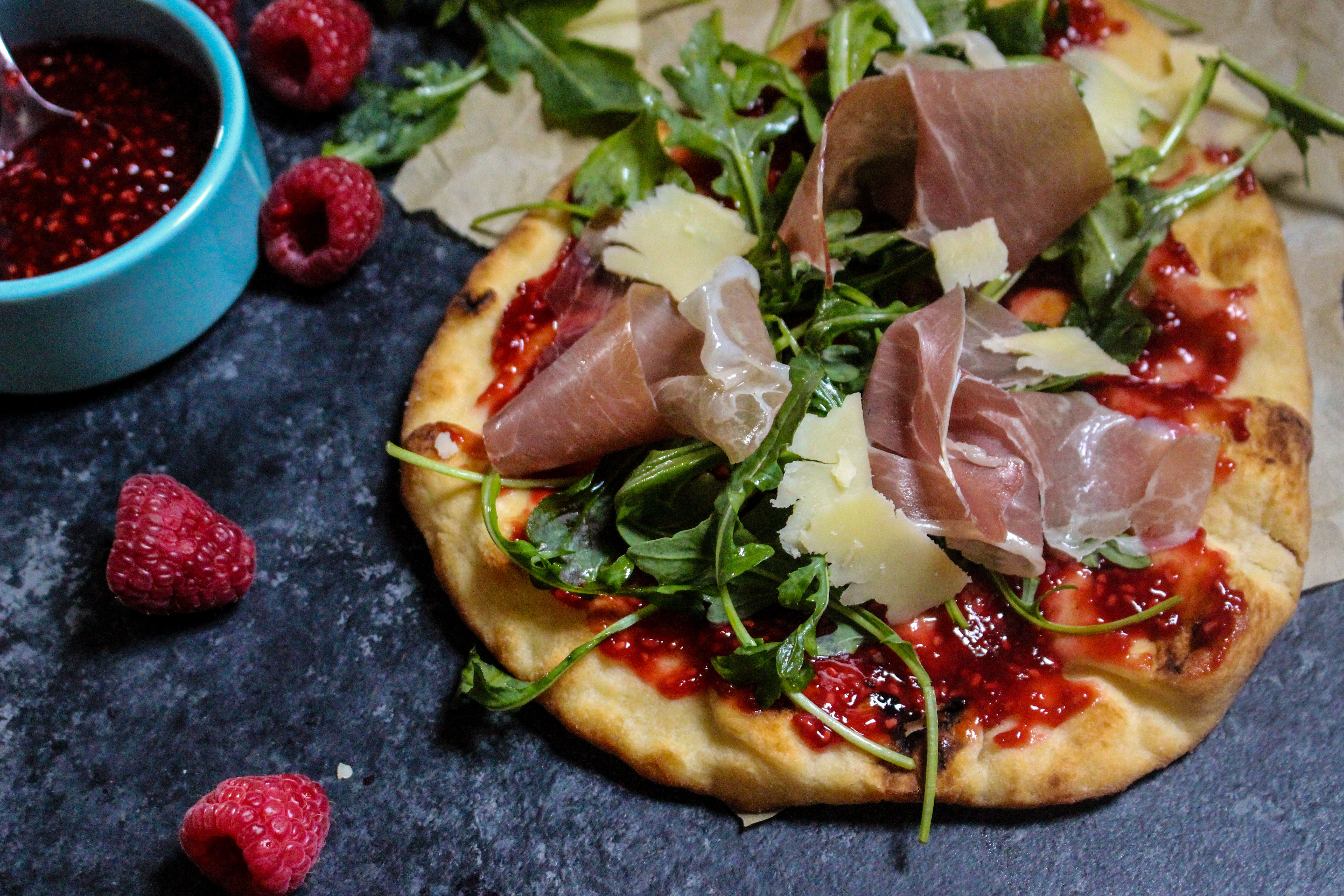 Ingredients
• FOR RASPBERRY JAM:
• 1 pint Driscoll's raspberry
• 1 cup grade A maple syrup
• 1 tbsp. fresh lemon juice
• FOR FLATBREAD:
• 2 pieces Naan (flatbread)
• 2 cups fresh baby arugula Coupons
• 1 tbsp. avocado oil
• 2 ounces thinly sliced prosciutto (about 4 pieces)
Instructions
Preheat oven to 400 degrees F.
Empty raspberries into a colander, rinse and pick out any that are bruised.
Add raspberries, maple syrup and lemon juice to a small sauce pan and bring to a boil.
Cook, stirring continuously and skimming foam from the surface for 5-12 minutes or until the mixture reaches 225 degrees F on a candy/instant thermometer. To test if its ready, remove the jam from heat, and spoon a small amount onto a plate. Transfer plate to the freezer for 3 minutes. If the jam starts to gel, it's ready. If not, continue to cook for a few more minutes and retest.
While the jam cools, heat flatbread in preheated oven by placing them directly onto the oven rack for 5-7 minutes.
To assemble the flatbreads, add 2 tablespoons of jam on each and spread evenly. Then toss arugula with avocado oil and add on top. Finish with a couple slices of prosciutto and shaved cheddar on each flatbread.
Enjoy with a nice glass of Rosé.
Notes
Leftover jam can be stored in a sterilized mason jar with an air tight seal. Enjoy with toast, crackers or on a cheese plate.