Southwest Black Bean Sheet Pan Nachos
Serves 6-8
Last week it felt like Summer! It was totally t-shirt weather. I bought blossoms from the farmers market, and spent the days with the windows open. And now suddenly it is wintertime again! So confusing. Last time I checked it was March. It shouldn't snow in March!
Luckily I have just the way to make it feel like summer! I have partnered with The Feedfeed and Earthbound Farm to share these black bean sheet pan nachos. Sheet pan nachos are one of my favourite throw together meals. They work perfectly to help clear out your fridge, and are perfect for feeding a crowd. You can really put your own spin on them. For these ones in particular, I layered tortilla chips with cheese, then topped them with a super simple, flavourful bean mixture. I then baked them in the oven, and topped them with chopped tomato, avocado, and the Earthbound Farm Southwest Chopped Salad Mix. I combined the enclosed tomatillo dressing with some lime juice, crema and chipotle powder, which created a sauce for the Nachos. I then garnished them with chopped spring onion, watermelon radish, and the crunchy tortilla chips and sunflower seeds that come with the salad pack. Everything comes together amazingly to make an easy dish that is perfect for a quick dinner or lunch.
If you haven't had salad on nachos before, take my word for it - it's awesome, particularly something that is cabbage based like this salad kit. The salad adds a crunch and freshness which helps to cut through the cheese and toppings. The bean mixture that I have used here is made with dried beans, but in a pinch you could use canned black beans - just drain and rinse them, add them to the garlic and onion mix, and then add less water than you would with dried beans. Simmer for 15-20 minutes to help distribute the flavours, and ensure you season well. The bean mixture is super versatile, so I like to make a big pot and use later in other dishes.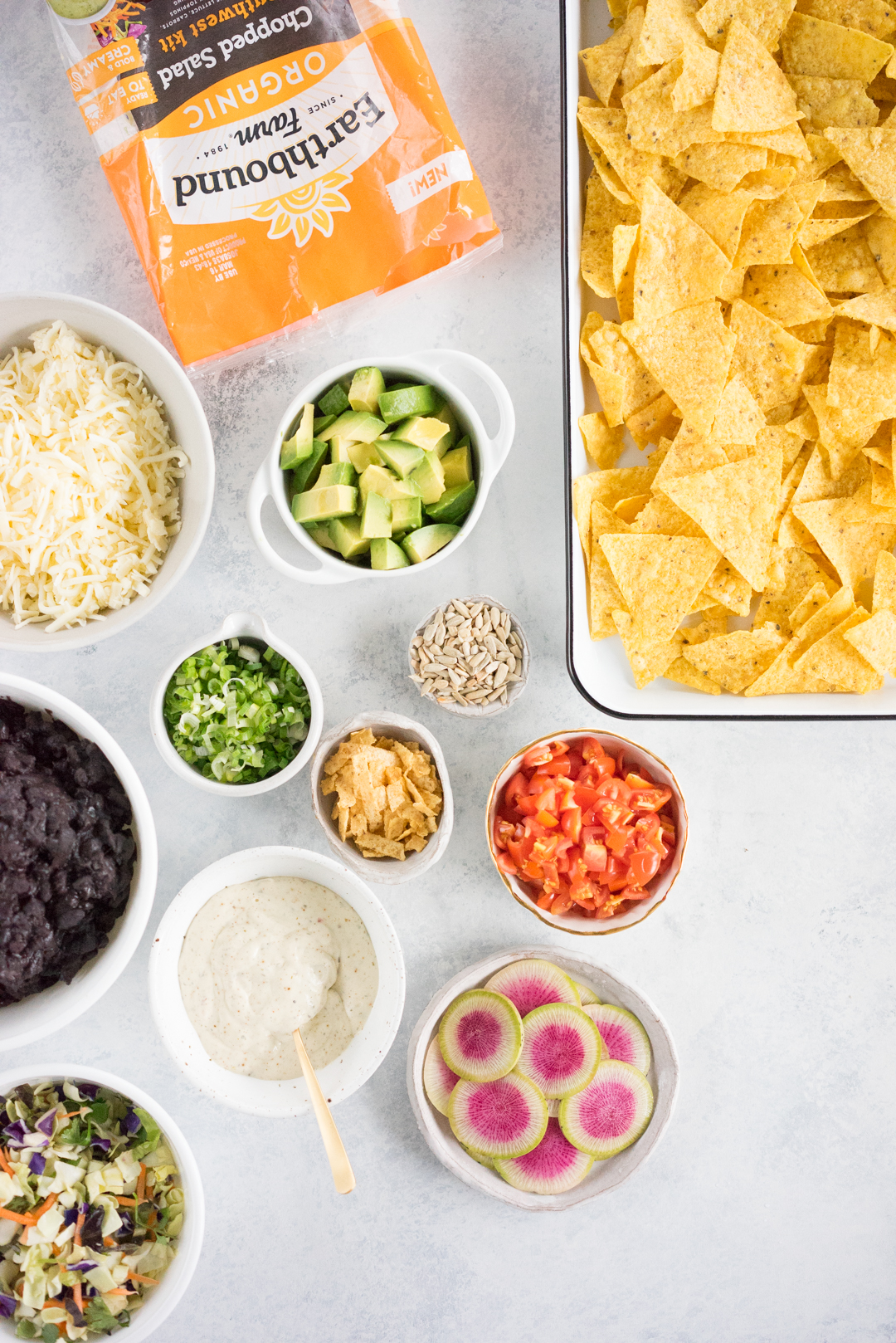 I am a big fan of cheese evenly dispersed between the chips, so I like to layer the cheese with the chips when you are arranging them in the baking tray. This means you don't have to rely on the cheese melting the whole way through, and you aren't left with any cheese-free boring naked chips.
Have fun with these! They are always a crowd pleaser, and can be adapted to suit a variety of different tastes. I can't wait to make them again soon for friends!
RECIPE:
Black beans
2 Tbsp olive oil
1 Large red onion, finely diced
4 cloves garlic, minced
12oz (350g) dried black beans
Approximately 2 Litres (8 cups / 64 oz) water or stock
Salt and pepper to season
Nachos
12oz (350g) plain tortilla chips
1 bag Earthbound Farm Southwest chopped salad kit
3/4 cup grated mozzarella cheese
1 cup grated cheddar cheese
1 cup chopped cherry tomatoes
2 spring onions, finely chopped
1 avocado, diced
1 watermelon radish, thinly sliced (optional)
Cooked black beans, heated.
Tomatillo Lime Crema
1 sachet tomatillo dressing (From the Earthbound Salad kit)
1/4 cup crema or light sour cream
juice of one lime
1/4 tsp chipotle powder
DIRECTIONS
Black Beans
In a large heavy bottomed pot, heat the olive oil over high heat. Add the garlic and onion, and sauté for five minutes, or until translucent. Add the black beans, and sauté for another 30 seconds or so to coat the beans in the garlic and onion mixture. Add the stock or water. (You want enough to cover the beans by approximately 10cm / 4 inches). cover the pot, and bring to the boil. Once the beans have reached a boil, remove the lid, and turn the heat down to very low, until the water is very gently simmering.
Boil the beans for 1 1/2 to 2 hours, stirring occasionally, until they are tender and creamy. Add extra water if necessary throughout the cooking process. Once the beans are tender, increase the heat to medium and boil for 10-15 minutes, stirring frequently, until the cooking liquid reduces to a thick sauce. Season well. Set the mixture aside until you are ready to use, or transfer to an airtight container and store in the fridge if you are making ahead. Heat well before using.
Tomatillo Crema
In a small bowl, whisk together dressing sachet, crema, lime juice and chipotle powder. Mix until well combined.
Assembly
Preheat the oven to 425˚f / 220˚c. If you have pre prepared the bean mixture, heat it either in a pot on the stove, stirring frequently, or in the microwave until hot. Arrange half of the nachos in the bottom of a half-sheet baking tray. Sprinkle with a third of the cheese. Top with the remaining nachos, then sprinkle over the second third of the cheese. Distribute the hot bean mixture evenly over the tray. (If you prefer less beans on your nachos, do not use all of them). Top with the remaining cheese
Bake the nachos for 8-9 minutes, until the cheese is melted. Remove from the oven and place on a heat-proof trivet or mat.
Top the Nachos with the the chopped salad mix, tomato, and chopped avocado. Spoon over the tomatillo and crema sauce. Garnish with the spring onion, watermelon radish, and sunflower seeds and tortilla crunch from the Salad Kit. Serve immediately.