Sesame Seared Tuna Chopped Salad
Serves: 2-3
I'm so excited to be partnering with Earthbound Farm and FeedFeed to bring you what I'm calling a "hangry girl" chopped salad! I don't know about you, but after a long day at the office, I'm ready to rip my kitchen apart, possibly chew off my own arm, and eat all of the carbs in sight! So you can imagine my delight when I discovered the new organic chopped salad kits from Earthbound Farm.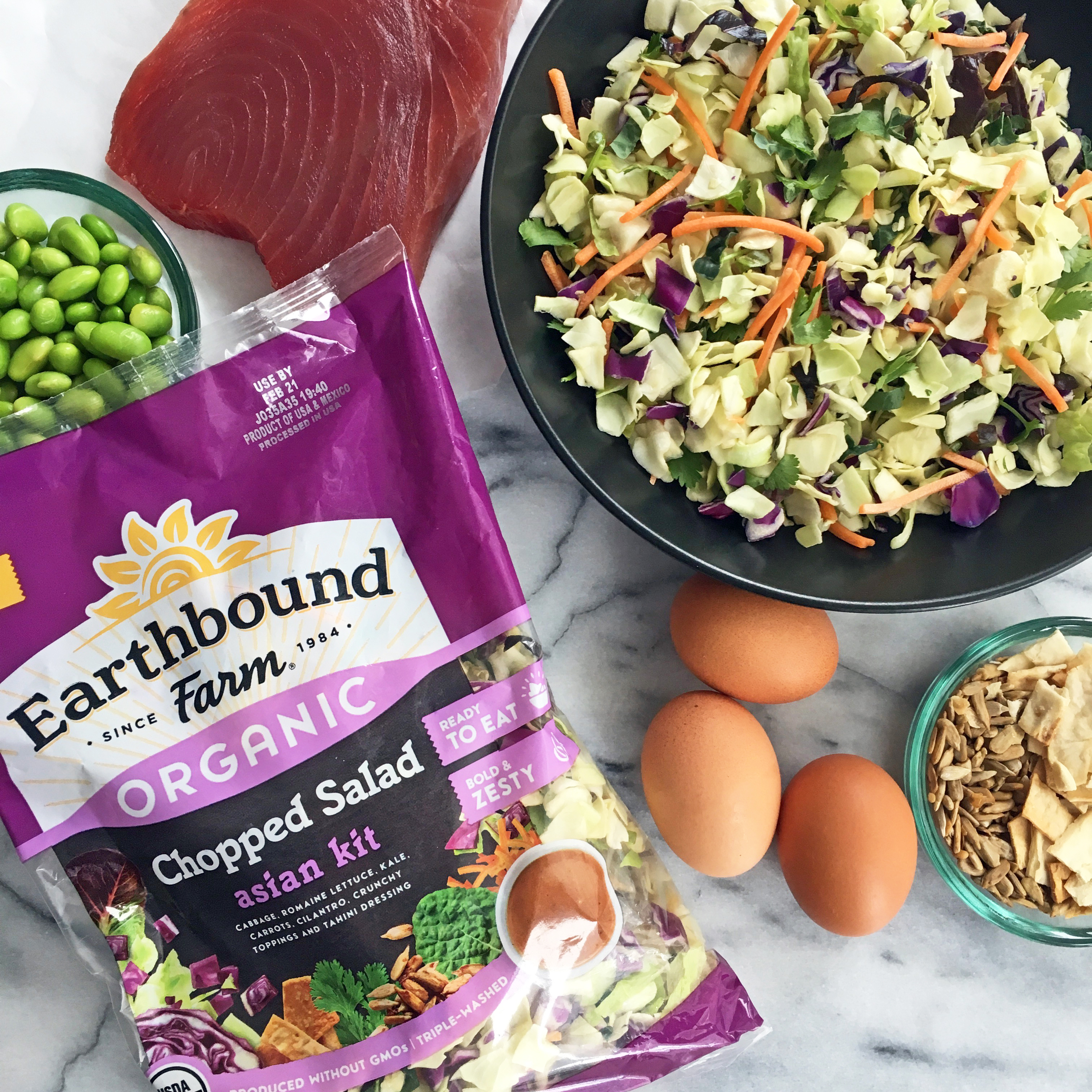 Earthbound Farm has such an incredible story - they started back in 1984 with just 2.5 acres of land and today, they organically farm more than 50,000 acres! While I used the Asian Chopped Salad kit in this recipe - it also comes in Southwest and BBQ Ranch - I am sure any of these kits would work equally well in this recipe!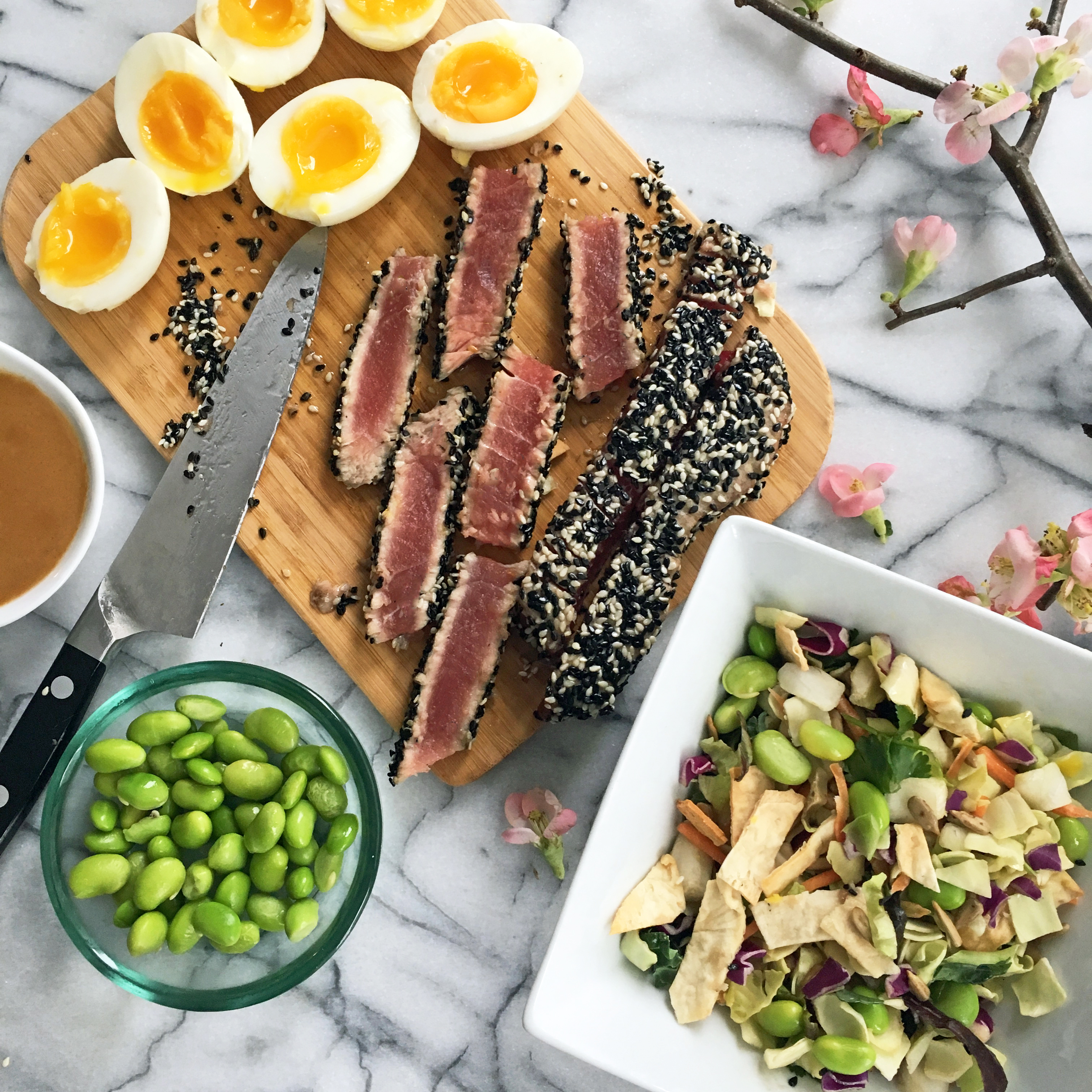 My goal was to get a 30 minute dinner together, and I'm excited to say your hanger will be satisfied!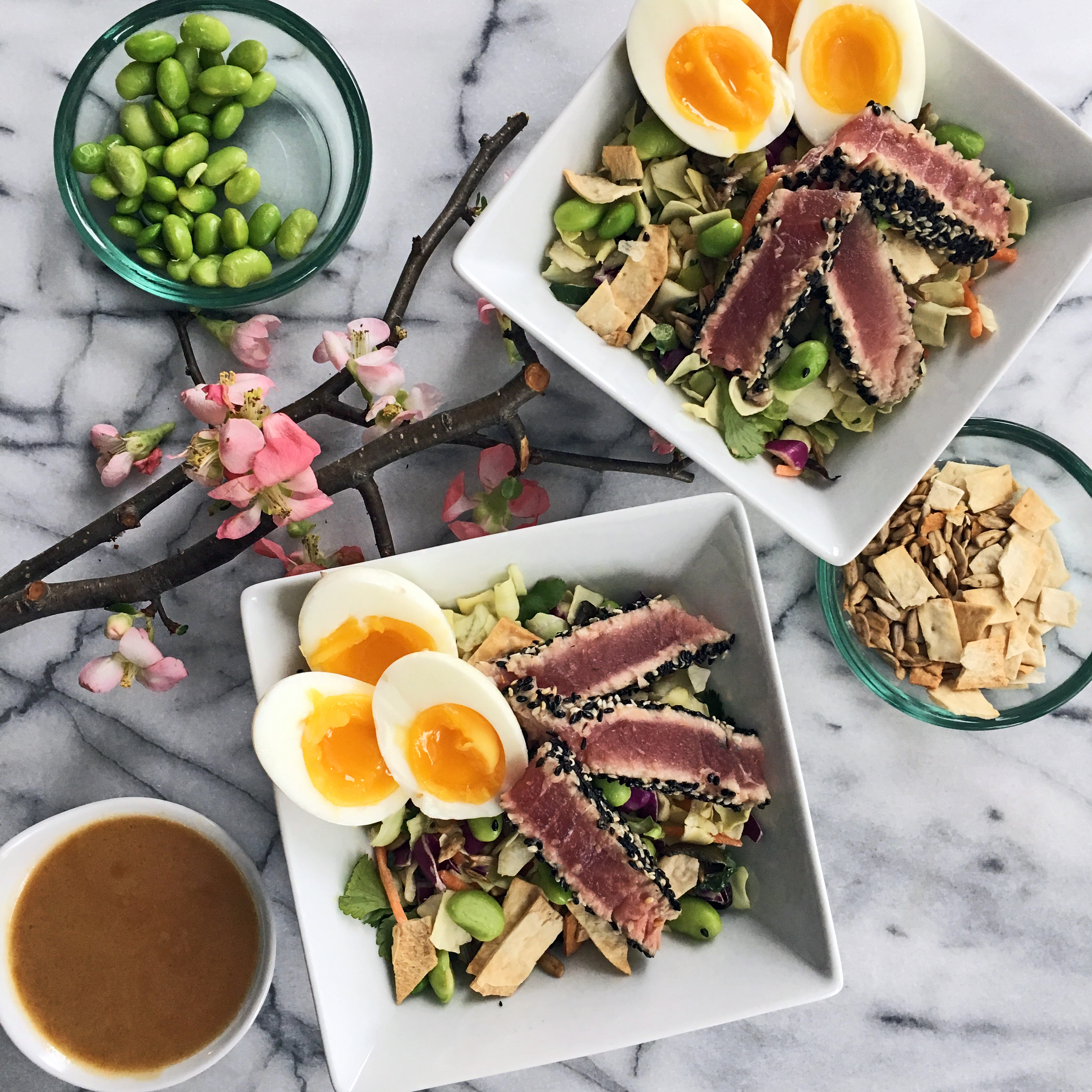 Now for the recipe!
Serves 2
Ingredients:
1 Earthbound Farm Organic Asian Chopped Salad Kit
1 Tuna Steak (Ahi or Yellowfin - your choice), approx. 10 oz.
3 Tbsp. Sesame Seed Oil
Sea Salt
Light Sesame Seeds (approx. 1/4 cup)
Black Sesame Seeds (approx. 1/2 cup)
3 Large Eggs
2 Tbsp. Distilled White Vinegar
1 Tbsp. Salt
Ice for an Eggy Ice Bath
Edamame Seeds to garnish

Instructions:
For The Eggs:
Add the vinegar and salt to a medium pot of cold water and bring to a boil

Add your eggs and cook for seven minutes

Prep your ice bath

Remove your eggs from the pot and place in an ice bath for 5 minutes

Peel eggs and set aside
For The Tuna:
Sprinkle tuna with sea salt

Mix your sesame seeds in a bowl (I eyeballed it knowing I wanted more black than light seeds, so measurements are dependent on your taste)

Take your tuna and press all sides into the sesame seed mixture until it's completely covered

In a non stick pan, heat your sesame seed oil until just smoking

Place your tuna in the pan and sear for 1 minute

Flip and sear for an additional minute

Let rest for a beat before slicing
Some Assembly Required:
Split your salad and crunchy toppings evenly between two salad bowls

Slice your eggs in half

Top salad with eggs and tuna slices

Sprinkle with edamame

Now, the salad dressing is absolutely delicious, but with the seared tuna, I though it would be nice to heat it up a little before serving.

Drizzle with dressing, and devour!