Summer Nourish Bowl
Paired with Telula Juice
This refreshing and delicious Buddha bowl is a great way to kick off the summer season! Packed with fresh green leafy vegetables and fruit and drizzled with a light lemon vinaigrette, you'll enjoy the different flavors and textures of this healthy and nutritious meal. It pairs perfectly with a cold refreshing bottle of Telula cold-pressed juice, making it the perfect meal for warmer weathers!
Be sure to check out all their flavors - and find your nearest retailer here! Be sure to check your grocers Juice aisle for Telula.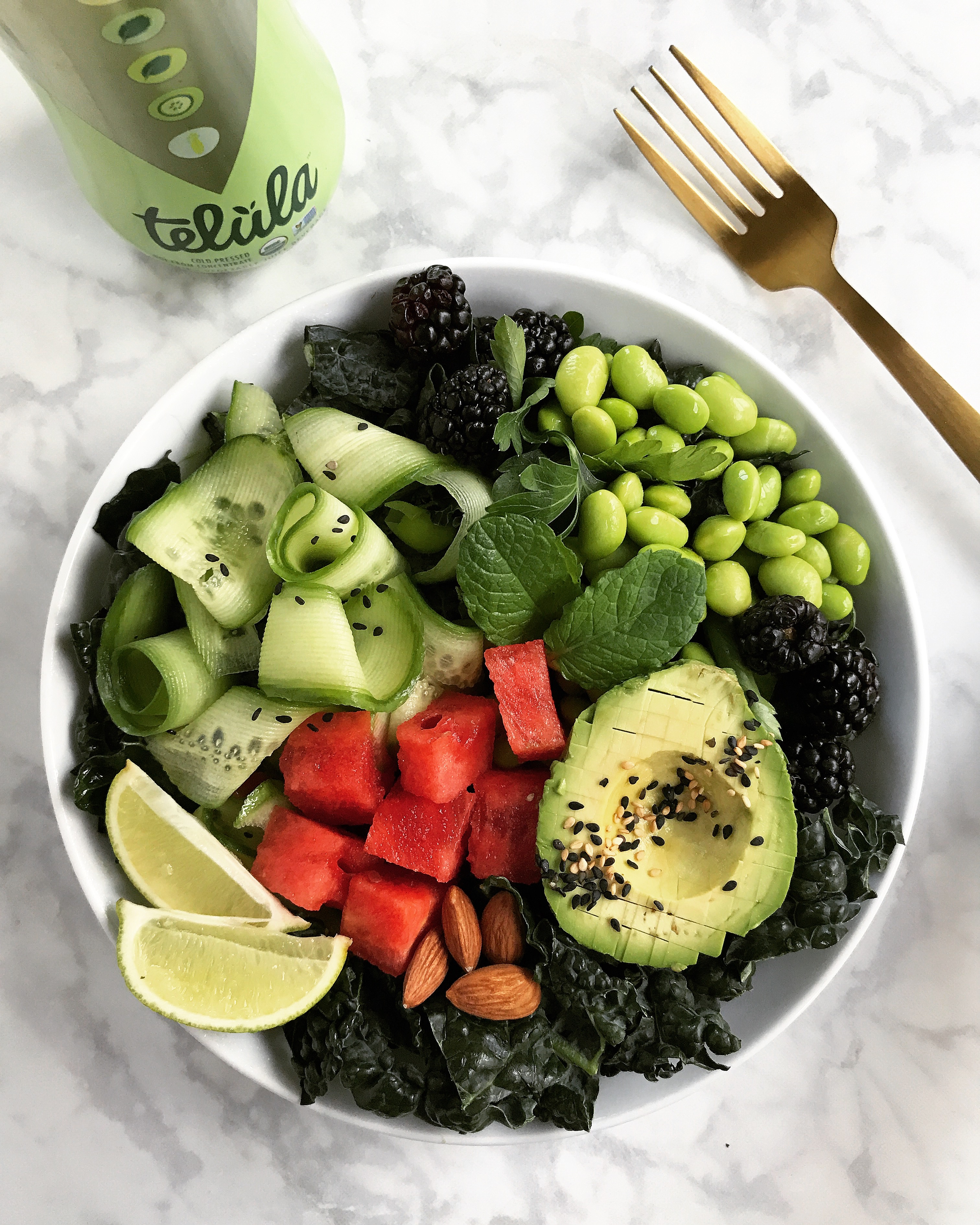 Servings: 2
Ingredients:
To make the bowl:
- 4 cups of kale, destemmed and roughly chopped
- 1 tbsp extra virgin olive oil
- 1 avocado
- 1 small cucumber, sliced into ribbons using a peeler
- 1 cup edamame, steamed
- 1/2 cup of blackberries
- 1/2 cup of watermelon, cubed
- 1/4 cup of almonds
- sesame seeds, toasted (optional)
To make the dressing:
- 2 tbsp lemon juice
- 1/8 cup extra virgin olive oil
- 1/4 tsp garlic, grated
- sea salt and black pepper, to taste
To assemble the bowl:
In a bowl, massage the kale with your hands for a few minutes with the extra virgin olive oil. Divide the kale between the two serving bowls.

Top each bowl with half an avocado and divide the cucumber, edamame, blackberries, watermelon, almonds, and sesame seeds between both bowls.

Combine the ingredients for the dressing in a small bowl and stir. Drizzle the desired amount of dressing over both bowls.

Serve and enjoy!