Orange Blossom Glazed Dark Chocolate Madeleines
Lindt Chocolate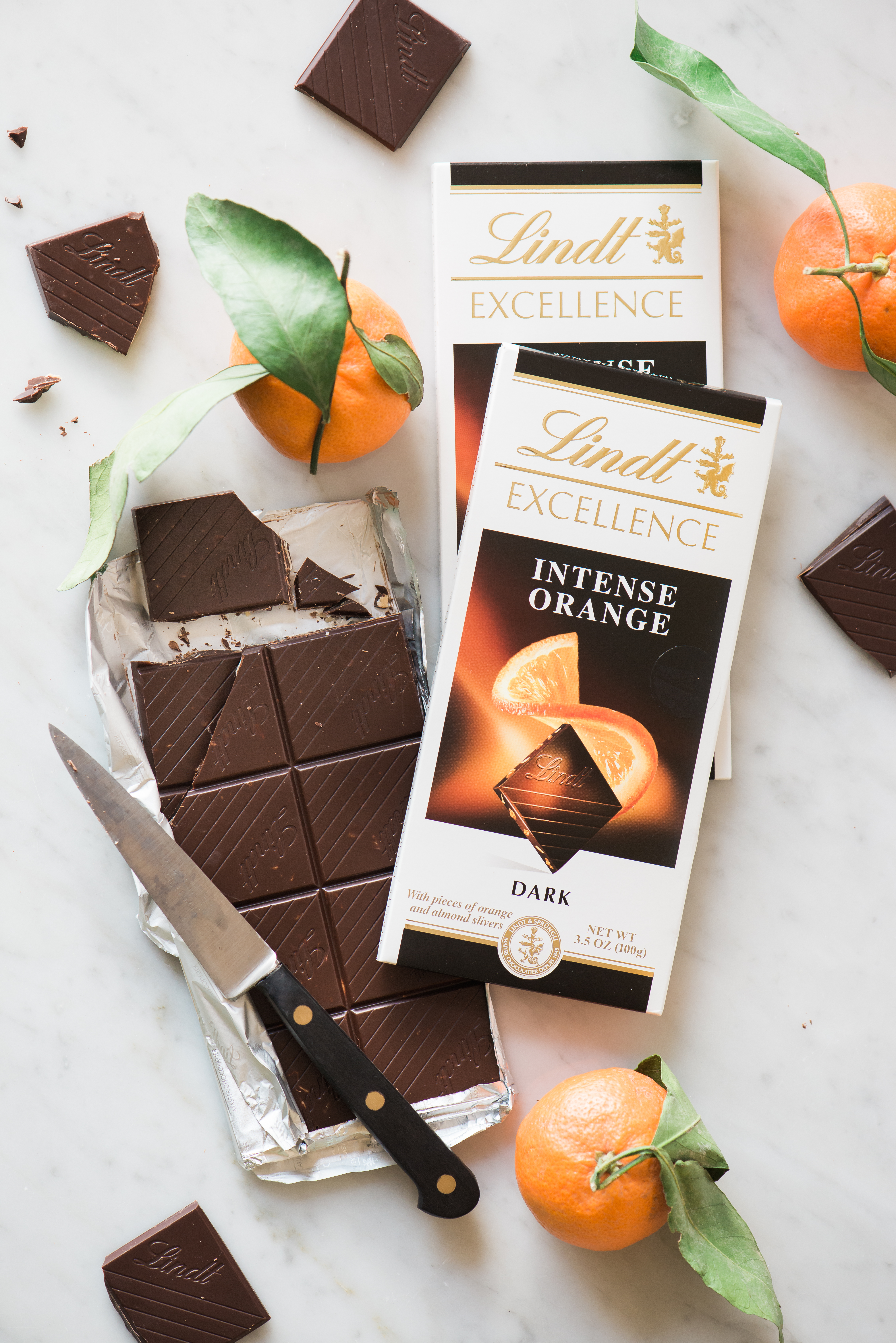 The 74th Golden Globes Awards are this weekend!
Lindt Chocolate is the Official Confection Sponsor of the Golden Globes for the second year and I'm thrilled to be creating something special for them in collaboration with feedfeed. Award show season is a time to recognize excellence in film and television. It's also an excellent time to gather together your friends and throw a viewing party. This weekend's ultimate Golden Globes viewing party will include these tender Orange Blossom Glazed Dark Chocolate Madeleines. What's an award show party without a delicious treat to nibble on?
Madeleines are small French sponge cakes that are baked in a traditional shell-shaped mold. They're air-light with crispy outer edges. Thanks to the Lindt EXCELLENCE Intense Orange Dark Chocolate Bars these madeleines have a deeply dark chocolate flavor with a touch of orange intensity. Delicate pieces of orange and almond slivers combined with the premium dark chocolate just melts in your mouth. Lindt Chocolate has a long history of excellence with a fine attention to detail; making it the perfect companion to these tender cakes.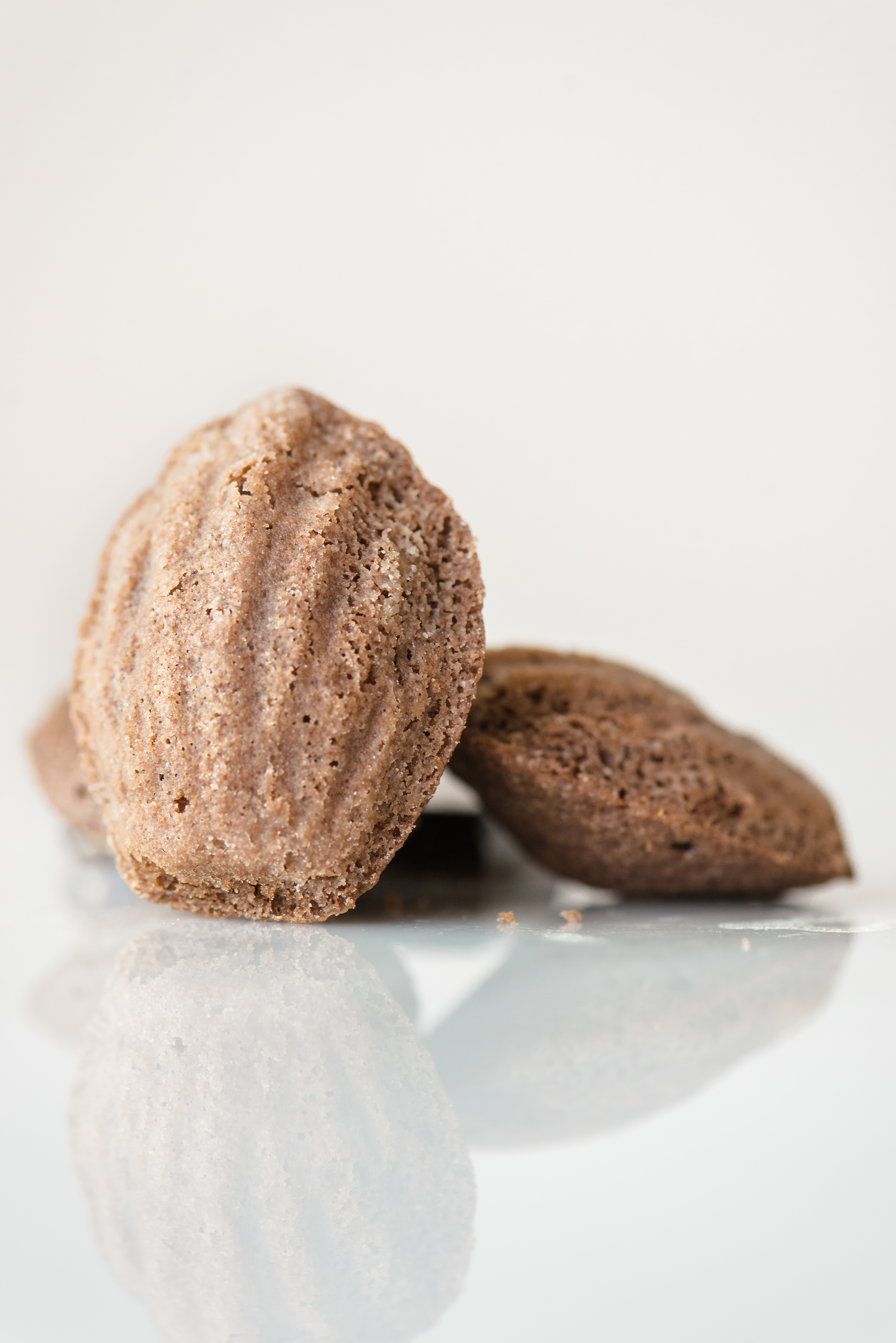 Madeleines are best enjoyed on the day they're made. They're irresistible when still slightly warm and their centers are flowing with melted chocolate. Each of these tiny cakes are coated with a glaze that's been scented lightly with orange blossom water. The timing for creating these and for presenting them, still slightly warm, is easy to do. The batter can be made at least one day ahead, preferably the night before, and allowed to thicken overnight. The following day, simply portion out the batter into the prepared mold, bake, glaze, and serve. Your only problem may be keeping up with how fast they disappear.
You'll need a 20-cavity (1 ½-inch madeleines) mold for this recipe. Madeleine molds can be found at cookware stores and come in varying sizes. If you choose a larger sized madeleine mold it'll reduce the amount of cakes produced, but the results will generally be the same (just be sure to adjust the baking time). Orange Blossom water can also be found at most local and specialty grocery stores. Bake up and serve as many, or as few, madeleines as you want. The great thing about this batter is that it'll keep for a few days, so no need to feel pressure to bake them all off at once if it's not needed. Any leftover batter can be baked off fresh the following days to enjoy with morning coffee or tea.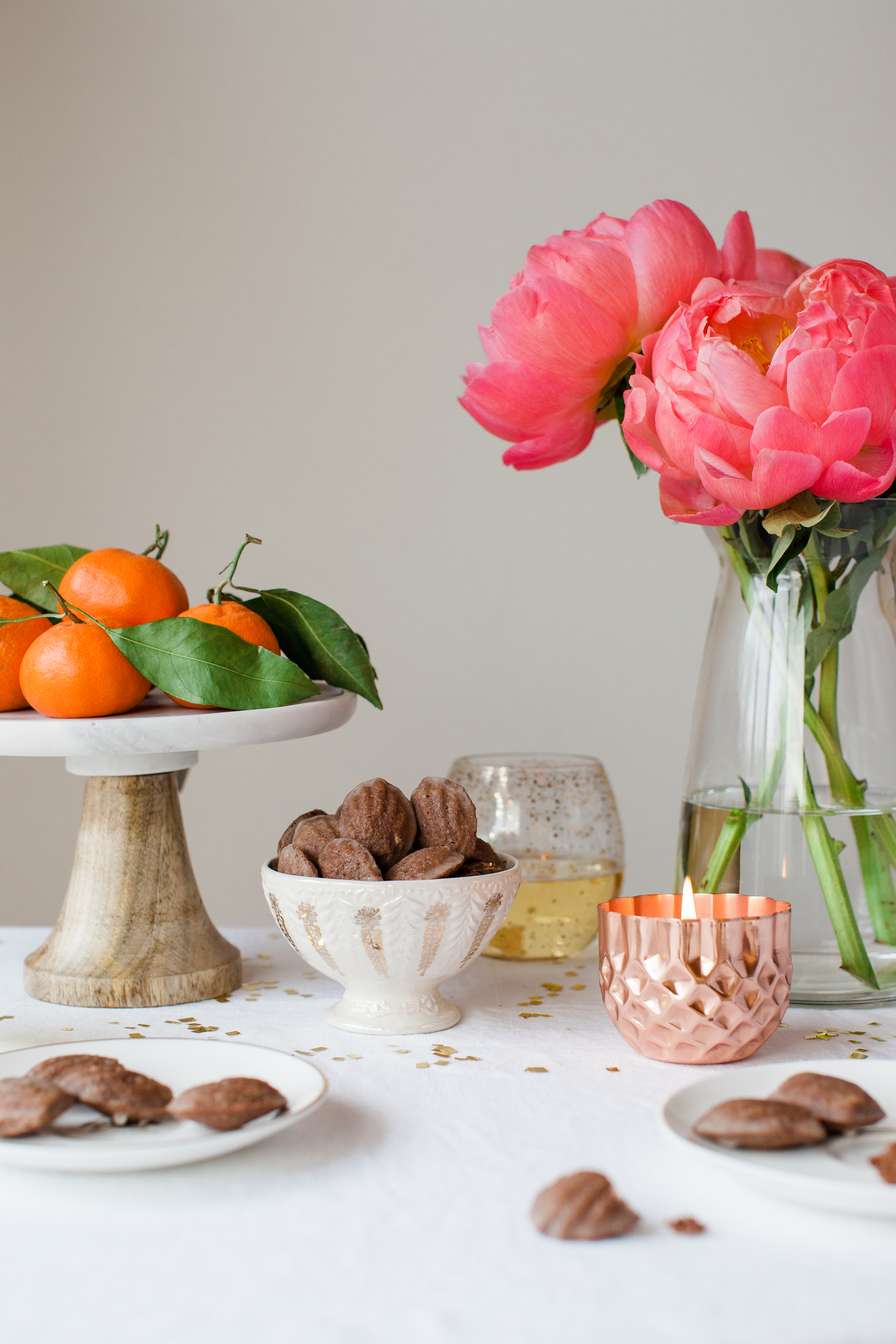 Enjoy these Orange Blossom Glazed Dark Chocolate Madeleines while admiring the performances, beautiful fashion, and cheering on your favorite moments in entertainment over the past year. Be sure to follow @lindt_chocolate and @thefeedfeed on social media & @the_feedfeed on Twitter, for more Golden Globe viewing party recipes using Lindt Chocolate. Lindt will also be hosting a #LindtGoldenGlobes Twitter Party on Sunday January 8 from 8-9PM EST.
Orange Blossom Glazed Dark Chocolate Madeleines
Makes 60 mini madeleines
Dark Chocolate Madeleines
10 Tbsp unsalted butter
1 Lindt EXCELLENCE Intense Orange Chocolate Bar
¾ cup all-purpose flour, plus more for dusting
2 Tbsp dutch process cocoa powder
½ tsp baking powder
Pinch sea salt
⅔ cup granulated sugar
Zest of ½ orange
2 large whole eggs
2 large egg yolks
In a small heatproof bowl, melt 8 Tbsp of unsalted butter and set aside. Break off two individual chocolate squares from the chocolate bar. Place in a small heatproof bowl and heat until melted, then set aside.
Sift together the flour, dutch process cocoa powder, baking powder, and sea salt.
In a bowl, mix and rub together the sugar and orange zest with your fingertips. Whisk in whole eggs and yolks until combined. Add in dry ingredients and stir just until combined. Stir in melted butter and melted chocolate and mix until thoroughly combined. Cover the bowl with plastic wrap. Place in the refrigerator to chill for at least 1 hour, preferably overnight.
Preheat the oven to 400F. Set a cooling rack on top of a large sheet of parchment paper. Chop up the remaining chocolate bar squares into small pieces and set aside.
Prepare the madeleine mold (20 mini 1 ½-inch cavities) by melting the remaining 2 Tbsp of unsalted butter in a small heatproof bowl. Using a pastry brush, generously coat each individual cavity with melted butter. Generously, dust the entire mold with flour and tap out the excess.
Remove chilled bowl from the refrigerator and scoop 1 tsp of batter into each madeleine cavity. Place one piece of chopped chocolate into the center of each madeleine. Bake for 11-12 minutes until risen and the cakes spring back when touched. Meanwhile, prepare the orange blossom glaze.
Remove madeleines from oven and immediately flip the mold over onto the prepared cooling rack to dislodge the tiny cakes. Flip all madeleines shell-side up. Pour orange blossom glaze over the entire surface of each cake to coat. Serve madeleines immediately and enjoy.
Continue to repeat the process of preparing the madeleine mold, filling, baking, and coating as needed. Store any remaining unbaked batter in an airtight container, in the refrigerator, for up to three days. Store any remaining baked madeleines, in an airtight container at room
temperature, for up to two days. Madeleines will dry out after the first day, but are great for dipping into hot tea or coffee on the second day.
Orange Blossom Glaze
2 cups powdered sugar, sifted
6 Tbsp freshly squeezed orange juice
½ tsp orange blossom water
In a bowl, whisk together the powdered sugar, orange juice, and orange blossom water. If needed, add more juice or water to thin out glaze further.
*Disclaimer: This post was sponsored by Lindt Chocolate. All opinions and thoughts are my own. A big THANK YOU to Lindt Chocolate for their generous provision of Lindt Chocolate Bars to create this recipe and post!