Breakfast Tacos
with Crispy Garlicky Potatoes
Note from theFeedFeed Team -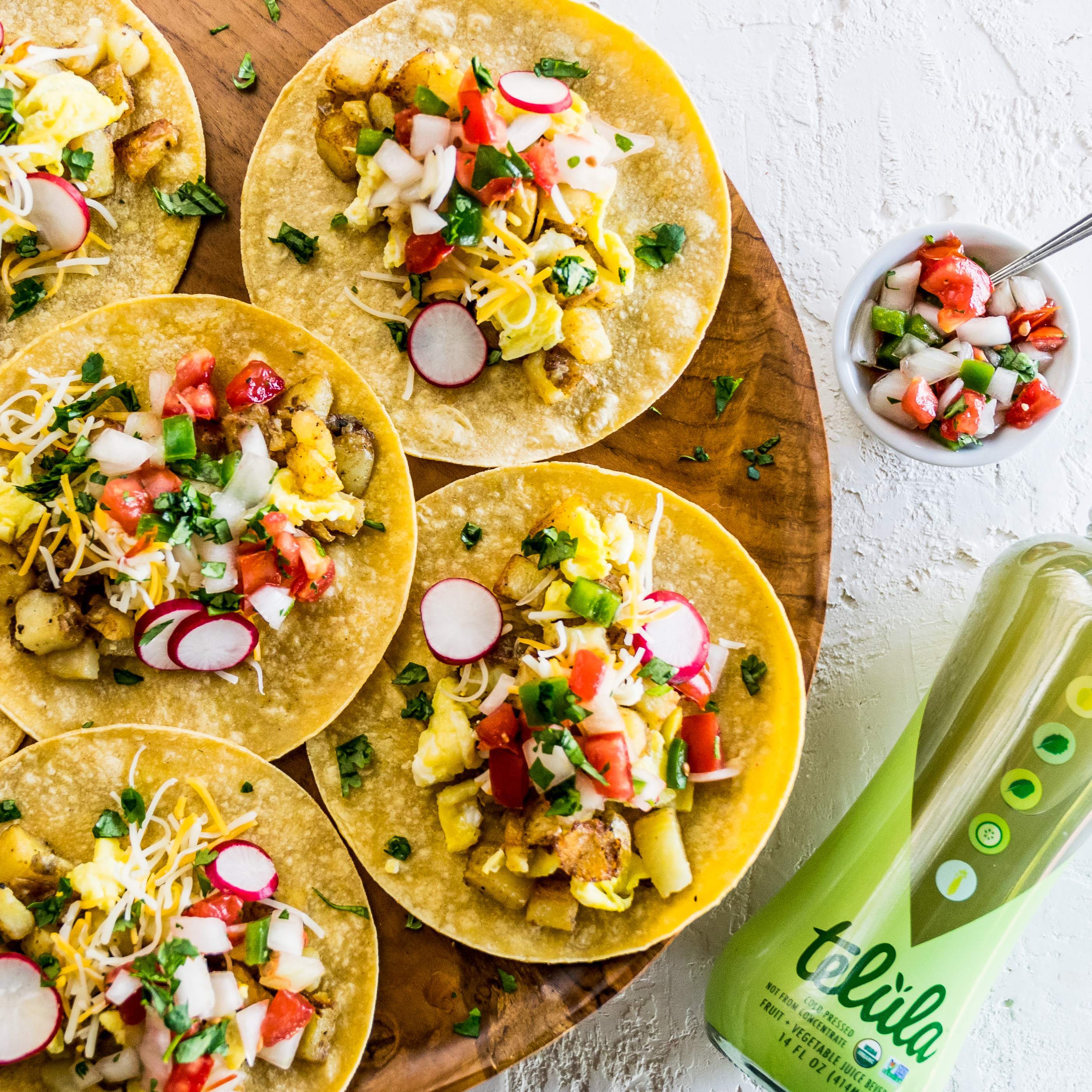 It is a fact, we love breakfast and we love tacos - and breakfast tacos, in our book, are a win-win situation. They are filling and easy to assemble and make the perfect breakfast for feeding a crowd. They also happen to be the perfect refreshing complement to Telula Cold Pressed Juice - and we love the pairing with the Melon Mint to break through the heat and cool us off.
Telula is a great way to start your morning with vitamin packed fruits and veggies - cold-pressed and flash pasteurized & organic - they maintain all their natural goodness while also being shelf stable - available nationwide, be sure to find your nearest retailer!
Breakfast Tacos with Crispy Garlicky Potatoes
Makes 6 tacos, serves 2 to 3
———
For the potatoes:
3 tablespoons olive oil
12 oz (340g) Yukon gold potatoes, diced
1/2-3/4 teaspoon salt
1/4 teaspoon ground black pepper
1/4 teaspoon ground cumin
1/2 teaspoon chili powder
1/2 teaspoon garlic powder
3 tablespoons water
———
For the eggs:
3 large eggs
1/4 teaspoon salt
1 tablespoon olive oil
———
For assembly:
6 corn tortillas
Pico de gallo
Chopped cilantro
Sliced radishes
Shredded cheese
———
First, make the potatoes: preheat oven to 375°/191°C, and place the olive oil in a large oven-safe skillet over medium heat. When hot, add the potatoes, salt, pepper, cumin, chili powder, and garlic powder, and toss to combine. Cook for 5 minutes, stirring occasionally. Add the water, cover the pan, and cook for 4 minutes. Remove the lid, stir the potatoes, then transfer to the oven and bake uncovered until crispy, 20 to 25 minutes.

While the potatoes are cooking, make the eggs: in a small bowl, whisk together the eggs and salt until blended. Place the oil in a skillet over medium heat, and when hot add the eggs. Cook, stirring often, until the eggs scramble and fully cook.

To assemble the tacos: heat the tortillas until soft and pliable. Lay them on a serving tray, and top each one with a few spoonfuls of the potatoes, followed by the eggs, along with shredded cheese, pico de gallo, sliced radishes, and chopped cilantro if desired.