Cauliflower Crust Pizza with Hummus and Fresh Veggies
With Blue Moose of Boulder Hummus
A note from the feedfeed team:
Chances are, if we are eating something around here - it probably has hummus on it and we're totally into Blue Moose of Boulder, these days. What we love about Blue Moose of Boulder is that not only do they make incredible flavors, but they also really take the time to ensure they are processed in the highest standards. They use cold pressure to ensure that the products stay fresh and protected from bacteria. Curious about what Cold Pressure is? The packages of hummus & pesto are submerged into cold water with the pressure of 5x the ocean floor applied - pretty neat, right?
We're partnering with Blue Moose of Boulder to show you the many ways you can use their Hummus and Pesto as we head into the Spring and Summer!
Be sure to check them out - and to find your local retailer, visit here!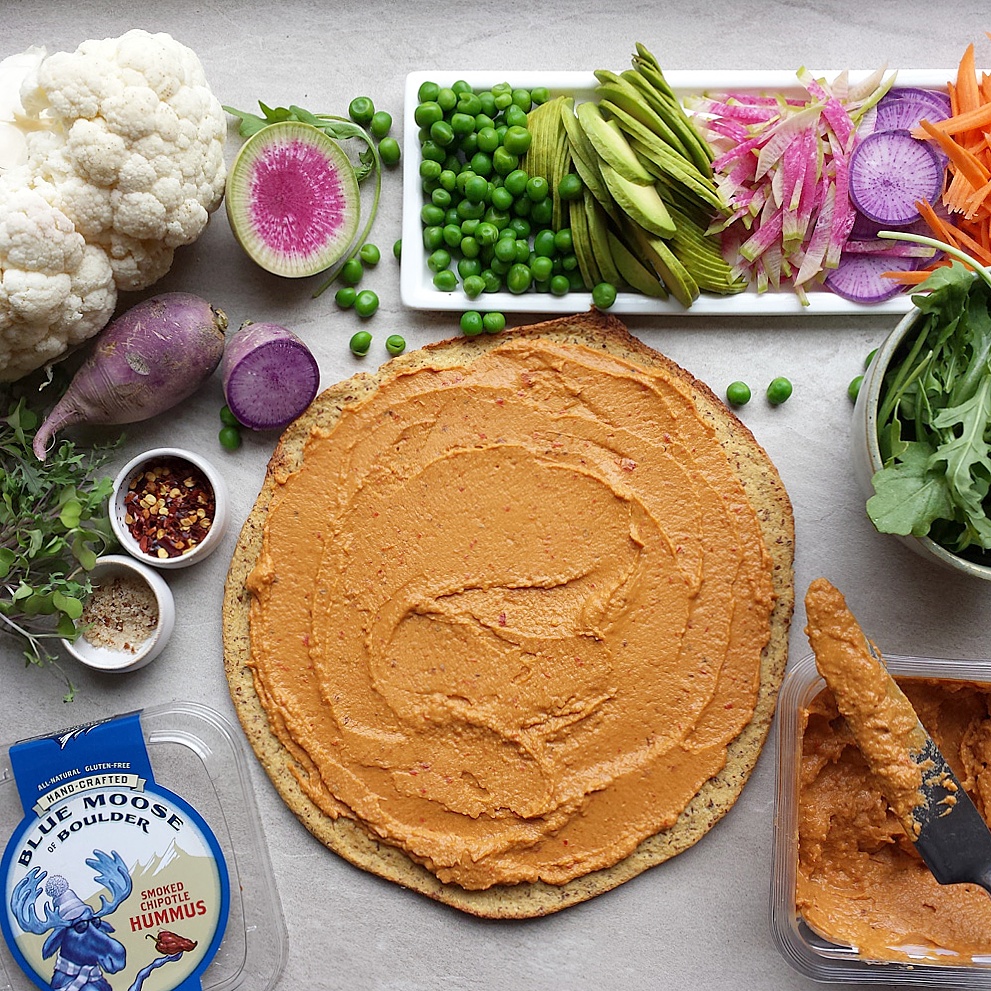 Cauliflower Crust Pizza with Hummus and Fresh Veggies
Sometimes one needs a little help with kitchen staples. I was happy to find Blue Moose of Boulder, a hand-crafted and minimally-processed hummus, made of a handful of real, whole ingredients and uses Cold Pressure protection to keep products fresh and true to flavor. There's definitely something for everyone in terms of the six different flavors they offer. I'm partial to something spicy*, so I love the smoked chipotle hummus which definitely has quite a nice kick to it, but you can also use any of flavor, like the Roasted Red Pepper or Lime & Black Bean hummus.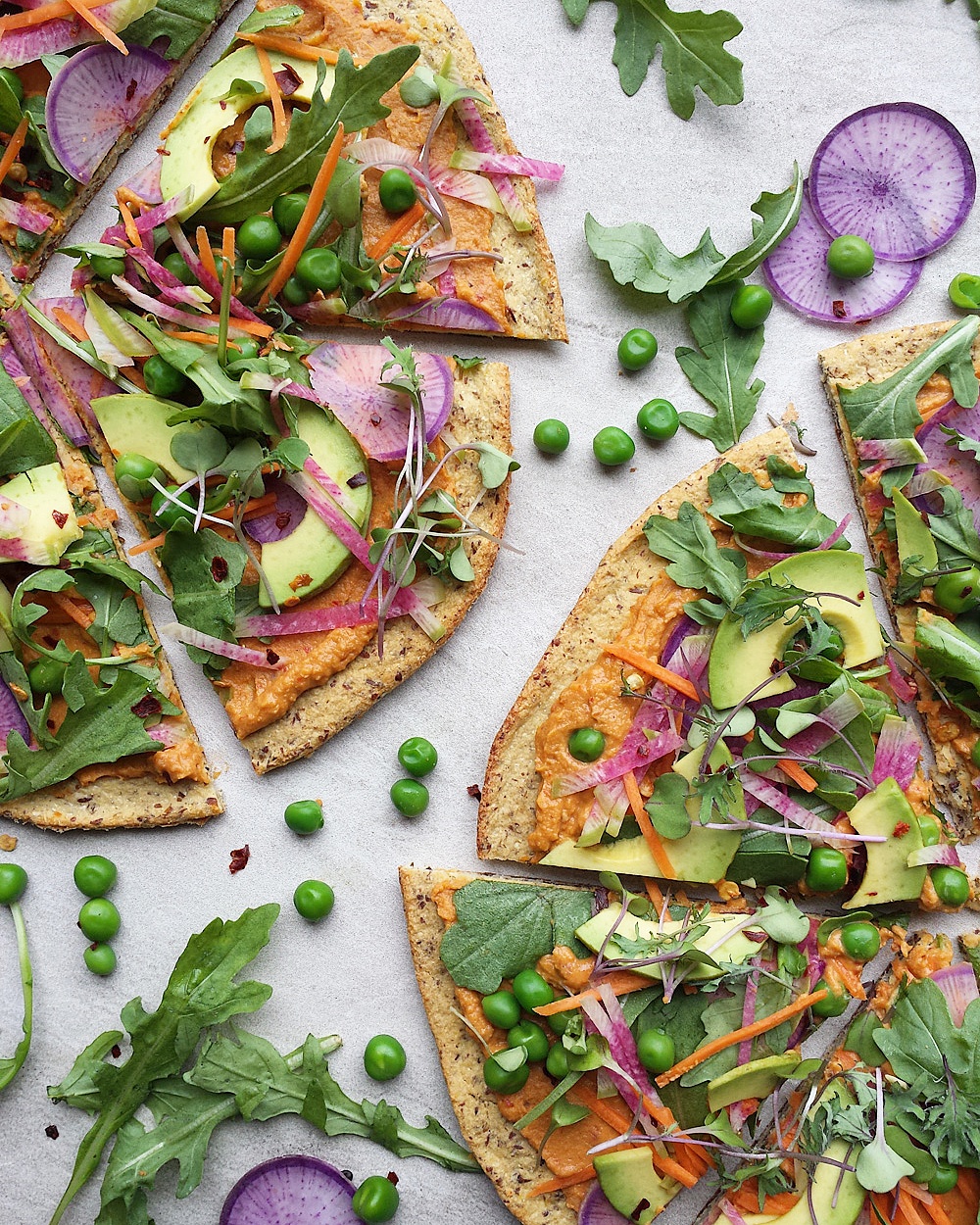 Cauliflower Crust Pizza
Serves two
FOR THE CRUST:
1/2 head cauliflower, riced (about 1.5 cups/6 oz)
1/4 cup ground flax seed meal
1/2 cup water
1 cup chickpea flour
2 tbsp nutritional yeast
1 tsp garlic powder
1 tsp onion powder
1/2 tsp sea salt
TOPPINGS:
8 oz Blue Moose of Boulder Hummus*
1-2 radishes, sliced paper thin, or julienned
1 carrot, julienned
2 handfuls of arugula
1 avocado, peeled and sliced
3/4 cup cooked green peas
Preheat the oven to 400°F. In a small bowl, combine the flaxseed meal with the water to a bowl, let rest for 5-7 minutes.

Roughly chop the cauliflower, place florets into a food processor, and process into small crumbs. Add the remaining ingredients and pulse until combined and a dough forms.

Divide into two portions and roll them out on a piece of parchment paper to about ¼"- thick. I used a piece of plastic wrap to flatten it into 9" rounds.

Bake for 25-30 minutes. Let them cool on a wire rack for 30 minutes.

Add your hummus and toppings of choice. Enjoy!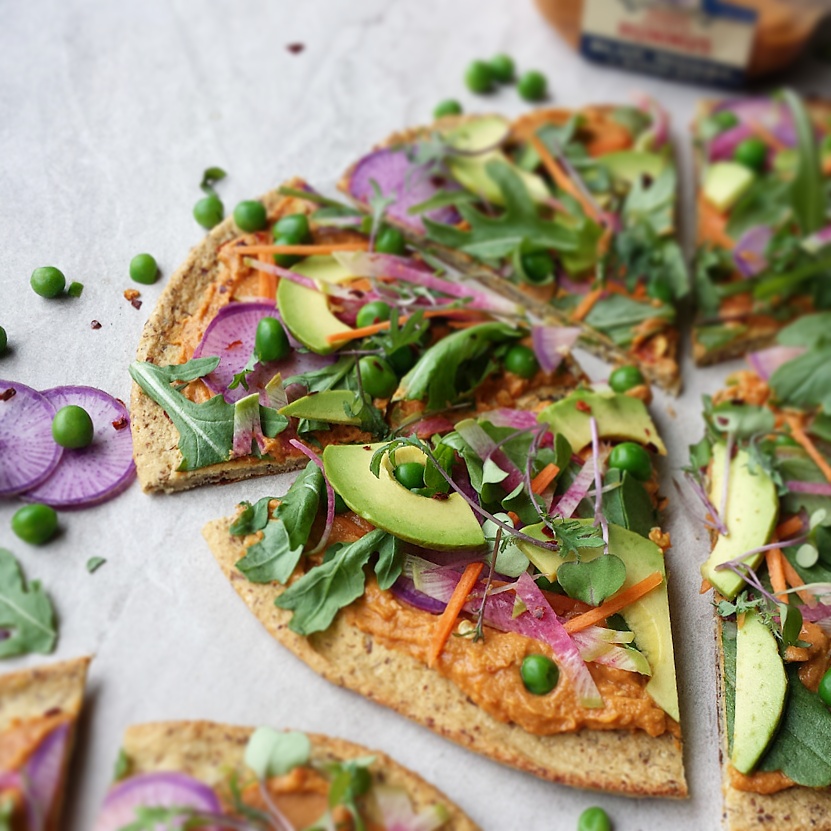 This article was created in partnership with Blue Moose of Boulder and FeedFeed.
All opinions expressed are my own.