Spicy salad Nicoise
with Creamy Spicy Chipotle Dressing
I love food that takes me to faraway places. Mediterranean food is one of my favorites to recreate at home because whether you're in France, Italy, Greece, Turkey or beyond, each country's cuisine is well-defined but easy to adapt for your own needs. Pile together some feta, tomatoes and olives and you're instantly at a roadside café in Corfu. Or do as I've done here by layering the tastes and textures of southern France with this spicy salad niçoise, and voila, you're in Nice, watching tourists stroll down the Promenade des Anglais.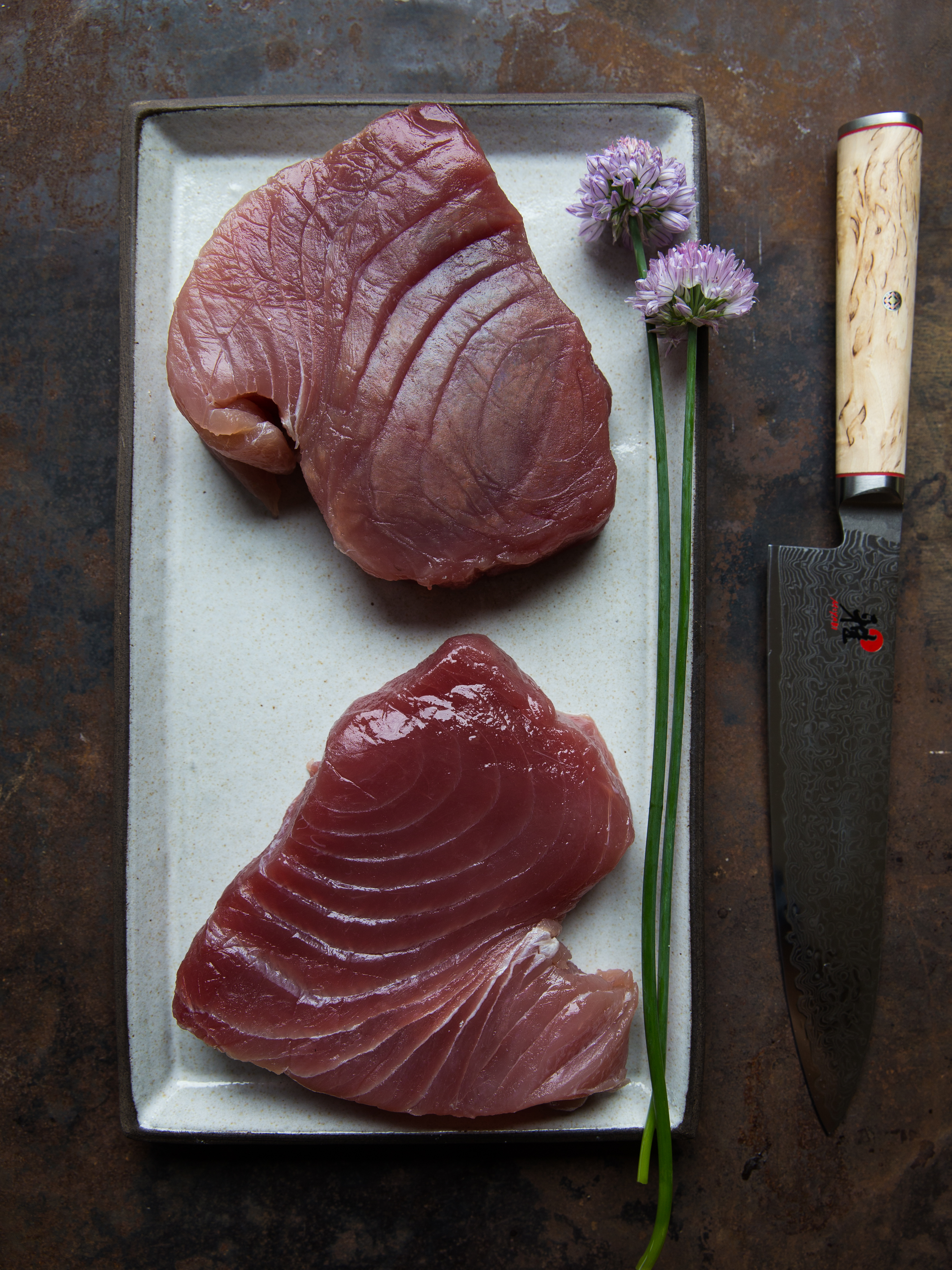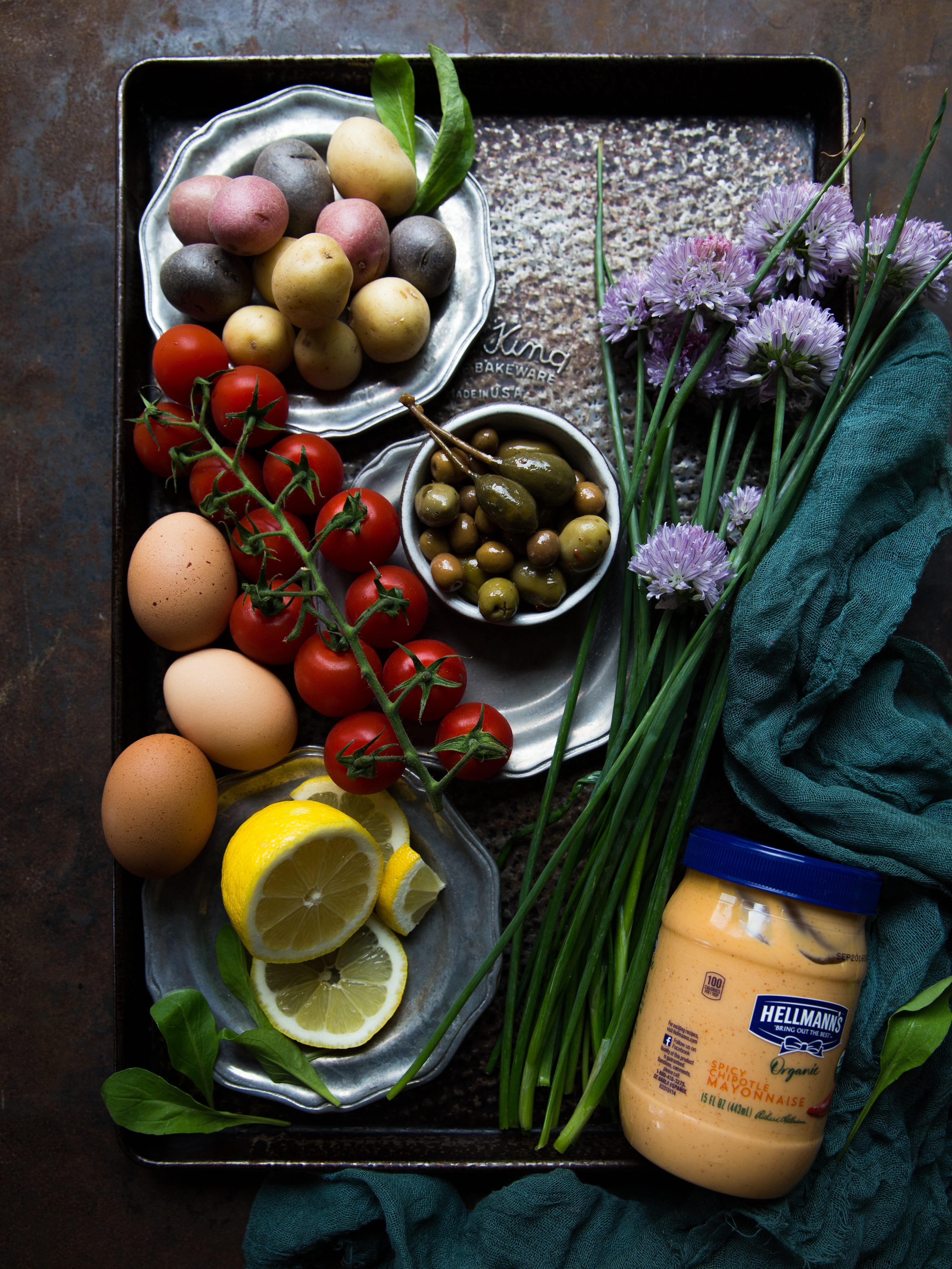 This recipe takes some liberties with the traditional salad niçoise, but riffing on the classics is half the fun in the kitchen. This salad gets its heat from spicy olives and a spicy chipotle dressing using Hellman's new Organic Spicy Chipotle Mayonnaise. But the heat pairs well with the cool and crisp veg, making this a not-to-miss treat for a warm summer day. While I used the Spicy Chipotle in this version, you will get equally delicious results with the Roasted Garlic and Original flavors as well! Enjoy!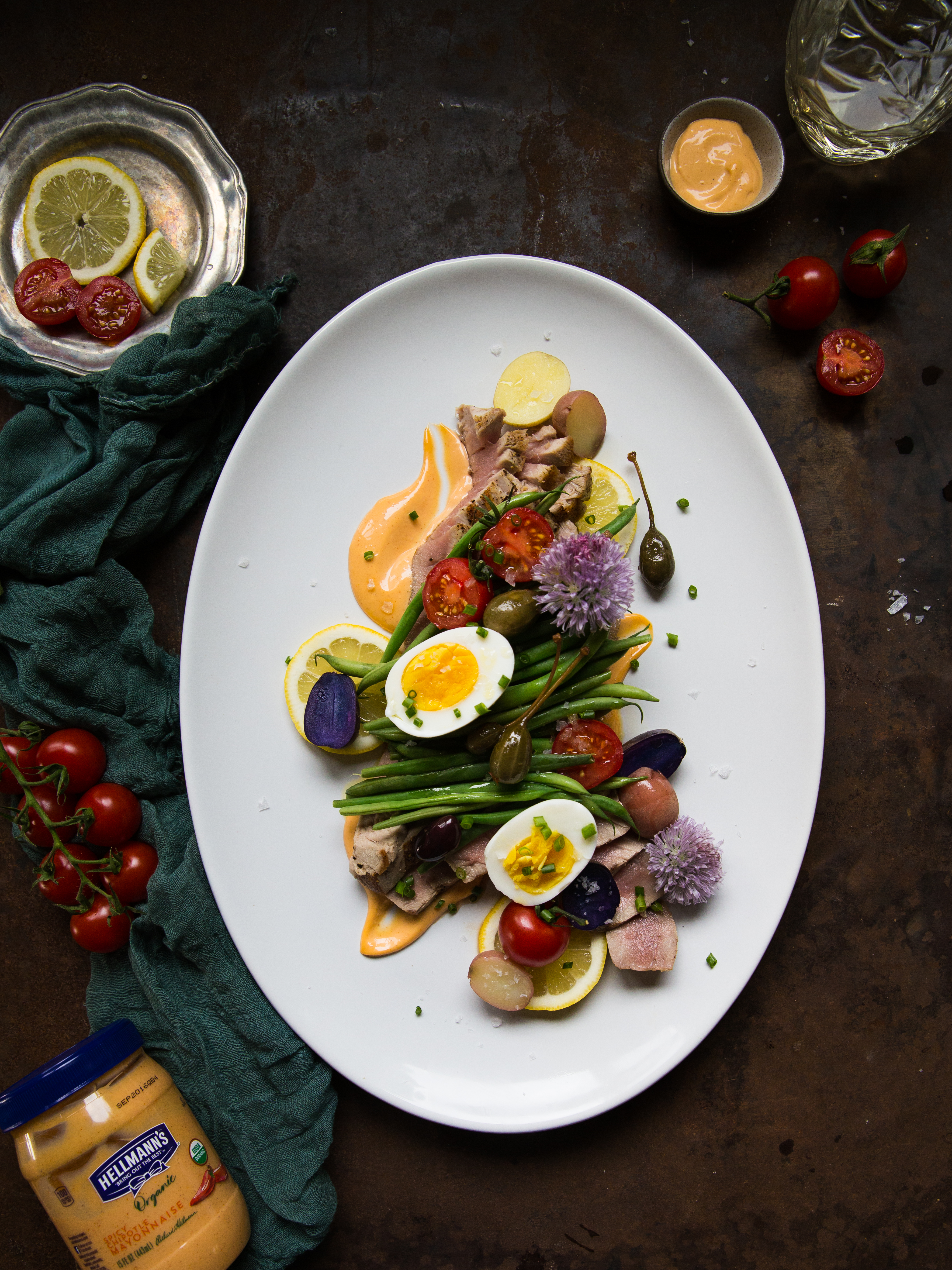 Ingredients
 1 8 oz tuna steak (Ahi tuna or other)
 ½ cup multicolored potatoes (or any small fingerling)
 2 handfuls of green beans, trimmed
 ½ cup cherry tomatoes, halved
 1/3 cup Hellman's Spicy Organic Chipotle Mayonnaise
 1 lemon, juiced, with juice divided
 1/3 cup spicy olives, pits removed
 6-8 caperberries
 2 boiled eggs, peeled and halved
 2-3 chives (preferably with blossoms attached, otherwise without is fine)
 2-4 tablespoons of olive oil, to taste
 Flaked sea salt and freshly-ground pepper to taste
Serves 2 as main portions
Directions
Grill the tuna:
Preheat your grill to high (or an indoor grill pan to med-high). Once heated, season the tuna with salt and pepper to taste, and then grill the tuna for 2 minutes per side. You're aiming for a nice char on the outside, but still bright pink on the inside. Remove the tuna from grill and let it rest for 10 minutes while you prep the other ingredients.
Prep the potatoes and green beans:
Bring a medium salted pot of water to a boil, and then add your potatoes, cooking until they can be pierced easily with a knife. Remove the potatoes with a slotted spoon, and then add your green beans for another minute, just until they're crisp tender. Drain and set aside. Slice your potatoes in half, and then set aside with the beans.
Make the chipotle dressing:
In a small bowl, gently whisk the Hellman's Spicy Organic Chipotle Mayonnaise with the half the lemon juice. You want the dressing to be thick enough to swoosh the bottom of your platter with a spoon for effect – too thin and it'll run.
Assemble the salad:
Slice your tuna steak into strips and then get your other ingredients ready. On a large platter, spoon the chipotle dressing into three places, and using a spoon, gently swoosh the dressing.
Next, pile on the sliced tuna, green beans, sliced potatoes, tomatoes and spicy olives. Drizzle the olive oil and remaining lemon juice over the top, and then garnish with the caperberries, egg halves, snipped chives & chive blossoms. If you'd like, garnish with a few extra lemon slices. Season to taste with salt and pepper and serve.
This blog post was created in partnership with Hellmann's and FeedFeed ­ all opinions expressed are my own.