Wild Mushroom and Leek Stuffing
Serves 12-15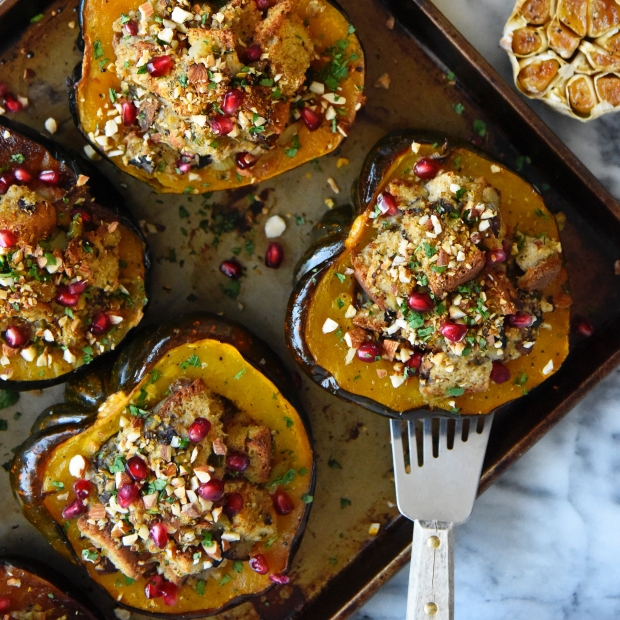 A classic holiday dressing with savory wild mushrooms, melted leeks and hearty sourdough bread. On Thanksgiving we like to bake this in a casserole for ease of serving, but if you want to make a version as seen above, use the recipe below, but use this method to bake it in roasted acorn squash instead.
Ingredients
1 baguette (about 1 lb) cut into 1 inch cubes
1 loaf sourdough bread (about 1 ¼ lbs) cut into 1 inch cubes
¼ olive oil, divided
Salt and freshly ground black pepper
Pinch of red pepper flakes
2 tbsp unsalted butter
1 onion, diced
3 celery stalks, trimmed and diced
3 leeks, pale white parts only, thinly sliced
1 lb cremini mushrooms, stemmed and sliced
½ lb shiitake mushrooms, stemmed and sliced
4 oz oyster mushrooms, chopped
2 tsp chopped fresh sage
1 tsp fresh thyme, chopped
2 tbsp chopped parsley
1 cup dry white wine
About 2 cups chicken or turkey stock
Directions
Preheat oven to 400˚F. Add the bread cubes to a large baking sheet and drizzle with 2 tbsp olive oil. Toast for about 20 minutes, tossing the bread around halfway through, until golden brown and crispy.
Meanwhile, In a large dutch oven, heat the remaining olive oil and butter until better has melted. Add the onions, celery and leeks and cook over medium heat for about 10 minutes, or until very tender. Add the mushrooms and cook for an additional 5-10 minutes, or until all of their moisture has been released and has cooked off. Season with salt, pepper and red pepper flakes to taste. Add the fresh herbs, then deglaze the pan with the white wine, making sure to scrape up any brown bits that have formed on the bottom of the pan.
In a very large mixing bowl or pot, combine the vegetable mixture with the toasted bread cubes. Add the stock, adding just enough to moisten the bread completely. You may not need all of the stock.
Butter a deep 9 x 12 inch baking pan and add the stuffing mixture to the dish. Bake at 400˚F for about 30 minutes, or until the top is golden brown.
NOTES:
To make the day before, toast the bread cubes and store in plastic bag until ready to use. Cook the vegetable mixture and let cool. Store in tupperware overnight. On Thanksgiving day combine the bread with the cooked vegetable mixture and the stock before adding the to baking dish. It will be easier to combine everything if the stock is warm.