Meal Planning: Dried Beans
+ Our Favorite Weeknight Dinner Recipes
Prepping for the Week Ahead
This week is all about the humble dried bean. Affordable, good for the environment, shelf-stable and full of protein and fiber; the accolades of the these lowly legumes seem almost too good to be true. See below for some of our favorite bean filled recipes.
Cooking Dried Beans from Scratch
All it takes is a few aromatics and a little time. Check out this amazing guide from @aimeebourque for cooking a variety of dried beans from scratch. We recommend making two batches; we like cannellini beans and black beans.

On to the rest of the week! We've chosen a few of our favorite recipes to put those beans to good use, and mixed in some others for variety.



Adding beans to puréed soups adds creaminess (along with a boost of protein and fiber) without relying on calorie rich cream or butter. It also turns a simple vegetable soup into a hearty meal! Here are two of our favorite recipes:

This soup cooks up in just 20 minutes, is gluten-free and includes a vegan-friendly option as well.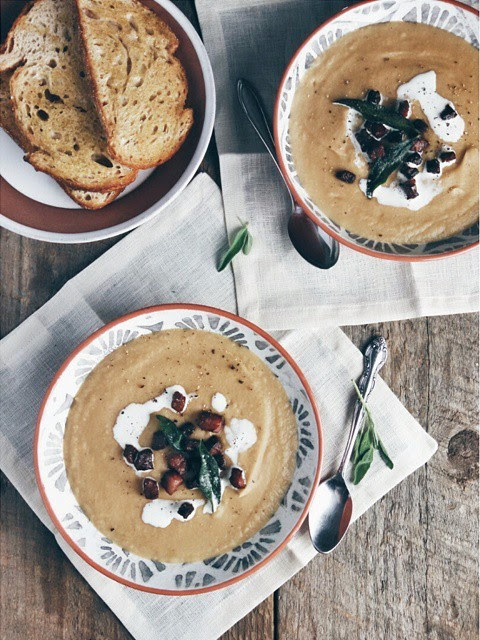 The sweetness of the roasted parsnips is perfect with the crispy, salty Guanciale!

Bowls

Mix and match dinner bowls are great for busy weeknights. Everyone can customize their toppings, making it easy to please different palates.

What's better than an edible bowl? This would be great with shredded chicken or broiled skirt steak as well.
The options are endless here; the flavor combination would be great with Salmon or tofu, and you could swap the rice out for noodles if you prefer.
Upgrade your Chicken Dinner

Cooking chicken on the bone yields more flavor and is less likely to dry out. Give it a try this week and you won't go back to boneless anytime soon.
You can speed up the cooking time by using your pre-cooked leftover beans.

It may be too cold to grill, but that doesn't mean you have to give up BBQ Chicken. With just three ingredients, this recipe couldn't be any simpler. Great for game day, too!
Cocktails & Dessert

Make some time for something sweet this weekend; and cap it off with a much deserved cocktail!

Serve this for breakfast, dessert, or even lunch, we won't tell!

Pretend you're somewhere warm while you sip on these spicy margaritas. If you can't find the spice mix she uses, just shake a couple drops of your favorite hot sauce into a classic margarita recipe.
Remember to add #feedfeed to your cooking, baking & drink making social media posts for a chance to be featured on our Instagram feed & on the site.