Apple Sausage Stuffed Baby Bella Mushrooms
w/ gruyere and sage breadcrumbs
Recipe by: Jules Douglass
This post is sponsored by Udis Gluten Free & TheFeedFeed - all opinions expressed are our own

There is something about the Holidays, Thanksgiving, in particular, where a stuffed mushroom just feels at home on the buffet table. I for one, grew up eating many a stuffed mushrooms, and had no qualms about it. I always loved the way the meaty texture of the mushroom was the perfect vehicle for the delicious filling. @JulesFood has done it again with this #HolidaysGoneGF version of Apple Sausage Stuffed Baby Bella Mushrooms. Using Udi's Gluten Free - Whole Grain Bread, this updated classic will be sure to please even your most finicky guest. I for one, cannot wait to make these on Thanksgiving.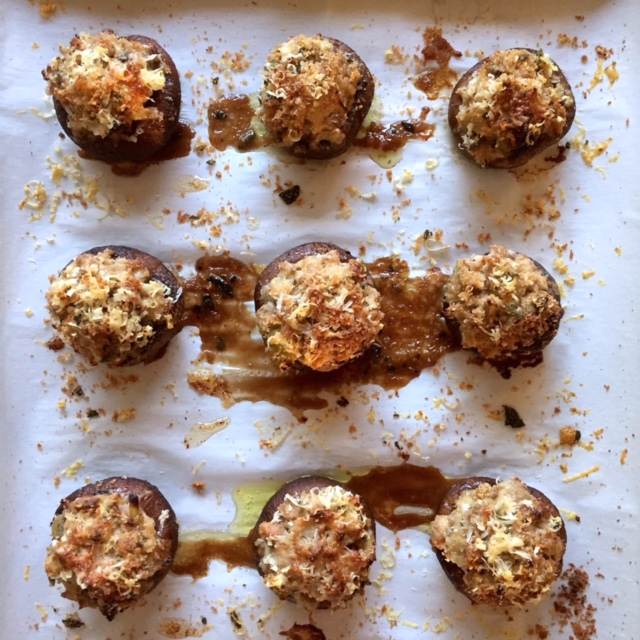 Be sure to check out the contest we are running with Udi's Gluten Free and you could enter to win a fantastic gift prize.
Also - how cool is this? Udi's is offering our readers a $1.00 off coupon on one product. Be sure to download the app to print this out - and it is valid for 14 days after printing!!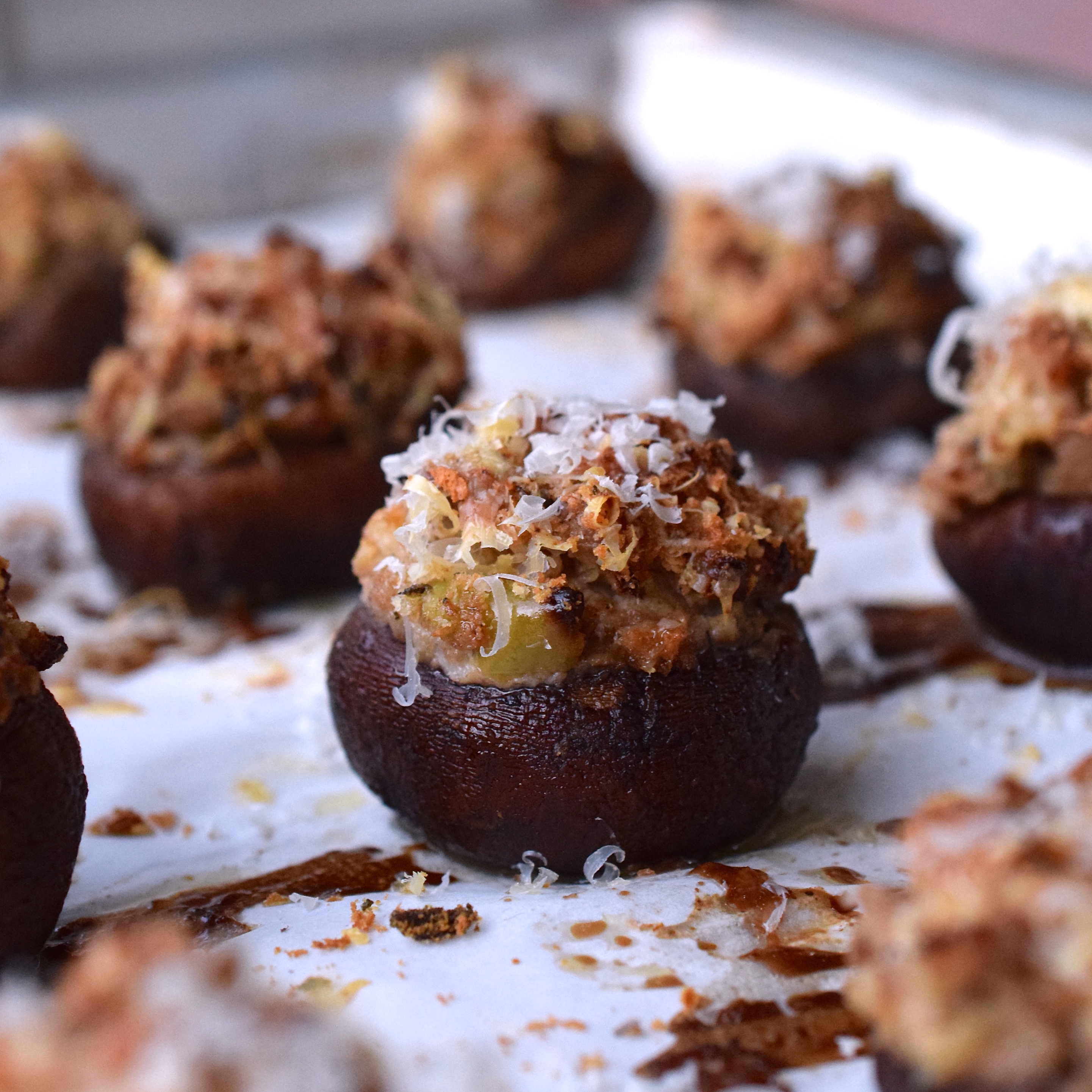 Apple Sausage Stuffed Baby Bella Mushrooms w/ gruyere and sage breadcrumbs
INGREDIENTS
4 slices Udi's Gluten Free - Whole Grain Bread
8-12 fresh sage leaves
24-32 medium size baby portobello mushrooms (or white), stemmed (reserved 8-10 stems, and chop)
1 lb chicken apple sausage (or your favorite), casings removed
1/2 large white onion, diced
2-3 cloves garlic, minced
3/4 cup cream cheese
Grated gruyere, for topping
Salt & pepper to taste
Olive oil, as needed
Butter, as needed
Method:
Heat ¼ cup olive oil in a large skillet over medium-high heat, or until very hot. Add sage leaves and fry about 2-3 minutes, or until crisp. Set aside to drain on a paper towel.
Toast bread until dark golden and dry. Add to a food processor and pulse until you have coarse breadcrumbs. You'll need about 1/2 - 3/4 cup total. Alternatively, you can use a small cheese grater and grate the bread over a bowl. Set aside 1/4 cup for stuffing. To the remaining breadcrumbs, add 4-6 crumbled sage leaves and set aside for the topping.
Preheat oven to 375˚F.
Heat a large skillet over medium heat and add about 1 tbsp of olive oil and a pat of butter. Add the sausage and cook until golden brown and cooked through. Remove the sausage from the skillet with a slotted spoon and drain on paper towels. If sausage is in large pieces, you may need to chop it.
In the same skillet, add a touch more olive oil and saute diced onion, chopped mushroom stems and garlic with a pinch of salt and pepper until translucent and slightly browned, scraping up brown sausage bits stuck to the bottom of the skillet.
Prepare the stuffing mix. In a medium bowl mix together the cooked sausage, ¼ breadcrumbs, cream cheese,
sauteed onion, garlic and stem mixture, 4-5 crumbled sage leaves. Season to taste with salt and pepper.
(Note: TASTE TEST STUFFING. All sausage is different. Add a little this or that... I added salt, pepper and a squeeze of lemon.)
Bake the mushrooms. Line a sheet pan with parchment. Brush outside of the mushroom caps with olive oil.
Stuff mushrooms generously, making sure to pack the stuffing all the way into the bottom of the mushroom caps.
Sprinkle the tops of the stuffed mushrooms with the sage breadcrumbs and grated gruyere. Drizzle the tops with melted butter, about 2 tbsp.
Bake 375˚ F for approx. 20 min. depending on size of mushrooms. If they are small, check them at 15 min. and go from there.
Remove from oven and sprinkle a little more Gruyere to finish.