Cashew Cream Stuffed Shells
w/ Roasted Garlic and Spinach Sauce
I am beyond excited to be partnering with Vitamix and TheFeedFeed to bring you a deliciously blended spring Mother's Day dinner! True story, after using the Vitamix A3500, I spent a weekend blending everything! I made smoothie bowls, nut butter, pesto, you name it, if it could be blended, I was devouring it!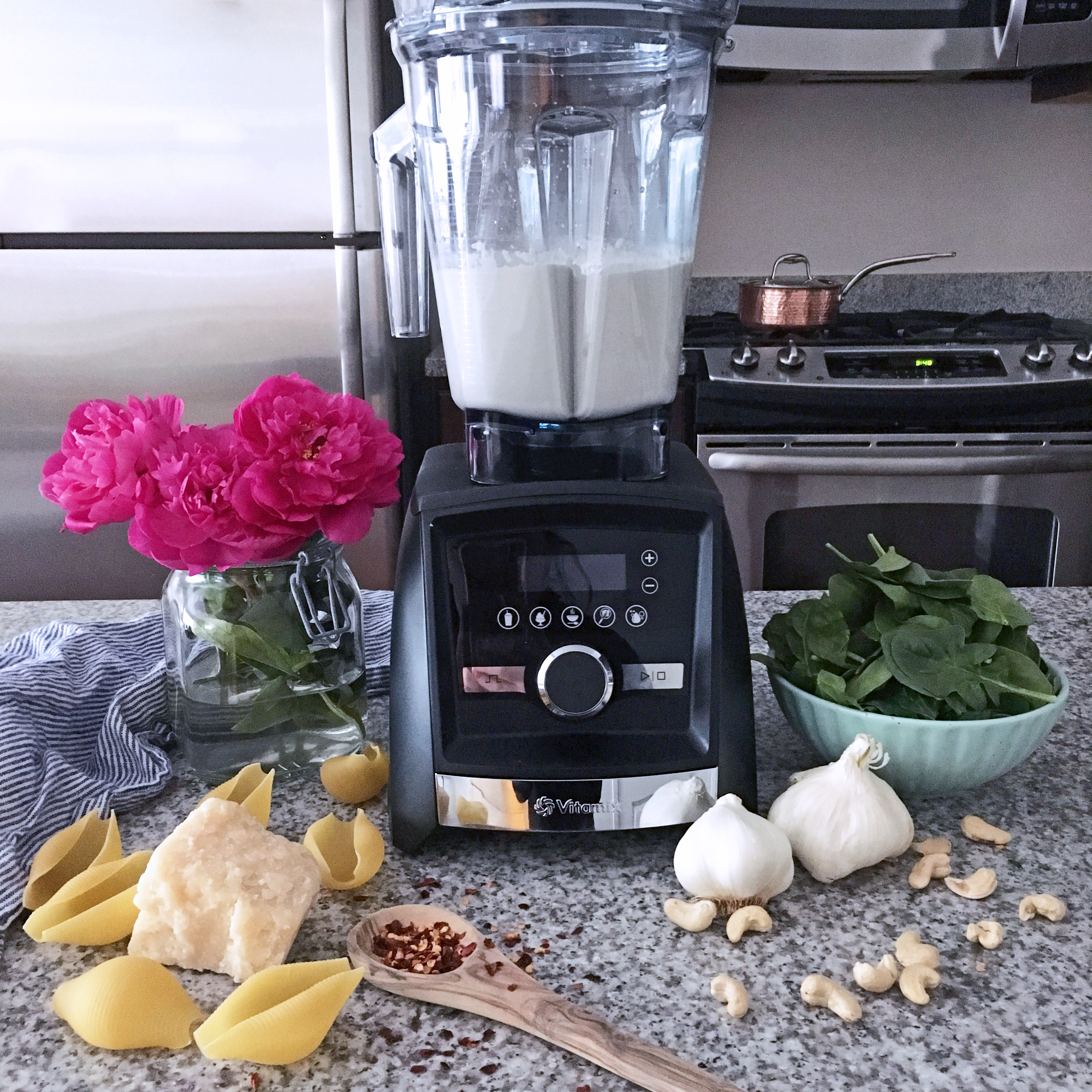 If you were watching my Instagram stories while I was cooking, you heard me say cashew cream had never become cream that quickly. It's true! This blender is amazing, you can attach different sized containers and this works with the wireless connectivity that senses the container you've selected! Can I get an Amen?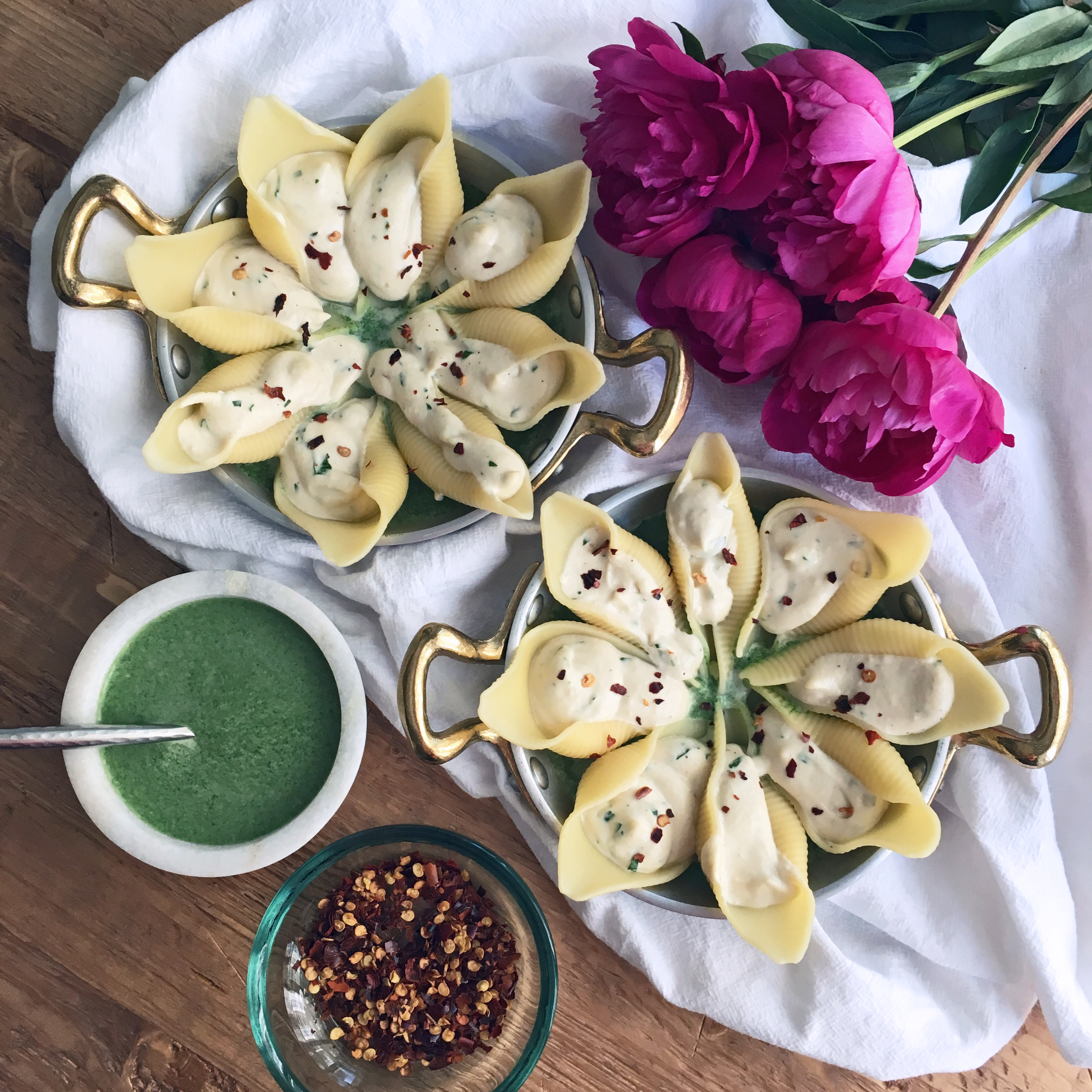 So for this blended deliciousness, we're utilizing my favorite, cashew cream to make a little bit healthier stuffed shell, which is one of Mamma Lazar's absolute favorite dishes. The cashew cream serves as a replacement for ricotta cheese! However, the blending doesn't stop there. I also made a roasted garlic and spinach cream sauce that is jam packed with springtime flavor! This is a really fantastic family dinner that I'm going to be making to celebrate my mom, spring, and all the joy of the season! Enjoy!
Recipe:
Makes 1 Box Of Jumbo Shells (Approx. 42)
Cashew Cream:
3 Cups Cashews
1 ½ Cups Filtered Water (plus more if needed)
½ Cup Grated Parmesan Cheese
¼ Cup Grated Pecorino Romano Cheese
2 Large Eggs
½ Cup Italian Parsley, chopped
Salt, Pepper
Crushed Red Pepper (optional)
Roasted Garlic & Spinach Cream Sauce:
1 Large Head Garlic, top ¼ cut off
1 Tbsp. Olive Oil
1 Lb. Baby Spinach
1 Cup Heavy Cream
¾ Cup Whole Milk
¼ cup + 2 Tbsp. Grated Parmesan Cheese
Salt and Pepper
Stuffed Shells:
1 Package Jumbo Shells
Crushed Red Pepper (optional) & Grated Parmesan Cheese for serving
Instructions:
Make Your Cashew Cream: (Yields Approx. 4 Cups)
(Base without cheese or eggs can be made the night before)
Place your cashews in a large container and cover with filtered water

Let soak overnight

Drain and rinse

Add to the A3500

Add add filtered water

Blend well, and evaluate the texture, should be smooth but not runny

Add Crushed red pepper & blend

Add salt & pepper to taste

Transfer to large mixing bowl

Mix in Parmesan, Pecorino, Parsley and season with salt and pepper to taste

Add in chopped parsley and eggs, stir in until fully combined with mixture

Cover and refrigerate until ready to stuff shells
Make Your Roasted Garlic & Spinach Cream Sauce: (Yields Approx. 4 Cups)
Preheat your oven to 350°F

In a small roasting pan or mini coquette, add garlic and top with olive oil.

Sprinkle a little salt, and bake for about 1 hour. Depending on the size of your garlic head this could need more or less time

Remove from oven and set aside to cool

In a large pot, bring salted water to a boil

While water is boiling, prepare an ice bath for your spinach

Once water is boiling, add spinach and cook for 2 minutes

Strain hot water and add spinach directly to the ice bath

Let spinach sit in the ice bath for 3 minutes, and strain all excess water

Place spinach in the A3500

Once garlic is room temperature, remove cloves and add to the blender

Add in Parmesan, cream, and milk and blend on medium until the spinach and garlic are combined.

Season with salt and pepper

Transfer to mixing bowl

Cover and place in refrigerator until ready to assemble
Assembly:
Bring a large pot of salted water to a boil

Cook pasta per package instructions

Strain and set aside until cool enough to handle

Preheat your oven to 350°F

Layer the bottom a large baking dish with the spinach sauce

Place Shells in a single layer on top of sauce

Using a spoon, or a pastry bag and large tip, fill shells with cashew cream mixture

Top with spinach sauce – a drizzle or more, it's up to you!

I like my shells a little crispy, so bake uncovered for 15-20 minutes. You don't want to dry out your cashew cream, but you want everything to be warm. You can also cook covered, and adjust cooking time

If you have leftover sauce, heat over low heat until warm and serve alongside shells

Serve shells with grated parmesan and crushed red pepper