Peppermint Bark Double Chocolate Donuts
Makes about 18 donuts
So here's the deal guys - it's a good day today. You know why? Because it includes donuts - and as far as I'm concerned, any day that includes donuts is pretty much the best kind of day. Especially when they are moist, double chocolate donuts that have been sprinkled with a chocolate bark that pretty much just screams holiday cheer. And you all know how excited I feel about the holiday season…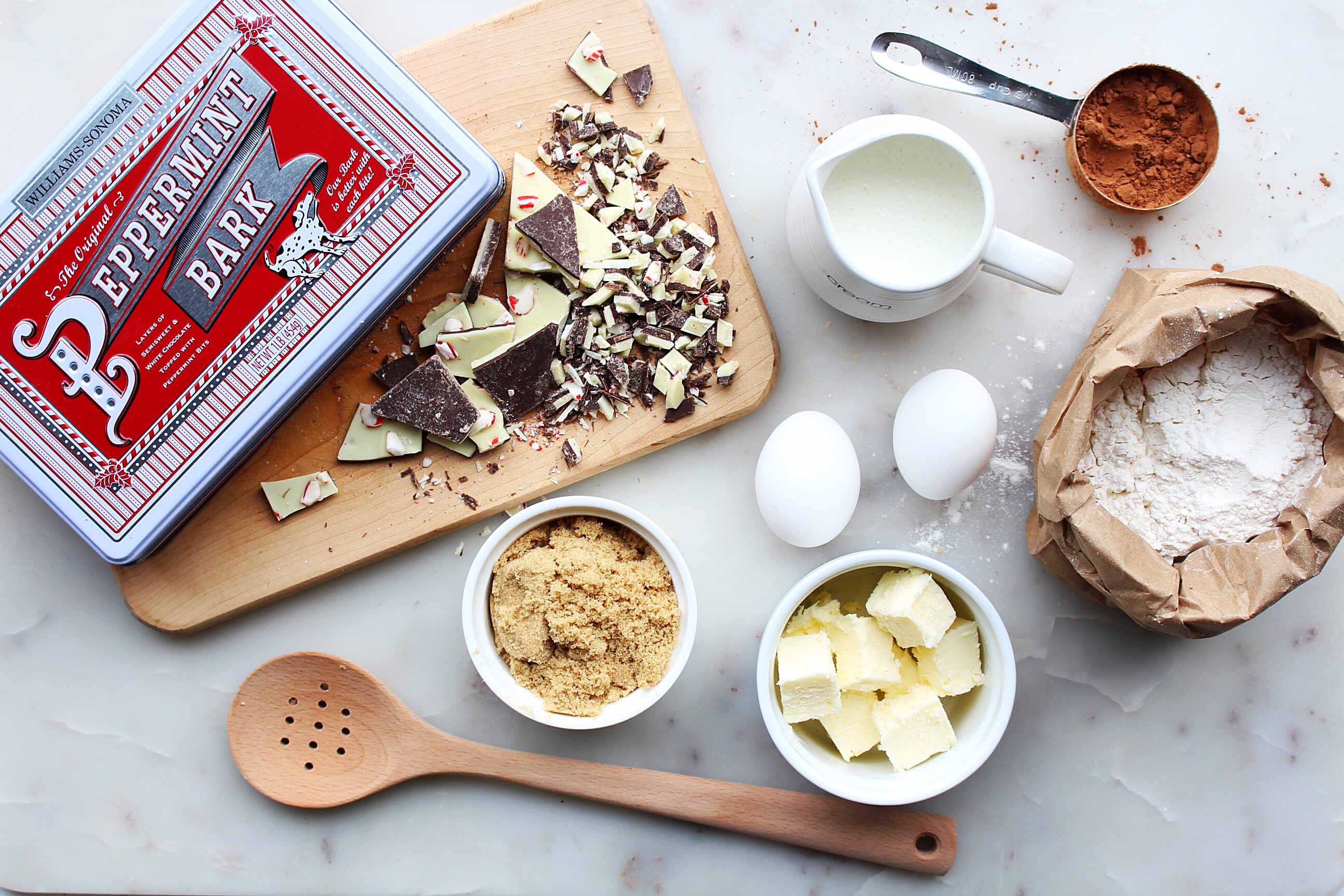 When Williams-Sonoma approached me about creating a recipe using their delicious Original Peppermint Bark, my mind immediately went to one place; donuts. But not just any old donuts - Fudgy chocolate donuts that would be dipped in a creamy chocolate glaze & sprinkled with chunks of dark and white chocolate bark studded with crunchy peppermint goodness. Yup - we went there. #BARKYEAH baby!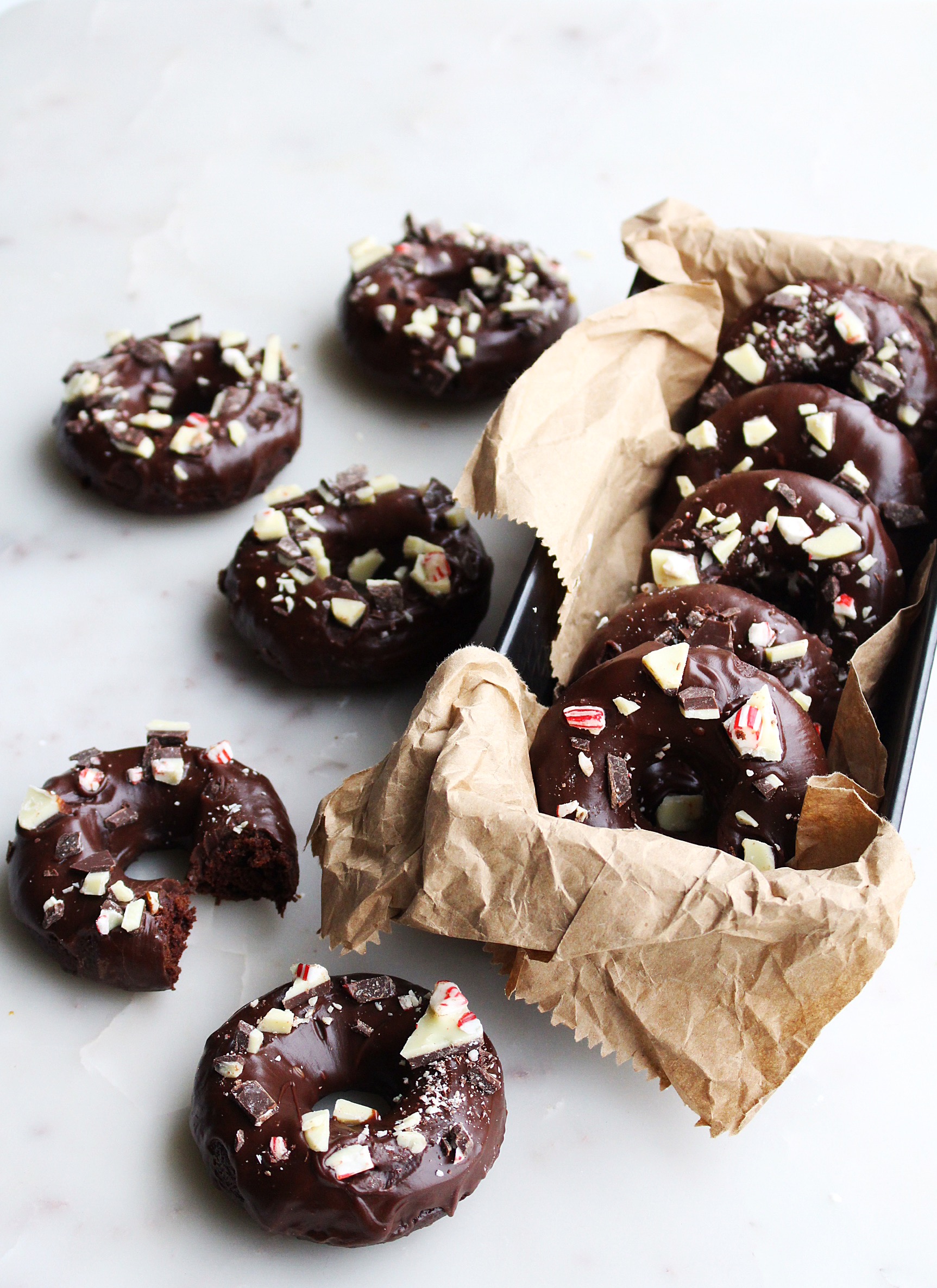 I'm going to let you in on a little secret... these donuts are amazing. If you are like me and are absolutely head over heels for the whole peppermint and chocolate combo, then these donuts are going to be your new BFF. And if you are like me and are ever more obsessed with the peppermint mocha flavour combo - then I feel it's my duty to warn you, that you're probably going to want to run away and have an affair with these donuts.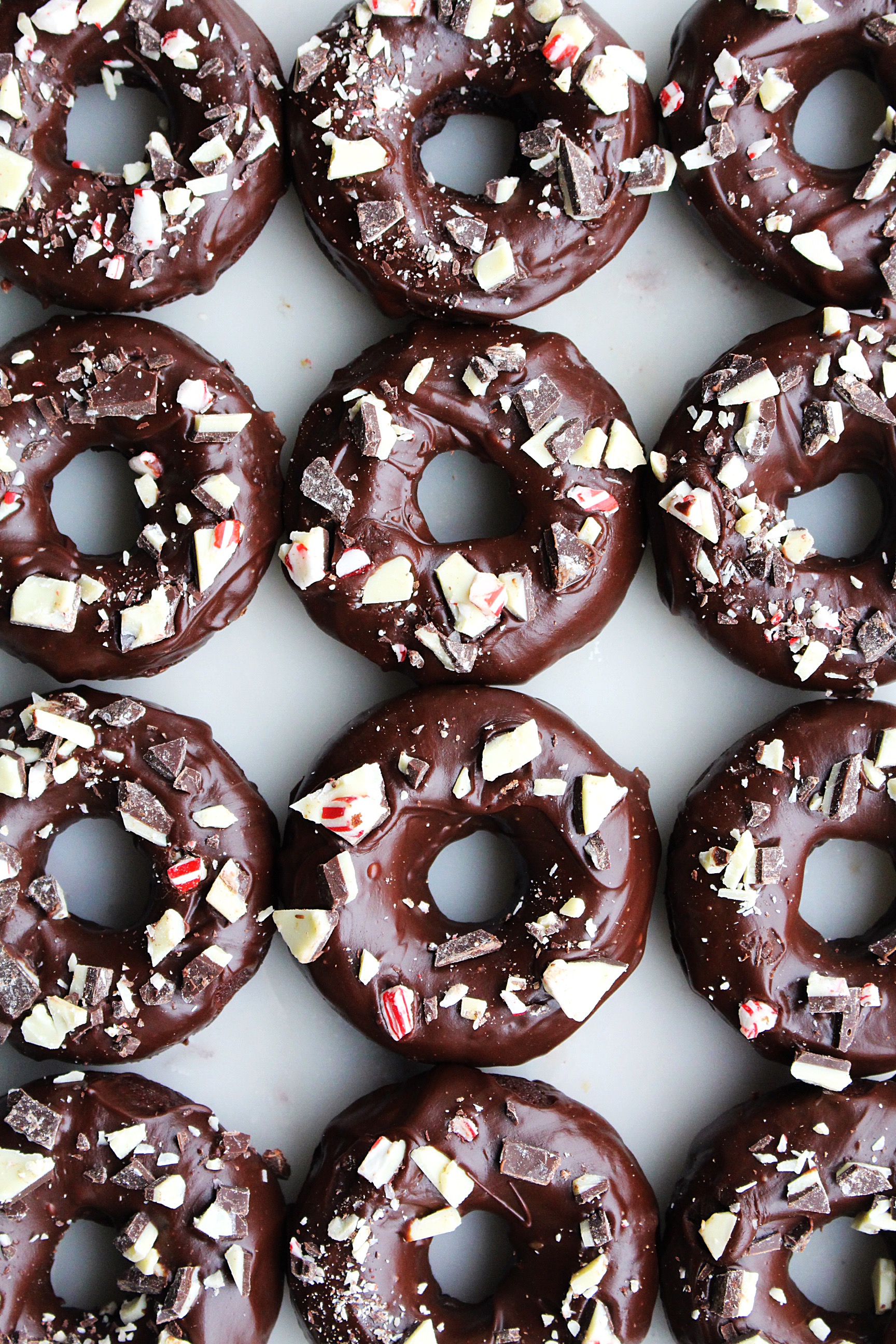 Because did I mention the batter is infused with coffee? So yeah... these donuts are basically irresistible and you need to make em' happen. Scroll down for the recipe friends & happy baking!
Peppermint Bark Double Chocolate Donuts
Things you need...
Chocolate Donuts
1 1/2 cup all purpose flour
2/3 cup cocoa powder
3/4 cup brown sugar
1 tsp baking soda
1 tsp baking powder
1/4 tsp cinnamon
1/4 tsp salt
1/2 cup butter, melted
3/4 cup strongly brewed coffee
3/4 cup buttermilk at room temp
1 eggs, room temp
2 tsp vanilla
Chocolate Glaze
1 cup dark chocolate chips
⅓ cup heavy whipping cream
1/2 tsp vanilla
1 cup Williams Sonoma Peppermint Bark, chopped
How to make...
Chocolate Stout Donuts
Preheat oven to 375 and grease 3 donut pans; set aside.
In a large mixing bowl, whisk together flour, cocoa powder, brown sugar, baking soda, baking powder, cinnamon, salt, and cinnamon until combined. Make a well in the center of the dry ingredients and set aside.
In a small mixing bowl, whisk together melted butter, eggs and vanilla until combined. Mix in buttermilk and coffee to combine. Pour wet ingredients into the dry ingredients well and fold together gently with a spatula until just combined.
Scoop the batter into a piping bag, and pipe the batter into the prepared donut pans, filling the holes just below the rim with the batter.
Bake for 8- 10 minutes or until the tops spring back to the touch. Place on a cooling rack and allow to cool in the pans for 10 minutes before turning them out and allowing them to cool completely before you glaze them.
Chocolate Glaze
Heat heavy cream in a heavy bottomed saucepan until it comes to a bare simmer. REmove from heat and pour over chocolate. Let the hot cream sit on the chocolate for 4-5 minutes and whisk together until smooth. Stir in vanilla & get ready to dunk those donuts!
Dunk the tops of the donuts into the glaze allowing any excess to drip back into the bowl. Set the donuts back on a rack & sprinkle with chopped peppermint bark. Let the glaze set for about 15 minutes & enjoy! #barkyeah!
** This post is sponsored by Williams-Sonoma.