Bourbon Pecan Praline Cinnamon Buns
with Bourbon Cream Cheese Frosting
We teamed up with Bravo Top Chef and Bravo TV to create some southern inspired sweets in anticipation of the new season of Bravo Top Chef based in Charleston. We made these Boozy Bourbon Pecan Praline Cinnamon Rolls & they were awesome!
Catch Bravo's Top Chef every Thursday at 10/9c - only on Bravo.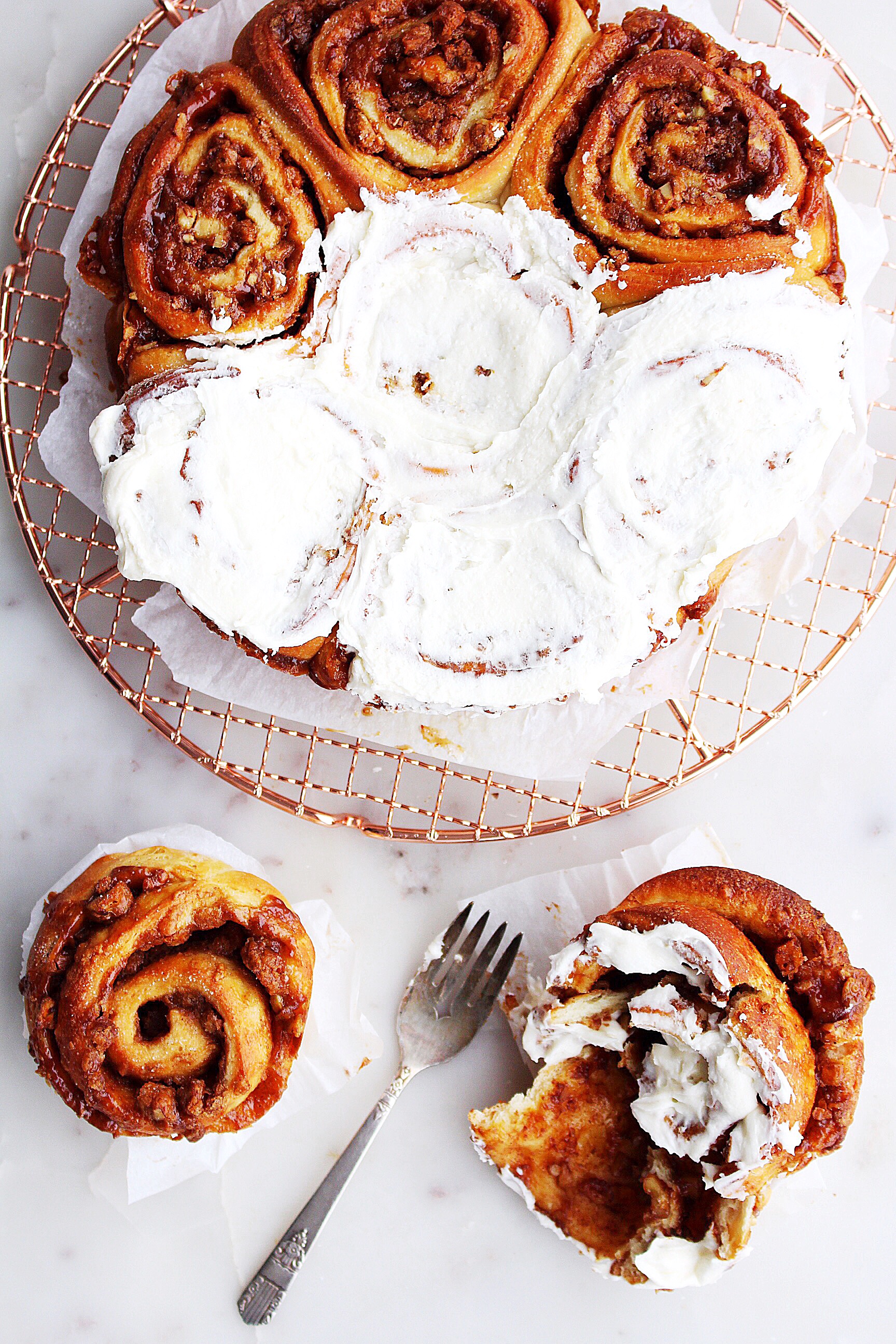 If there is one breakfast pastry I can never seem to get tired of baking (and eating) - it would be homemade cinnamon buns. There is just something so therapeutic about working the yeast dough, watching it rise, and shaping it into those wonderful rolls. Not to mention the incredible warming smell of fresh bread and cinnamon that fills your entire house as they bake to perfection in the oven. Honestly, if I could wake up to the smell of freshly baked cinnamon buns for the rest of my life - I would be a very happy girl.
Suffice to say cinnamon buns hold a special place in my heart, and these Bourbon Pecan Praline Cinnamon Buns might just take the cake as my favorite cinnamon bun ever. They are a combination of fluffy sweet yeast dough, loaded with with homemade bourbon pecan praline and positively oozing with buttery brown sugar and cinnamon filling. Oh and did I mention they are finished off with a creamy bourbon cream cheese frosting that seriously has the power to make go weak in the knees? No matter what the occasion, these cinnamon buns will make a warm and comforting addition to your breakfast table, that you will have just as much fun making as you do enjoying the fruits of your labor.
Makes: 12 Cinnamon Buns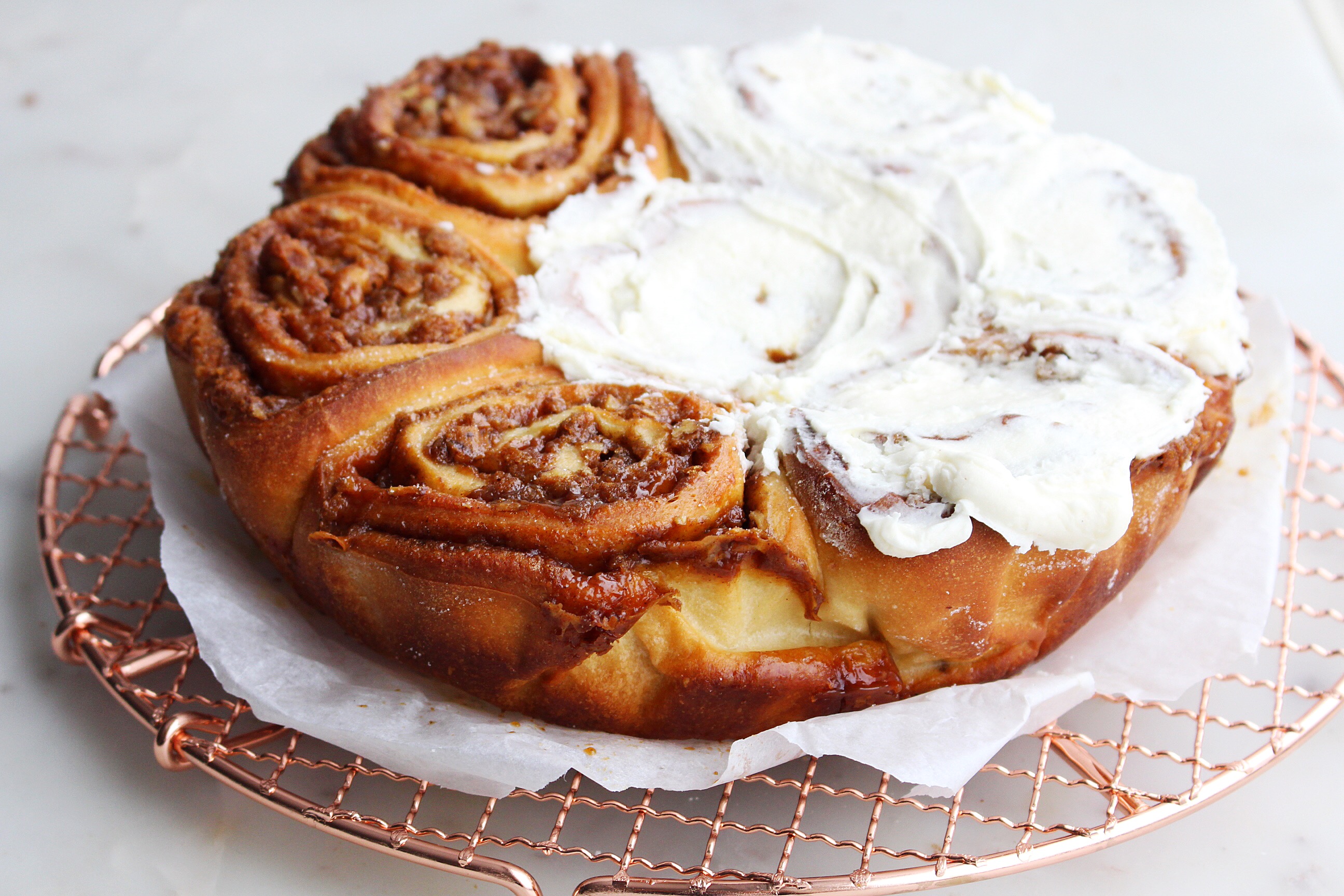 Ingredients:

Bourbon Pecan Pralines
2 cups toasted pecans
1 cup granulated sugar
1 cup brown sugar
¾ cup half and half cream
¾ tsp baking soda
3 tbsp butter
1 tbsp bourbon
1 tsp vanilla
1 tsp cinnamon
Pinch of salt

Cinnamon Roll Dough
2 pckg dry instant yeast
1 cup whole milk
2/3 cup granulated sugar
2 eggs, room temp
1/2 cup unsalted butter, room temp
4 ½ cups all purpose flour
1 tsp salt
¼ tsp cinnamon

Brown Sugar Filling
1/2 cup butter, softened
¾ cup brown sugar
1/2 tbsp cinnamon

Bourbon Cream Cheese Frosting
1/4 cup butter, softened
1/2 package cream cheese, softened
3 cups icing sugar
2 tbsp bourbon
1 tsp vanilla

Directions:

Bourbon Pecan Pralines
Line a baking sheet with parchment paper & set aside.

In a large saucepan, stir together granulated sugar, brown sugar, baking soda and cream. Set over medium heat and cook until the mixture reaches 235˚F on a candy thermometer - or until it reaches the "soft ball stage". Remove from heat and stir in butter, bourbon, cinnamon and salt.

Stir in the pecans with a wooden spoon and continue stirring for 2-3 minutes when the mixture starts to thicken.

Use an ice cream scoop to drop 1 tbsp amounts onto your prepared baking sheet, working quickly. Allow them to set for 20 minutes or until set.

Chop the pralines roughly and set aside until ready to assemble your buns.

** Note: It's helpful to make your pralines the day or night before you want to make your cinnamon buns.

Cinnamon Roll Dough
In the bowl of a stand mixer fitted with the dough hook add your yeast and a couple tsp of the sugar. Pour the warmed milk over the yeast and sugar and lightly whisk to combine. Allow your yeast to sit in the warm milk like this for 5-10 minutes to proof. When you come back to your yeast after 5-10 minutes it should be frothy – this indicates that your yeast is active and good to go. If you come back and your yeast hasn't gotten frothy or foamed up, discard the contents in your bowl and start over with new fresh packages of yeast and proof again using the same technique.

Once you have proofed your yeast, add the remaining sugar to the mixture as well as the softened butter and turn your mixer onto low to begin combining the ingredients. Mix for a minute or so until the softened butter is broken up into chunks. Add your beaten egg and allow to mix until combined. Slowly begin to add your flour, salt & cinnamon 1/2 cup at a time allow the flour to incorporate slightly before each addition.

Once you have added all of your flour, turn your mixer onto medium speed and allow it to mix the dough until a large smooth mass forms. The dough should be soft and a bit sticky, but not so wet that it is sticking to the sides of the bowl. If you find that your dough is sticking to the sides of your bowl, add a bit more flour 1 tbsp at a time until it comes away from the sides of the bowl. Allow to turn on medium speed for 5 minutes.
Remove dough from bowl – it should be smooth and elastic. Knead with your hands for an additional 2 minutes on a lightly floured surface. Next, place your dough into a large greased bowl, lightly grease the top of your dough and cover with a dry tea towel. Set your dough aside to rise in a warm place for 1 1/2 – 2 hours or until doubled in size.

** My oven has a warming function, so I usually set the warming function to low and let my dough sit in there to rise. If your oven has this feature, this is a great way to let your dough rise. If not, simply preheat your oven to about 200 degrees, shut it off and place the dough in there to rise as there will be enough residual heat in your oven to keep it nice a warm.

Brown Sugar Filling
In a small mixing bowl beat together butter, brown sugar, and cinnamon until fluffy. Set aside.

Assembly
Once your cinnamon bun dough has risen, punch dough down and turn out onto a lightly floured surface. Roll out into a rectangle that is 1/4 inch thick.

Spread brown sugar filling out across the dough, leaving a 1 inch border at the bottom. Sprinkle the chopped pecan pralines across the surface of the dough evenly (reserving about ¼ cup of the chopped pralines for later) and gently press down into the sugar filling.

Roll dough up jelly-roll style and pinch the end together to seal. Cut into 12 even 1 inch rolls. Place rolls into two parchment lined 9x9 inch cast iron skillets - 6 per skillet. Set aside to rise again in a warm place for another 30 - 45.

While your rolls are rising, preheat your oven to 350 degrees. Sprinkle with granulated sugar and bake for 20-25 minutes or until golden. Remove from oven and allow to cool 5-10 minutes before frosting with cream cheese icing.

Bourbon Cream Cheese Frosting
While your cinnamon buns are baking, whip up your cream cheese frosting.
In a medium bowl, beat together butter and cream cheese using an electric mixer until completely smooth and there are no lumps. Beat in bourbon and vanilla until smooth. Add in icing sugar 1/2 cup at a time, beating until combined before each addition. Once all of your icing sugar is mixed in. Turn the mixer onto high and beat for 3-4 minutes until pale and fluffy. Set aside until your cinnamon buns are ready to be frosted.

Spread a generous helping on top of each cinnamon bun, & sprinkle with remaining chopped pralines. Serve warm, and enjoy!