Moroccan Braised Beans
with Tomato & Merguez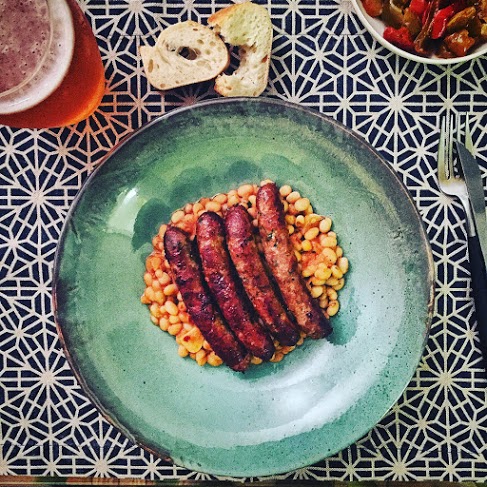 Photos and recipe by @kevmasse
I am a huge fan of Moroccan flavors - the warmth they provide, with just the right amount of spice. Ras El Hanout (a staple in the Moroccan kitchen, and readily available now in most supermarkets) pairs perfectly with the Progresso Cannellini beans in this dish. Merguez adds just the right amount of heat to really amp up the flavor.
Recipe:
Serves 4 to 6
Ingredients:
1.5 pounds Lamb Merguez
1 small red onion diced
1/2 small white onion diced
3 cloves garlic sliced thinly
2 tablespoon tomato paste (double concentrate)
1 tablespoon Ras El Hanout
1 8 oz tin tomato sauce
1 28 oz can fire roasted diced tomatoes in their juice
1 5 ounce container baby spinach (chopped)
2 15 oz cans Progresso Cannellini Beans
1 tablespoon pomegranate molasses
Harissa for serving
Chopped Toasted Walnuts for serving (about 1/2 cup) - optional
Method
Preheat oven to 350 degrees
Heat a large dutch oven over medium high heat until hot - in batches, brown merguez on all sides until golden - remove to plate- drain pan in between batches to avoid smoke.
Lower heat to medium
Add onion & garlic to drained pan and cook gently until translucent - add 1/2 teaspoon salt. - about 5 minutes (Check time)
Add tomato paste and Ras El Hanout and cook, stirring constantly until tomato paste is browned and begins to caramelize.
Add tomato sauce and fire roasted tomatoes - bring to a gentle simmer
Add chopped spinach and stir to combine - spinach will wilt - simmer gently for 5 minutes
Add 2 cans drained beans along with pomegranate molasses - stir to combine and bring back to a gentle simmer
Submerge the sausage into the beans and place lid on pot.
Transfer vessel to oven and bake for 45 minutes
Remove lid and allow to cook an additional 30 minutes (check time) and stir every 15-20 minutes to prevent burning - sauce will reduce and thicken considerably.
Serve with crusty bread and spicy Harissa on the side along with chopped toasted walnuts (optional)