Best Ever Vegan Tater tot Nachos
Tater tot nachos recipe
Looking for a snack or an appetizer and Vegan? Nothing better than these Vegan Tater tot nachos. Having friends over for a movie or feeling hungry or want to snack on something - this is the best you can have. This is delicious, savory, and a perfect evening snack. This Tater tot nachos recipe always suits the purpose, whether you want to feed your hungry stomach or if anyone is coming over, or if you are really tired after a day out or a shopping spree. And this is the best when no one can really deny nachos even if they claim to not like it! I don't think this is even possible. Nachos are love!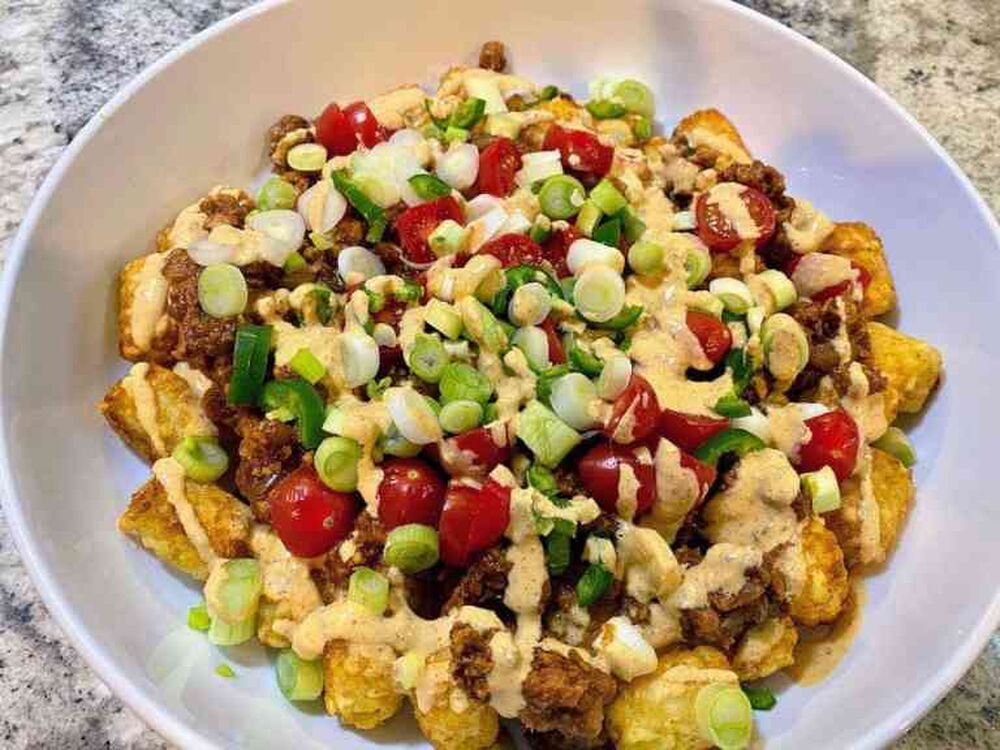 Here is the simple Tater tot nachos recipe with step by step instructions and the list of ingredients required to prepare them.
To begin with, you will require some Tater tot nachos ( You can get some pre-baked tortilla chips or the ones you can bake at home or that can be fried), some pickled jalapenos or sliced jalapenos, veggie ground round, cherry tomatoes - can prepare some salsa too, cilantro, vegan sour cream, and guacamole ( Really love Avocados ). You can add as many veggies as you like. I have made this recipe with the ones mentioned.
How to make Vegan Tater tot nachos: First of all- you start with baking or frying your tater tots! Now secondly move on to the veggie ground round and heat it on the medium flame. Sprinkle some organic taco seasoning of your choice and add up a little water. This helps in enhancing the taste of the seasoning, cook it until heated up properly and it turns brown.
Once your nachos are properly baked/fried, take them out in a casserole dish to start preparing the nachos. Once you take them out, spread them evenly and when the ground round is cooked, spread it out on the top of the tater tots. Now, add some vegan cheese or you can substitute it with vegan cheese sauce and place it into the oven for a few minutes. And when the cheese melts which will take a few minutes, top it with some Jalapenos and some cherry tomatoes or you can even prepare some salsa. Add some vegan sour cream and some prepared guacamole on top of it.
Last but not least top it with some green onions and cilantro and your Vegan tater tot nachos are ready. Ready to serve and ready to eat.
Here is the detailed Tater tot nachos recipe that serves 4-6 servings in general.
Preparation
Prep time
20 minutes
Cook time
10 minutes
Total time
30 minutes
Servings
Serve 4-5
Ingredients required
· 1 bag prepared tater tots (Choose any flavor of your choice or even can mix them up as per your taste or preference)
· Veggie Ground round – About 2 Cups
· Taco seasoning – as per your taste
· Vegan cheese shreds – around 1-1/2 cup
· Cherry tomatoes – 1 cup, sliced
· Jalapeño sliced or pickled jalapenos
· Vegan sour cream – ½ a cup
· Handful cilantro leaves – ½ a cup, finely chopped
· Green onions for garnishing
· Guacamole – as per the taste preference
Instructions to follow for the Totchos recipe:
Begin with preheating your oven to 350°F.
You can either choose to bake the tater tots or if you like them fried – you can fry them as per your taste and if baking, arrange them in a layer in the baking tray.
Next, Heat veggie ground round in a pan on medium-high heat. The ground round is to be seasoned with some taco seasoning of your choice and as per your taste. Also, add a little water to enhance the flavor of the seasoning. 1/4th cup goes well in this quantity of nachos. Do stir it throughout till the ground round gains a brown color.
Arrange the baked or fried tater tots in a casserole dish or a large platter.
After arranging the tater tots in the dish, add ground round over the top along with the cheese.
Bake these until the cheese is melted, it will take around 5-10 minutes.
When the cheese melts, add cherry tomatoes and some jalapenos, or you can use pickled jalapenos as well.
Add vegan sour cream and Guacamole as the top layer.
Garnish the nachos with green onions and a handful of cilantro to enhance the flavor
Serve them immediately for the best taste and flavor. And it tastes crispy and delicious.
I am sure you are going to love this amazing recipe. Do share your reviews once you try this Tater tot nachos recipe or vegan tater tot nachos and come back for more delicious recipes.