Paris: A Culinary Travel Diary
I spent 3 days in the City of Lights and this is what I ate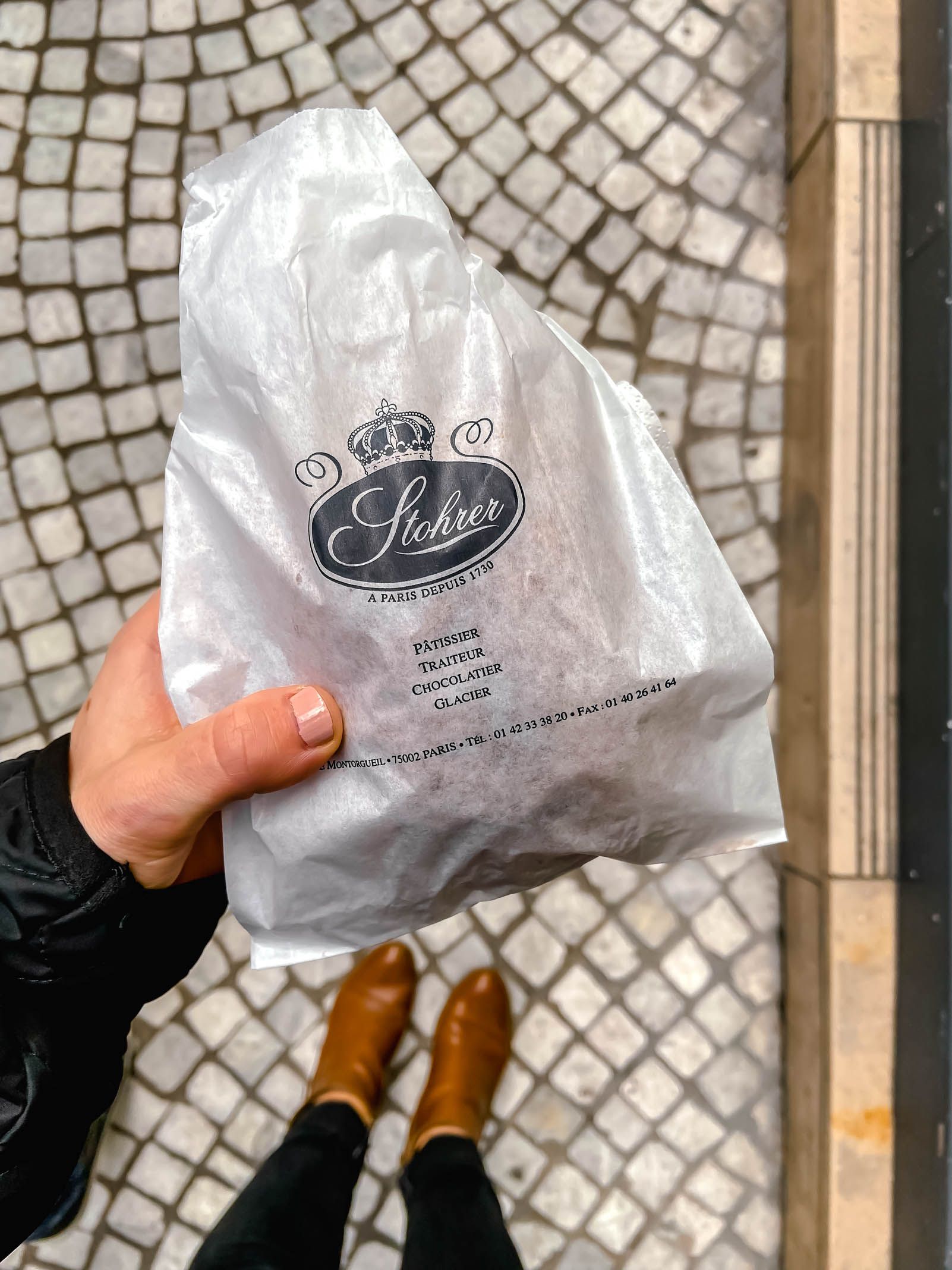 Sunday, November 24th:
After an hour and a half delay leaving Orlando, our plane touched down at Charles De-Gaulle around 11:30 a.m. By the time we de-planed, waited in line to pass through customs, and figured out how to work the French metro system, we were arrived to our AirBnB, bags clanking along the cobblestone paths around 1:30 p.m. local time. We splashed cold tap water on our faces, brushed our teeth and set out for a little afternoon exploration. I'd spent the last two months up to my eyeballs in lists in the name of what I've been calling "restaurant research". I had compiled a fairly comprehensive chart of 45 patisseries, bistros, brasseries, and cafes to use as our gastronomic guide during our two and half days in the city of lights. Lucky for me, one of the patisseries towards the top of my list was only a street or two away from our AirBnB. First Parisian croissant, check. The pain-au-chocolat from Stohrer was exactly what my jet-lagged, but still very excited to be walking the streets of Paris, body wanted. It was buttery, and flaky and the perfect afternoon strolling snack.
We ventured up to the Montmarte district and quickly found ourselves looking up at the behemoth cathedral Sacre-Coure. We took a few selfies and traipsed up what seemed like a never-ending amount of stairs, but the view from the top was breathtaking. We continued to stroll somewhat aimlessly around Montmarte, stopping to see the Je'taime wall, strolling through a square filled with painters, each of their stations displaying watercolored images of Paris. We snagged a photo of Moulin Rouge and peered into Dali's Place, all the while soaking in the magic of Paris.
Around 5:30 p.m., the sky turned dark and the strings of lights dangling along restaurant awnings began to flicker on, signaling to us that it was time to find another snack or at least a glass of wine. We stopped in a small charcuterie shop serving wine by the glass and sipped glasses of Syrah while watching the bustle of city streets.
I was counting my blessings when we were able to snag a last-minute reservation at Poulette. When compiling my self-made Parisian restaurant guide, Martin kept advising me to mark the restaurants or bakeries that I really wanted to make an effort to get to so that I wouldn't be sad when I inevitably did not make it to all 45 establishments. Poulette was one that was at the to of my list. Since most Parisians don't dine until 8-9 in the evening, we were able to get a table during the earlier seating. The small restaurant consists of about 8 tables and a few bar seats and the focal point of the restaurant is a stately and ornate bar. The edges of the counters are rimmed with crown molding and the tiling and art lining the walls is reminiscent of renaissance work. On either sides of the restaurant are large paintings of goddesses "Saint Biere" and "Saint Cafe". The lights are turned way down low and the entire restaurant is overtaken by the romantic glow of the tabletop candles. The wine list was interesting and accessible and we ended up with a Gamay and a Cote-du-Rhone that were half-shared between the two of us. In an effort to end-cap my first afternoon in Paris the most traditional way that I knew how, I had the hangar steak and homemade fries (the fancy restaurant way of saying "steak frites"). Perfectly seasoned and cooked a happy medium rare, the steak was tender and flavorful with that outer coat of crisp. There were French fries piled high stretched over half of the plate and big torn leaves of butter lettuce were drizzled in oil and lemon juice and sprinkled with salt. Martin's baby clams were swimming in a curry broth with lots of cilantro and servers kept bringing us bowl after bowl filled with hunks of torn sourdough for sopping up all of the briny broth.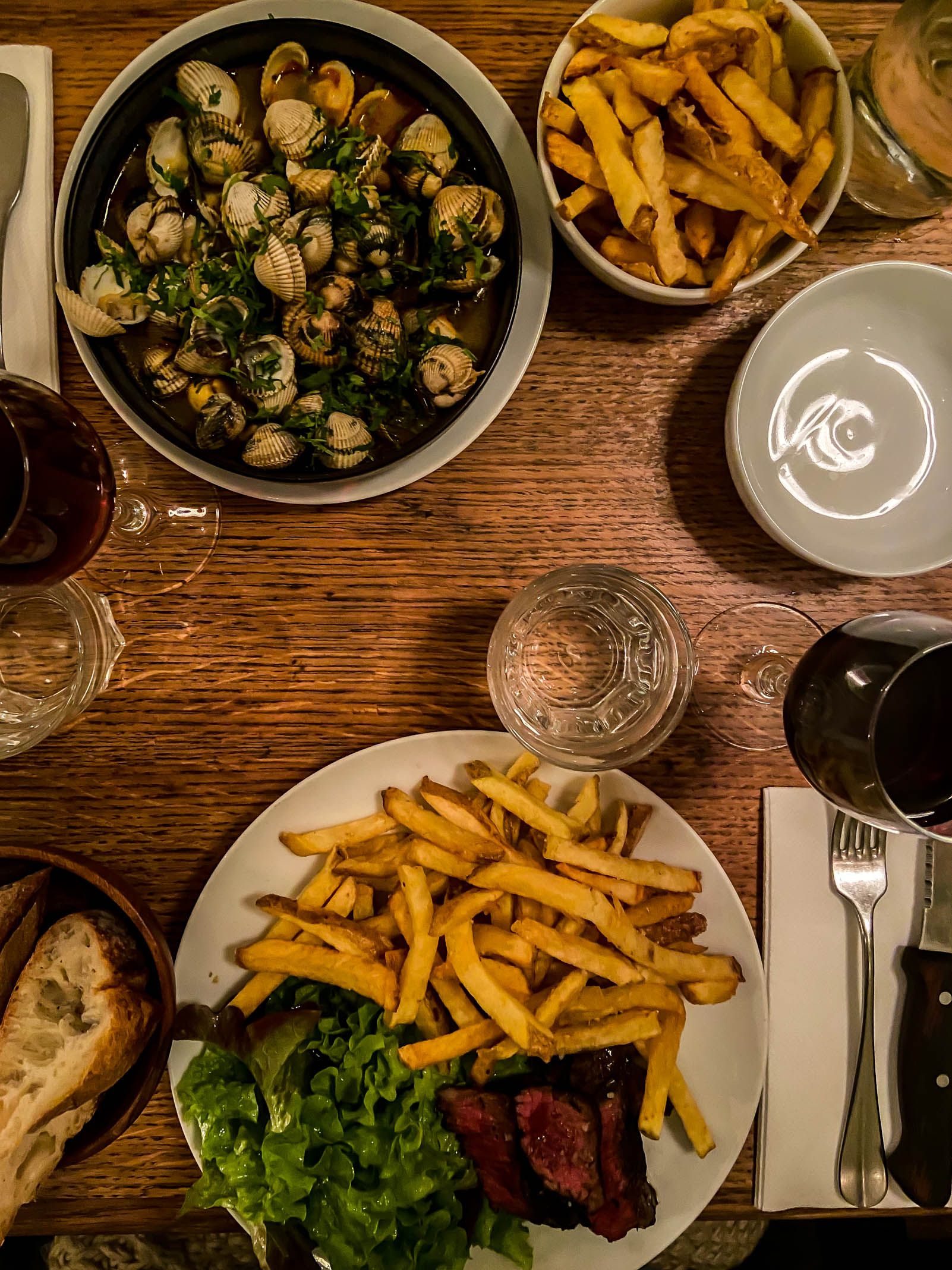 Monday, November 25th
Our second day in Paris we did all of the touristy things. We slept longer than we anticipated, which was okay since Paris doesn't start really waking up until around ten, and took a quick stroll around the block to Frenchie FTG where we shared a hefty slice of quiche and sipped on cappuccinos. Rested and sustained, we began our explorations at the Louvre. Knowing we wouldn't have time to see all of the art inside, we settled for admiring the building which is a work of art itself and taking selfies. We took a stroll through Tuillarie Gardens, which led us straight to the famed Champs-Elysse. Window-shopping down the Christmas-light strung streets felt a little like being in Times-Square and when we stumbled upon a L'Occitane with a Pierre Herme counter inside, we felt like it would be wrong not to go in. We left with strawberry-matcha and Mogador macaroons tucked into the cutest little box and made it out to the sidewalk before huddling to the side of the walkway and polishing them off.
The next sights were the Arc-Du-Triomphe and the Grand Palais and by this time, my stomach was starting to inquire about lunch. I had grand plans of squeezing shoulder to shoulder at a crowded countertop to enjoy "the best sandwich in Paris" according to David Lebovitz at Le Petit Vendome, but the when we arrived, it seemed like everyone else also shared my same idea. With quite a bit more to do and see, we didn't have the time to wait (or the chutzpah needed to shove my way into the bar) and we decided to reevaluate our lunch plans. Slightly dejected, we stumbled into a Christmas market set up in a park nearby and spent 10E on a ham and cheese baguette and vin chaud. We took our little picnic with us and found a bench along the Seine where we fended off pigeons and soaked in the Paris skyline, feeling the magic of the city and crossing "picnic along the Seine" off of my bucket list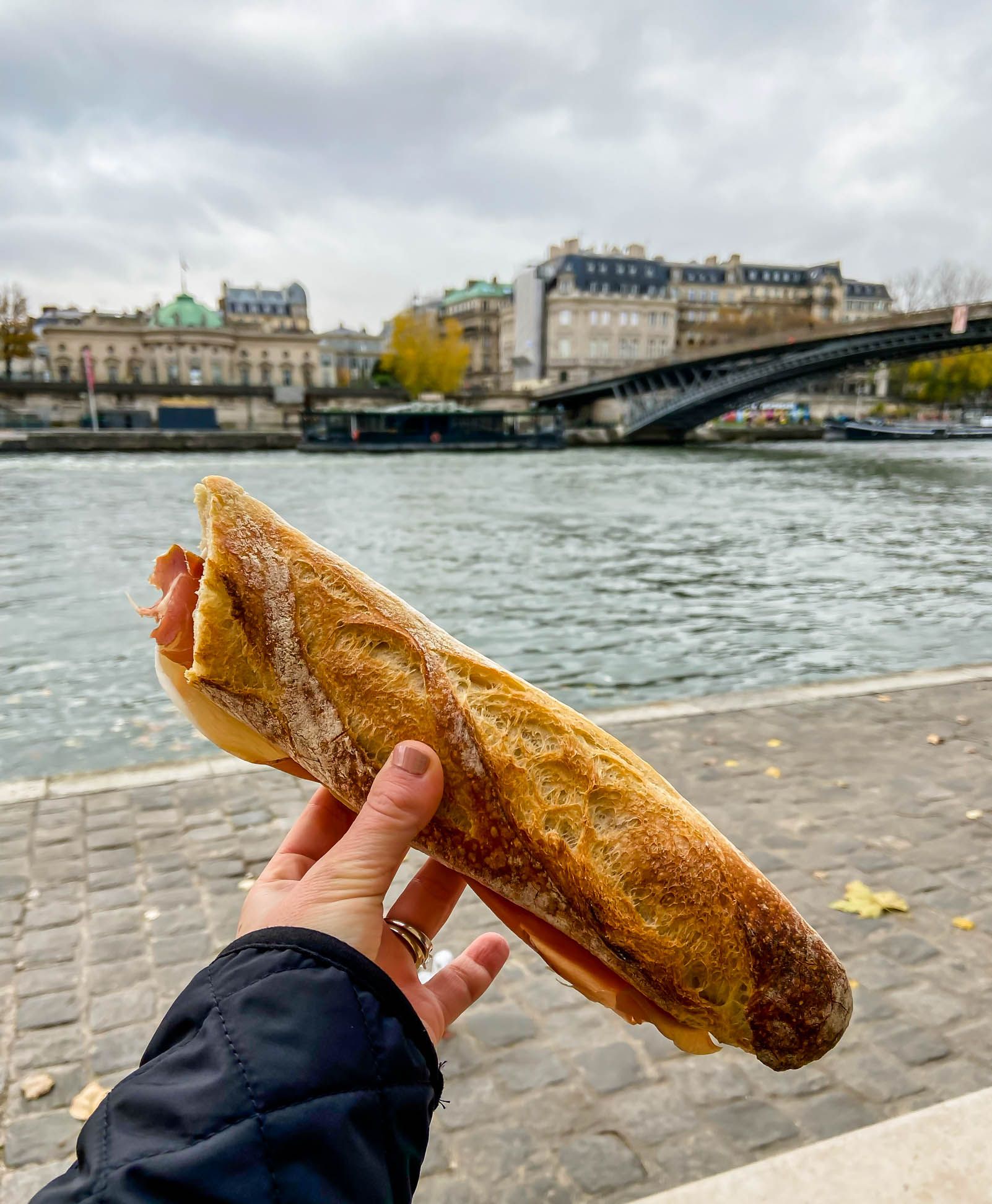 I discovered that my carefully planned itinerary was a little off when it came to estimated times and we had quite a chunk of time to kill before heading towards the Eiffel Tower, since we wanted to catch it at night in all of it's shimmering glory. So instead of immediately beeline-ing towards the tower, we meandered through the 7th arrondissement, stopping to snap photographs of little green spaces plopped in the middle of street squares and craning our necks to see the ornate architectural details of some of the most beautiful buildings in Paris. The streets in the 7th arrondissement were much quieter and we found ourselves lost in the residential alleyways for a few hours. When we finally laid eyes on the Eiffel Tower, peering through the fall foliage like a magazine super-model, it was late afternoon and dusk was just around the corner. We snapped a few daytime photos, climbing the stairs of Trocadero Gardens to get the best selfie, and then decided to pop into a cafe for a cappuccino while we waited for the sun to slip behind the clouds. We ended up at Cafe Merci Jerome, where we shared pain au raisins, a tiny little pain au chocolate and sipped on more cappucinos. The pastries weren't the best of our trip, but the cafe was warm and cozy and provided a much needed rest and rejuvenation before heading back into the wind. Sufficiently warmed, we made our way back down the street to see the Eiffel Tower just as the the last of the daylight escaped. The Eiffel Tower at night is a breathtaking experience. She stands proudly against the Parisian skyline, her lights flickering and twinkling in the night sky, her reflection dancing in the glossy waters of the Seine, and we kept glancing over our shoulder to catch just one more glimpse of her as we strolled along the river.
Our dinner spot for the night was Bouillon Chartier, a Paris institution. Opened in the same location, an old train station concourse, where it currently stands in 1896, Bouillon Chartier is classified as a historical monument and we felt like it deserved a place in our plans for no other reason than to experience a slice of old Paris. There was a line to get in the restaurant that wove through a lobby area like a Disney ride queue and we happily jumped into it. The line guided us past countertops with engraved aprons, coffee mugs, and magazine articles that could be purchased as souvenirs and the bar was selling little plastic cups of vin chaud for 2 euros. When we reached the front of the line, a server in a long, white apron ushered us quickly into a bustling dining room and we squeezed into our seats, a shared table with another couple. The room still had imprints of its train station past, luggage racks perched above the tables held jackets and purses and bright lights glistened in the giant mirrors stretching the lengths of the walls. Stepping into the dining room at Bouillon Chartier felt like taking a step back in time to the old Paris you see in the movies. We ordered a bottle of the "vin du moment", an 11.50 euro Beaujolais Nouveau while we read the menu. Chartier is somewhat like a diner of French classics, all of the things you feel like you're supposed to eat when in France like escargot and foie gras, but served on ceramic white plates for exceptionally affordable prices. We ordered foie gras, escargot (listed simply on the menu as "6 snails") and ouefs (hard-boiled eggs) with aioli to start. Our server rushed back to our table apologetically and informed us that the kitchen was out of eggs, so he brought us prawns with mayonnaise instead and they were surprisingly one of my favorite parts of the meal. For entrees, Martin ordered a roasted chicken with frites and I decided on the duck confit which came piled high with green beans. When I was researching Bouillon Chartier I read from my all-knowing guide and restaurant guru David Lebovitz, that the food at Bouillon Chartier "wasn't exceptional", and it was spot on. The duck was dry and the potatoes under-seasoned, but the fact that our order was scribbled on the tablecloth and we were surrounded by the hustle and bustle of a Paris institution more than made up for whatever the food was lacking. I ordered a creme caramel for dessert that was slightly overcooked, but the real excitement of the meal came in Martin's rum cake. The sponge was drenched in multiple shots of straight rum, taking Martin by surprise and leaving him coughing a bit after his first bite. It was just enough to make us forget how sore our feet were and keep us giggling on the walk home.
Tuesday, November 26th:
Martin and I had a little deal when it came to divvying up our time in Paris. Monday was what we were calling "Classic Paris", where we did all of the touristy things like seeing the Eiffel Tower and stopping in cafes to sample croissants even if they weren't places that made it on my carefully vetted food guide. Tuesday, which we dubbed "Swanky Paris Day", was my day. This was the day where we went out of our way for cookies that I had read about in Saveur magazine and peeked in places that were a bit more "new Paris", like natural wine bars and falafel joints.
We kicked off "Swanky Paris Day" with a quick mile and half walk in the cold rain for a cinnamon twist from a bakery I had been following on Instagram for the last year. Circus Bakery is tucked behind the cutest wooden door frame, just over the water in the 6th arrondissement, only a few steps from Notre Dame. They opened in 2018 and use 100% sourdough for their baguettes, loaves, and cult favorite cinnamon rolls. Walking in from the rain, we were greeted by a countertop, piled with breads and covered in sheet pans of cinnamon and cardamom buns making their way straight from the oven to the counter. Everything was labeled by a long strip of masking tape that ran the length of the counter. There was a large open workspace and as we sipped our cappuccinos, we watched the baker fold, divide, and shape doughs on his monstrous work bench. I was in heaven. And an added bonus, the cinnamon rolls lived up to their social media hype. Perfect little twists filled with cinnamon and sugar and brushed with a simple syrup warm from the oven, they are at the top of my list of things I need to recreate at home.
We spent the rest of the morning strolling around Southern Paris, stopping by Luxembourg Gardens and the Pantheon and poking into bookstores and boutiques. We crossed up into the Marais district just before lunch with hopes of snagging a table, or at least a to-go pita, at L'as Du Falafel. Tucked in an alleyway in the 3rd arrondissement, we found some of the best falafel. We happily hopped into the line that ran alongside the front of the restaurant before a server came and asked if we would like to sit inside, so we followed him through a narrow, packed dining room, all the way to a small table squeezed along the back wall. We drank Israeli beers and ate pitas filled with kefta, falafel, crunchy slaws, and slathered with yogurt sauce. Our bellies full, we decided to make the hike out past the Place of the Bastille to a little restaurant/bakery/wine bar called Mokonuts. I first read about the husband/wife team that runs Mokonuts in last year's Global Baking Issue from Saveur Magazine. The small cafe is only open from 9 a.m.-3 p.m., when the owners' children are in school, and I knew it was going to be a little tricky to get over there for a meal. So I set my mind on the more reasonably attainable goal: to make it before they closed so that I could sample a few of Moko's highly-acclaimed cookies. It took a little power-walking, but we made it and left with a small paper bag filled with cookies for our journey back. We stopped off in a park where we found a bench to enjoy our spoils. We sampled a clementine, chestnut, and almond cookie, a tahini sugar cookie, and a cookie filled with peanut butter and milk chocolate. All were delicious, but the citrusy oranges and nutty chestnuts married so well it was easy to choose a clear favorite. Having achieved my cookie goal, we spent the rest of the afternoon strolling through the Marais district, stopping to ogle at the produce stands in the Marche des Enfants Rouges, one of the oldest covered markets in Paris. I fell in love with the winding streets and historical significance of the Marais and could have spent a few days getting lost in its charm.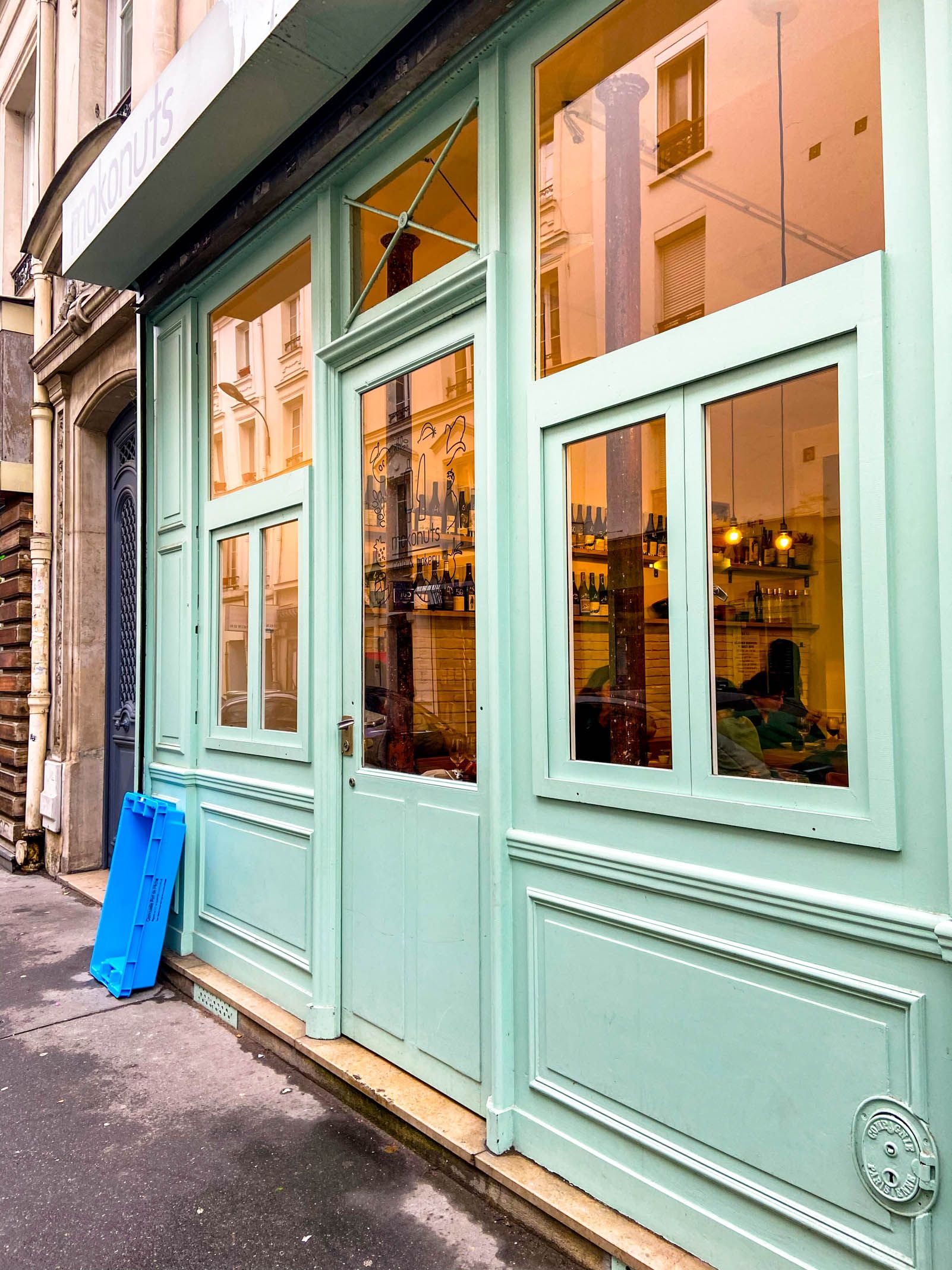 Our last dinner in Paris was one we will not soon forget. Earlier in the day, we made an online reservation at Vivant, a fairly new restaurant that was high up on my "places I need to eat in Paris" list. The narrow restaurant consisted of a bar and one or two small tables tucked into alcoves. Behind the marble countertop, there were four men- a bartender/server, a dishwasher, and two chefs who spent the evening cranking out culinary masterpieces from a kitchen the size of a dining room table. The lights were low, our spot at the bar illuminated by a large ivory candelabra, dripping with wax like something from a haunted mansion. We started with a slightly effervescent, mineral-driven orange wine while we perused the menu. The amuse bouche was a ravioli frit, a wonton wrapper filled with a meaty ragu sauce and fried until crispy and bubbled. The scallops were hefty and fresh, served raw with mocha-colored earthy mushrooms and large, torn basil leaves. We shared a block of skate fish that peeked out from it's blanket of shimmery neon salmon roe, seasoned with sumac partnered with dark, leafy greens. Our entree was an elevated, French-inspired equivalent of a pot roast. Beef, slow-cooked until it reached the tenderness of softened butter and could be sliced with a spoon, swam in a fragrant auburn-colored pool of caramelized onions and ginger broth. We huddled together, drinking a bottle of Village du Rhone wine, savoring it all. The bartender/server/manager controlled the music from a small tablet tucked under the bar and we were serenaded by a playlist of American rock and roll, making the evening feel so familiar, yet so new and exciting. Being a pastry chef, I'm drawn to dessert menus for experimentation and inspiration, and Vivant's desserts were some of the best I have seen. We ordered a saffron flan, served with shredded apples that had been tossed in a buttery, nutty sauce and a poached butternut squash, paired with a large dollop of creme fraiche and topped with a thin, crispy tuille. They were unique and surprising, perfectly executed and exactly how I always thought my last night in Paris should end.
Wednesday, November 27th:
Two days before we landed in Paris, Cedric Grolet opened his newest bakery Cedric Grolet Opera a few blocks away from our AirBnB. It was fate. Our last morning in the city, I was determined to make it to Opera before our train left for Bordeaux. We woke up early, hastily packed our bags, and power-walked through the streets of the 2nd arrondissement in order to make it before the bakery opened. When we arrived, there was a pretty short (maybe 30 person) line that we hopped in with 15 minutes to spare before the doors to the bakery opened. The plan was simple—get in, load up on croissants, and race back to the AirBnB with just enough time to grab our bags and call an Uber. Very simple. As more and more people joined the line, it began to snake around the block and I was thankful for our early arrival. After nervously checking our watches for 40 minutes, we were finally welcomed in to the brightly lit, counter service area. Sheet pans of golden, flaky pastries lined wide open countertops as workers bustled around, taking orders and packaging croissants. I have studied, made, and eaten my fair share of laminated doughs, but none have compared to the layers achieved by Cedric Grolet and his team. Like little works of art, each pastry boasted layer after layer of expertly crafted, butter-stamped dough. Finally boarded on our train to Bordeaux, we bit into kouign-amman's, sugar and crumbs cascading down our coats, watching the city of Paris disappear in our windows.