Baja Fish Taco Salads
Serves 4
I partnered with The Feed Feed and Earthbound Farm to whip up a delicious meal using their Southwest Salad Kit. I've said countless times how I love an interesting salad—leaves and dressing won't suffice. And you know I despise uneventful healthy foods. This kit comes with everything you need for a healthy and delicious salad including crisp veggies, a zesty tomatillo dressing, sunflower seeds, and tortilla strips. Then I introduced some taco-inspired elements like homemade pico de gallo, a tart lemon-turmeric sour cream, and crisp beer-batter fish to complement the flavors in this tasty kit!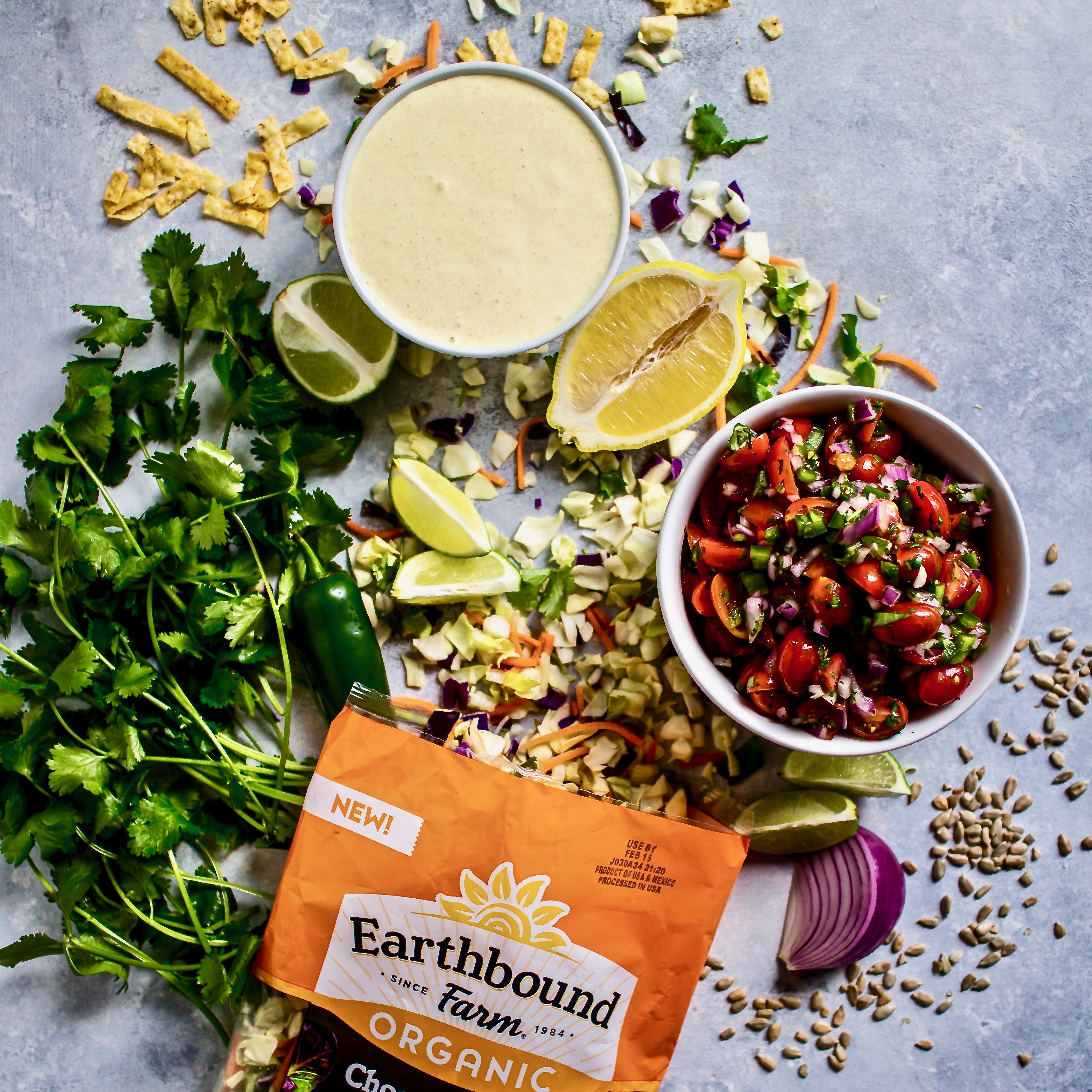 Depending on what you're in the mood for, Earthbound Farm also offers BBQ Ranch and Asian salad kits—a flavor for every food mood. For more info on where to purchase click here!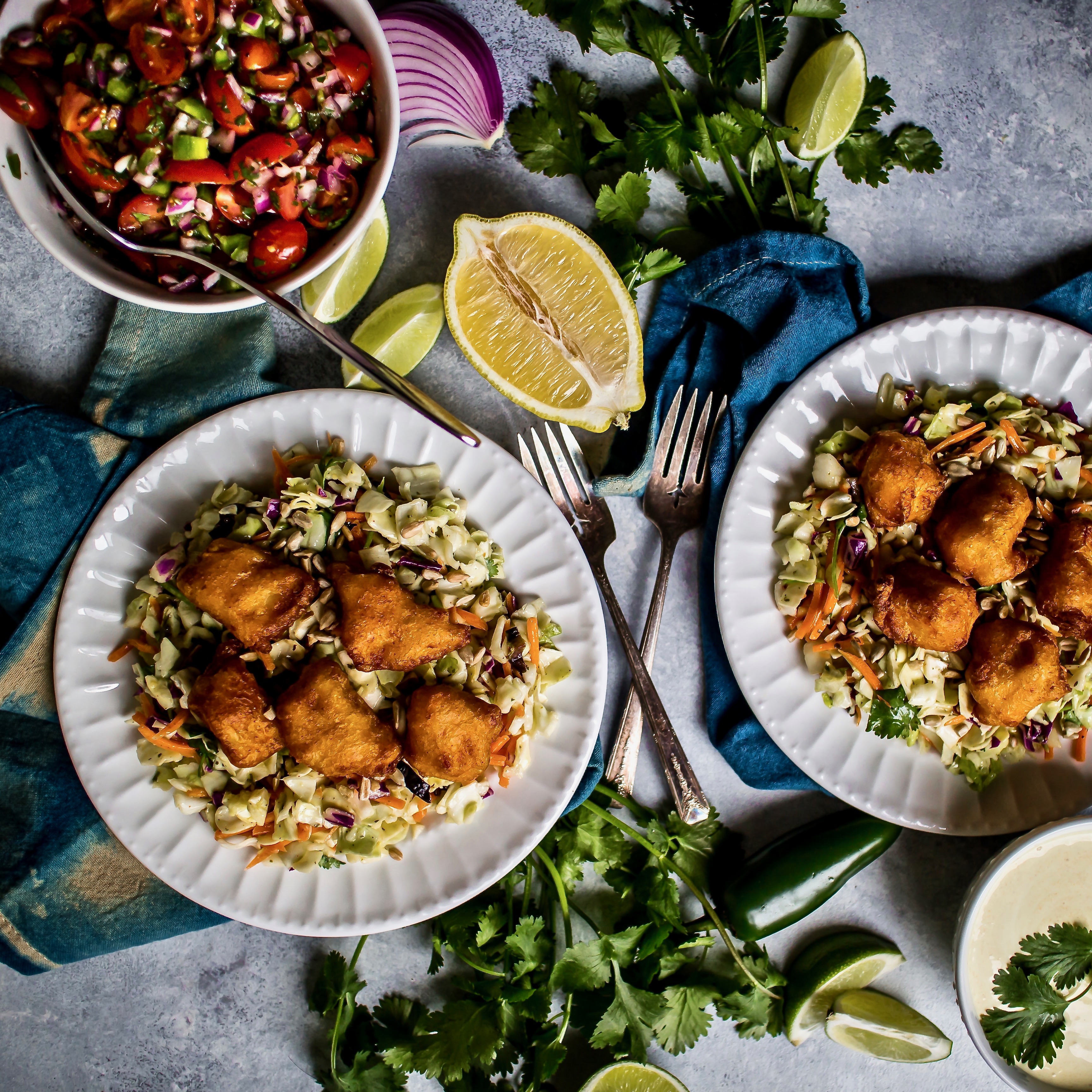 Baja Fish Taco Salads
Serves 4
Ingredients
1 Earthbound Farm Organic Southwest Chopped Salad Kit
Queso Fresco for serving, optional
For the Fish
1 lb. fish (like tilapia or cod)
¾ cup flour
1 ½ Tbsp. cornstarch
¾ tsp. salt
1 tsp. Garlic powder
1 tsp. Smoked paprika
¾ cup beer (preferably an IPA)
Vegetable oil for frying
For the Pico de Gallo
10.5 oz. cherry tomatoes, halved
½ cup diced red onion
1 large jalapeño, seeds removed & diced
2 Tbsp. minced cilantro
Juice from about 2 limes
Salt and pepper to taste
For the Turmeric Sour Cream
8 oz. sour cream
¼ cup lemon juice
1 tsp. ground turmeric
½ tsp. salt
¼ tsp. garlic powder
Directions
To make the pico de gallo mix all the ingredients in a small bowl and stir to combine. Season with salt and pepper and refrigerate until ready to serve.
To make the sour cream, whisk the ingredients together and refrigerate until ready to use.
For the beer batter whisk together all your dry ingredients until combined.
Carefully whisk in beer and refrigerate for 20 minutes.
Meanwhile prep the fish by cubing into 1 to 2 inch chucks.
Heat about 2-3 inches of vegetable oil in a medium heavy-bottomed pan on medium-high heat.
Dredge fish in batter, shake off excess, and fry in batches. Be careful, it splatters!
Remove fish with metal tongs and drain on a paper towel lined plate. Repeat with remaining fish.
Assemble Salads
In a large bowl mix the Southwest Earthbound Salad kit with the included tomatillo dressing, sunflower seeds, and tortilla strips.
Dish out salad into 4 bowls.
Top with fried fish, a spoonful of pico de gallo, a drizzle of sour cream, and a sprinkling of queso fresco.
Enjoy immediately! Soggy fish is no bueno.
See more Easy Salad Recipes from feedfeed